Published on: March 2, 2022
Written by Camila Avery / Fact-checked by David Rowan
Smoking has become the most popular cooking method for meat in many cultures. You will hardly find a person who doesn't love smoked food. Smoked food is loved not only for its taste or flavor, but it also has some health benefits. Besides, if the smoked food is done properly, you can preserve the food for a long time instead of eating it right away.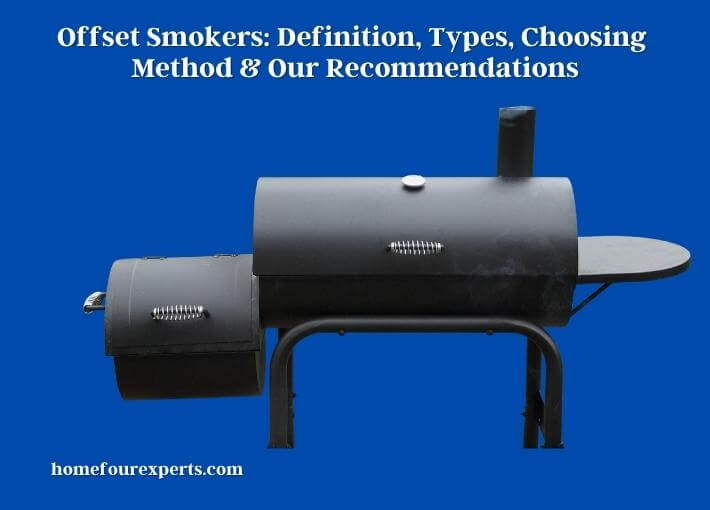 And for this type of cooking offset smoker is the most popular one amongst others. If you are planning to get a new smoker for your backyard, you must know detail about it. It will help to select the right one for you and also you will be able to maintain it properly.
So I've decided to share my knowledge about smokers with you. Hope you will benefit from this.
What is An Offset Smoker 
An offset smoker is one of the classic designed popular barbecue smokers. Offset smokers contain shelves in the cooking chamber where you can cook multiple pieces of meat. This type of smoker is also known as a side firebox, pipe smoker or cooker, horizontal smoker, or barrel smoker.
An offset or barrel smoker contains two different-sized cylinders or barrels attached to one other. The smaller one is used as the firebox, it transmits the heat and smoke produced by charcoal or wood to the larger one. The bigger one is used to place the meat and cook it at a low temperature.
Read More: The Best Manual Meat Grinders | Top 10 Picks & Reviewed
How Does it Work 
The firebox of an offset smoker is positioned to send the rising smoke into the cooking chamber. From this part, the fire and smoke are conveyed to the smoke chamber through the connecting pipe. And this heat cooks the meat with a great smoky flavor before passing through the top chimney.
You can control the heat and smoke of the cooking chamber by adjusting the vents (firebox air damper & top chimney) according to your need. Just remember that if the vents are more open, oxygen increases and makes the fire burn faster.
Types of Offset Smokers 
When you are planning to buy an offset smoker, you may picture a horizontal smoker in your mind. But an offset smoker can vary in size, shape, and material. Each one of them has different features, advantages, and disadvantages.
Vertical Offset Smokers
Vertical offset smokers are a very popular and compact type of smoker. If you are a beginner, this is the perfect one for you. It is cheap, portable, and easy to use.
This type of smoker has three compartments. The lower one is for coal or wood, the rest of the compartments can be used for placing the meat and water to add moisture to the meat.
But vertical smokers have a few drawbacks! It can't be used for a large gathering, it doesn't have an automatic timer and needs to be cleaned frequently.
Horizontal Offset Smokers
Horizontal Offset smokers are designed like a traditional model which people used to build at home. You can cook a good quantity of food in it, it can be a good investment for you as you can consistently use this smoker for a long time.
Cabinet Offset Smokers
This type of smoker is quite similar to the vertical smoker, but it contains more compartments. It has an automatic temperature control technique, available in different sizes, and is easy to use.
If you plan to get a cabinet offset smoker, consider not buying the cheap one as they can leak smoke. Take special care as they can be ruined with water or in moist weather.
Drum Offset Smokers
This offset smoker is literally made of drums. The wood is kept in the lower part and meat is cooked in the top. It is budget-friendly and easy to use, and moreover, if you are a DIY expert, you can make it easier.
Its disadvantages are you need to clean it very frequently and can't use it for a large gathering.
What is the Difference Between an Offset Smoker and Other Types of Smokers
An offset smoker is a type of barbecue smoker that uses a separate firebox attached to the main cooking chamber. The fire in the firebox heats up the cooking chamber, and the smoke and heat from the firebox flow into the cooking chamber through openings or vents.
This design allows for indirect heat cooking, which is beneficial for smoking meats and other foods. The heat and smoke are not directly in contact with the food, which allows for a more even cooking process and helps to prevent the food from drying out or burning. The offset smoker also allows for a greater degree of temperature control, as the fire can be adjusted to achieve the desired cooking temperature.
Other types of smokers include:
Electric smokers: These use electricity to heat a heating element, which then heats up the cooking chamber. This type of smoker is convenient to use and easy to control, but may not provide the same level of smoky flavor as other types of smokers.
Propane smokers: These use propane gas as the heat source and typically have a thermostat to control the temperature. They are also easy to use and control but also lack the smoky flavor of wood-fired smokers.
Drum smokers: This type of smoker uses a metal drum as the cooking chamber and typically has a large door on one end for access and a smaller door on the other end for the firebox.
Kamado-style smokers: These are ceramic or metal cookers that are shaped like an egg and use charcoal as the heat source. They are known for their ability to retain heat and maintain a steady cooking temperature.
Each type of smoker has its own unique features, advantages, and disadvantages, so it's important to choose the one that best suits your needs, preferences, and budget.
Features That Should Be Looking for an Ideal Offset Smoker
If you are planning to buy an offset smoker, you should consider their features and a few other things. Some people look for size, and some for shape or style. In this part of the article, I will try to cover the most important things you need to look for while purchasing a smoker.
The gauge of the Metal
a higher gauged metal sheet can give you greater heat retention. a ¼ inch sheet is considered the standard for this purpose. This type of sheet will provide you with evenly cooked food by holding more heat.
Quality of Damper & Seals
You must check the seals of the smoker with its damper before purchasing. If you buy a smoker with high-quality seals, you will be able to control the heat efficiently. A high-quality seal can also save fuel and improve the retention of smoke.
Temperature Gauge
While purchasing an offset smoker you must consider the temperature gauge. With the help of this, you will be able to measure the internal temperature without opening the lid.
Though it may increase the price of your smoker, it will provide evenly cooked meat.
Strength
Before buying a new offset smoker you must check the strength of the latches, hinges, legs, and wheels. They must be strong enough to be used for a long time without being worried about extra care.
Cover
Check for an extra waterproof cover for the smoker while purchasing. This waterproof cover will protect your smoker from getting rust from wet or moist weather.
Warranty
Though a quality smoker will last long with a little bit of care, you must prefer a smoker with a warranty. This will make you assure that if you notice any manufacturing faults, you can have their support service.
Size of The Firebox
The size of firebox must be big enough that you can easily use any kind of fuel in it like- split wood, charcoal, wood chip, or logs.
Size of the Cooking Chamber
Before buying your offset smoker, you must check the size of its cooking chamber. It should be big enough to allow you to cook a large amount of meat at a time for a big gathering. It would be preferable if it comes with removable racks so that you can even cook a large turkey on it.
Easy To Clean
You must purchase a smoker which is easy to clean after every use. The smoker with removable racks, ash cleaning equipment, and a drain plug will be so easy to clean. Remember, if you can clean the smoker properly after use, you will have great, hygienic food the next time.
Portability
If your smoker has wheels, you will be able to move it without any difficulty for having a barbecue anywhere you want.
Storage
A good quality smoker will come with shelves between the legs so that you can use them for storing spices, sauces, or beverages. Smoking with utensil hooks is very much convenient as you can keep grill tools in them.
Accessories
The modern smoker comes with a few standard accessories like- rib hooks, weather guards, racks, and tools. These can make your cooking easier. So before purchasing, do some research and choose the one with some useful accessories.
These are a few basic features you need to consider while purchasing a new offset smoker. If you select the one with these features, you can have a long time of support from your smoker.
Read More: Commercial-Shaved Ice Machine Reviews
What Type of Wood is Best Suited for My Offset Smoker
The type of wood you use in an offset smoker will depend on the type of meat you are smoking and your personal taste preferences. Some popular types of wood for smoking include:
Oak: This is a versatile wood that provides a strong, smoky flavor and is great for smoking beef, pork, and poultry.
Mesquite: This wood gives a strong, intense smoky flavor and is great for smoking beef and poultry.
Apple: This wood gives a mild, sweet flavor and is great for smoking pork, poultry, and fish.
Cherry: This wood gives a mild, fruity flavor and is great for smoking pork, poultry, and fish.
Pecan: This wood gives a mild, nutty flavor and is great for smoking pork, poultry, and fish.
It's always a good idea to mix different types of wood to get a unique flavor.
View Our Selected Top 10 Offset Smokers, Below-
1. Dyna-Glo DGO1176BDC-D Charcoal Offset Smoker
It is a vertical offset smoker within an affordable range. The best features of this smoker are, it heats up quicker than horizontal smokers and it can store a lot of meat at once. It enables you to cook for your entire party in one go!
The wood chip box is coated with heavy gauge porcelain and other parts are coated with a powder finish. The burner is made of durable cast iron material. This smoker heats up very quickly, you can see when it is ready for cooking by the marks of the built-in thermometer. Once it is heated up, you can leave food in it for the next 4 to 6 hours without any maintenance.
I had to do some modifications before starting to cook in this smoker. Because, it has some defects we find in cheap smokers; like, peeling paint and leaking smoke. If you don't bother to make such an effort then definitely you can invest in this smoker.
Things We Liked
Vertical smokers take little space but can store a lot of food inside;
It has the capacity to store food up to 100 pounds;
6 adjustable cooking trays make the placement of different types and sizes of meat convenient;
Large removable sheet ash pan stores a huge amount of ash and makes cleaning easy;
Affordable;
A built-in thermometer is included.
Things We Didn't Like
No wheel attached to the feet of the smoker;
It Leaks smoke and needs modification to stop leaking.
---
2. Bradley Smoker Digital 4-Rack Electric Smoker
This smoker has more advanced features to control the temperature and also has three separate cooking surfaces. All are available at a reasonable price. If you are looking for an affordable smoker with advanced temperature control and multiple cooking options then the Deluxe offset smoker from Bradley Smoker may satisfy your all needs easily.
The most impressive feature of Bradley Smoker Digital Outdoor Smoker is, this, one can cook food in three different chambers. 
This multi-rack configuration takes into account smoking an assortment of food sources simultaneously. Measures 19× 22× 35 and 24-inch wide when the generator is appended.
A computerized smoker is exceptionally intended to oblige 4 included racks; a Cooking area of 572 sq. inches (4x11x13-inch), so you can take care of a couple or a group while smoking turkey, chicken, ribs, and brisket, from there, the sky is the limit.
It is an economic digital smoker; hence we cannot expect perfection from it. The problems like developing dents and rust can be defeated with proper caution and maintenance. This way this smoker can go a long way.
Despite the negative matters, it is still a useful smoker on a budget.
Things We Liked
A total of 572 square inch cooking surface;
Three different cooking options are available;
Sturdy construction;
A pair of wheels attached;
Chrome-plated handles.
Things We Didn't Like
---
3. Classic Pit Barrel Cooker
This is the most basic smoker among all the smokers I have reviewed here. It does not have any settings for temperature control and the construction and features are minimalist. The Pit barrel smoker combines a Porcelain Coated Steel Drum of 30-gallon size, 8-Stainless Steel Hooks, 2-Steel Hanging Rods, a Charcoal Basket, a Grill Grate, a Wooden Hook Remover, and a Point Barrel stand.
As there is no temperature control, the temperature rises very swiftly at first, but it never stays constant.
Temperature falls very swiftly too and needs continuous checking to make sure cooking is done on time. For me, a Pit barrel smoker is more of a slow cooker rather than a smoker. There are other smokers in the market with better performance at a lower price.
It does not have any fancy control system or other advanced features. This feature may not seem appealing to everyone, but vintage smoker lovers surely like this item for its classic features.
Things We Liked
Basic functions, no advanced features;
A large 30-gallon size barrel is enough to house an ample amount of food at once;
Supplied racks and hooks are useful to cook different types of food;
It is lightweight and the handles attached to the top make it portable.
Things We Didn't Like
Because of the misplacement of ventilation, heating is improper and cooking is uneven;
Poor temperature control;
It is quite expensive considering the classic and basic features.
---
 4. Broil King 958050 is the Best Reverse Flow Offset Smoker
This smoker is proven to be satisfactory among the users. It is a little pricey compared to other smokers of similar features, but the quality made the difference. It is made with thick steel and has an impressive construction for efficient temperature control. For these features, this product beat other products with similar advantages.
This smoker is made durable with 2 mm steel. Besides, the inside is double-walled to trap the heat for longer and the surface is powder coated to ensure long-lasting paint and better temperature.
Less fuel is required in this smoker compared to other smokers. The heat capturing system is quite well built so only a little amount of wood can go a long way with Broil King 958050 Offset Smoker.
Broil King 958050 Offset Smoker will best suit people who are perfectionists. Considering its advanced features, the price is nothing to complain about.
Things We Liked
Durable construction, long-lasting paint;
Easy temperature control, heat can be adjusted between 180 F to 400 F;
Requires less fuel;
Accessories are made with stainless steel to keep them rust-free.
Things We Didn't Like
Pans do not have any handles, so it is difficult to hold when it is hot.
---
5. Char-Griller 1224 Smokin Pro
It is another offset smoker in an affordable price range. The packaging involves the smoker, 2 storage racks, a built-in thermometer, and a removable ashtray. It is cast iron made and powder coated like any other smoker to give it durability and longevity. It has a minimum temperature control function to perform.
Char-Griller 1224 Smokin Pro has a Large cooking space. Two separate cooking racks of 580 and 250 square inches are provided to grill meat in the cooking space and in the firebox as well. I used the firebox cooking rack to keep the cooked food warm for longer.
I found the removable firebox amazing considering how economic the smoker is. After separating the firebox the smoker can be presented as a tabletop grille. The firebox separated the charcoal from the ashes and I removed the ashtray every time easily.
Char-Griller 1224 Smokin Pro is an economical smoker and it has all the imperfections we find in any normal cheap rated smoker on the market. The first one is, it cooks food unevenly. The food nearer to the firebox gets more temperature. Hence, those are cooked first then the foods of the other part of the smoker.
It does have functions for temperature control but those are useless without sealing up the holes. Besides, the paint is not long-lasting; it starts coming off after a couple of uses. The accessories are rust prone and need maintenance to keep them useful.
It has gaps within the joining that causes smoke leaks. I had to seal those gaps with wielding at first to make it usable. It works wonders after modification; hence it is a useful item to enhance your kitchen and cooking skills without breaking the bank.
Things We Liked
830 square inch cooking space
Cooking in the firebox can be done
Removable firebox;
Economic;
Temperature control features;
Easy to clean.
Things We Didn't Like
Needs modification to stop leaking of the smoke;
Uneven cooking;
Rust-prone and peeling paint.
---
6. Char-Broil Oklahoma Joe's Charcoal/LP Gas/Smoker Combo
This smoker runs on three kinds of fuel at once. Gas, propane, and wood all are suitable to fire up this smoker and it has different chambers to equip these fuels and cook the food. It has a burner of 36,000 BTUs in the gas grilling chamber and 12,000 BTU side burners for charcoal. This smoker is launched by char-broil; a reliable brand for smokers of different kinds.
Versatility is the main feature that makes Oklahoma Joe's Charcoal/LP Gas/Smoker Combo distinct from other smokers in the market. You can choose your preferred method of cooking and available fuel.
It has a large cooking space of a total1, of 060 total square inches. a 750 square inch cooking surface is provided in the main chamber and an additional 350-square-inch cooking surface is present in the gas chamber.  The six grated included are made of cast iron and coated with porcelain.
This smoker is made in a durable and long-lasting manner. The lid-mounted temperature gauge is included in both of the chambers and several dampers are also included for better temperature control.
A storage rack is available at the bottom of the smoker. This rack is handy to store fuel, cooking utensils, and other necessary items. The handles are made to stay cool while the smoker is heated up to protect the hand. Good warranty and easy cleaning also make Oklahoma Joe's Charcoal/LP Gas/Smoker Combo convenient to use.
The cooking tray is less durable than I expected. Users who are cooking in this smoker claimed bent cooking trays after several usages. Besides, the gas cooking chamber becomes way too hot while cooking and it is not as heat resistant as it should be. It became useless for some after the very first use.
The quality, durability, and longevity are not up to the expectation considering the price of this product. But the opportunity to use different fuels to cook different flavored food makes this smoker unique.
Things We Liked
Separate gas, propane, and wood cooking chamber;
total1, 060 square inch cooking space;
Durable and long-lasting;
One Storage rack;
Cool handles;
Good warranty.
Things We Didn't Like
The gas cooking chamber is not favorable to cook food.
---
7. Outsunny Steel Portable Backyard Charcoal BBQ Grill and Offset Smoker
This one is a reverse flow offset smoker with a barrel of 348.75 x 20.75 x 41 inches barrel dimension.  It is made with 12-gauge welded steel to give it a heavy-duty construction. The cooking grids are also made heavy-duty by coats of powder.
This strong construction with angled legs makes the grill stiff and stable. Rust-resistant cold-rolled steel will give you years of reliable use for the BBQ season.
The smoker and its accessories are of a durable build. The barrel is made of 12 gauge welded steel whereas the racks are coated with porcelain for added durability and longevity.
Storage racks are attached at the bottom to store utensils and fuel. Wheels are attached at the end to give the smoker mobility. Cool handles are always safe to grip whether the smoker is on heat or not. Besides, a temperature gauge is attached to the lid for better temperature reading.
One thing that seemed bothersome to me is, no covers are provided or found in the market to cover up the entire unit. On the other hand, the main doors of the smokers do not close entirely which causes a small amount of smoke to leak. It is not a big issue compared to the other quality features this smoker has.
Some buyers complained about damaged products in the packaging. I recommend purchasing any high-end and pricey smoker from the store directly or from the manufacturer to avoid inconvenience. 
Things We Liked
Two wheels are connected on one side;
Storage rack and wheel attached;
Durable;
High-end product.
Things We Didn't Like
---
8. Royal Gourmet Charcoal Grill Offset Smoker
This offset smoker is within the affordable range of most users and has all the features a general smoker should have. It has a large cooking space, better paint, convenient features, better heat control, and easy maintenance.
If you are looking for an offset smoker at a cheap price with no big defects then you can consider investing in Royal Gourmet Charcoal Grill Offset Smoker.
Adjustable charcoal pan seemed fascinating to me. You can adjust the height of the charcoal pan in Royal Gourmet Charcoal Grill Offset Smoker. Besides, the manufacturer claimed the paint of the smoker is nonflaky.
The smoker comes with a total of 800 square inches of cooking surface. The swing-away warming rack gives an extra 179 square inches of cooking area and the main cooking chamber provides 438 square inches of cooking surface. In the firebox, there is a ¼'' diameter cooking grate available.
The Royal Gourmet Charcoal smoker is not as durable as I expected. But its other features are amazing and distinct. The body is thinly made and not entirely sealed as the advertisement said. According to the advertisement, this smoker has a better seal, and hence better heat-trapping performance compared to other smokers. But a little leaking of smoke was seen through the door while cooking.
Despite the tiny faults, cool handles, a big charcoal pan, a storage rack at the bottom, and the wheels at the very end are very convenient. I used the storage rack to put charcoal and the wheel makes it portable. A cover is also included within the price which makes purchasing this Royal Gourmet Charcoal Grill Offset Smoker a win.
Things We Liked
Big, adjustable charcoal pan;
Non-flaky paint;
800 square inch cooking space;
A cover, storage rack, and cool handles were added;
Seals better.
Things We Didn't Like
Less durable;
Not sealed up properly.
---
9. GT Outdoors Portable Smoker Grill Ideal for camping
This miraculous smoker is capable of four types of smoking. The options are Gas, propane, charcoal, and sear. If you are looking for an all-rounder smoker, then this is the smoker for you. With this smoker, you can cook food in every possible way and can win everyone's satisfaction.
Multiple smoking options are available in it. You can choose from your smoking styles from gas, charcoal, propane, and sear. Each one will bring a distinct taste to your food. You can also mix and match and experiment with your cooking skills with those options.
Large racks are provided to store necessary items at the lower part of the smoker. Four wheels are added to move this heavy machine conveniently. It also comes with a large cooking area to cover all those four fuel options. It is very sleek and elegant looking; it must add beauty to your backyard parties.
For me, assembling this machine was a total nightmare! It was very difficult and took a lot of time. Once it is done then the machine is ready to fire up.
According to users who are using this smoker for a long time, this equipment rusts within two or three years. The paint also peels off after a couple of uses. This is really heartbreaking considering the price you have to pay to own it. It is an expensive smoker; I expected better quality from it. It could have been a great option for foodies if it lasts a little longer.
The discrepancy is, according to the manufacturer smoke hollow', the latest smoker of this model is more heavy-duty and long-lasting than the previous ones. If that is the case then giving this product a try will surely not be a bad experience.
Things We Liked
4-in-1 smoker with gas, charcoal, propane, and search options;
Large racks available;
Large cooking area;
Four wheels were added;
Elegant design.
Things We Didn't Like
Difficult to assemble;
Expensive but the quality is not as good as expected.
---
10. Royal Gourmet CC1830SC Charcoal Grill Offset Smoker
This smoker is built in a manner that the paint won't flake off, that's what the manufacturer 'Royal Gourmet' claimed in the advertisement. It is affordable, has a large charcoal box, enough cooking space, a thermometer, and all other facilities that should be available in a decent smoker.
The total cooking space is 811 sq inches. 443 sq inches is in the main chamber, and another 184 sq inches is in the warming rack. This size is enough to cook food for a small party.
The lid is made of durable metal, cool handles are attached and a professional thermometer is provided. Having all these advantages at a cheap price was quite surprising for me. 
The damper and the height of the charcoal are adjustable. The charcoal pan is large with a 4.4 lbs capacity.  
Assembly was easy for me but may take a little time for beginners. Besides, if it is not done properly, then there will be gaps in between, and as result, smoke will be leaking from those gaps.
According to the manufacturer, Royal Gourmet, this smoker is made with harmful chemicals and is not suitable to use during pregnancy. This is the only drawback of this amazing smoker.
I did not experience the paint flaking off, but some users claimed this. It can be caused by overuse or improper maintenance. Other than this, Royal Gourmet BBQ Charcoal Grill is an affordable and less problematic smoker and suitable for family use.
Things We Liked
811 square inch cooking space;
Professional thermometer available;
Affordable;
Large and adjustable charcoal pan.
Things We Didn't Like
Made with harmful chemicals,
Not meant for everyone.
---
Maintenance of An Offset Smoker
Step 1- 
Empty the Firebox: This step will take only 5 minutes.
Remove the grills and take out the big piece of charcoal or wood if there is any.
Then sweep the ash into the tray with a brush.
Open the ashtray and remove the ashes. you can put them into a garbage bin or can use them as fertilizer in your garden. Now wipe the tray and slide it back into the firebox. You can use a moist piece of cloth to wipe the tray first, then wipe with a dry cloth before putting it on the firebox.
Step 2- 
Wiping out the Cooking Chamber: This step also takes not more than 5 minutes.
To clean this part, you have to remove the grills and heat deflection plates. After removing them, you will find cooking fat. Now wipe out the fat using a paper towel.
Step 3- 
Clean the Deflection Plates: This step may need 2 to 3 minutes.
Use paper towels to clean the fat from the plates. If there are any stubborn deposits of fate, just use a spatula and carefully scrape them out the wipe with the paper towel.
Step 4-
Clean the Cooking Chamber Grills: You can clean your grill with hot water. Or you can spray barbecue degreaser and let them sit for 7 minutes. Then scrap them using a brush and wipe them with a clean towel.
If the grills are moist after wiping, let them dry for a few minutes and then put them back into the smoker.
As you can see, cleaning your smoker will not take more than 25- 30 minutes. But if you spend that time after every use, it will last longer and give you healthy hygienic food every time.
Conclusion
Having smoked food is very common in many cultures. This type of food holds most of the nutrients as they are cooked in low heat.
But don't forget about your safety while cooking and cleaning the smoker.
Well, that's all I had to share with you today about Offset Smokers. I think you can have a basic idea about smokers through the article.
Want to know more about smokers? Let me know about the exact topic, I'll try to provide you with the proper information.
You Might Also Like: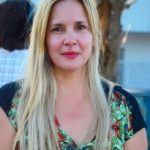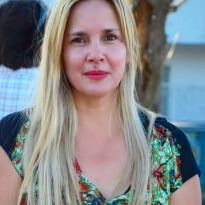 Guys, I am Camila Avery and I love to help my mom to do indoor & outdoor activities. As a lady, I have passed my time on gardening, home improvement, and personal or self-care. I have acquired some degrees in outdoor recreation, beauty, and hair care. It is not easy to work with top-level professional beauty experts. But, I got that opportunity and experimented with different hair extensions, hair colors, and cuts.