This post contains affiliate links, and we may receive a commission if you proceed with a purchase through one of our links.
Read our review guidelines
Optima 8016-103 D34M is one of the top-rated marine batteries for small boats and trolling motors. Unlike most batteries that you can only use for either deep cycle tasks or engine starting applications such as cranking your RV motor, this battery can work both ways. I also learned something else while charging this battery. It can take as much current as 100A without overheating when giving it a quick charge. Some batteries would just be ruined if you attempted to pull off something like that.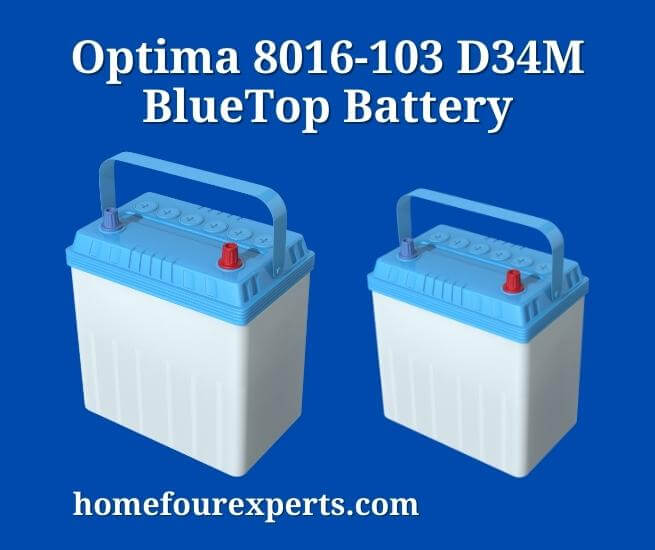 On the first day of usage, I was amazed to have used it for a whole hour, running my trolling motor continuously. When I measured how much charge was left. I was surprised to learn that I had only used 25% of the total reserve capacity. I gave it a quick charge to get it to full capacity again. So I decided to write this review: 
Optima 8016-103 D34M BlueTop Starting Battery
Cell Plates made of pure lead-tin alloy;
​Sulfuric Acid Electrolyte;
​Color Blue cover and light gray case;
​Battery Council International (BCI) Group size 34;
​Dimensions: 10.018 inches by 6.829 inches by 7.925 inches;
​Weight 43.5 pounds;
​Fully charged voltage 13.1 Volts;
​Capacity 55Ah;
​Reserve Capacity 120 Minutes;
​Cold Cranking Capacity 750A;
Marine Cranking Capacity 870A;
Important Features
The Optima 8016-103-FFP D34M is made of pure lead-tin alloy which is great for taking large currents without overheating. These plates are also able to react with sulfuric acid without forming an oxide coating, which is a big cause of battery failure in most wet acid batteries.
The small size and weight of this battery do not overload your boat even when you have several of them. Its small compact size is great when you want to build a battery bank, but do not have much space to spare.
With a capacity of 55AH, it can discharge a constant of 55A for one straight hour. It can discharge a current of 750A for thirty seconds at Zero degrees Fahrenheit, or 870A at 32 degrees Fahrenheit.
The 120 minutes reserve capacity means this battery can discharge 25A when operated at 80°F (26.7°C), for 120 minutes before the voltage drops to 10.5 volts.
AS a D34M battery, this battery can power a large vehicle with many onboard accessories without damaging its cells.
This battery is sealed and features a recombination technology. That means the battery is not serviceable and can be used in an enclosed environment.
Feature Benefits
This sealed battery affords you the luxury to use it without fear of an explosion of leaked gasses. As long as it is not overcharged, you can depend on its recombination technology to withhold and manage its gasses. This battery will also not spill its electrolyte if it is accidentally tilted. You can ride your boat without worrying about rough rides harming your battery.
If you have a need to manage your space due to the small size of your trolling boat, this battery is designed for you. It is small in size and compact enough to fit tight spaces. It is lightweight, and will therefore not overload your boat.
Most of the time, batteries are heavy, something that eats into the battery power if you use it to drive your trolling motor. This battery does not fall into the category of such batteries. It is light for its power output, making it very efficient and the best for trolling motors.
This battery being a dual-purpose battery means that you're free to use it to crank your motor or troll all day. You may use it to power your RV's onboard equipment if you need to. Many users consider this battery to be one of the best electric motor boat use, not because of its sheer power alone, but also because of its ability to recharge quickly.
Unlike regular lead acid batteries, it does not heat up when you charge it with as much current as 100A. All you have to do is make sure the charging voltage does not exceed 15 Volts.
If you recharge it with 100 amps, you can expect to attain 90% charge capacity within 35 minutes. That is an awesome fit by all standards. You can take your lunch break, and by the time you are back, your battery bank is 90% full!
What we liked
This will suffer less damage if overcharged;
Long life if it is well maintained, reaching over 1000-cycles;
It is affordable when you consider the service it will give you;
Being a flooded battery, it can last longer even with deep discharges;
This battery is light and therefore more efficient;
This battery charges up very fast, up to 90% within 35 minutes;
If recommended charger and setting are used, it cannot overcharge;
What we didn't like
This battery cannot withstand excessive vibrations;
You cannot add distilled water because it is sealed;
Insider Tips
Our optima battery review insider tips are, this battery you will never buy. If you wish to get the longest life service from this battery, just use the recommended charger settings. It can give you up to 10 years of service if you charge according to the charging instructions.
Summary of this Review
This battery is considered a perfect battery for trolling motors because of its deep cycle capabilities and the fact that it is also the best-starting battery as well. It allows you to charge it quickly to get as much as 90% of its total capacity within 35 minutes. You can use it for trolling for over two hours before you recharge it. Its batteries are made of pure lead-tin alloys. These lead-tin alloy plates enable it to accept large recharging currents without overheating.
Quick Solutions
How Do I Get the Charger for This Battery?
This battery charger is available if you order it along with the battery. Always buy an Optima Charger to avoid ruining your battery.
Can the Optima 8016-103 D34M Bluetop Battery Be Used in Marine Applications?
Yes, the Optima 8016-103 D34M BlueTop battery is designed for marine use and is suitable for boats and other marine applications.
Does This Battery Come in Protective Packaging?
Yes, this battery comes with some protective packaging. To ensure you get the battery in good condition, order the frustration-free packaging.
Is This Battery Available or Do I Have to Wait for Several Months?
This trolling battery is readily available. You can get it within one to three days of ordering. Choose the overnight delivery option if you wish to get it soonest.
Final Verdict
At the end of this review, it's proven that, if you are looking for the best-performing marine battery, then this is the right battery. It is light and recharges as fast as you would want it to. It can supply a current of 25A for over two hours. It can also crank up your engine during freezing temperatures or in hot temperatures. Its light weight enables you to carry two or three of them without weighing down your boat. It does not need any maintenance since it is sealed.
The Optima 8016-103 D34M BlueTop battery is a high-performance deep-cycle marine battery designed for use in boats, RVs, and off-road vehicles. It's known for reliability and resistance to extreme conditions, making it a popular choice for those in need of dependable power.
Read more: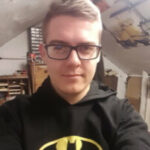 Hi, I am responsible for the 'Homeowners Power Solutions' category. My name is Liam Jaxon and a licensed technician with 7 years of experience in vehicle batteries, electrical gadgets, and home appliances. My working experience in different residential & light commercial electrical sectors and the automobile industry helped to acquire vast knowledge in this industry.