If you plan a camping trip in the rainy season, then make sure to keep a tarp on your backpacking list. It will save your tent from the rain. Also, keep dry your tent, ground, and all your gears.
A tarp is the most helpful item on your trip. It is also easy to pack. You can use a tarp in various ways. But here you will get the reasons to put a tarp over your tent. Depending on your needs, you can hang it up in several ways.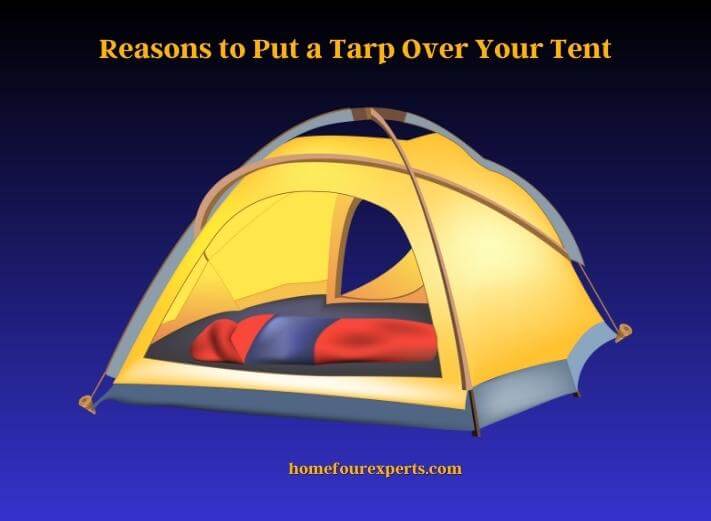 There is no real reason you don't like to consider using a tarp over your tent. It will help you by adding extra isolation against the wind. To know about it briefly, kindly read the below.
Why Do You Need to Put a Tarp Over Your Tent?
During your camping session, you want to keep your camping place dry and protect your tent from rain and wind, and then a tarp is a perfect item. So, get the reason why you should put a tarp over your tent. 
Stay Your Tent Dry From Rain
All campers know that the weather will change at any time. So, please don't depend on it. If you go on a camping trip, then you should be well prepared. If you want to keep dry from rain, then you must put a tarp over your tent.
If your ground is wet, then you will feel uncomfortable. That's why you should put on a tarp to avoid this situation. A tarp will keep you and your tent dry from the rain.
Protect from Harmful UV Rays 
The UV rays in full form are ultraviolet. It is one kind of electromagnetic radiation that comes from the sun. During the summer camping, your tent will be so hot. Then you will feel uncomfortable. And the direct sunlight will damage your tent slowly.
If you want to save your tent, then a tarp is the solution. When it comes to UV protection, you have to choose dark colors. A dark color can better absorb the UV light to a bright color.
Keep Your All Gear Safe
If you want the tent used for longer, then using a tarp over your tent is the better option. It will save your tent and all your gear. On rainy days camping, keeping dry is more important.
If you don't use a tarp, your tent will get wet. It is useful gear for rainy season camping trips. It will save you, your tent, and all your gear from rain. 
Give your Tent Wind Protection
On the high wind days camping lees ideal but with a tarp, you can protect your tent. So, you can block the wind. You also can block the wind from the kitchen area and your campfire at night.
Cover Your Tent for Extra Waterproofing
Every tent doesn't come with a waterproof rainfly feature. Generally, campers know that a rainfly doesn't stay forever. That's why you need extra protection. So the effective option is to put a tarp over your tent.
It not only covers your tent but also can cover up all your equipment. Also, keep dry and save from inclement weather.
What Type of Tarp Should I Use to Cover My Tent?
It depends on the climate and weather conditions you may be expecting while camping. Generally, a waterproof tarp is the best option for covering a tent, as it will provide protection from the elements. However, if you are expecting intense sunshine, a reflective tarp may be a better choice, as it will reflect the sun's rays and prevent your tent from getting too hot.
Are There Any Special Considerations When I Put a Tarp Over My Tent?
Some special considerations to keep in mind when using a tarp over a tent include:
1. Make sure the tarp is the right size for your tent. A tarp that is too large or too small can cause damage to the tent and may not provide adequate protection from the elements.
2. Secure the tarp with stakes or tie-downs to ensure it stays in place.
3. Check the tarp regularly for any signs of wear or damage.
4. Make sure the tarp is taut so that water can't pool on top.
5. When possible, angle the tarp away from the tent to help prevent water from running off the tarp into the tent.
6. Make sure there is ventilation under the tarp so that condensation does not build up.
How Do You Hang a Tarp Over Your Tent?
If you are a newbie to using a trap then you should follow the below. You may set up a tarp in several ways. It is so much easier to hang. There are a few specific ways to hang a tarp.  
You should choose a larger tarp to perfectly cover up your tent. That's for you to suspend it over your tent.
Try to string on the trees to suspend your tarp. It will help you with the water running down to the ground.
Maximum tarps have grommets metal on the sides of the tarp. It will allow you to tie the tarp and paracord to a tree.
Make sure that you hang it slightly slanting at an angle far away from your tent.
The most important thing is when you want to purchase a tarp you should consider a few things. Ensure it is lightweight enough. It would be cheaper than your tent. 
There are many sizes, and shapes available in the market. You should choose the right one. Because it allows you to gain fresh air and its design makes you feel closer to nature. 
What Is an Ideal Size Tarp for Camping?
There are various sizes you will find in the market. All those come with modern materials and smart colors. They are very lightweight so you can easily carry them with your backpack.
When you will purchase a tarp to cover your tent,  its size is the most important part for consider. What size tarp you will choose, completely depends on your tent size and dimensions. 
Generally, a tarp size is large enough to cover the tent and extra feet of space for surrounding it. For example- if your tent size is 7 feet by 4 feet then you should choose 14 feet by 8 feet or a larger tarp. 
Final Thought
A good tarp is one of the essential kits that you should take on your camping trip.  It will easily protect you and your tent from rain, wind, sun heat, and so on. A tarp will keep you dry and make camping more comfortable.
The use of a tarp over your tent is a great way to increase the lifespan of your tent and provide a layer of protection from the elements. Tarps can not only protect you from the sun and rain but also provide additional warmth and security. They also offer an affordable and easy way to add extra space for storage or even to create an outdoor living space. Ultimately, with the many benefits that tarps can offer, they are definitely worth considering for your camping trips.
Relevant Resources: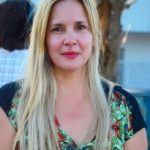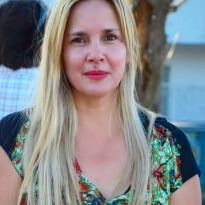 Guys, I am Camila Avery and I love to help my mom to do indoor & outdoor activities. As a lady, I have passed my time on gardening, home improvement, and personal or self-care. I have acquired some degrees in outdoor recreation, beauty, and hair care. It is not easy to work with top-level professional beauty experts. But, I got that opportunity and experimented with different hair extensions, hair colors, and cuts.