Published on: April 11, 2022
Written by David Rowan / Fact-checked by Eric Devin
This article may contain affiliate links, which means if you make a purchase following our links won't cost you extra, but we may earn a commission. Learn more
Whether you're a pro or a DIY hobbyist, having the right tools and accessories in a well-organized way and within easy reach is very important for doing your job. And for this, it will be a great idea to invest in the accurate stackable tool box system that improves your efficiency safely and efficiently without annoying delays when it comes to storing and transporting tools.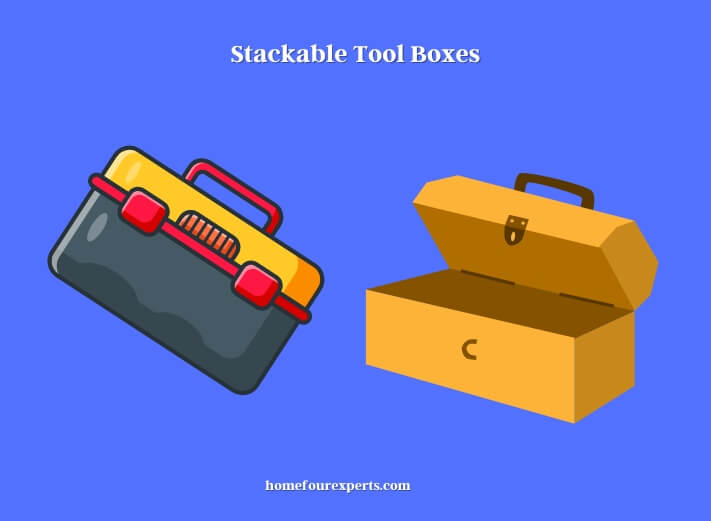 There are various types and features of the stackable tool box system available in the market, but selecting the right one to suit your particular need is essential. In this article, we have a solution for you. Our list will provide you the complete guideline for secure organizational solutions on the seven top stackable tool box systems.
Things to Look in Accurate Stackable Tool Box System
There are a lot of things and plenty of features to look after when buying the best stackable tool box system that comes with excellent quality at the same time also satisfies your requirements. So before purchase and to make your shopping experience easier, consider these features.
Materials
When looking to buy your tool box, you should consider the specific type of material that is made with. Because choosing the right equipment will ultimately determine durability, portability, build quality, and the price you pay for the tool box. Most tool boxes are made with plastic, metal, or aluminum. So consider choosing the best one according to your usual work environment as well as your specific needs. 
Storage Capacity
According to your needs, you have to buy a larger or smaller storage capacity or size of the tool box. If you are a professional, you need lots of tools for your working performance to carry around. In this case, you must consider that large-sized stackable tool box in which you can take all of your essential devices.
Number of Compartments
Tool box compartments are an essential piece because it is used as a storage option for keeping everything organized with easy accessibility and without wasting time. To prevent tools from piling up, some tool boxes offer simple compartments, whereas others provide different-sized compartments, drawers, cubbies, and trays to place your tools, accessories, and bits appropriately.
Weight
The tool box's weight is an essential factor because if you have to carry the tool box around in your workplace and a van, the heavy load can cause fatigue. After deciding the size and storage capacity, then think about how frequently you will be using it and then measure how much the weight tool box can catch up with you.
Portability
If the tool box is compact and comes with a handle and wheels, it will become portable, making it easier to move around. Portability not only reduces strain on your hands and arms as well as it will make your transport easy.
Wheels
If you are a tradespeople on-the-go or plan to take the box around too much, then consider a stackable tool box with a wheel system. Tool kits with large wheels can make much effort to move in and out from the site and are best for rugged, even all kinds of terrains.
Durability
The durability of the material is a prime feature because it guarantees you how long you can use your tool box despite using it on construction worksites, DIY work, rigors of transport, or trade jobs. High-impact raisin, polymer, and polystyrene construction tool box are strong enough to perform well against substantial impacts, collisions, scratches, and tears.
Association
We find it hard to proclaim the decent tool kit on something that can't arrange devices well. So huge boxes with one major compartment could turn out extraordinary. We need something that remains more coordinated over the long run so you don't need to go chasing around after instruments.
What Types of Materials Are Used to Make Stackable Toolbox Systems
The most common materials used to make stackable toolbox systems are plastic, metal, and wood. Plastic is the most lightweight option and is usually the most affordable. Metal is the most durable and is often used in industrial applications. Wood is an attractive option and is often used to give a more traditional look.
The Benefits of Using a Stackable Tool Box System

1. Improved Organization: Stackable toolbox systems help to keep tools organized and readily accessible, making it easier to find the right tool for the job.
2. Space Efficiency: A stackable toolbox system can be designed to fit into small spaces, allowing users to maximize their workspace.
3. Durability: Stackable toolboxes are generally made of metal, making them durable and long-lasting.
4. Portability: Stackable toolboxes are often lightweight and can be easily carried to different work sites.
5. Safety: Stackable toolboxes keep tools secure, helping to prevent injury.
Editor's Note
A right stackable toolbox will save you valuable time and give you a lot of energy to do your job in an organized way.
In this article, all stackable toolbox systems have impressive features like maximum storage volume, lightweight to move around, a push-button handle, durable wheels, etc. This will provide you with the complete convenience of usage, a larger cabinet for storage, and maneuverability. 
Now it's time for you to measure out all sides of the toolbox and decide to choose one.
Here are the Top 7 Stackable Tool Box System
1. Bosch L-BOXX-2 Stackable Tool Storage Case
Click on the Image >> See on Amazon
1-click stacking;
Four different carrying cases;
Locking clips for security;
3- Top, front, and side handle carrying options.
If you are someone who frequently works outside and wants to carry and need every one of your hand tools, this Bosch l-Boxx-2 stackable tool storage case is just for you.
This stackable carrying case is designed with one of four different cases that provide efficient storage space to improve the tool organization and transportation on the Jobsite smoothly and efficiently. 1-click stacking, locking clips, and notches help you to open up the box easily. It also helps to get access to tools and also close the tool box quickly.
This storage case is fully shockproof, crash-resistant, and water-resistant. All these features make this durable but lightweight box to carry in any situation by safeguards the tools from getting rust. The l-BOXX 2 case is equipped with three carrying options that are comfortable and convenient to move without any hesitation in all situations.
Pros
Durable and stackable tool box;
Crash, shockproof and water-resistant;
Lightweight and compact design;
Gives efficient storage space;
Fast access to lock and unlock;
Compatible with other l-BOXX system cases.
Cons
2. Stackable Rolling Mobile Organizer Tool Box
Click on the Image >> See on Amazon
Polypropylene-metal-and-PVC construction;
Special cable hooks;
2 large wheels and a telescoping handle for more convenience.
Stackable rolling mobile organizer cart by stalwart is another sturdy yet versatile stackable tool box. It offers you organized, easily accessible, incredible compartments and special hooks for holding off tools to itself. This wheeled cart has a storage tray, two slide-out drawers, a tilt drawer, a wire hook, and four removable bungee straps that ensure plenty of room to keep the tools needed quickly.
The rugged design makes the tool box strong and durable enough by keeping your tools safely and securely, even when you are in rough construction environments or traveling. It comes with two heavy-duty performance wheels and bearings and a long extendable trolley handle for easy transportation in your daily life on various surfaces and terrains.
Pros
Rigid construction makes it highly robust and durable;
Plenty of storage capacity;
Ensures comfort grip with attached handle;
Extremely practical and portable;
Fits your requirements perfectly;
Each compartment features an alloy hook for optional padlock protection.
Cons
Not strong enough to carry hefty tools.
3. DEWALT (DWST08204) Extra Large Tough System Tool Box
Click on the Image >> See on Amazon
Sturdy and durable construction; 
Ip65 water-resistant seals;
Anti-rust metal latches;
Central locking mechanism;
Adjustable foldable brackets;
Inner vertical storage; 
Large and high weight capacity.
Dewalt (DWST08204) extra-large, sturdy, durable system toolbox is where you can stress-freely load any small to large-sized tools, stationery, and other items without any hassle.  
This fantastic and dependable tool storage box features a durable and robust blend of thick structural foam walls, rustproof metal latches, and an ip65 rated integrated water seal. This design makes the box dust and water-resistant and ensures the highest level of complete protection and durability for your valuable tools.
To save your time searching for specific tools among many different units, this metal carrier has quickly detachable inner compartments and easily foldable and adjustable brackets for custom installation. Inside the box, it also includes a removable tray for additional storage and internal vertical storage for keeping great tools. Furthermore, the side and top handles make it easy to carry this tool box either by you or with a work buddy.
Pros
Robust 4mm thick structural foam box wall;
Huge interior space for meeting all storage needs;
Removable tray and inner vertical storage for hand tools;
Side handles make it effortless to be carried;
Detachable compartments for user convenient hand tool storage;
Protects content from adverse weather conditions;
Side latches allow stacking modules to the robust system units.
Cons
No wheels;
Some users have stated the lack of quality.
---
4. Bosch L-BOXX-3 Stackable Tool Storage Case
Click on the Image >> See on Amazon
1-click stacking;
Four different carrying cases;
Locking clips for security;
2- Top and side handle carrying options.
Another product from Bosch is the Bosch l-Boxx-3 stackable tool storage case. This is the same as Bosch l-Boxx-2 stackable tool storage cases in our list, but the only difference is this product is its handle.
The previous one has 3- top, front, and side handle carrying options. But this one has two handles carrying options such as top and side. This one also provides enough storage space solutions by its different sizes of boxes, which offer you the opportunity to fit various tools according to your requirements.
Pros
Durable;
Crash, shockproof and water-resistant;
Lightweight and compact design;
Provides efficient storage space;
For fast access it has a secure lock and unlocks systems;
Compatible with other l-BOXX system cases.
Cons
5. Heavy Duty Rolling Tool box Organizer by Stalwart
Click on the Image >> See on Amazon
Polypropylene and metal construction;
Two 4.2″ nylon wheels;
Comes with exterior and attached hooks;
Includes a double compartment and two removable trays with double side locks.
The stalwart heavy duty rolling organizer is a great and affordable tool box on our list. This lightweight, small to medium-sized rolling tool box provides excellent productivity and the highest organizational convenience because of its remarkably plenty of storage and rugged and robust design.
Reliable and stable polypropylene and metal construction make this tool box highly durable in all aspects by keeping all your tools safe and secure, even in the construction sites.
The 24 total small parts compartments, two removable tool trays, and one deep compartment at the base give you enough storage capacity for keeping any kind of tool in it. Its 4.2-inches built-in nylon wheels and collapsible handle guarantees a comfortable grip and ease of mobility to roll the tool box around.
Furthermore, with its cable hooks, you can easily hang cables, multi-plugs, wires, small supplies, and accessories, etc. As well as you don't have to worry about lost or tangled extension cords.
Pros
Gives plenty of storage;
Durable and rugged design;
The fold-down handle ensures a comfortable grip;
Highly mobile and lightweight to carry and move around;
Keeping extension cords neat and organized;
Great organizer for home and small, lightweight bits and tools;
Cons
Not ideal for heavy-duty tools.
---
6. Milwaukee (22 in.) Packout and Stackable Storage System
Click on the Image >> See on Amazon
 Impact-resistant polymers;
Ip65 weather-sealed;
IP rating standard;
Most durable and versatile storage system;
All-terrain solid wheels;
Industrial grade extendable handle.
Milwaukee rolling modular toolbox is another great rolling toolbox in the market for those who work out every day in any job site conditions like the ultimate heavy-duty construction site. 100 lbs. weight capacity, high impact polymer construction, low electrical and thermal conductivity make this modular toolbox very durable, resistant to water, and collision. Moreover, the Ip65 rating standards make it completely dust-proof and water-resistant. 
Another attractive feature of this box is that this professional tool carrier is modular. It comes with three sets of boxes, so you can break it down to a lighter variant and use them individually. You can also be attached as a single unit and set on a provided trolley to increase your mobile tool carrying capacity.
Three separate drawers have customizable slots and metal reinforced locking points and corners to keep your collection tools safe and organized. The rugged, oversized wheels of the trolley are quite strong and significant to handle any terrain, including stairs.
Pros
Impressive quality and durability;
Keeps tools dry and mobile;
Metal reinforcement on corners;
Water sealed gasket;
Low thermal conductivity;
Large high weight capacity;
Heavy-duty latches;
Reinforced hinge.
Cons
Overpriced;
Need to improve its locking system.
---
7. Stalwart Stackable Mobile Tool Box with Wheels
Click on the Image >> See on Amazon
Durable plastic construction;
Easy-rolling wheels;
Secure locking pop-up handle;
Separable interlocking boxes.
Another home improvement project from stalwart is a stackable mobile tool box with wheels, where you can easily, neatly, and in an organized way, keep your essential hardware tools. Strong and durable plastic construction with attached rolling wheels and the secure thick handle on the top of the inner box allows you to take your tools where you need them.
This product is designed with removable, multi-colored, and different compartments to hold numerous tools. The interlocking toolboxes are separable from each other so you can put one box inside another safely and efficiently when it is empty. But when you need to carry your tools around then, you can again put out the inner box and attach one to another and use it as a single trolley. Moreover, sharp notches and clips of each interlocking tool box keep your tools safe inside.
Pros
Versatile and portable;
Strong and durable;
Provides ample storage space;
Removable and multi-colored storage box;
Keeps hand tools and accessories safe and secure;
Easy maneuverable and comfortable handle.
Cons
Frequently Asked Questions
Do all Tool Boxes Come with an Integrated Locking System?
No, all the tool boxes don't have an integrated locking system. It depends on brands. Having a proper locking on your storage system ensures the safety and work in peace of your tool collection seamlessly.
Are Tool Boxes Waterproof?
Well, to be honest, not all the tool boxes are waterproof. Tool kits that are made with plastic have certain degrees of waterproofing.
How Much Do Tool Boxes Weigh?
With such a lot of assortment in the sorts and sizes of compact tool kits, loads range generally too. The lightest maybe 3 or 4 pounds, while the biggest tops out at 20 pounds. Likewise think about the plausible substance of the tool kit, since they could have an effect on the tool compartment's general load during use.
Read more: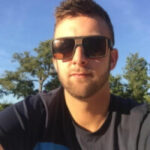 Hello, I am David Rowan. I am a professional contractor with 10 years of experience in home building, different tools used, construction, home remodeling, and other home improvement work. I have already built many custom homes and continued to do several woodworking projects along with how to deal with all categories of tools.