The roof is the protector of the house. That is why it needs repairing most frequently. It is not necessary to call the roofers to fix the roof every year for not-so-obvious reasons. Once you master the skill of operating the roofing nailer properly, doing your own roof or mending it is just a matter of time. 
Follow our steps carefully while using this flooring nailer. Following the rules will ensure that you will get the best professional results from the roofing nailer.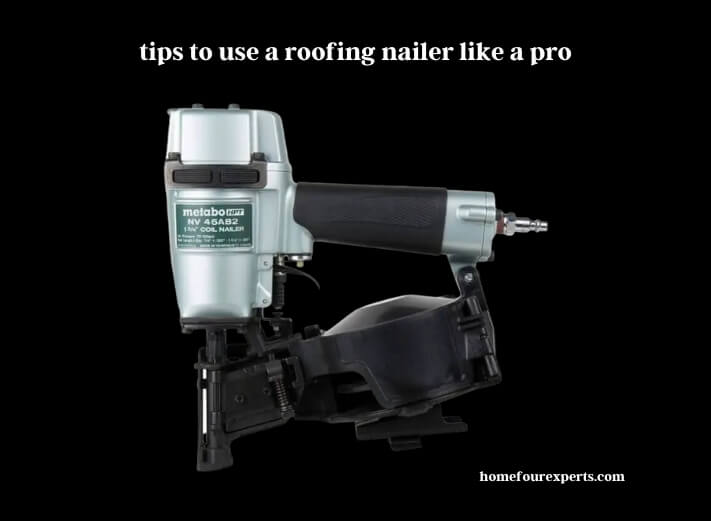 Steps to Use Roofing Nailer
Your secret to using a roofing nailer like a pro is described here step by step. Follow these steps one by one for the best results while using the roofing nailer for roofing. 
Use Protections
As you are reading this article, I can assume that you are obviously not a pro. And you must have seen professional roofers and contractors use nailers of any kind without any protection. But trust me, using protection is the first and foremost step for a beginner so that he/she can use the nailer without hesitation and follow the rest of the steps perfectly. 
Use eye gear, puncture-resistant gloves, and boots while doing your roof or remodeling it. Using a nailer involves high possibilities of risk factors for you and people around you. Using proper protection will save you from unexpected accidental firing. 
Choosing Nails
Typically 1-3/4″ nails with 3/8-inch to 7/16-inch diameter are used for roofing. The nails can be 11-gauge galvanized nails or any other corrosion-resistant nail. Roofing nails must have a round, full and flat heat so that it becomes seamless once fired. 
However, to use the nailer, there are two options for you. Either you go for the stick magazine or the coil type. If you still have the opportunity to choose a nailer with a coil magazine then go for it. Coil magazine roofing nailers have a better capacity for nails, are well balanced and comfortable for use on the roof. So, it takes less refills and minimizes downtime. 
Installing Nails
To install the nail canister, you have to open the feeder and magazine covers. Place the nails with their head facing outside and the points facing inside. Now loosen up the strip, pull it and place the first nail to the barrel. Installing the canister is done, now you can shut the lid of the feeder and the magazine. 
Proper Power
Roofing nailers are mostly pneumatic. Before using the nailer you must ensure that the air compressor is compatible with your nailer. Meaning you should check configurations that the air compressor has the operating pressure to run the nailer. Never use an under pressure air compressor with a roofing nailer. 
Set Nail Depth
Roofing nails must go all the way to the roofing material. Whether it is shingles, insulation board, tar paper, or asphalt, you must set the nail depth for the best results. Otherwise, you may have to hammer the nails manually if not inserted all the way at the first shot. 
Use of Modes
Some roofing nailers have two firing modes-contact and bump. There are nailers that also offer sequential mode. I like the second one. It gives you time to press nails at an exact interval. So that you can recover from the jerking as the nailer fires and set the next nail at the right place to fire again. 
However, you should set the mode before actually firing the nailer. If possible, use a scrap piece of wood for test firing. It helps to avoid improper firing of nails. 
Patience
Finally, one must have the patience to do a professional level job without such expertise or experience. You want to do your own roof or fix it? Then take time to align and nail the shingles. Roofing that has been done hastily shows the imperfections of the aligning and nailing pattern.  
Tips to Perfect Roofing
The first tip is to inspect your roof regularly for cracks, breaks, and leakage. It is the best practice to mend the roof whenever it is required ASAP. it just cuts off spending all the time, money, and energy to fix a roof that is beyond repair. 
Sweep roof daily. It not only cleans the roof but also helps for better ventilation and prevents leakage of the roof and clogging the gutter.
Clear up hanging branches from the roof. A hanging branch is a possible danger for the roof as it can break the shingle. Besides, critters and bugs will enter less from the roof if there is no branch to get them access. 
 Install attic insulation to save the roof from forming ice, molds, and algae. 
Try stepping on the roof as little as possible. Too much stepping on the roof can cause damage to its material. 
Use ventilation in the house to keep the roof dry and cool and last long. 
Install flashing properly for water resistance. Take time to install these because flashing prevents water from dripping inside the house. 
Must use a drip edge to regulate water from the roof toward the gutter. Maintain proper slope to the gutter to drain out rainwater. The water build-up is an enemy to the roof. 
Must maintain alignment to the shingles. Misalignment will just make it look ugly and cheap. 
Frequently Asked Questions
What Can You Use a Roofing Nailer for?
As the name suggests, roofing nailer is used for roofing, re-roofing, and so on. It is meant to be used with shingles of all kinds, insulated boards, paper tar and everything else that are used for roofing. 
Should Roofing Nails Be Exposed?
Roofing nails must sit flat on the surface. In shingle roofing, these nails are used at the edge to attach shingles to the insulated boards underneath. Another shingle is used to cover the nails that sit at the edge. Exposed nail is a sign of bad roofing. 
Can You Use Siding Nails in a Roofing Nailer?
It's not impossible. Siding nails can be used in roofing nailers as well but in that case, you have to make some compromisation. You have to blind fire the nails so that the nails can not be seen at all. 
What Size Nails Do You Use for Roofing?
3/8-inch to 7/16-inch diameter 11 gauge galvanized nails are used for roofing. Any corrosion-resistant nails will do. The nailhead must have to be flat and round.
Conclusion 
Roofing might be a professional's job but re-roofing or fixing the roof should not be. If you are a homeowner and love to fix your own thing on your own, then this write-up is just for you. Make improvements and repair to your roof easily as long as you use the nailer the right way, like a PRO!
So, now you know how to use it like a pro and what are the secrets of long-lasting roofing. This should help you to maintain your roof as well as fix it when needed.
Read more: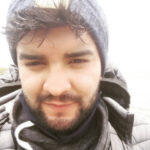 Hi, I am Eric Devin and I am a professional interior architect. Since childhood, I've always enjoyed DIY projects! And, I have loved to solve simple household problems using essential tools and equipment. I have also acquired a lot of information about basic household tools settings by working with contractors.