This article includes affiliate links, which means we may earn a commission if you make a purchase following our link. Please refer to our review guidelines.
Just like the roofing nails and roofing nailers, an air compressor also should be distinct to use with a roofing nailer gun. As we can not use just any nail and nailing gun to do roofing, we also can not use just about any compressor we have close by.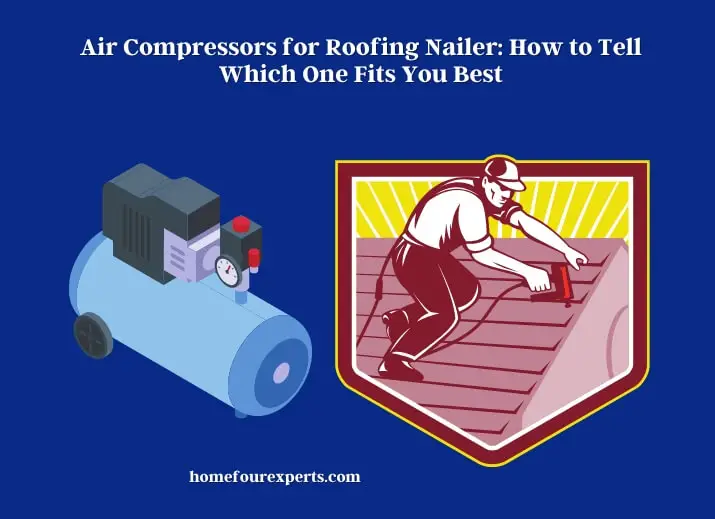 To produce the perfect amount of pressure to use one or multiple nailing gins, to minimize the recovery time, and to make transporting the compressor itself easier, we should use the compressor that is best for this job. 
Brace yourself and get ready to explore the best-rated air compressors we have sorted out after review and research. It will save you from doing these on your own which can cause a headache. In our list, we have listed the best-performance air compressors for varied budget ranges, functionality, and durability.
Read more: What is the best tool to cut drywall?
Air Pressure Requirement for Roofing Nailers
Air compressors are versatile tools. From blowing tires to aerating large water tanks or winterize water sprinklers, everything requires using an air compressor. But when it comes to firing a roofing nail out of a pneumatic nailing gun, there has to be minimum pressure to get the job done.
Generally, it requires 70 to 110 PSI and 2 to 2.5 CFM of pressure to use an air compressor to use with a roofing nailer. So, this one is the first and foremost requirement of any compressor you plan to use with a roofing nailer. 
There are other factors that affect the performance, which is why it is best to use an air compressor that is made to do this job solely. Check out 'How to Tell Which air Compressor Fits You Best' to get an idea of how to select an air compressor to complete roofing successfully and effortlessly. 
How to Tell Which Air Compressor Fits You Best? 
Weight and Durability
Weight and durability are positively correlated when it comes to the air compressor. The heavier the unit, the more durable it is made. But you have to keep in mind that, you must lift the unit to the rooftop to use it with a roofing nailer. That involves dragging this machine up to several stores.
If it is heavy, then you may need to seek help from others. It is not a problem for contractors, but for people who work alone, it can be exhausting. In that case, you should pick an air compressor that is easy to lift by one person, yet durable enough to last for years. 
Portability
It is a blessing that some units are thoughtfully designed to make these portable. These are not light but made easier to transport. For professional construction companies, investing in these will be wiser. As you don't have to worry about its durability due to the harsh working environment, yet it produces enough energy to run multiple tools, these are generally priced higher than others. 
Read more: What is the best saw for cutting trim?
Maximum Pressure
As I have mentioned earlier, an air compressor needs to have 70-1110 PSI to run a roofing nailer. You will be glad to know that, on our list, we have listed some compressors that produce way more pressure so that you can run two or three pneumatic tools simultaneously. It gets the job done faster and one compressor doubles as multiple compressors to minimize the cost. 
Oiled/Oil-free
There are two basic categories of air compressors. Lubricated and oil-free. The lubricated design requires changing oil from time to time to keep the compressor running without friction. On the other hand, oil-free designs do not require maintenance and don't spill. Yet, some professionals choose lubricated ones for better performance. In my opinion, it is just a personal choice and weather conditions. 
Capacity
The size of the tank determines the pressure it creates. But it also makes the air compressor heavier. So you have to find a balance here so that it does not be very heavy to carry around nor be less powerful to get the job done. 
Recovery Time
It reduces the downtime of roofing. The time the motor takes to refill the air tank to shoot the next nail is the recovery time. For professional roofing, the less the recovery time, the better for the job. 
Read more: What is the best sander to use for hardwood floors?
Noise and Vibration
Vibration is unavoidable for air compressors. All you have to look for is how quiet the unit is. Some cheap units are excellent to produce the required pressure, but awfully loud. These are not the ones you wish to have when you have to deal with them all day long.
On the other hand, the quieter models are pricier. Again, you have to use your brain whether you are okay with a loud machine as long as it fits the budget or if you need a more ear-friendly one to support your day-long performance. 
View the Top 7 Air Compressors for Roofing Nailer, Below.
1. DEWALT Hand Carry Air Compressor with Wheels (D55146)
Capacity: 4.5 Gallon, Pressure: 225 PSI;
Operates multiple nailers simultaneously.
Normally, an air compressor of 70 to 110 PSI is enough for roofing nailer operation. This unit from DEWALT produces up to 225 PSI so that you can run multiple nailing guns to speed up your work. You can use three framing nailers or two roofing nailers starving for airpower.  All you need is a 300 PSI hose to run this compressor. 
I can't explain how convenient this compressor is to drag around in the job sites and store when not in use. To carry this 80 pounds air supplier, a collapsible handle and no-flat foam tires are included. Lift it, or roll it wherever you need. This compressor needs to be laid flat during use, but the power cord is too short for its job. Don't worry, a simple 15 amp extension cord is enough to make this beast reach anywhere!
Professional contractors, construction companies, and remodelers all are kept into consideration while designing this machine. Even after a long day at the construction site, its 78 dBA noise will not bother you much. This one is a bit more pricey than most other models on the market, but for professional use, this one is the best pick. 
Good side
Quick recovery;
Easy to store and transport;
Maintenance-free;
Less noisy.
Bad side
---
2. Makita Air Compressor for Roofing Nail Gun
4.2-gallon capacity, maximum pressure: 130 PSI;
Includes oil drain and oil sight glass;
Uses up to 2 nailing guns.
For a more budget-friendly, yet reliable option, this Makita mac2400 is worth a try. It is not like Dewalt's 'no-maintenance' air compressor. In fact, this one is oil-lubricated and needs to change or add oil from time to time for smooth operation. This type of air compressor is best due to its temperature control and noise-free and vibration-free operation. Yes, this air compressor from Makita provides full force to run two nailers in a row without creating loud noise and vibration. 
The only problem with an oil-based compressor is, in freezing weather the natural oil tends to freeze the unit and it just doesn't want to start. There is a solution for it, just replace the oil with a synthetic type of oil. The machine should not have any problem. 
This unit is very heavy. It is not as transport friendly as our top pick, the Dewalt compressor. It can be lifted by one man, but it is difficult to move up and down the stairs. Besides, it is recommended not to use any extension cord. You should take into consideration these facts. Does your job site support use this model? If not, check out the next reviewed air compressors on this list. 
Good side
Highly durable construction;
Overload protected;
Low noise;
Bad side
May need to replace the oil in cold weather.
---
3. Campbell Hausfeld Quiet Air Compressor Kit, 8-Gallon Capacity
Maximum PSI: 300;
Accepts  18 gauge brad nails and 1/4 in crown staples;
Includes a chuck, 1/4-in. NPT (F) coupler, 4 pcs 1/4-in. NPT (M) plugs, 2 pcs 1/4-in. NPT (F) plugs, female & male couplings, 2 pcs inflation nozzles, safety & tapered nozzles, and many more.
A whole air compressor kit by Campbell Hausfeld is available at a crazy affordable price. Though we are reviewing air compressors to use with roofing nailers, this unit allows you to operate nailing guns as well as staples. A more versatile option for someone who runs both. 
For being a no-oil compressor, this machine is surprisingly quiet. It is a no-maintenance type for the same reason. The only problem with this kit is, it is not backed by a reliable warranty. In my experience, if the compressor decides to last, it lasts for ages, if not then you will have all the accessories, but will require to purchase a new compressor. 
However, for this reason, for small projects like repairing the roofing occasionally, this one is a wise choice for every homeowner. For professional use, it has a large capacity tank, but it lacks durability for heavy use. 
Good side
Versatile;
No-maintenance;
Quiet;
Cost-effective complete set of kits.
Bad side
May not be long-lasting;
No warranty. 
---
4. Rolair Oil-Less 1 HP Compressor for Roofing
This tiny compressor produces 2.35 CFM at 90 psi, which is quite low for the professional use of roofing nailers. But it's not useless. To be honest, this unit is better for trimming and framing and sometimes roofing on occasion. Yes, you are right, it is basically for homeowners, who want to use one air compressor to meet all their needs. 
First of all, the tank only takes 2.5 gallons of air. The positive thing is, this low capacity makes it more suitable to lift and carry up and down the stairs quite easily. It has a durable roll-cage design to protect the tank from job site damage. Besides, this unit is literally 'whisper quiet. So, people with serious noise issues should look nowhere else other than this. 
The price you have to pay for this limited-capacity air compressor is pretty high for me. You can easily own a much bigger capacity unit in this budget. To own a silent and durable air compressor, it is hard to find any competitor of this model. 
Good side
Portable design;
Whisper quiet;
Responsive customer service.
Bad side
---
Read more: Plate Compactors Reviews & Buying Guide
5. Ingersoll-Rand-Twin-Stack Air Compressor for Roofing, Decking, and Trimming
Maximum pressure: 135 PSI;
4 gallons.
If durability is your concern, then this air compressor from Ingersoll Rand should be your choice. The cast-iron tank, knobs, gauges, and couplers everything is taken care of to be of the best quality so that this unit wins the test of time. Don't get deceived by the advertisements that say this is 'lightweight and portable.
It weighs over 80 pounds, so there is no way it is lightweight or portable. However, a durable and high-capacity air compressor should not be lightweight. If it is, then the quality is questionable. But one thing is for sure, this unit could be designed in a way so that it can be easily maneuverable. 
If you want to know if this machine is alright to use with roofing nailers? Then yes, not only roofing, trimming, framing, and decking everything you fix up using a nail gun can be operated with this. It is an oil-based machine and uses synthetic oil. This oil is useful to use even in freezing conditions when petroleum-based lubricants give out. 
Be prepared to deal with the noise and vibration it creates. It is a side effect of a powerful air compressor. I can't say it is a disadvantage, but I must warn you about it beforehand. 
Good side
Synthetic lubricant for all-year-round use;
Highly durable construction;
Bad side
It creates noise and vibration. 
---
6. PORTER-CABLE Low-Cost Pancake Compressor
150 psi maximum pressure;
6-gallon pancake tank.
Though the pancake-style air compressors have lost the charm they used to have before the arrival of modern air compressors, we can't deny these are more budget-friendly, lightweight, and hold more air. Yes, apart from all these advantages, only loudness, vibration, and some other factors have reduced its sales considerably. 
So, these are the negatives of this model. It is loud and creates vibration, but the machine itself does not vibrate, it just causes the floor underneath to vibrate. The noise problem can be solved by proper air protection, but it is not suitable for use in a decent neighborhood. 
This machine weighs half of the other compressors on this list and is priced at the half as well. This is well balanced, you won't feel the weight even while carrying it with one hand to lift it several floors up. The only thing is, the operating system is Jurassic aged and the instructions are horrible. Other than that, this is the cheapest one can buy. 
Good side
Lightweight and well-balanced;
Oil-free pump;
Low cost.
Bad side
---
7. Senco Lightweight 1-Hp 1-Gallon Compressor
1-gallon capacity;
135 PSI, 1 hp motor.
There is no need to drag bulky and heavy air tanks all around the construction site when you can do the same job using a lighter option. Senco has brought this 1-gallon compressor keeping the small tasks in mind. Because air compressors are not used solely for firing nails.
After accomplishing the roofing tasks, you are left with an unnecessarily big compressor to do minor reasons. That is why this portable small-capacity unit seems more thoughtful. 
Despite being small, it can create 135 PSI to operate roofing nailers. Needless to say, it suffices to do other tasks around the house like filling up tires or winterizing the water pipes, and so on. 
Another good reason to spend on this is, it is also priced less. The cost you send on heavier models, you have to pay half of that price for this unit. For homeowners, artists and DIY enthusiasts, these units are more convenient to own, operate and maintain.  
Good side
Ultra-light and compact;
Affordable;
Quiet operation.
Bad side
---
FAQs for Air Compressors
How Much Psi Do You Need for a Roofing Nailer?
Roofing Nail Guns
The nails go through the belt like a gun, which gets stuck when used. Roofed pneumatic nails are made from 1 1/4-inch nail to 2 1/2-inch material nails fastened to a roof with black-top composite shingles. The pressure used for this is 100 to 90 psi.
What Size Air Compressor Do I Need?
The formula for working with a right-sized home air compressor is to include CFM requirements for each of the devices you plan to use, as well as to differentiate each of the Pinnacle PSI requirements. This gives you the size of the tank in gallons, the range of CFM, and the distance of the strains to your required PSI.
What Size Air Compressor Is Best for Home Use?
For best outcomes, utilize a compressor with a limit of 5 to 6 CFM. Since you'll shower almost continually, a bigger, 10-gallon tank will hold you back from trusting that the blower will top off like clockwork.
Last Words
Even the most professional air compressor can give out earlier than expected if it is not taken care of properly. These machines are highly abused, so you should pay close attention to the air filter if it is getting filthy or contaminated with dust and debris.
The bolts and screws can get loose from the vibration, so these also need to be checked once or twice a week depending on the frequency of use. If the unit is oil-based, then you should use the right lubricant for it, as the manufacturer suggests. 
These little things make these units last longer. Take care of your valuable air compressor, in the long run, it will take care of you in return.
You Might Also Like: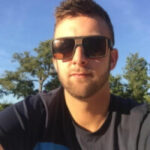 Hello, I am David Rowan. I am a professional contractor with 10 years of experience in home building, different tools used, construction, home remodeling, and other home improvement work. I have already built many custom homes and continued to do several woodworking projects along with how to deal with all categories of tools.