Published on: March 5, 2022
Written by Camila Avery / Fact-checked by David Rowan
This article may contain affiliate links, which means if you make a purchase following our links won't cost you extra, but we may earn a commission. Learn more
To get the best results from your hour-long workout, it is necessary to choose the right pair of shoes that will match your workout demands. For example, the running shoes for use on the treadmill are different from those used outdoors. If your running involves terrain or incline running, you should put some effort into finding the pair that will cause less stress on your feet, ankle and knee.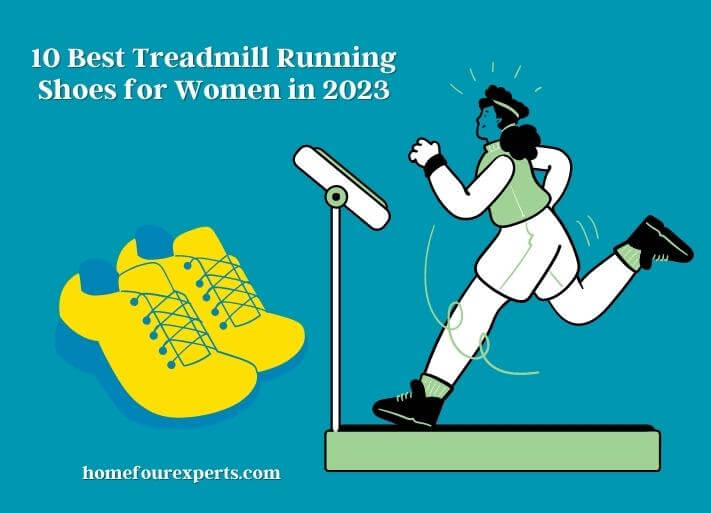 On our list of best treadmill running shoes for women, we have covered both of your needs. Here, you will find shoes that will be good for treadmill running and shoes that will be good for outdoor running too. Don't miss the buying guide to choose the right pairs that will fit your size, running pattern, comfort, and style.
Top 10 Treadmill Running Shoes for Women – Short Reviews
1. ASICS Roadhawk-Women's Athletic Shoes for Treadmill Running
Heel: 19 mm, Toe: 11 mm;
Available color combinations: insignia blue-silver-rogue red, aquarium-white-orchid, dark gray-silver-glacier Sea, cherry blossom-birch, glacier gray-safety yellow, black-silver-white, gray-yellow, carbon silver-flash coral, dark gray-mint; 
Size ranges from 5 to 12.
Training for an upcoming marathon? These running shoes are the perfect choice to run on plain pavement for the long term, such as marathons. Besides, these are also great to train for the marathon using a treadmill. 
One shoe merely weighs only 7oz. So, while running, the weight of the shoes will not be dragging you down or slow you down.  There is a thin layer of cushioning in the inner part which gives these shoe comfort but won't feel bulky. I find that the comfortable dry sock liner is great to soak up sweat from the socks. No matter how sweaty you get while running, your feet will not slip on the sole. 
This is a pair of long-lasting and lightweight quality shoes. The toe box of this model is narrow, it will fit better for ladies with thin feet. For better room and well fit for wider feet, order one half or full-size bigger shoe. It is especially applicable when you are running during summer. All the shoes are super stylish. 
Pros
Affordable;
Lightweight;
Suitable for a long time running;
Dry sock liner suitable for sweaty feet. 
Cons
The narrow-toe box may result in a purchase of one or a half size larger. 
---
2. New Balance Women's Cushioning Shoe for Trail Running on Treadmill
Models: Light gray, black-blue, dark gray, gray, gray-purple, steel, thunder, vortex, black-thunder-ocean air, and black-Pink
Size: 5 to 12 in normal and wide sizes.
For an intense workout, terrain running on the treadmill is the best cardio exercise that burns the most fat in the least time. It can be painful and difficult if your feet are not supported with a pair of well-built and well-cushioned running shoes. These shoes from NEW BALANCE are meant for terrain running, whether it is on a treadmill or rocky pavement. The advantage is, you can use the same shoe for walking outdoors too. 
The size fits truly and is made durable to withstand heavy use for the long term. I liked the fact that all the sizes are available in two different variations, normal and wide. So that ladies with thin and wide feet can pick the perfect fit easily. I found it well cushioned for me, but for overweight women, the provided cushioning may not be enough. You can use an extra insole if you want to make these extra comfortable. 
Pros
Suitable for terrain running;
Rugged construction;
True size fitting;
Wide toe box.
Cons
---
3. Saucony Women's Cohesion 13 Shoes for Running
Synthetic-and-mesh;
Imported and rubber sole;
Shaft measures approximately mid-top from the arch.
One thing is for sure, at first glance, girls fall in love with SAUCONY shoes for their beautiful color combination and bold design. This liberty line from SAUCONY is no different. All six shoes from this series are worth investing in. I find wearing these shoes even more attractive with a casual outfit on a daily basis.
 However, in terms of usability, these shoes are good or light to moderate walking on a treadmill with a plain or inclined ramp. These shoes lack the thick cushioning and arch support one needs for terrain running or running outdoors on uneven surfaces. 
Liberty shoes have a thin heel and the incline from heel to toe is only 12mm. Shoes with fewer heels need to be purchased in a larger size. So, I recommend ordering a larger size for these shoes. For thin to regular-width feet, liberty should fit and feel perfect. 
Pros
Light and breathable;
Durable rubber outsole;
Neutral water-resistant;
Suitable for running plain.
Cons
May not be suitable for long-term terrain running.
---
4. PUMA Women's Shoes for Multiple Workouts
Available in a black-silver-pink glow, black-silver-beetroot purple, white-fuchsia purple-silver, and white-cerulean-silver color combinations; 
Lace closure.
Though the advertisement says, these are cross-trainer shoes, in my opinion, these are all-rounders. If you are a fitness enthusiast and are prone to do every kind of workout including running, HIIT, weight lifting, and kickboxing, this shoe will be the perfect choice for you.
This one pair is suitable to complete the workout circuit without changing into other types of shoes. Don't go for the look, I realize that only black-purple and white-purple combinations are somewhat boring and every woman is not a big fan of these colors. But, the stability and shockproof quality of this shoe during various workouts are amazing. 
The top layer is synthetic leather, which is easier to clean compared to canvas and mesh material, but it makes these shoes less breathable. This is the only downside of this shoe for me. 
Pros
Only a few color variations;
Easy to clean;
Stable platform;
Suitable for cross-training.
Cons
---
5. HOKA ONE Women's Arahi 5 Textile Synthetic Trainers on Treadmill
Engineered mesh uppers deliver breathable comfort;
Lightweight support;
Flat-waisted geometry provides inherent stability.
As women grow older, they tend to face more orthopedic health issues than old men. Weak or bad knees, football pain, and many other issues start to take over the regular movement of aged women. The right pair of shoes can be the best assortment for those women with health issues that reduce their mobility. This shoe from HOKA is just like those shoes that are meant to support you in the right places. 
The thick cushioning, thick sole, wide toe box, and high supported arch altogether make this one of the best shoes that can be used to run on the treadmill. I recommend this for older women especially because they often face difficulty finding supportive shoes. 
However, these shoes can be worn by literally anyone during a workout on the treadmill or while running outdoors. There should be no problem regarding finding the right pair.
Pros
Available in extra-large size;
Good arch support;
Suitable for older women.
Cons
---
6. Nike Women's Track & Field Running Shoes
Color Shown: Raspberry Red/Bordeaux/Teal Tint/Plum Chalk;
It's a soft, smooth, responsive ride.
While other shoemakers claim their shoes reduce impact, this Odyssey range gives you a bouncy and springy feeling throughout the running. Running on a treadmill with even a high incline will be less stressful. The upper portion is made with NIKE's patented 'fly knit' material. This material is amazingly soft, and breathable, and makes the whole shoe featherlight.
The Odyssey range has over 10 striking and vibrant running shoes dedicated only to women. Considering the lightweight and sober design, these can also be worn on a walk or jog outdoors or even on a casual outing. The sole is somewhat flat, and the upper layer provides a snug fit. So, whoever looks for some room inside their running shoes should order a half or full-size larger of the same model.
Pros
Secure lockdown;
Stable;
Responsive for tempo runs;
Durable;
Cheap.
Cons
---
7. ASICS Women's Running Shoe, GEL-Venture 5
Soothing sea, lime punch, diva pink, ocean depth, phlox, pistachio, flash coral, indigo blue, dutch blue, and frost gray models are available in the collection. 
Gel cushion and removable sock liner.
So far, gel venture-5 from ASIS is my best shoe for running on a treadmill. The gel cushion makes it different from other competitors and provides unmatched support for women with bad knees or sore feet. It is so comfortable that you will never want to change your slippers for air circulation. 
The most amazing thing about this venture-5 series is, these not only feel good, but they also look pretty too! It is hard to find any range of athletic shoes that offer shoes for women with a variety of color combinations. Most of those have a hint of pink and are labeled as women's shoes. On the contrary, there are more variations in this range and all are super glamorous. 
These shoes fit right, but the same shoe is available in a wider version. For long, intense running on a treadmill, it is best to choose a roomy shoe. Surprisingly, the wider ones don't look bulky on skinny women. 
Pros
Long-wear sole;
Impressive cushion;
High arch support;
Spacious toe box; 
Stylish look.
Cons
---
8. Brooks Ghost 14 Women's Neutral Running Shoe
A simplified midsole construction;
A certified PDAC A5500 diabetic shoe and APMA seal of acceptance are provided;
Ideal for street racing, cross-training, gym, or wherever you want to take them.
Different sizes were available for normal, wide, and narrow feet.
Choose your Ghost shoes from more than 14 impressive-looking shoes from BROOKS. Don't get disappointed if you can't find the right size for your feet. Brooks launches the same size in different models to fit medium, narrow and wide feet for women. This is the best shoe for finding the right size. 
The interior has a DNA loft cushioning that provides comfort when you run on a treadmill even after an exhausting day. The sole has a segmented crash pad underneath that evenly spreads the shock, leaving you unaware of the impact that could leave your feet sore. The top part is synthetic and breathable mesh, giving you the slim look you always look for when choosing athletic shoes for yourself. 
Pros
Medium arch support;
Smoother and softer than ever;
Durable.
Cons
---
9. ASICS Gel-Kayano LITE 2 Running Shoes For Women
Gel technology;
Engineered mesh upper;
A higher percentage of recycled materials.
Looking for a shoe for running on different modes of your treadmill? This pair is just the right pick for you if you are looking for a running shoe that will fit you like gloves. 
The multi-directional stretch mesh on the top layer hugs your feet perfectly and stretches in the right places at the right motions. 
This gel Kayano range is designed inspired by our childhood experiences. The names and color combinations resemble the comic books we all read during our teens. 
By wearing these, you will instantly feel the spark in you to push you further to reach your fitness goals while running on the treadmill. 
However, the gel cushion on the foot gives a bouncing effect that you will never find in foam or EVA cushioning. Gel cushion lasts longer than foam cushion too. 
Pros
Wide range of color combinations;
Bounce back functionality;
Sizes for wide, narrow, and medium feet.
Cons
---
10. adidas Ultraboost Running Shoe For Women
Fabric lining and Lace-up closure;
Midfoot cage;
Responsive boost midsole;
Stabilizing torsion system.
How much are you willing to pay for a pair of real ADIDAS shoes? Even if you are on a budget, I recommend reconsidering it. 
These ADIDAS running shoes are pricey, but definitely worth every penny considering how adaptive these are to the motion of our feet. If you are a beginner on a treadmill, then these shoes will help you not to feel the stress on your feet even after an hour of incline running. 
On the other hand, for pro athletes, these shoes are going to make you ditch every other running shoe you ever had. There are more than 21 color combinations in this range. All are super glamorous and well-made. 
You will not need a long time to break in the shoe, these feel comfortable even when worn for the first time. 
Pros
More than 21 types of color combinations;
Adaptive mechanism;
Takes less time to break in.
Cons
---
Read more: Finding the Best Compact Treadmill
Which Shoe You Should Buy?
The shape of the Feet
In my list, you will find shoes that are available in different sizes. The same shoe in the same size is available for narrow and wide feet as well. If you are lucky to have narrow feet, you can get in any shoe you want. It is always better to choose half a size bigger especially in the case of purchasing running shoes if you don't intend to purchase the wider version for avoiding looking bulky. This way your toes will have room and you will not feel numb after a long run or walk.
For ladies with wider feet, you may find it difficult to choose a pair that will feel spacious enough to give you the desired comfort. You must consider the construction of the shoe before buying it to get an idea if it will fit well. Read ahead the following tips to choose the right size for wider feet. 
Size
Finding the right size for running shoes online can be traumatic. No worries, I am here to help you out of this mess. Keep in mind some issues before checking the size you want to buy. 
First of all, the heel-to-toe drop of the shoes plays a vital role in choosing the size. If the drop is less than 20mm, then the sole is somewhat flat. If the shoes have big arch support, then they will hold your feet in the midsection and should fit you truly. 
You should choose a half-size bigger shoe if the shoe has not any significant arch support. 
For shoes with thick soles and high arch support with a heel-to-toe incline of more than 20mm, the size should fit well. These shoes usually have a wider toe box and are an excellent choice for heavy use like incline running and marathons. 
Read more: How to Select Best Treadmills for Senior Walking
Color
For only treadmill use, you can absolutely choose any color you want. Any light color would not be dirty if used exclusively indoors. For outdoor running, a pair of shoes in a vibrant tone will get less dirty and will look eye-catchy. 
Arch Support
For women with health issues like a bad knee or sore feet, a pair of running shoes with high arc support will be the right choice. Besides, if you have a high arc under your feet, flat sneakers will feel less supportive of you. These are also great for inclined and terrain running on a treadmill. 
Cushioning
Look for cushioning details of the shoe. A gel cushion on the sole is the best to reduce impact and give you a bouncy ride throughout the workout. Eva or loft cushioning are the next best options. These are more affordable and give you all-around support and comfort.
Useful Tips from Pro Runners
Clean your shoes weekly with wet wipes. For thorough cleaning, clean it manually with lukewarm water and detergent. Avoid over-cleaning, or this may cause the top material to damage sooner. Never ever put the shoes in the dryer. It will ruin the shape and size of the shoes. 
Every pair of running shoes has an expiration time. It depends on how often they are used and where they are used. If you use them daily only on a treadmill, the shoes may lose their cushioning after continuous use for 6 to 8 months. If used outdoors, on gravel they will expire quicker. Replace the shoes when it loses their cushioning to avoid unwanted injury. 
It can happen that the shoe you have bought has arch support not satisfactory enough, or a sock liner is not soft enough. These problems can be solved by using a sock liner or orthotic inserts or using socks with added arch support. 
Benefits of Wearing the Best Treadmill Running Shoes for Women in 2023
Wearing the best treadmill running shoes for women in 2023 can provide several benefits, including:
Improved comfort: Treadmill running shoes are designed with specific features to provide cushioning and support for the repetitive motions of running on a treadmill.
Reduced injury risk: Treadmill shoes are also engineered to reduce the risk of common treadmill-related injuries such as shin splints and stress fractures.
Enhanced performance: Treadmill shoes are often designed with specific technologies to improve traction and stability on the treadmill belt, which can help you run more efficiently and comfortably.
Durability: The best treadmill shoes are built to last longer and withstand the wear and tear of running on a treadmill.
It's important to note that the best shoe for one person may not be the best for another, as it depends on the individual's foot shape, gait, running goals and etc. It's always a good idea to consult with a professional or try different shoes before making a purchase.
Conclusion
You can always return the shoe for a bigger or smaller size if purchased online. So, it is not a big deal if the shoes you have ordered online after hours-long research don't fit you. You have to take the risk of buying running shoes online because here you will get genuine items that will be by your side for years to come. Once you find the perfect pair, you will never want to choose other models or other brands.
The best running shoes for an individual depend on various factors such as foot shape, running style, and personal preference. I recommend consulting with a professional or doing research on different types of shoes to determine which ones may be the best fit for you.
You Might Also Like: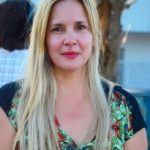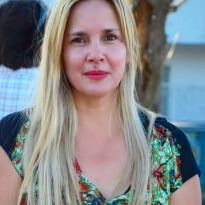 Guys, I am Camila Avery and I love to help my mom to do indoor & outdoor activities. As a lady, I have passed my time on gardening, home improvement, and personal or self-care. I have acquired some degrees in outdoor recreation, beauty, and hair care. It is not easy to work with top-level professional beauty experts. But, I got that opportunity and experimented with different hair extensions, hair colors, and cuts.