Published on: April 26, 2022
Written by Eric Devin / Fact-checked by David Rowan
If you have an old tree trunk in your backyard sitting for a long time, it's time to turn it into attractive artwork!
Wondering how it'll be possible!
I'll tell you how!
If you're in the woodworking industry for a long time, you must know about the chainsaw. Yes, it is the magic tool that can help you turn a useless tree trunk into a masterpiece!
In this article, I'll share some attractive and easy to do chainsaw carving ideas which can turn your backyard into an amazing place.
1. Flying Angel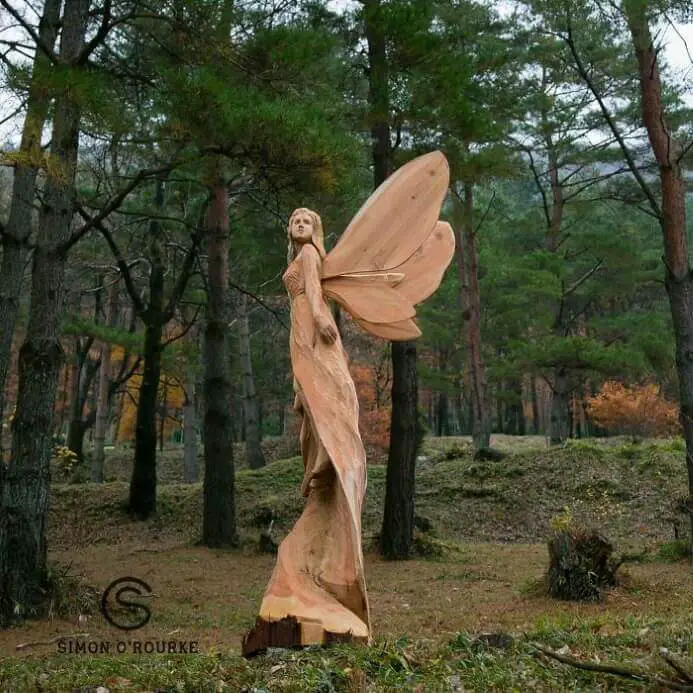 How to
The angle on the photo is done mostly with a chainsaw. There is little touch-up or polishing done on this, but still, it looks artistic as it is. I have never seen an angel sculpture done on wood this gracefully. The feet of the girl are peeking from the folds of her gown, looking like the angel is about to take off from the ground. The wings are attached separately after finishing the main body.
Tips
This sculpture will look like a masterpiece anywhere. You can do it on a moderately thick tree in front of your house or in a backyard garden.
2. Peacock Sitting on a Branch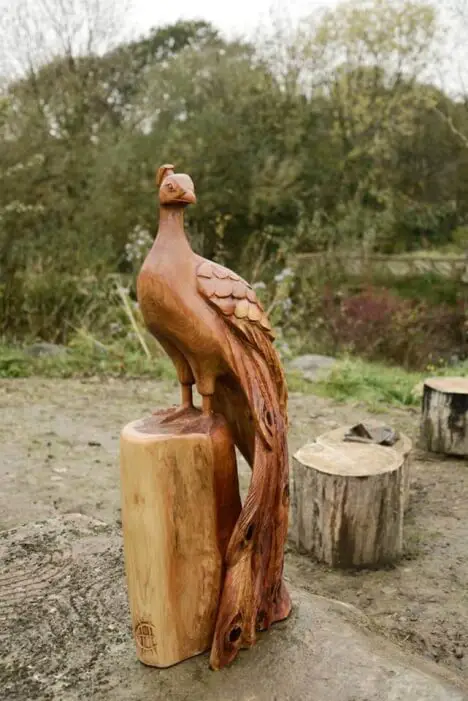 How to
To make this beautiful peacock sculpture, you need to choose a tree with a branch at waist-length height. It may look difficult, but after stripping the skin off the tree and shaping the peacock, things will seem much easier. This curving requires patience, polishing and painting after it is done.
Tips
You can choose to leave this sculpture as a tree stomp or bring it home to enrich your collection of showpieces.
3. The Owl and the Books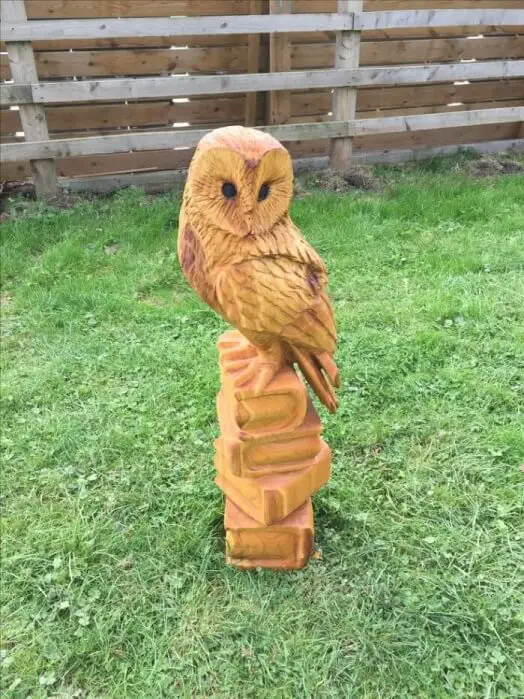 How to
It is a nice Harry-Potter theme carving idea. If you have a big fan of Harry Potter in your family and want to impress him/her, this piece of art is the right choice. I encourage beginners to try this because you don't need to be a pro to transform a tree into this. Curving the books with a chainsaw is very easy; for the Owl, you should pick smaller carving tools to prevent any mistakes.
Tips
This idea will best suit the Halloween season. It can be a showstopper in your outdoor Halloween parties. Staining the owl will make it more realistic.
4. Woodpecker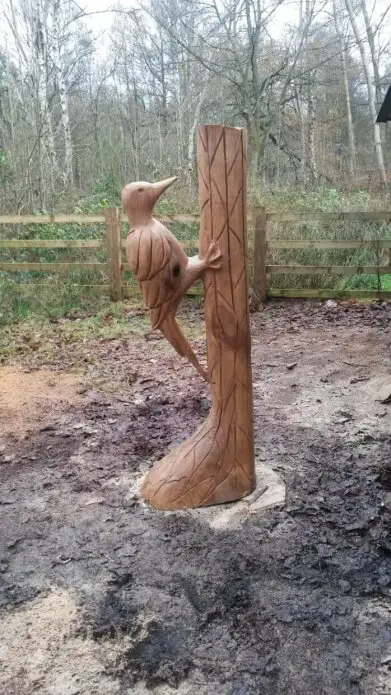 How to
You don't always need a large tree to curve in an artistic piece of sculpture. This one is a good example of how to use a small tree to create beautiful art. It will take little time and a couple of tools to complete. Here, a woodpecker is curved like it is looking for worms to eat.
Tips
You can choose any bird of your choice and can change the theme as well. How about a crow trying to nest on the branch? I believe that will look fantastic.
5. Owl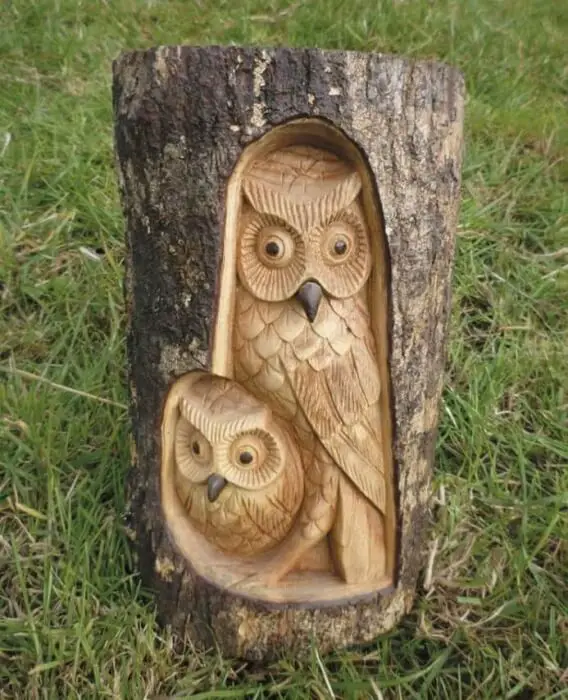 How to
Here is an idea of curving with a chainsaw without ruining the tree. In fact, curving with the left living is more sensible. This Owl looks realistic because the tree is not damaged. Looks like it is resting in its home. Only the eyes are replaced with glass beads to make them look alive. The rest of the body is left with a natural wood texture.
Tips
I prefer staining the Owl's body as well. That way, it will look scarier and the effort of your curving will be fruitful, isn't it?
6. Anaconda Wrapped Around a Tree Trunk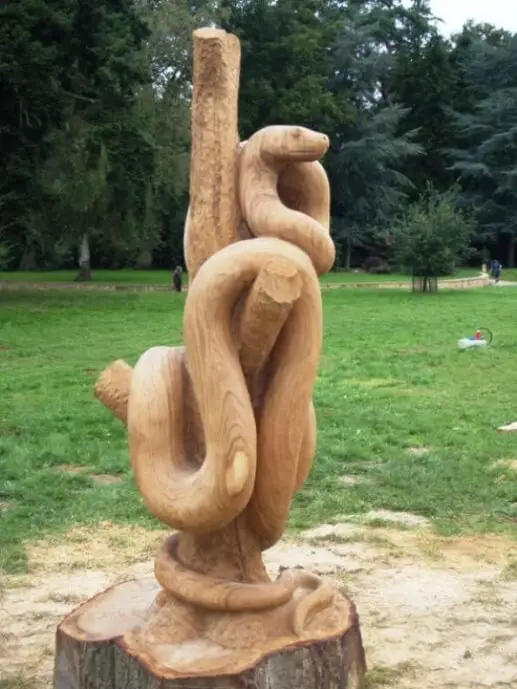 How to
This artwork is way too difficult than it looks. To curve the snake out of the tree, you have to curve the entire tree from top to bottom. After that, a smaller curving tool needs to be used to curve the snakeskin and the rough texture of the tree trunk.
Tips
A large, thick tree is the best to curve this kind of artwork. You can be more creative by doing it on a tree branch while leaving the rest of the tree untouched.
7. The Mermaid on Coral Reef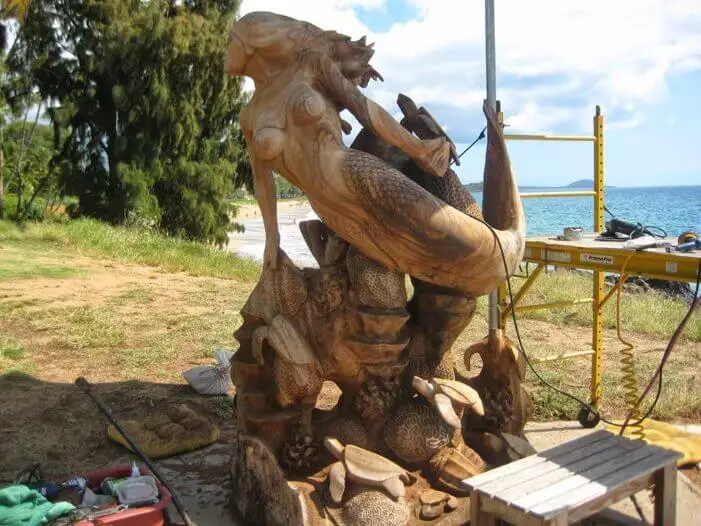 How to
It is one of the most popular themes to work on a tree stump placed by the side of a pond or lake. Here, the mermaid is wrapped around a coral reef, but you can change the pose as you want. In my opinion, a mermaid resting on a tree stump or brushing her hair with fingers or simply gazing out at the horizon will look even better. To make it more realistic, if the place is windy, you can make the hair of the mermaid flowing in the wind.
8. Wildlife Motif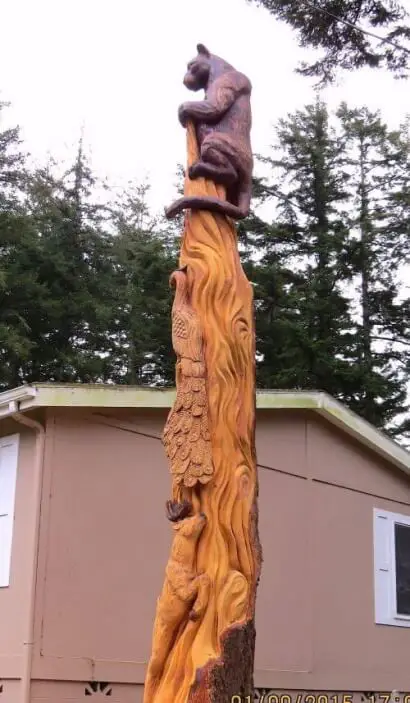 How to
A tiger, peacock and a reindeer is carved all around a 22 ft. stump with chainsaw.You can replace the animals with other species like bird or fish and the whole story will change. That way, it will look more dramatic and fun. A uniformly thick and long tree stomp is required to create this art piece.
Tips
The best location for this wood carving will be in the woods. If you own a farmhouse, then that can be an ideal place to create it too.
9. An Old Monkey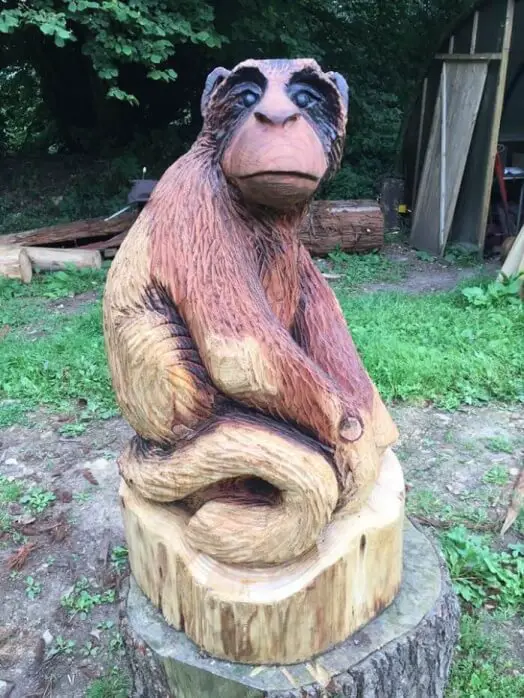 How to
An aged monkey is relaxing on a tree stump. It is an ordinary and easy to create piece of art considering how beautifully any kind of complexity is avoided here. You can also add a baby with another monkey and make it a romantic art piece.
10. Simple Cemetery Angel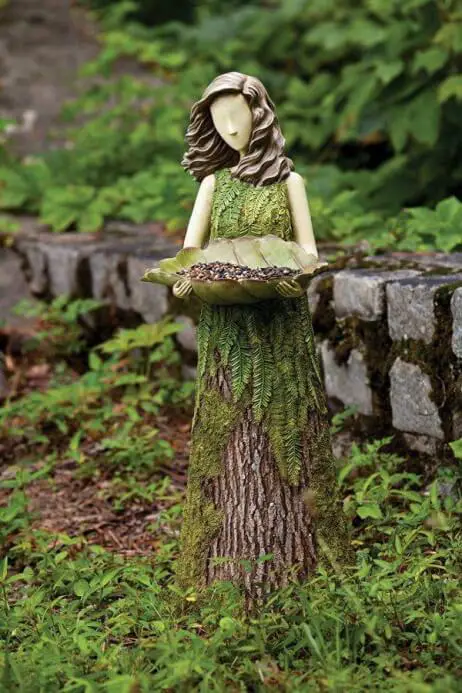 How to
You can never go wrong with cemetery angels. Because they are beautiful, peaceful and can be placed almost anywhere and everywhere. The one I have shared here is very simple to carve. Mostly it is done using a chainsaw. The tiny details will require fine-tuning and polishing. Here, the angel is holding a leaf bowl in her hands but you can make it more meaningful by placing a candle, lamp, bird or kitten on her palms.
Tips
You won't need a big stump to make it, a smaller one is enough to make your front porch or backyard eye-catching.
11. Plumber Bear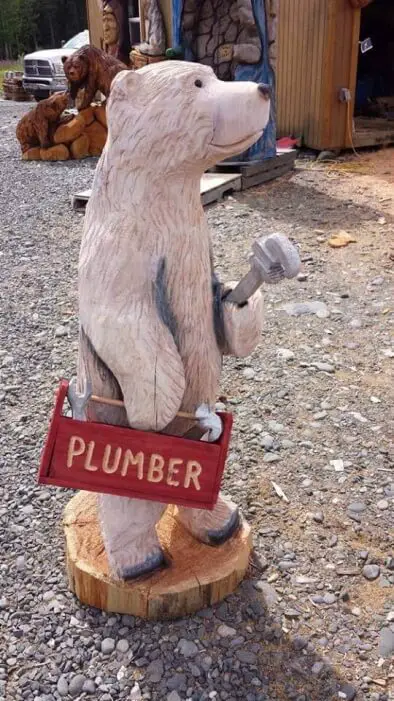 How to
A plumber bear with his tool box looking standing on a stump. It may look very ordinary but may become astonishingly beautiful and relevant if the place is properly selected. The shape of a bear is a basic type, so most of the job can be done by the chain saw only. You can choose to paint or not to paint the bear after making a hairy texture on its skin.
12. Magical Creature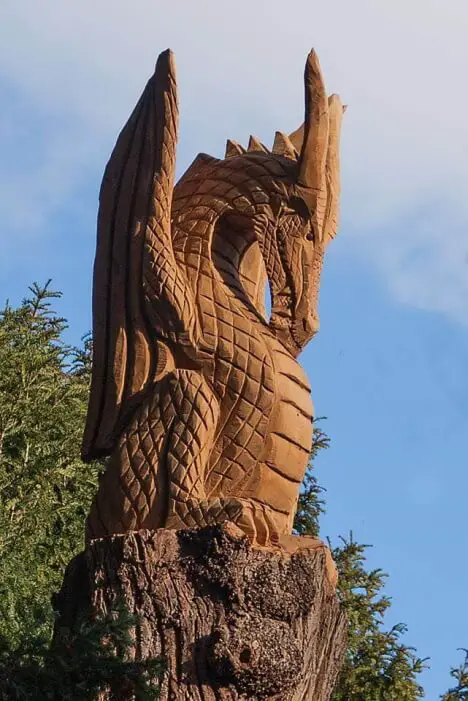 How to
A magical creature like a dragon can express your level of imagination and fantasies. These kinds of wood carving best suit different theme parks or playgrounds. If you have a kid in your house who has an obsession over fairy tales or Harry Potter, this carved creature can be her/his playmate. You never know how simple it is to make a child happy.
13. Native Home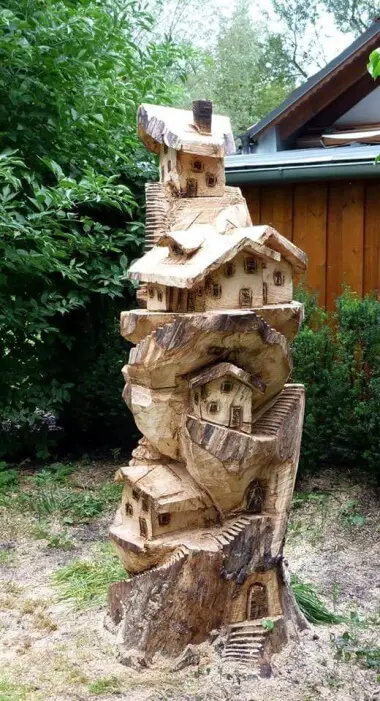 How to
It is a conventional home of a native African village. It is something unusual to carve in wood, but very artistic and easy. A medium thickness of a tree stump is sufficient to create this artwork. Tips
You can choose any native or tribal home from any corner of the world to create this. This artwork is stained in a manner that looks ancient and worn out.
14. Whale's Tail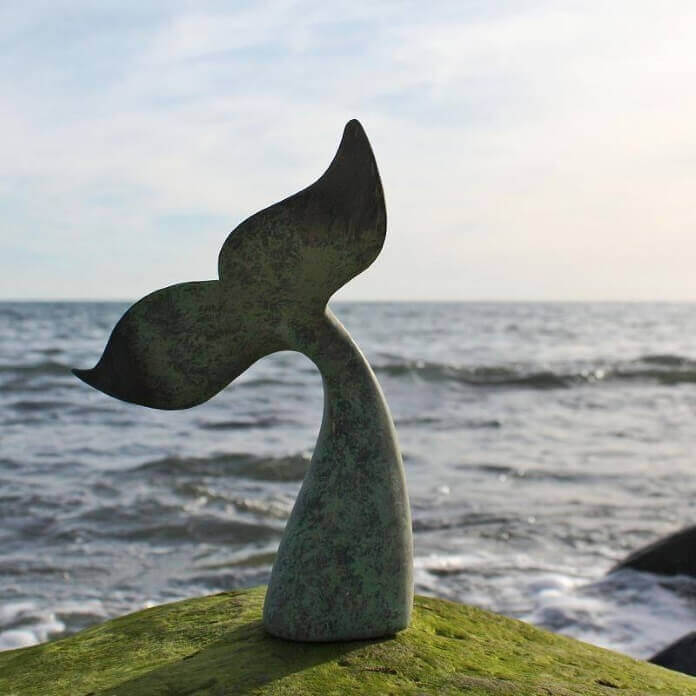 How to
A whale tail is appearing on the ground. The trunk of a tree is used to make the whale body and smaller branches are used to carve the tail. The shape of a whale doesn't need much detailing, only some careful polishing is required to smooth out the skin of the whales.
Tips
It can be a great choice to begin your wood carving creativities if you are a beginner and want to master the skill.
15. The Face of a Girl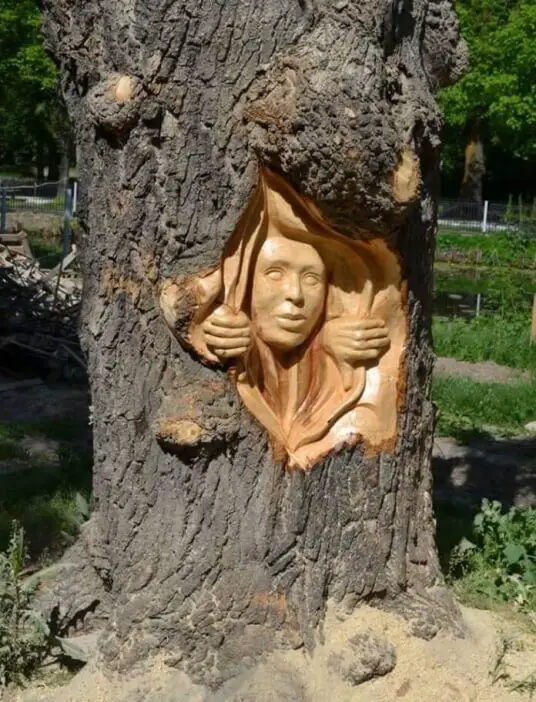 How to
This sculpture can be very difficult to carve with just a chainsaw if you are not skilled enough. From choosing the tree to choosing the right tool everything has a great impact on the final result of this piece of beauty. Only the face and hands are carved out. The way the girl is holding the tree bark looks like she is peeking out the window covered by a curtain.
16. Peeking Racoon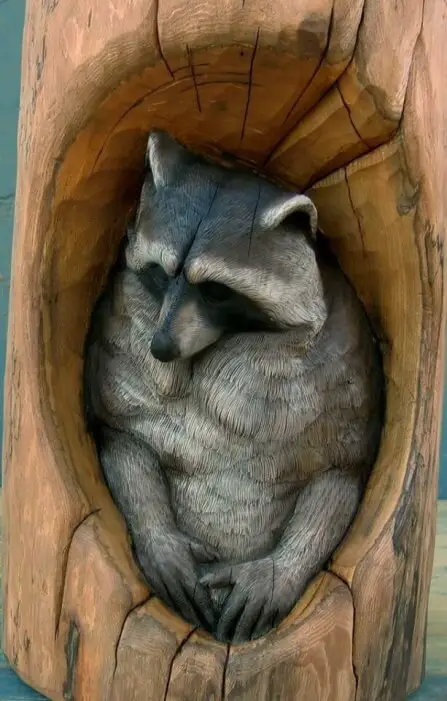 How to
The thing I liked about this carving is, it can be used as a table in outdoor barbeque parties or any other gatherings. The raccoon is peeking from a hole in a tree trunk. Its entire body is hidden inside the hole. A small amount of paint is used to darken the eyes and hair of the raccoon.
Tips
It is a casual carving idea that will go very well around a residential household. You can make a racoon family instead of one racoon or you can choose to create multiple holes from where the racoon heads are peeking.
17. Cat and Mouse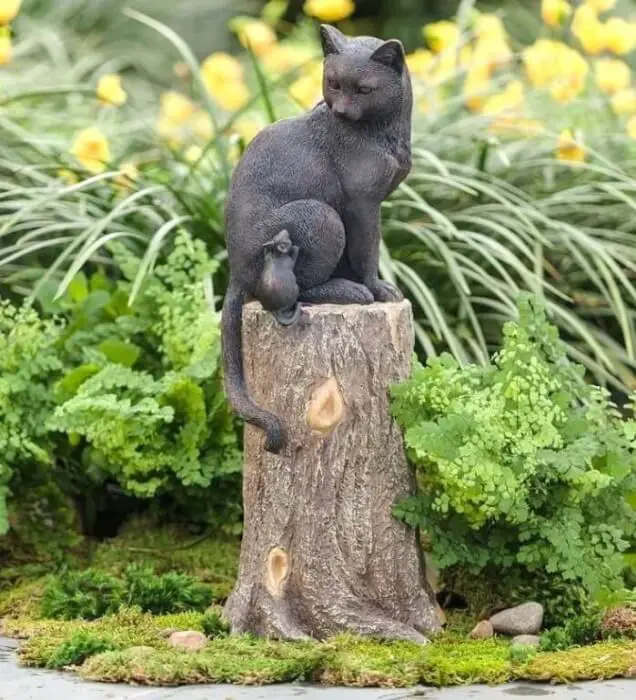 How to
A random domestic cat on a tree stump can look extraordinarily realistic if properly done with a chainsaw and the location of the tree is carefully selected.  In the above photo, artificial glass eyes are used to make the cat more believable but the body is left unpolished. I like the contrast of cat and mouse. The posture of the can is carved perfectly to make it look alert. It may look very simple at first glance, but if carefully noticed, it is quite unique from other picks of our list.
18. Witch or Wizard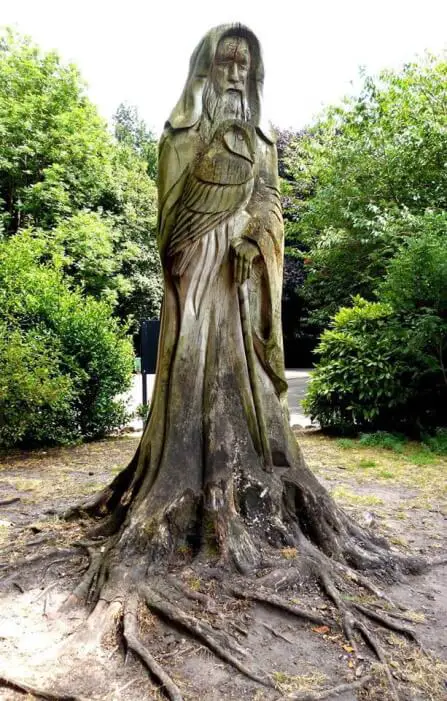 How to
A witch or wizard coming out from tree bark. The steps are really simple, pick your tree from the deep forest, carve it with a saw, then include details. If it is left undone without any sanding, it will still be good enough to make one nostalgic about childhood magical fairytales.
19. A Girl with Garland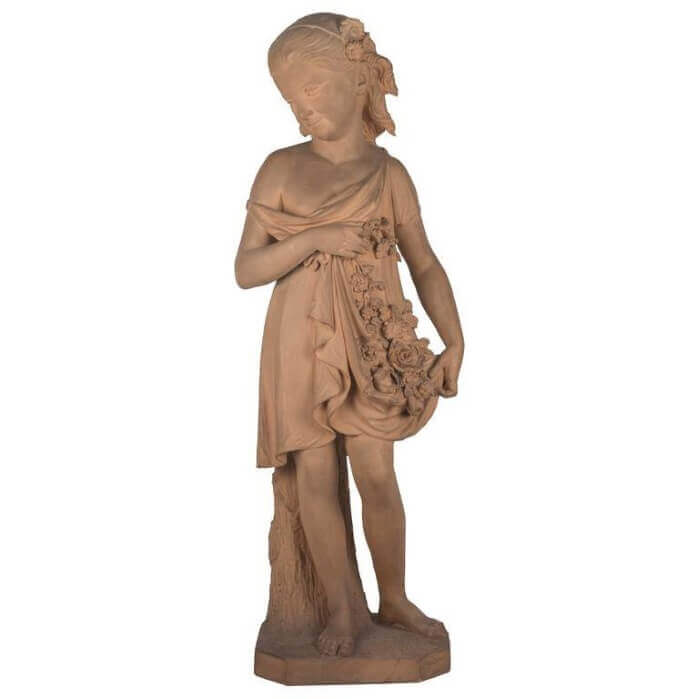 How to
It is only for professional artists who love to create flawless and fabulous art pieces. The young girl wearing a flowy dress and holding a garland requires patience, time and skill. It is mostly done with professional carving tools but the basic shape is cut out with a chainsaw at first. It will look relevant if the tree is placed in a flower garden.
20. Bear Cub Coming Out of a Trunk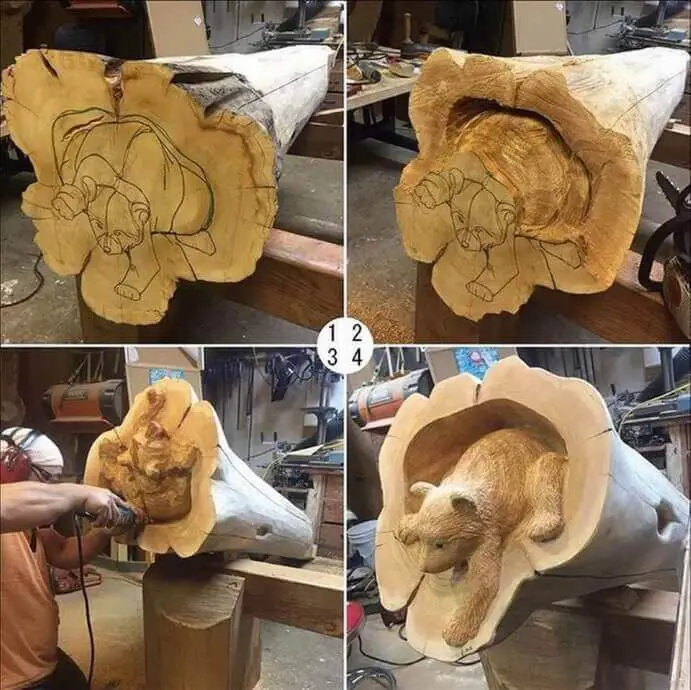 How to
A bear cub is coming out of a tree trunk. You don't necessarily need any tree trunk to carve it, you can do it on a thick branch, leaving the rest of the tree untouched. That way, it will look more lively.
21. Fish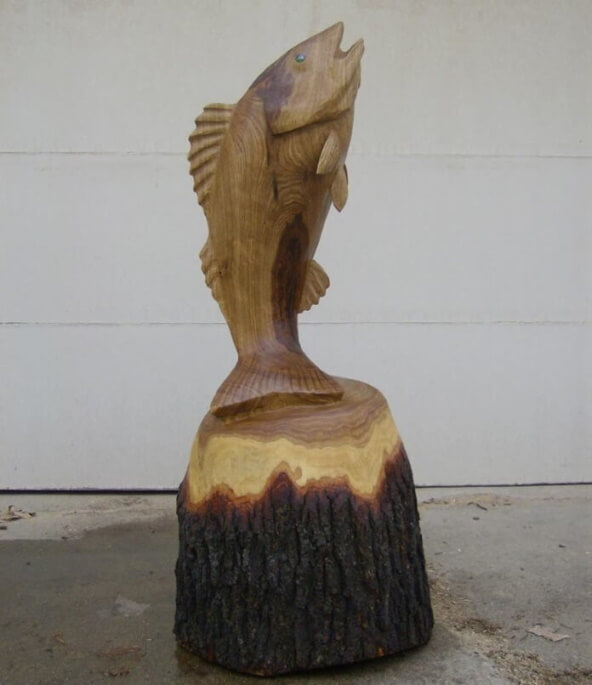 How to
A fish is placed beautifully on top of a medium-sized tree stump. It is artistic, easy and effortless. It can be carved with an ordinary chainsaw in any tree stump regardless of its shape and thickness.
22. A Half-Eaten Apple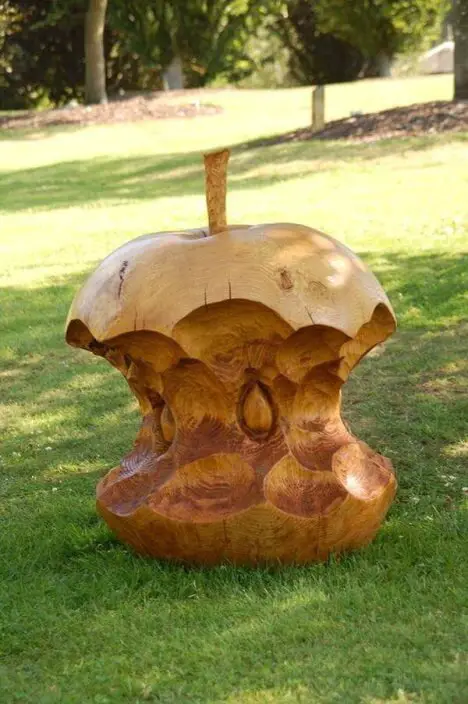 How to
When I first saw this carving, I instantly thought, it is a fantastic idea to try in an apple garden. The point of including this photo is, you can carve any fruit in any fruit garden. To make the garden more special to you and the people who live around you.
Tips
The grass or greenery around the root of your tree stamp should be thick enough to cover the roots. So, the carved fruit will look like it is sitting in the grass.
23. Spiritual Concept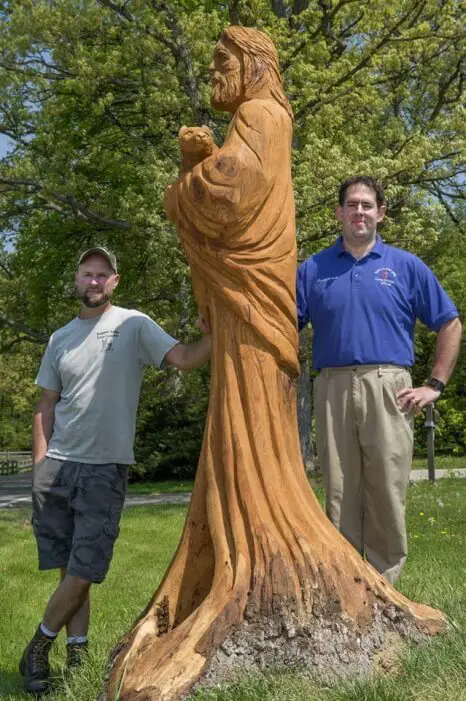 How to
If you are a pious person or got an offer to carve a tree near a religious establishment like church and so on, then it is better to pick any spiritual theme to do that. Here it is a statue of Jesus, but you can create the shape of Virgin Marie, Buddha, Santa or anything depending on the religion.
Tips
The advantage of choosing a spiritual object of a person is, you don't have to be careful about the tiny details. Only the basic shape and form matters.  
24. An Artistic Chair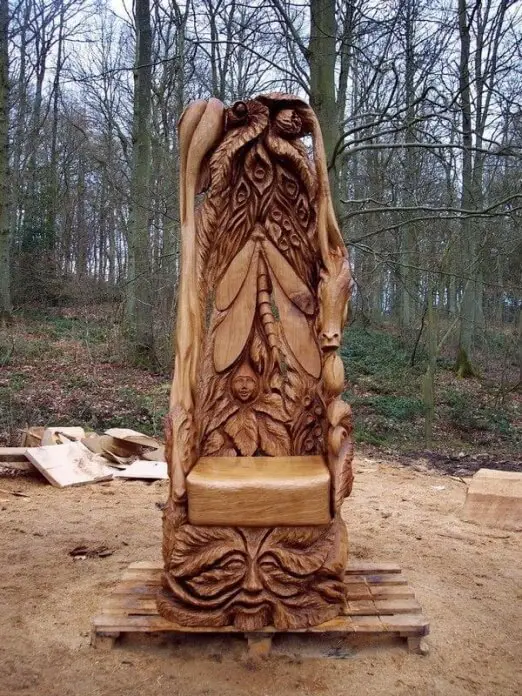 How to
How brilliant the idea is to make the form of a  mysterious chair into a tree stump. I wonder why others didn't think about it earlier. Because a place to rest becomes the most crucial in the hot sun or when you are working outdoors. For those situations, a curved out sofa is not so bad.
Tips
It will be better if the chair you want to carve is spacious. Because, as there is no fabric on it, it will be slippery. A spacious one will help you to stay in place for longer.
25. A Lazy Bear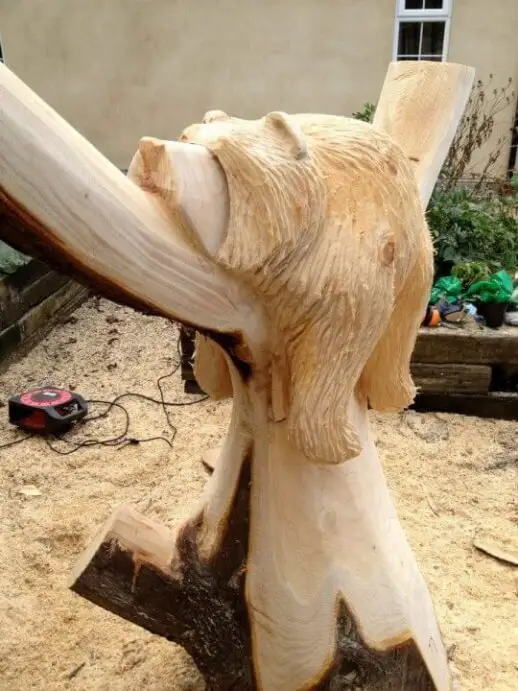 How to
The bear in the photo looks so sleepy that if you stare at it for a couple of seconds, you will start yawning. It is a smart and easy idea to carve in between branches. A great idea for beginner artists.
Tips
You can carve a lazy cat or sloth instead of the bear as well. Make sure whatever you carve, the animal is fluffy, because that way it will look more adorable.
26. A candle with a Candle Stand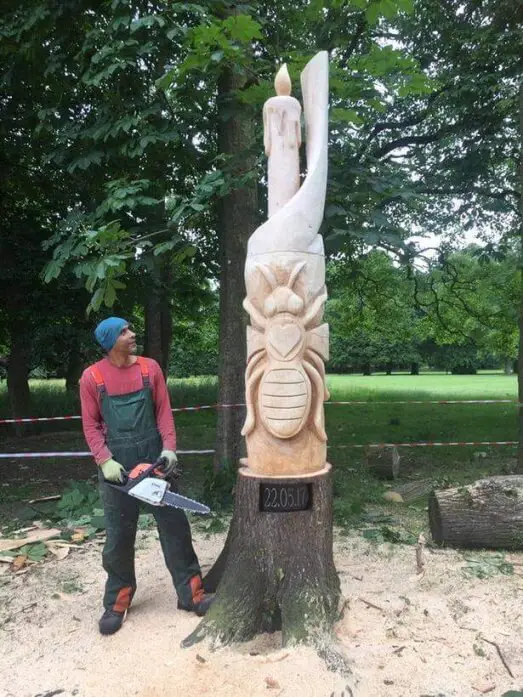 How to
To be honest, this sculpture doesn't look very flattering. But it is very easy to create. There are not many ideas suitable for amateurs. So, I decided to incorporate this one to encourage beginners in wood carving.
Tips
The tutorial is very easy. Take a small chainsaw, just carve the wood underneath the bark to make the candle stand. Make a cylindrical shape for the candle and a diamond shape for the flame. Be creative about the design of the candle stand.
Conclusion
Hope my shared ideas will help you to turn your burden into an artwork which will definitely grab the attention of any of your guests.
You choose any design from above 26 ideas according to the size of your tree trunk. After carving you need to do a little polishing to give it a finishing touch.
Let me know what you think about those ideas and also inform me if you faced any difficulties carving them.
If you need to know anything about any other design that I haven't mentioned here, feel free to write to me! I'll love to help you with the necessary information.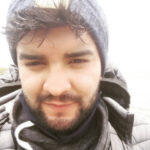 Hi, I am Eric Devin and I am a professional interior architect. Since childhood, I've always enjoyed DIY projects! And, I have loved to solve simple household problems using essential tools and equipment. I have also acquired a lot of information about basic household tools settings by working with contractors.