This article may contain affiliate links, which means if you make a purchase following our links won't cost you extra, but we may earn a commission. Learn more
Jewelry is like a treasure to every woman. So you want to take care to keep them as new.
To keep them like new you need to clean them at the right time with the right tool.
For cleaning your precious jewelry items, you'll find different types of cleaning devices. But for the best result, you can buy an ultrasonic cleaning device.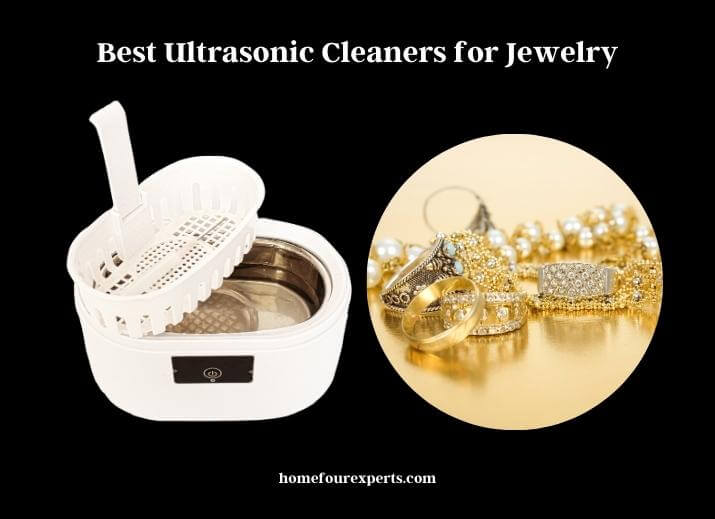 And with the best ultrasonic cleaning device, you'll get the best result. You can easily choose the best quality device by following some basic tips.
Also, you can have a look at the list we've provided, all of them come with great features.
Let's have a look at them…
What is an Ultrasonic Jewelry Cleaner
Ultrasonic jewelry cleaners run with ultrasonic technology or high-frequency waves to scrub or clean the jewelry. The sound wave inside its tank makes a phenomenon known as cavitations. They come with a tub and removable tray and are powered by a small motor.
You can use this technology to clean jewelry, eyeglass, dentures, etc. products. You can also use ultrasonic gun cleaner for this purpose.
Tips to Choose an Ultrasonic Jewelry Cleaner
For maintaining the shine and beauty of your precious jewelry, you need to take proper care of them. And maintaining it means cleaning the dirty particles like spots, and germs timely.
You can definitely choose professional service, but with the help of the best ultrasonic cleaner, you'll be able to clean your ornaments by yourself.
While buying a cleaner, you need to consider a few facts that make the tool the best one. These are-
Features That Make the Cleaner perform Best
The features that make an ultrasonic cleaner the best one are-
The first thing you need to think about is the size of the cleaner. A small device may meet your current need but you won't be able to use it for all types of ornaments. So choose the size that can work well for all types of jewelry.
Next check the basin size of the cleaning device. A large basin can help you to clean any of your expensive jewelry and accessories easily. You'll find cleaners with a tray but they are only suitable for cleaning small jewelry items like bracelets, rings, necklaces, etc.
The main feature of the best ultrasonic jewelry cleaner is its power and frequency. It should be able to produce enough power and frequency to wash all kinds of dirt & tarnish from any type of metal.
Dirt and Spot Removing Capacity
Stain is the most common problem for metallic ornaments like gold and silver. Though you can use chemical, sound wave cleaning processes or a steam cleaner which is a long process. So it'll be best if your ultrasonic jewelry cleaning device which has a tarnish-removing compound.
Transducer
The transducer of an ultrasonic device is crucial as it generates ultrasonic waves. Try to get a device with a high-quality sensor to complete your job smoothly.
Relevant Resources: 7 Best Leather Jewelry Boxes Reviews, read more click here
Features That Help You to Operate the Device Smoothly
You also need to think about the operating process of the cleaner. The process must be comfortable and easy for you. And for this, look for the following features in the device-
If your device comes with the digital controlling option, you'll be able to control the timer setting automatically. To shut off the cleaner or maintain the heating chamber digital controlling system is the best solution.
It'd be better if the cleaner comes with some extra facilities or tools to make the cleaning task easier. For example, it may include an extra ring holder, watch holder, or CD/ DVD holder.
The lid of the cleaner helps to minimize the noise and prevent the device from heating up quickly. So choose an ultrasonic device that comes with a lid.
Try to get a cleaner with a heater because this makes the cleaning process comfortable. Besides, if you need to put warm water from an external source, it may cause damage to your jewelry or device. But if your cleaner is able to produce heat by itself, the process will be safer. Moreover, it'll be more comfortable for you to measure the cleaning performance.
What Type of Materials Can the Ultrasonic Cleaner Safely Clean
An ultrasonic cleaner is a tank that uses high-frequency sound waves to agitate a cleaning solution, producing millions of microscopic bubbles that implode on contact with a surface, removing dirt, oil, and other contaminants. Ultrasonic cleaners are capable of cleaning a range of materials, including metals, plastics, ceramics, glass, rubber, and composites. They are safe and effective for cleaning a variety of items, such as lab instruments, jewelry, watches, coins, tools, engine parts, medical and dental instruments, and eyeglasses. Ultrasonic cleaners can also be used to clean delicate items such as jewelry, watches, and eyeglasses without causing any damage. The cleaning process does not require the use of harsh chemicals and is safe for use on most surfaces.
Top 10 Ultrasonic Cleaner for Jewelry Reviews
1. Magnasonic Professional Ultrasonic Jewelry Cleaner (MGUC500)
Capacity: 20 oz. (600 ml);
Cleaning Cycles: 5 Presets – 90/180/280/380/480 seconds;
Material: stainless steel;
Power Input: AC 100 to 120V, 60Hz, 35w;
Ultrasonic Frequency: 42,000 Hz.
From jewelry to coins, eyeglasses, or antique utensils everything can be cleaned in it. It has 5 modes to choose from depending on the material you want to use. 
For example, to clean the specks of dirt off of the luxury sunglasses you purchased from Gucci need the lightest and quickest mode to clean so that the glasses remain intact. 
On the other hand, the family heirloom you own by inheritance probably needs the longest and toughest cleaning to remove all the debris it deposited over decades.
If the timing of your cleaning gives you confusion, then relax, there is nothing to worry about as it has an auto shut-off system that turns the machine off when the time is over. This cleaner works with water and cleaning solvents. 
Choose your solvent wisely considering the pieces you are dropping in the basket.
There is a watch basket included in this package that helps to expose the watch properly so that the water can reach where it needs to be. This cleaner is small and portable. 
A great option for someone who owns jewelry, eyeglass, or antique shops. You can carry and use it at home and in the shop whenever you need it.
---
2. Ukoke, Professional Grade Ultrasonic Jewelry Cleaner (UUC06S)
Bucket size: 5. 4″ L x 3. 6″ W x 2. 1″ H inches;
Capacity: 600 mL;
Duration: 90 seconds to 8 minutes.
What most of the ultrasound cleaner brands don't want you to know is that ultrasound cleaning can oxidize most metals in the process of cleaning. The microparticles of gas do this damage. In turn, after cleaning once in the cleaner your watch or other metal objects can become more fragile than before or tarnish sooner.
This cleaner from Ukoke has a 'DEGAS function to eliminate the gas from the water. So, there is less possibility that the product you are cleaning in it will get oxidized due to cleaning.
It is a professional-grade ultrasonic cleaner yet easier to use than other less expensive cleaners because it has a touch control panel rather than buttons.
Instead of 5 modes of cleaning as the cleaner from the Family we have reviewed, this one has 5 cleaning cycles. You can choose the duration (90, 180, 280, 380, & 480 seconds) depending on the loads. You can load anything in it except delicate gems like zed, pearl, emerald, coral, etc. this cleaner is the best option for a risk-free cleaning.
---
3. Fosmon Professional Ultrasonic Jewelry Cleaner
Size: 8.1x6x5.2inch;
Tank Size: 6.1×3.7×2.1inch;
Capacity: 20oz / 600ml;
Frequency: 42 kHz;
Power: 100-120VAC 35W;
Cycle Times: 18;
Conforms with PSE;
Weight: 1lb 13oz.
For an extra couple of bucks, you can have an ultrasonic cleanser with all the advanced features you want with Fosmon cleaner. How does it sound? Awesome, right? 
Yes, this model comes with all the advanced features of all the models I have reviewed. From touch panel control to auto shut off and Degas everything is incorporated into it.
Like other cleaners, it has 18 preset time settings for cleaning various materials. Other than peal and emerald, any piece of jewelry can be cleaned in it. For electronic items, circuit boards are not allowed in it.
Ease of use is one feature of this gadget I recommend it for. Just load the products, set the time, and do your own business. 
No need to stay standing by this machine. It will turn off on its own after the cleaning is done. Really handy for busy women to clean up their accessories and household items, isn't it?
---
4. Branson Model B200 Ultrasonic Cleaner
Small and economical;
Power: 110-120V AC, 50-60 Hz;
Duration: 5-minute timer.
Some ultrasonic cleaners do provide sterilization advantage through steam but the truth is, we can't put everything to 'boil up in it to kill the lethal germs in it, right? 
For those situations, UV sterilization comes in handy. It dries up the cleaned-up jewelry and other pieces and sanitizes them. In TrioShine cleaner, you will have UV function with ultrasonic and steam cleaning functions. What more do we need?
From your necklaces and gemstones to makeup sponges and the pacifier your baby latch on 24/7 everything can be sterilized. 
For making sure of a hygienic and healthy life, sanitizing makeup, toiletries, and other personal products once a week is a must. This becomes obligatory when you have a baby in the house. 
Only water needs to be used for the cleaning process, no chemical is required.
As this cleaner is multifunctional, its price is also very high. But the unmatched service it provides for years to your family is totally worth it.
---
5. Yesker Professional Ultrasonic Jewelry Cleaner with Digital Timer for Eyeglasses, Rings, Coin
Size: 3.5 x 3.2 x 1.2 inches;
Tank Capacity: 600 ml;
Duration: 3 minutes.
We all know how expensive it is to get professional-level cleaning for valuable and delicate items like jewelry and eyeglasses. This cleaner is more economical than getting clean from large shops. The best part is, you can do it in the comfort of your home. A variety of objects can be cleaned alongside the jewelry items.
This machine has the simplest function, the cheapest price, and easiest to use. There is only one cycle of 3 minutes. If the 5-time settings of other ultrasonic cleaners confuse you, get one like this Yesker ultrasonic cleaner.
This cleaner will save on cleaning solvents as well, as it uses only water for the entire process. It has manual functions rather than a touch panel. Lightweight and small takes little space. It is very convenient to store in a small kitchen cabinet or on the toilet sink. To get professional-level cleaning at the cheapest price, this model is the best buy for sure.
---
6. Magnasonic Ultrasonic Polishing Jewelry Cleaner Machine – (CD2800)
Size: 5.4 x 3.6 x 2.1 inches;
Tank Capacity: 600 ml;
Duration: 3 minutes.
This ultrasonic cleaner is the lightest of its kind. It is quiet, compact, and small. Its minimalistic features make it perfect for general usage on a daily basis. From stationery items, machine parts, and saloon items to fine jewelry, watches, and eyes glasses-everything is compatible with this ultrasonic cleaner. There are other cleaners available in the market with similar configurations and cheaper prices, but Magnasonic is a renowned brand. So, this machine is guaranteed to satisfy all your needs while maintaining its unmatched quality.
Only 3 minutes is all it takes to clean years-old dirt from your valuable objects. The machine shuts off automatically after cleaning. Only water should be used in this cleaner. So, there is no hassle of using cleaning solvents. To clean daily wear jewelry pieces, there is nothing more convenient than this cleaner.
---
7. InvisiClean Pro Elite Professional Ultrasonic Cleaner Machine – Model IC-2755
Tank Size: 7.1 x 3.4 x 2.3 inches;
Tank Capacity: 800 ml;
Duration: 90 seconds to 10 minutes.
Ladies who are not accustomed to buying anything on a budget should take this ultrasonic cleaner from InvisiClean. It will undoubtedly last longer than any other cleaner in the market. It has a self-cooling system to protect the unit from overheating; resulting in a longer life over time. The parts used in it are waterproof and durable for more promising results.
The capacity is higher at 800 ml hence, it can be used to clean some larger pieces. There are dual transducers in this ultrasound cleaner, which is claimed to work double than conventional cleaning machines. There are 5 settings  (90-180-300-480-600 seconds) and auto shut-down options in it.
An adequate amount of lukewarm water and a drop of Dawn soap is required to get the best result from InvisiClean cleaner. The price of this machine is high as the capacity is also higher than others. For the power this unit produces, it is the best buy to get a great experience of jewelry cleaning for longer. 
---
8. UKOKE Professional Ultrasonic Gun and Jewelry Cleaner with Timer
Tank Size: 9.84″ (L) x 5.90″ (W) x 3.15″ (H) inches;
Tank Capacity: 2.5 liters;
Duration: 90 seconds to 10 minutes.
It is better to choose ultrasonic cleaners depending on the intended use. For home use, a small-sized unit will do. But for use in a shop, saloon, dental lab, or surgical unit, the bigger the machine the better the result. With a 2.5 liter capacity, the Ukoke ultrasonic cleaner of this model is the best pick for medium-sized chain stores. Not only jewelry, but also sunglasses, eyeglasses, watches, antique pieces, coins, and many other things can be made free of dirt using this device.
The shape of mesh basket is slightly longer in shape; so that it can hold longer objects like guns. There are very few cleaners in the market which has a basket large enough to hold a gun in it.
It takes 1.5 minutes to 10 minutes to clean up. From the 5 settings, choose the one you need. It does have a heat function, but this cleaner does not offer steam cleaning. The heat function is only used for warming up the water for better cleaning results.
---
9. InvisiClean Professional Ultrasonic Cleaner Machine for Jewelry
Capacity: 800.00 milliliters;
5 preset settings (90-180-300-480-600 seconds);
Material: stainless steel;
Most women value good looks when it comes to choosing their dresses or accessories. Then why not in an accessory cleaner? 
The aesthetics of this cleaner is really eye-catchy. The turquoise top lid is transparent. The color makes it beautiful. Whereas the transparent material makes the lid captivating; because, you won't be able to remove your eyes from it while cleaning.
There are 5 settings to clean 5 broad categories of items. Just pour 20 oz of tap water. Only water works wonders in cleaning severely dirty items. You will barely notice any sound or vibration. 
Impress your partner or family member with this unit and let them realize how useful this machine is in terms of cleaning.
---
10. iSonic Digital Ultrasonic Cleaner for Jewelry (D3800A)
Tank capacity: 1. 3 Pt / 0. 6;
Tank size: (oval) 6. 1″x3. 7″x2. 0″ / 15. 5×9. 5×5. 0 cm;
Power: 35 W, 110 V.
Lovely wives, who want to get an ultrasonic cleaner to clean the razor heads of their beloved along with their jewelry pieces, please note that this cleaner can't sterilize anything. For sterilizing you need a proper source of heat like this iSonic Digital Ultrasonic Cleaner has offered.
For its larger capacity, you can place a bigger object in it. I find it best for use in a spa, salon, tattoo parlor, restaurant, and last but not the least, in jewelry shops. Here, you can sterilize everything that comes in contact with your clients in your salon. This way you can maintain the quality and satisfaction of your clients.
As for the jewelry cleaner, the basket is big enough to hold a bunch of similar kinds of jewelry items in a bunch and clean them at once. Likewise, cutlery items we use in restaurants can also be sterilized to make them sleek and shiny for decades.
Read more: Top 10 Wooden Jewelry Boxes – Unique Style & Designs
---
Conclusion
Jewelry is the favorite fashion item for any fashionable woman. But your jewelry items need proper care to have the same shine and glow for a long time. For this, you need the best jewelry cleaner to clean the dirt and stain from them.
And finding the best device is easy now as you can get a number of reviews and other necessary information about it on the internet.
We've also tried to make the selection process easy for you by presenting all the important information about a good quality cleaning device.
If you have further queries, feel free to let us know, we'll love to get back to you with that information.
Relevant Resources: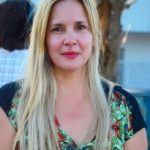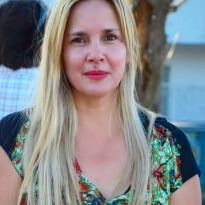 Guys, I am Camila Avery and I love to help my mom to do indoor & outdoor activities. As a lady, I have passed my time on gardening, home improvement, and personal or self-care. I have acquired some degrees in outdoor recreation, beauty, and hair care. It is not easy to work with top-level professional beauty experts. But, I got that opportunity and experimented with different hair extensions, hair colors, and cuts.