Anonymous said, "Camping is one kind of art of getting closer to nature while getting farther away from the nearest cold beverage, hot shower, or flush toilet. "Which is true. Because camp lovers want to take advantage of all the weather, they don't get scared by cold weather. But during winter camping is most important, keep yourself warm. And don't forget about your feet. 
So, if you are planning winter camping, you have to plan activities, foods, drinks, etc. Because that way you can keep you warm. You can plan games, exercise, walking, hike, etc. Food is an important part. Try to eat hot meals and hot drinks. All of those are to increase your body temperature, which keeps you warm. In the cold weather, our feet are not warm easily. So, you have to get more effort to keep your feet warm.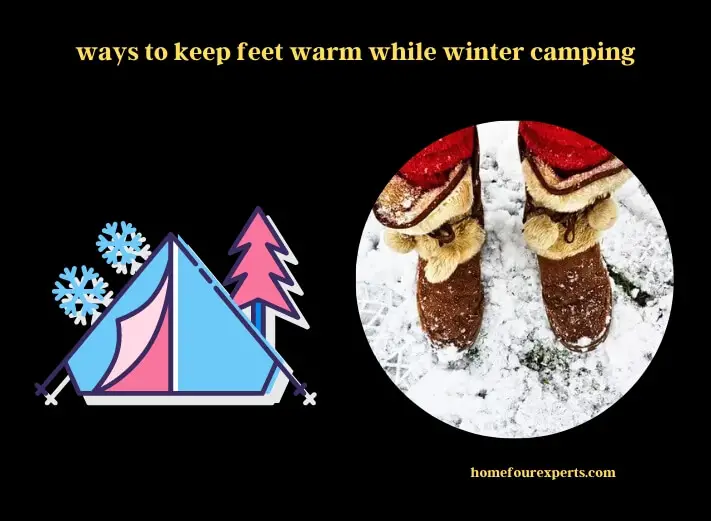 If you're not successful at warming your feet, then your camping enjoyment will decrease. And you can't enjoy the cold weather. So taking the real test of winter, please keep your feet warm. Here are a few easy tips that ways to keep feet warm while winter camping.
How to Keep Your Feet Warm in Winter Camping?
The universal truth is "cold or lower temperatures come with winter camping." We can not avoid this. With the right tips and tricks, we can stay warm and safe while winter camping. So, there are a few simple tips to keep your feet warm. 
1. Layers of Socks Wearing
Socks are the easiest solution to keep your feet warm. So, choosing the right types of socks is very important. There are different types of socks you can find out. But the ideal things to use lear up your feet with socks. You can use those three types of socks.
Light wicking socks.
Light wool socks.
Medium to bulky wool socks.
It will help to keep your feet warm. Because before going to sleep you as well, you must need it to keep the feet warm. 
2. Keep Your Feet Dry
Because of full-day hiking or doing other camping activities, your feet will sweat. By sweating, your body reduces the temperature and produces heat. Sweat becomes cold when the temperature. It would help if you changed with fresh socks a minimum of three times a day. Don't forget the same things before going to bed. 
3. Waterproof Boot for Feet
The most important thing is to choose the right type of boot for your feet. Choose your boots with a waterproof outer shell. That will save your feet from any leaking in and chilling. In the local market, you can find many types of waterproofing boots. But Gore-Tex and similar types of fabrics are most popular for their smart design and quality. On the other side, leather boots also work very well to keep moisture from penetrating the boot's outer shell. There are also Sorel's type boots. 
Its upper section covers up with leather and rubber lowers. The rubber lowers allowed water and mud because the rubber is completely waterproof.
4. Use Chemical Heating Pad
You can easily buy a chemical heating pad from any outdoor shops or camping stores. It is exceptionally cold weather. To keep your feet warm, you can use it in your socks or wear it inside your boots. If you like to use the chemical heating pad regularly, then you should buy reusable ones. They provide heat without any batteries or electricity.
5. Rechargeable Heating Socks
Whose don't like to carry the chemicals heating pad, the rechargeable heating socks are preferred for them. Those battery-operated foot warmers are similar in size to the chemical versions. You also have the higher or lower level heating option. They come with a conventional electrical wall plug or a USB charger. And before using must be charged up. Rechargeable heating socks are ideal for outdoor activities like fishing, hunting, hiking, and sporting events.
6. Heaving Insulated Pad
When you have to belay, cook, or any other camping work for a longer time, you have to stay in one place for a long time. Then you can try standing on an insulated pad. It will help to save your feet from the cold.
7. Increase Your Blood Circulation
Blood circulation is a common cause of your cold feet. A person who has poor blood circulation always complains of cold feet in the winter camping or at home. We can increase our blood circulation in many ways. 
Any amount of walking can first improve your circulation. 
Movement can improve blood circulation in your legs. And help to keep warm. So, don't lie in bed for a long time. 
Jogging is an easy and efficient way to build up more heat and increase circulation in your leg.
Finally, you can improve blood circulation by physical activities like walking, running, jogging, or any movement type. And don't forget to cover up your feet with socks and boots.
Another Way to Keep Feet Warm
If we can change a little bit of our lifestyle, it will help increase our blood circulation in our legs. Here are some guidelines that should help you to keep your feet warm while winter camping.
Avoid smoking. Because smoking has a bad effect on our blood circulation. 
Drinking water and staying hydrated. When you are well-hydrated, your heart works well, and it is easier to pump blood through the blood vessels to muscles. 
Drinking tea or hot meals.
High cholesterol also helps to reduce circulation to the legs and feet.
Take a massage. It can help you to reduce stress. You can use self-massage for your feet.
Take a bath with warm water. 
What is the Importance of Keeping Feet Warm?
Cold and wet feet are the main causes of painful feet. They make you so much trouble with your feet and also make you feel uncomfortable. It will have a bad effect on your camping trip. So, it would help if you gave impotence to keep your feet warm and comfortable. Having warmer feet in winter camping can help keep active your overall health. And also help to sleep better and gather positive energy. So, to stay comfortable and fit, you should take proper care of your feet.
Final Thought
Hope you do not suffer from the cold feet in your next winter camping. Suppose you like tips, then do not forget to share. So, following those ways to keep feet warm while winter camping. There are many causes of cold feet. Overall you have to wear layers of socks that are of good quality. And also important to wear dry socks and the right size boot.
After reading this article, we are sure you will get enough ideas and keep your feet warm. Now time to say goodbye to cold feet. Don't forget to share those people who have a complaint with cold feet.
Read more: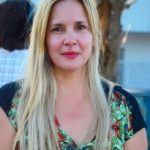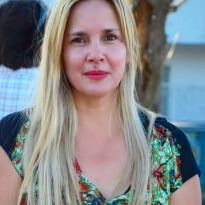 Guys, I am Camila Avery and I love to help my mom to do indoor & outdoor activities. As a lady, I have passed my time on gardening, home improvement, and personal or self-care. I have acquired some degrees in outdoor recreation, beauty, and hair care. It is not easy to work with top-level professional beauty experts. But, I got that opportunity and experimented with different hair extensions, hair colors, and cuts.