Woodworking is creative work. Because this work opens a window of creative worlds. You can create your design and show it through your work. Nowadays lots of young people want to become part of the woodwork industry. But many don't have basic ideas. If you are new or planning to enter the wood industry then this article will help you.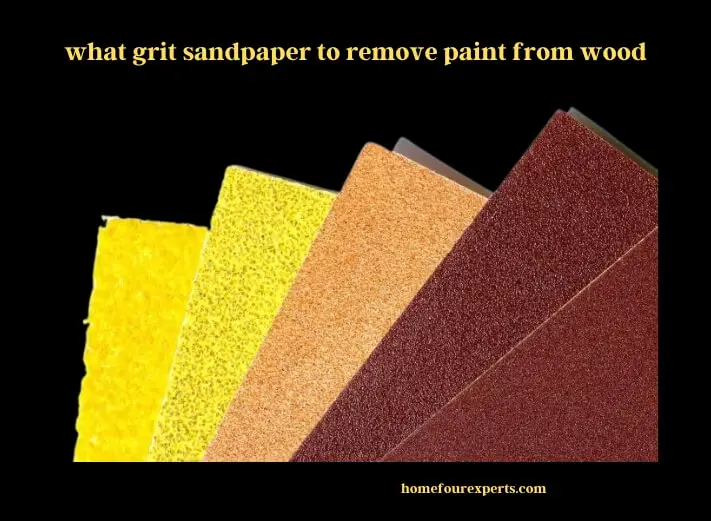 Do you know sandpaper is one of the important items in woodwork? Through sandpaper, the carpenter gets an outstanding surface of the wood. Do you know how to choose the right sandpaper to remove paint from wood? This article describes this basic factor. 
What Is Sandpaper Grit?
Do you know what a sandpaper grit number is? If you are a new sandpaper user or plan to use that it is important to know about the grit. Many beginners think that maybe sandpaper is made of sand but it is not true. Sandpaper consists of particles some are from nature or some synthetic. These particles are known as grit.  
Sandpaper gifts indicate the size of a gauge number.  A lower grit number indicates the larger course of the sandpaper. Like 40 grit sandpaper, very rough and coarse on the other hand 100 grit paper is super smooth and fine finish. 
What Grit Sandpaper to Remove Paint From Wood
If you want to create a new look on your furniture then you need to prepare your wooden furniture. If you want to paint a new color then you must remove the old paint from the furniture. You can sand or paint stripper your furniture. Some carpenters use a sander after stripping the wooden furniture for a smooth finish surface. It creates an outstanding face on your wood so it looks like bare wood. 
If you want to remove your paint from the furniture then first know what grit sandpaper to remove paint from wood. Now I am going to describe this. 
Coarse Sandpaper
Do you know about coarse sandpaper? This sandpaper coarseness level is between 40 to 80 grit. This kind of sandpaper is used to remove heavy or thick layer paint. When your wood wall or floor is coated with various levels of paint this sander plays an ideal role in these situations. 
If you want the best result for removing paint it is better to use a different power sander according to use. Just set sandpaper before switching on your power sander.
Medium Coarse Sandpaper
Medium level sandpaper consists of 80 to 180 grit. Believe me, this sandpaper is extremely good for removing paint from wood. Medium coarse sandpaper plays an excellent role in removing paint without damaging the wooden surface.  You can also use it to remove paint from the hardwood floor. 
If you have a lot of work or design on your furniture, you should use a medium grit sander as it is suitable for designing wooden items.  Through the medium grit sander, you can easily work with the carved design areas. 80 to 180 grit sander is also very useful on rough wood even if your wood has some mark using this sandpaper.
Fine Grit
The first level of the fine sandpaper is 180 to 220. These types of sandpaper are mainly used when you need the final finish on your wood surface. If you need to remove a very light layer of paint then you can choose fine-grit sandpaper for your project. Do not use a fine grit sander if you need to remove high-level paint from wood. 
Types of Grit Sandpaper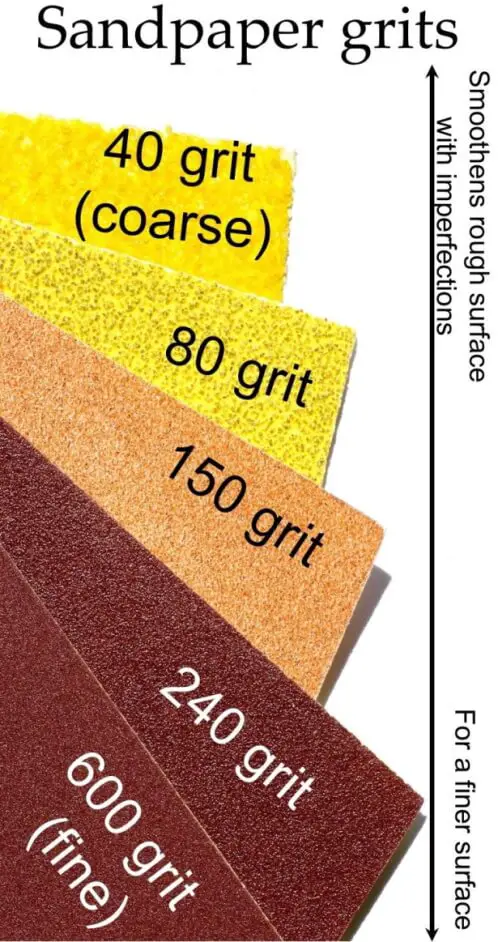 Different grit sandpaper is available in the market. For different purposes, their grit sandpaper is used for the work. You must know about the types of sandpaper if you want to use the right girt. Sandpaper grit refers to the size of the particle. Sandpaper grit depends on the coarseness of the rubbing particles that are used to sand.  You can use different sandpaper based on your work. Some grit sandpaper and their purpose explained below.
60-80 Grit sandpaper is very coarse. This grit sandpaper is used for removing heavy paint or wood also used on the corner side of the furniture.  
100-150 Grit sandpaper is generally called medium grit. This kind of sandpaper is used for the general purpose of sanding.
180-220 Grit is called Fine sandpaper. 180-220 grit is used on the rough surfaces before painting because this grit is capable of giving a fine smooth surface. 
320 Grits are also available in the market and this grit. You can call it ultra-fine grit. If you want a glass-smooth finish on your product then try this.
I hope now you get an idea about the grit of sandpaper. Before starting to sand your wood surface just set sandpaper on the sandpaper. Different sander is used for sanding or removing paint according to the work purpose. You can use an orbital sander, belt sander, random orbital sander, or mouse sander to remove old paint from the wooden surface. Read more: What Grit Should I Use to Sharpen a Knife
Safety Tips for Paint Remove
When you remove paint there are face masks. Because dust is created on this work
It is better to use gloves when you work with a sander to remove paint.
Sander creates too much noise to better use the earplug. 
Conclusions
When you do any work, know first which tools you need to use. Because when you have a checklist of necessary items you can easily do your project. It makes your work process easy so results come fast. Hope that now you have a clear view to choose the right for work to remove paint. Because I will try to describe to you what grit sandpaper to remove paint from wood. 
You can apply this article knowledge to remove all wooden products including the hardwood floor to a laptop table. Just understand the level of paint you want to remove and apply the right sandpaper. If you need to work fast use a power sander according to purpose. 
Read more: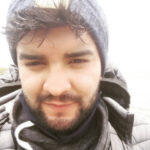 Hi, I am Eric Devin and I am a professional interior architect. Since childhood, I've always enjoyed DIY projects! And, I have loved to solve simple household problems using essential tools and equipment. I have also acquired a lot of information about basic household tools settings by working with contractors.