Published on: March 21, 2022
Written by David Rowan / Fact-checked by Eric Devin
This article may contain affiliate links, which means if you make a purchase following our links won't cost you extra, but we may earn a commission. Learn more
A thickness planer is a first and foremost equipment for repurposing projects. There is no alternative to using old, weathered, rough, and worn-out wood material for cost-effective projects. A thickness planer takes only minutes to scrape off the dirt and open up the wood's underlying untouched part. Sanding also does the same work manually but takes days to get the job done, not to mention how tiring that can be.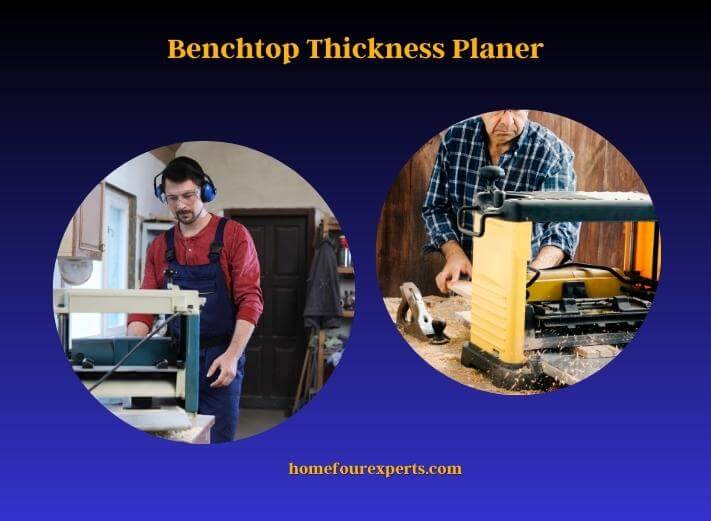 On the other hand, if invested in the right benchtop thickness planer once, you can do hundreds of projects in record time without running to other's workshops for planning large pieces. You can do this in the comfort of your own workshop or a garage.
For small-sized woodshops and occasional DIY projects, we have listed some top-rated benchtop thickness planers that can handle most of the needs of small projects. It also saves you time to research all the thickness planers that are available in the market.
Resolve Confusion Between Planer and Jointer
Often, I have been asked questions about jointers and planers which makes me think that amateurs and hobbyists are mostly puzzled about these two. "Do I need a planner or a jointer? Which one is the best", or " which comes first, a planer or jointer?" is the frequently asked question.
It is okay to get confused about these two, but there is some specific use for the two machines. Let me clear that out so that you can make up your mind whether you really need a planner or jointer for your project. If you don't need a planner, this little knowledge will save you from reading ahead the rest of the article.
Read more: View the Tools for Cutting Drywall on the Market
Planer
It is used to scrape off the surface of wooden and similar material boards. Generally, to reveal the intact part of worn-out wooden boards, to strip off varnish from used or weathered boards or wooden workpieces, a planer is used. Most benchtop thickness planer accepts boards with a 12-inch width and 6-inch thickness. Any material more than that size may require an industrial planer. 
Jointer 
On the other hand, a jointer is used when you need to glue up two wooden pieces seamlessly. To do that, we must need the edges of the same size. That's what a jointer does, works on the edges. On the contrary, the planer works on the plane only, leaving little to no snipe on the edges. A jointer is also used to remove the sniped edges. 
How to Tell Which Planer to Choose?
Stability 
No matter which one you buy for which purpose, it has to be stable. Otherwise, if the thickness planer's base is not sturdy enough, it will mess up with long wooden boards. You have to be prepared to deal with the annoying snipes on the edges. So, check the stability of the planer. It is crucial for benchtop planers because they are made small and lightweight. Stability reduces when the machine is light, but the workpieces are large.
Frequency of Use
All the thickness planers we have listed below are top quality considering their performance. But I don't recommend using a planer by a professional that is designed to be used moderately. For that reason, you need to invest some extra bucks and bring the more reliable one to your workshop. 
Read more: How You Can Buy the Best Benchtop Belt Sanders With Minimal Budget? Click here
Noise Level
Generally, thickness planers make ugly noises during the operation, but the noise level varies. In our list, you will find some excellent machines that work without disturbing the neighbors. Those are the best to use in a decent neighborhood. 
Cutting and Feeding Speed
Some thickness planers are equipped with two blades; some are three. Some blades are reversible to reduce the hassle of blade change or resharpening. You must consider all these. The cutting and feeding speed is always mentioned in the product description. But you have to keep in mind that these are merely some numbers. For hardwood, the speed has to be slower, no matter what the feeding rate is.
Dust Collection
I don't need to mention how nasty debris a thickness planer creates. So, effective dust collection is a must. It will keep you busy on the workpiece rather than on the wood chips.  
Tips to Reduce Snipe
From my years of experience in woodworking, I can say that snipe is ​common ​for benchtop planers. It happens more when we use longer pieces. If you are new to this, you can reduce the snipe to the minimum with some caution.
First of all, let the machine run for a few seconds to gain its full speed. Don't feed the board right away after powering up the planer. When the rollers are running in full force, then slowly put the board on the feeding table. 
Try using flat, knot-free wooden pieces. A bowed board will have a snipe; there is no doubt. On the other hand, using uneven workpieces can ruin the motor as well.
Seek help to press the board flat on the in-feed and out-feed table. It is crucial for warriors who work solo, but it is necessary when the board is several feet long. 
Use the depth gauge mindfully. To remove large material from the surface, use it on the high setting at first. For final cuts use the lowest setting. The lower the cut, the less it causes snipe. 
Use a silicone-based lubricant spray to coat the tables of the thickness planer. Over time the sleek and shiny stainless steel table of the benchtop planer gets dull and scratched. Using a lube helps to keep the surface glossy, hence ensuring the feeding is smooth. 
Always plan ahead to use a board that is several inches long. If you get a snipe even after all this caution, you can still cut the edges to remove it.
List of Best Quality Benchtop Thickness Planers
WEN 3-Blade Thickness Planer (PL1303)
15A motor generates 30,000 cuts per minute;
Reversible three blades.
To be honest, this one is the fanciest planer for finer but seasonal woodworking. So far, WEN's model has received many negative reviews from its customers, mainly because of abuse. If you want a benchtop planner to support a large production business, then this one will surely disappoint you. 
The three blades are efficient to cut faster, even on the hardest engineered lumbers. But you will rarely have any complaints about the wood chip it creates in the process. The fan-assisted dust collection system efficiently through all the debris on the vacuum, where they belong, leaving a lean workplace. 
The price is very high for a WEN product. WEN is a renowned brand for making affordable power tools with useful features. However, this one may serve you well for a certain time, but its all-plastic parts may fall apart if you overdo it.
The Good
Depth gauge for precise thickness planing;
Fast material-removing;
Excellent dust collection. 
The Bad 
Not for professionals;
POWERTEC Benchtop Planer with Planer Stand (DW734)
3 knives included;
Comes in the heavy-duty size of 24-by-22-by-30-inches;
Includes mobile base, stand, hardware, MDF top, and shelf;
Powerful 15.0 Amp, 20,000 RPM motor handles larger.
This unit is no light that you can carry around to different job sites. For installing doors, windows, and other woodworking on different sites, a portable planer is a must. With only 59 pounds weight, it is a perfect choice for any production company or freelance woodworker. The infeed table is designed to fold when not in use, which also makes this space-saving. 
It includes 3 knives for super-fast cutting. These are also easy to replace for your convenience. The stability of this porter cable planer is not compromised due to its lighter weight. The four-column base does a great job of preventing tilting, wobbling and reducing snipes on the wooden pieces.
However, this one is the best option for someone looking for a portable benchtop planer in every aspect. All the bells and whistles work all right. Just one problem may arise, and that is, the dust port is four-inch, but for some awkward reason, it does not fit most vacuums without an adapter.
The Good
Maximum versatility;
Durable and stable under heavy loads;
Easy movement and storage of planer and stand;
Removes large material fast;
Reasonable price;
Lightweight.
The Bad 
Mophorn Double Cutter Benchtop Thickness Planer With Heavy Duty Stand
Maximum cutting width of 13″ (330mm), cutting thickness of 0.2″-6″ (5-150mm);
Blade speed: 9000 RPM, and feeding speed: 315″/min (8m/min).
Looking forward to starting a woodworking business of your own? Or do you want to pursue your dream of making your own minimalist furniture? In both cases, the Morphon thickness planer will support you with its sturdy stand. Yes, this affordable thickness planer comes with a stand to make a snipe-free flawless finish. We all know stability is the key to reducing snipe in wooden boards, and a stable base is the prerequisite of stability. 
Unlike a cheap foldable table, the tables in this model are made of stainless steel. It is not only durable but also sleek and smooth to make feeding consistent. Moreover, it has an automated feeding design. Now, feeding for worn-out wooden boards will be hands-free and smooth. Don't need to hold it upright or push it inwards. 
Morphon planer is also equipped with an auto power-off switch. It shuts off the unit in case of overload and overcurrent to save the unit and the workpiece both. For a professional performance in an affordable range, this planner is unbeatable.
The Good
Stand included;
Durable worktable;
Depth gauge.
The Bad 
DEWALT Single Speed Benchtop Planer (DW734)
33-1/2 inches table;
Three reversible knives; produce 10,000 RPM cutter head spin,
For professional-level woodworking, a beginner's toy is not enough. Forget all other units we have discussed if you manage your living by serious woodworking.
This DW734 model of a thickness planer is the boss of all other planers in the market. The best thing is, while other planers include a pair of knives, this one is equipped with three knives. Moreover, the knives are reversible to reduce your downtime of sharpening or replacing those in the middle of a project. 
Another advantage of the Dewalt planer is, the feeding table provides a total of 33-½-inch support for long stocks. The capacity for wooden boards is limited to 12 inches wide and 6 inches thick, but there will be less chance of sniping for this added support. 
You have to pay a lot to own this industrial-grade thickness planer. For flawless planning and reduced downtime to remove snipes from your workpiece, this planer is top-notch.
The Good
Long-lasting  reversible blades; 
Sturdy base;
Extra-long feeding table.
The Bad 
WEN PL1252 Benchtop Thickness Planer
15A motor generates 20,000 cuts per minute;
Includes two reversible 12.5-inch SK5 blades;
Plane boards up to 6 inches thick and 12.5 inches wide.
It is hard to find a benchtop planer that offers 2 knives with the super-fast cutting speed at this price point. This is the reason this WEN planner is different from other competitors. Its high-quality blades remove material super fast to get the job done quickly. Besides, the depth gauge is excellent for precisely measuring cutting depths for multiple workpieces. 
There are two dust ports on both sides of this machine to match dust collection to its super-fast cuts. You can use one on either side or two for a super clean work environment. For safety mechanisms, a circuit breaker is incorporated into this unit. 
In my opinion, to support a large business, an inexpensive and efficient benchtop planer like this one is compulsory. There are a few negative reviews regarding some quality issues of this unit, but the fast responsive customer service makes it up for the clients. 
The Good
An exceptionally smooth finish;
Superfast cutting;
Convenient dust port;
Precise cutting depth;
Easy assembly.
The Bad 
DEWALT Two Speed Thickness Planer (DW735)
Reversible dust port;
Powerful 15-AMP, 20,000 RPM motor;
Two reversible knives.
For its space-saving design and lightweight, it has won the hearts of many homeowners and hobbyists. Not only that, the performance you get from this planer is as good as professional or industrial planers. The quality is not compromised a bit to make this unit small and light. All you need is a stable benchtop to settle this portable benchtop planer from DEWALT Powers. 
The reversible knives are great to lengthen the duration or a replacement or resharpening. These beauties are long-lasting too! Even if you use this planer to shave hardwoods all the time, the knives hardly get full too quickly. The rate somehow changes for the type of boards you are passing through. 
Long story short, for professional performance in a portable planer, this one is the right hit. But don't get me wrong, there is no way it can support a woodshop with a large production rate.
The Good
Maximum versatility;
Durable and stable under heavy loads;
Backed by an extended warranty;
Quick-change knives;
Space-saving;
Portable.  
The Bad 
CRAFTSMAN Benchtop Planer, 15-Amp (CMEW320)
15 amp motor;
High carbon steel, double-edged, reversible knives for long cutting life;
Vacuum port for dust collection;
Two reversible blades.
For me, using this planer from CRAFTSMAN felt like an affordable machine for casual jobs. Yes, it is affordable and does its job right. The cutting speed is not the highest, but the elevated cutting does a pretty good job of minimizing snipes on both ends to a minimum. 
The blades are proven to be the most long-lasting ones of their kind. These are reversible too! But for hobby-led projects or occasional woodworking, you will hardly need to change the blades in the near future. The quiet operation is just like a cherry on the top.' What else do you expect from a benchtop-style planer? 
There are mounting holes on the base of this unit. If you want to, you can mount it on a sturdy table for smooth planning. It is quite handy for small shops; I don't get why other manufacturers don't include this feature in their plans.
The Good
Easy blade change;
Suitable to use on jointed material
Ideal for dimensioning lumber to the desired thickness;
Smooth operation and long life;
Affordable.
The Bad 
DEWALT 13-Inch Thickness Planer- DW735X
15 Amp motor;
20,000 rpm motor (10,000 rpm cutter head speed).
For carpenters, contractors, or DIYers, having the proper wood planer means smooth, even cuts, and an excellent finish. When buying a tool sort of a wood planer, it's essential to urge one that meets your needs. Whether you would like something for a 1-time job or which will last a lifetime, when trying to find the right planner, DeWalt is going to be a brand that will definitely come up.
The DEWALT DW735X 13-Inch, Three Knife, Two Speed Thickness Planer features a powerful 15 AMP, 20,000 RPM motor (10,000 RPM cutter head speed) that handles more massive cuts in more comprehensive materials with ease. The three-knife cutter head delivers a 30% longer knife life and makes knife change faster and easier.
The two-speed gearbox allows users to vary feed speed to optimize cuts per inch at 96 or 179 CPI. It's a fan-assisted chip ejection that vacuums chips off of the cutter head and exhausts them out of the machine. With a 19-3/4″ cast aluminum base, it's 2X more rigid than a typical 10″ base and folding tables.
The automated carriage lock reduces the movement that causes snipe without the user's necessity for manual engagement. It also features a material removal gauge and extra-large thickness scale that deliver accurate cuts with every pass. The extra-large turret deepness stop allows users to return to the most often-used thicknesses with ease. Includes infeed and outfeed tables and an additional set of knives.
The Good
Great planer;
Worth the extra money;
Exceptional performance.
The Bad 
Not for serious woodworkers;
Dangerous malfunction.
FAQs About Your Benchtop Thickness Planer
What Is a Benchtop Thickness Planer?
Benchtop planer, otherwise called thickness planer or wood planer, is a box-shaped power tool with a curved cutting edge inside that permits you to change the thickness of a piece of wood. Similar to a wood machine, bypassing the wood through the planer, sharp edges inside the machine remove small layers from the workpiece surface.
What Is the Difference Between a Surface Planer and a Thickness Planer?
A thickness planer is a carpenter's machine that handles loads up to a fixed thickness through two surface lengths and layers. It is not like a surface planer or joint, where the shaper head is set on the bed surface.
Should I Buy a Planer or Jointer?
Most woodworkers know that you simply need both a planer and a jointer to urge the foremost out of rough lumber (at least for machine users). You will be ready to accomplish more with it on its own than you'll with a jointer. The jointer excels at making one flat face and one square/flat edge, and that is about it.
What Should I Search for During a Thickness Planer?
Other factors to be considered include the cutting depth of the planer (thickness the cutting blade can remove in one pass, the flatness of the bed (guarantees smooth work), and in fact, the width of the bed (determines the width of timber which may be cut by the machine).
Does a Planer Make Wood Smooth?
Nothing beats owning a wood planer once you get to smooth boards and mill them to a particular thickness. Woodworking planers want to be found only at cabinet and millwork shops. If you are doing any remodeling, deck building, or woodworking, you'll never regret the investment in a woodworking router planer.
The Last Line
Lastly, I must remind you again, one should hurry neither while thickness planning the wooden boards nor buying the right thickness planer for the workshop.
Hundreds of upcoming projects depend on this machine a lot. If it is thoughtfully purchased, it can save your downtime of planning the wooden boards manually.
Relevant Resources: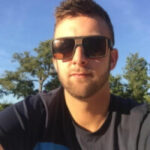 Hello, I am David Rowan. I am a professional contractor with 10 years of experience in home building, different tools used, construction, home remodeling, and other home improvement work. I have already built many custom homes and continued to do several woodworking projects along with how to deal with all categories of tools.