This article includes affiliate links, which means we may earn a commission if you make a purchase following our link. Please refer to our review guidelines.
A top-quality benchtop drill press is the prerequisite to flawless workmanship on furniture, cabinetry, and woodworking. It works with consistency, accuracy, and using it should be convenient. These things matter a lot while making any furniture, door, windows, cabinets, artworks, or other necessary customized components for clients and customers. 
If this sounds familiar, and you totally agree with me, then you already know the need for a benchtop drill at home and workshops. Yes, it is used by DIYers and homeowners at home too. So, they can customize their own belongings as they like.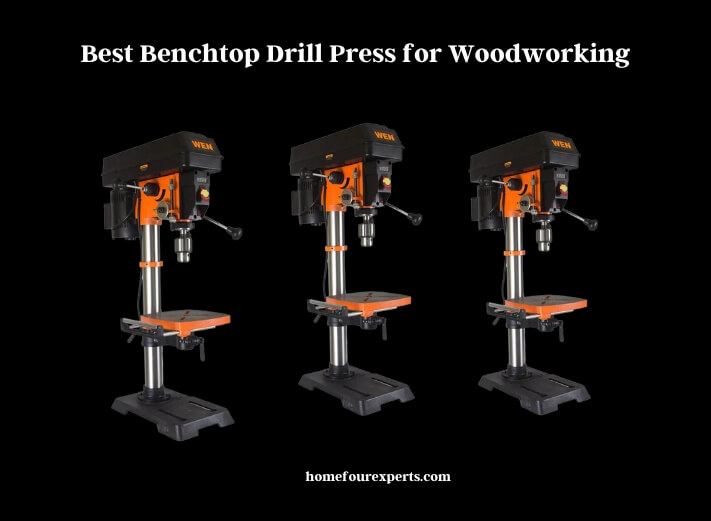 A benchtop drill press is required when accuracy and precision matters. So, choosing a random drill press may not serve the purpose if it is not checked for its performance. Different drill presses work on other materials better. Today, we are going to discuss only the ones that are known best for woodworking. 
For your peace of mind, we already researched and collected feedback from the users of different benchtop drill presses and developed a list of the benchtop drill presses that won't disappoint you with their performance on wood and similar materials.
Why Must You Need a Benchtop Drill Press? 
Drilling holes on a wooden piece can be done in many ways, but convenience matters. That is why there are various tools available in different sizes, capacities, and categories. Benchtop drill presses are the smaller and more portable version of a pillar or floor drill press. It can be mounted on a table or bench for continuous use and to save floor space. Besides, this drill press is more affordable. 
For woodworking, a benchtop drill press is a more budget-friendly and convenient tool to make holes of different sizes on various materials. A large industrial grade drill press is used for industrial purposes only. So, if your job involves drilling holes on small to medium workpieces regularly, you just need a drill press.
What Should You Look for in a Benchtop Drill Press
Capacity
In our list, there are benchtop drill presses that are as small as 2 inches and up to 12 inches. The size of the drill press one needs depends on the type of work they do. For wooden jewelry making, a small one may seem sufficient, but for carpentry or cabinetry use, the larger one may be required. Read more: Which ratcheting wrench set to choose? Let us help you in this guide.
Specifications
This one also depends on the preference of the user. The speed, power of the motor, chuck size and type, swing, table rotation and tilting, depth adjustments, and about anything the drill press is claiming should be considered carefully. 
Vibration/Noise
Noise and vibration affect the performance of the drill press, so as the finished result. So, it is important to choose a drill press that creates minimum vibration. As it is a drill, the noise is somewhat unavoidable, but it should be mild enough not to initiate vibration.
Reviews of Top Quality Wood Working Benchtop Drill Presses
While developing this list, we have considered our readers' budget constraints, the most demanding features they look for, and mostly, the performance of the machinery. We are not saying that all the drill presses listed here are equally good, but we also mentioned how to make one better if any fault is found. Hope this helps to make your decision.
WEN 12-Inch Variable Speed Drill Press for Hard Wood, 4214
Click on the Image >> See on Amazon
Variable 580-3200 RPM speed;
9-½'' x 9-1/2″ cast iron work table is expandable up to 17 inches;
Maximum drill capacity: 5/8" in 1" thick cast iron.
Drill presses are the power tools that are used for precise and accurate application on small-sized material. Despite that, these tools are priced very high for ensuring the accuracy the users look for. 
The 4214 model of drill press from WEN thankfully provides all the facilities and accuracy at a more affordable price. To begin with, its sturdy and expandable work table bevels on both sides up to 45 degrees. So that it can meet the need of any drill pressing needs on any angle. Besides, there are two separate lights: one is a work light, and another one is a LED. Both lights help to work accurately on tiny pieces. 
This drill press offers a variable speed that starts at 580 RPM and reaches up to 3200 RPM. For this variable speed, this machine can be used to manipulate materials including softwood, hardwood, lumber, plastic, fiberglass, and sometimes metals of various types. The adjustable depth gauge makes repeated accurate applications on wood for countless times easily. It has a ⅝'' chuck with MT2 spindle taper, which accepts a wide range of drill bits. 
In a word, this benchtop drill press from WEN is a functional, simple, and affordable tool for precise woodworking. There is a chance to get this unit not as per advertisement or wobbly. But customer service is always by their clients to make-up any mistakes. 
Pros
Affordable;
Easy assembly;
Runs smooth;
Variable speed for using different types of wood.
Cons
Some units are reported to wobble while running.
JET 15-Inch benchtop Drill Press for Large Scale Woodworking, J-2530
Click on the Image >> See on Amazon
Model: J-2530;
3/4-Horsepower motor;
360-degree tilting table, large 15-inch swing.
Heavy-duty application required higher capacity benchtop drill press machinery. This 15-inch benchtop style drill press from JET is there to cover up the heavy-duty drill and floor pressing needs. This unit is an all cast iron built for durable and lasting performance in any wood workshop. It is also equipped with a powerful ¾ hp motor. 
Unlike other models, the worktable can be tilted all-around 360 degrees for endless applications. It can also be raised and locked in position for convenient use. There are two lighting options incorporated in this model. There is a bulb holder on top of the table and a magnetic work light option features on the side for more focused illumination and accurate drilling. 
This unit is huge, heavy, long-lasting, and backed by an impressive 5 years long warranty by JET. This one is the right choice for high capacity and heavy-duty use for carpentry. Only then the high price spent on it will be worthy. 
Pros
High capacity drill press;
Durable for heavy-duty use;
Powerful motor;
Noise and vibration-free.
Cons
Poor instruction;
Expensive.  
Shop Fox 13-Inch Bench-Top`Drill Press, W1668
Click on the Image >> See on Amazon
Power: ¾-HP;
12-speed settings 250-3050 RPM;
3-1/4-Inch swing.
When one tool serves the need for two separate uses, it becomes a wiser choice. This combo of a benchtop drill press and a spindle sander saves the user from investing in a separate benchtop spindle sander. But it is equipped with all the necessary mechanisms for a satisfactory sanding result on any wood material. For example, 3 spindle sander drums of 1-Inch, 1-1/2-Inch, and 2-Inch, a mandrel, and 80 grit sanding paper to fit all the drums are already offered by this package.
To incorporate the convenience of use even after combining two entirely different functionality, a unique table is included in this drill press. The table is sleek, robust, and round-shaped with a 12-3/8-inch diameter. Besides, it can be moved up to 90 degrees on both sides. On the other hand, there are options for attaching two separate dust ports to use with the table and the sanding applications. 
This benchtop drill press/spindle sander is heavy (63 pounds) and as big as a floor drill press. A separate table will be needed to keep this in the workshop. Considering the convenience of combo features, an extra table and some extra bucks for the price is totally reasonable for this drill press. 
Pros
Cost-effective;
Well built construction;
Precise applications;
Combo of a spindle sander and drill press.
Cons
BILT HARD 10-Inch 12-Speed Drill Press
Click on the Image >> See on Amazon
Speeds: 300-2900 RPM;
Depth stop with gauge;
Table rotates 360° and tilts 45° left and right;
 Product size: 27.56 x 13.39 x 8.27 inches, weight: about 39.5 lbs. 10-inch swing, 2-3/8 inch spindle travel, 5/8-inch keyed chuck B16, 3.85A induction motor(3/5 HP).
I suggest beginners not go for an expensive and complex drill press for an easy job on wood. Those units are challenging to install, priced really high, and also complex to operate. This 10-inch benchtop drill press is the model for doing small-scale jobs with less hassle. For precision and convenience on the performance and results, many amazing features have been included in this unit. 
First, it accepts a wide range of drill bits for its 1/8 to 5/8 inch keyed chuck. This kind of chuck may seem old-fashioned but are more secure for holding drill bits in place. The depth of the drilling can be adjusted with the depth gauge. Secondly, the7.63 by 7.63 in. the shields of the customizable work table can change the point (45 ° left and right) for that uncertain activity. Loosen the angle lock bolt with a hex wrench. Tilt the table to the ideal point. 
Finally, if you don't keep over expectations from a 10-inch benchtop drill press, then this one is a decent unit to work precisely and easily. The price is also budget-friendly so that anyone can master their woodworking skills using this unit without going bankrupt. 
Pros
Adjustable table locks in place;
Heavy-duty ball-bearing motor;
Cheap;
Easy to use for beginners;
Basic and easy features.
Cons
DEWALT Magnetic Portable Drill Press, 2-Inch (DWE1622K)
Click on the Image >> See on Amazon
No Load Speed: 300-450 RPM;
In the package, a DWE1622 drill press, safety chain, height adjustment tool, quick change 1/2-in keyed chuck, and a Kit box is included;
Annular Cutter capacity (diameter) 2 in.
Magnetic drill presses are designed for remote applications or for doing odd jobs. As a benchtop drill press, the magnetic base drill press may lack the stationary feature we look for but adds versatility. This Dewalt magnetic drill can be mounted to virtually any surface at any angle to make holes as thick as the cutter allows. 
This drill press is a handy solution to make holes in large built-in wooden pieces. It can be done without the help of professionals taking the parts to the industrial-grade drill press workshops. This unit is overload-protected and wear-protected so that it can deliver a good service life. It comes with a magnetic coolant bottle that can be attached to the drill press unit or the workpiece for safety. 
The only complaint came from the consumers of this drill press is the keyed chuck wobbles or breaks easily. If it wobbles, that means the chuck is not fixed properly. This can also lead to breaking the chuck itself. However, like a benchtop drill press, this unit may seem crazy expensive, but this one is underpriced and versatile as a magnetic drill press. 
Pros
Overload protected for long life;
For heavy applications;
Strong magnetic base for using in odd applications
Portable design.
Cons
The drill may wobble if the chuck is not placed properly. 
SE Mini Drill Press for Benchtop Woodworking Use – 97511MDP
Click on the Image >> See on Amazon
Three variable speed 0 to 5,000 RPM, 0 to 6,500 RPM and 0 to 8,500 RPM;
6-9/16" x 6-9/16" table;
Weighs 2.2 pounds.
From the specs, it is evident that this teeny tiny mini drill from SE is meant for small jobs. Despite being small in size and light in weight, it delivers very powerful torque and high RPM variable speed. This is a budget-friendly benchtop drill press that can be used to drill down softer wood and other soft materials. No matter what the advertisement claims, there is no way it can be used for drilling hard metals. The accuracy of this unit is as good as any other high-quality drill presses. 
This one lacks the fancy features. Rather, its features and operations are quite basic. The quality of the quill, belt, etc. is not up to the mark. Still, we decided to give it a try because of its usability on softer materials with unmatched accuracy. 
By spending a little extra, the low-quality attachments of this unit can be replaced with a better quality one. If anyone intends to use it for drilling hard materials in the future, only this simple replacement will make this unit suitable for those tough jobs. 
Pros
Lightweight;
Reasonable price;
Excellent accuracy.
Cons
Genesis 10″ Benchtop Woodworking Drill Press, GDP1005A
Click on the Image >> See on Amazon
4.1 amp power;
5/8" chuck compatible with larger bits;
Weighs 52 pounds.
Though this model of benchtop drill press from Genesis is just 10 inches, it is meant to tackle large projects. The 4.1 amp motor is made for heavy use, and the ⅝ inch chuck is added to accept large drill bits. Maneuvering the workpieces is a lot easier with this model. Thanks to its work surface that rotates and tilts. The table rotates a full 360 degrees and tilts 45 degrees in either direction. 
Some users have complained over its wobbly performance. My suggestion is to tighten every nut, bolt, and screw as this drill press arrives. Once it is properly tightened, this machine runs like a miracle. It does not make any vibration and runs almost entirely. 
All in all, it is a budget drill press for doing large scale wood jobs. The handles and pulleys for speed control and table adjustment are made of plastic. Other than that, this is a drill press meant to make your experience pleasant. 
Pros
Easy to adjust table height and rotation;
Powerful motor;
Vibration and noise-free;
Handles large wood projects.
Cons
Plastic handle and pulley.
WEN 10-Inch Drill Press with Convenient Speed Control, 4212
Click on the Image >> See on Amazon
Cast iron 8 in. x 7-2/3 in. worktable;
1/2 in. keyed chuck;
530 to 3100 variable RPM.
Among all the benchtop drill presses, this 4212 model from WEN has got the most convenient feature for speed controls. The speed range itself is quite impressive and ranges from 530 to 3100 RPM. It allows the user to drill through any type of wood. While other benchtop drill presses still need belt adjustment for variable speed control, this WEN drill press has mechanical speed control and an LED speed readout display. Controlling the speed is convenient at its best and precise as well. 
A laser beam indicator is included to talk about the precision, and make drilling through your valuable workpieces. It marks an 'X' on the point where it is going to drill a hole in the workpiece. No need for guesswork and no risk of ruining costly workpieces from now on. 
The all cast iron construction is proof of durability, and compact size for benchtop use indicates the convenience of use of this unit. There is nothing not to like about this unit. 
Pros
Convenient speed control;
All over cast iron construction;
Laser drill-point indicator.
Cons
Jet 716000 JWDP-12 inch Drill Press for Benchtop Woodworking
Click on the Image >> See on Amazon
5 amps powerful motor;
10″ x 16-1/8″ cast iron base for stability;
5/8″ drill chuck.
The quality of the drill press should not be compromised if we want to receive flawless drilling every time for a long time. In this JET 716000 JWDP, the quality is not compromised to make it a cheaper good. So, its impressive 12-inch capacity is all intact with flawless performance. 
First of all, the motor is a heavy-duty 5 amp motor to support heavy use. As it is going to be used on a bench, the base is made heavy and big. Some prefer a small footprint, but that may affect the overall performance of the drill press. However, this unit has a general cast iron construction for long-lasting use. It is also equipped with a laser guide to indicate the drill point on the work surface. 
In a word, the specs of this unit are straightforward and match with any other drill press of the same capacity. But the difference lies in its quality parts. The motor has a ball bearing to operate nice and smooth without any wobble or vibration. If the flawless result is something you can't give up, then the price this drill press costs will be totally worth it.
Pros 
Portable design;
Runs smooth and quiet;
High capacity;
Laser guide for accuracy.
Cons
WEN 8 inch Bench Drill Press, 4208
Click on the Image >> See on Amazon
1/2-inch keyed chuck;
Operates at 5 different speeds: 740, 1100, 1530, 2100, 3140 RPM;
Cast iron 6-1/2 x 6-1/2″ work table with slots for mounting workpieces.
There is no variable speed adjustment with this 8-inch drill press. Preferably the user has to decide among five different speed settings. It eliminates the need for a mechanical brake for convenient speed changes, and also it does not involve the hassle of pulling a pulley for manual speed change. 
However, this 8-inch design is suitable for light to medium scale carpentry. The spindle can travel up to 2 inches, and the swing is 8 inches. The base of this unit can be mounted to the benchtop for added stability. It helps the unit not to wobble while running at the highest speed. 
The cast-iron work table also has slots so that workpieces can be mounted or clamped on it too, for accurate drilling.
This model has a half-inch keyed chuck. But the bit changing is not so troublesome as it also has an onboard key placement. The feature of this 8-inch model is basic. So, it is very easy to operate.
Pros
Portable; 
Suitable for tough jobs;
Stable base.
Cons
Frequently Questioned Answers By People
For What Reason Does a Woodworker Need a Drill Press?
The drill press is a fixed or benchtop power apparatus intended to drill exact openings in wood or metal.  This is a mechanized apparatus intended to drill openings in wood, metal, or plastic. Like a handheld drill, drill presses use different kinds of pieces to make openings of various measurements.
What Is the Benefit of Utilizing a Drill Press for Woodworkers?
Drilling holes at specific depths, widths, and points is much more straightforward with the help of a drill press because auxiliary highlights such as curved and stretcher customizable tables as well as factor depth stop that accompany most current drill presses.
Bottom Line
There is a problem with purchasing power tools. No matter if it is bought online or offline, there is always a risk of finding defects. It happens even if the tool is a high end, gets tons of positive feedback, and from a name brand, there is still a chance that the very unit you have got has the flaw. To make it less miserable, precautions are the cure. Checking the warranty, return, and replacement for the unit helps to claim any incentive from the manufacturers. 
A drill press is used for precise woodworks. So, I highly recommend not to use it on any material or to make any move that is not supposed to do with this specific machinery. It may lead to accidents, hamper the durability or damage the unit altogether. 
You May Like These Resources: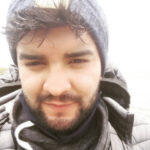 Hi, I am Eric Devin and I am a professional interior architect. Since childhood, I've always enjoyed DIY projects! And, I have loved to solve simple household problems using essential tools and equipment. I have also acquired a lot of information about basic household tools settings by working with contractors.