This article may contain affiliate links, which means if you make a purchase following our links won't cost you extra, but we may earn a commission. Learn more
Chainsaw is an amazing tool to deal with trees and logs. But they are large, heavy and dangerous. So you need to be careful while carrying them and even store them in your workshop or garage.
To avoid the risk of any kind of unwanted accident, the best way is to keep it in a case while carrying or storing them.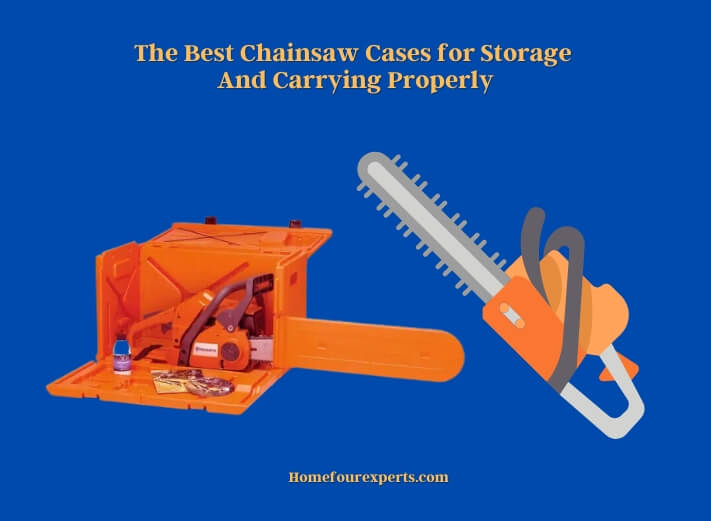 But you have to be cautious while buying a chainsaw case. Because you can't fit your chainsaw in any case. It needs to be the right size, shape and type.
Don't worry!
Here you'll find the right way to choose the best one. Also, you can pick one from the provided list.
Things to Consider While Choosing Chainsaw Case
To store your chainsaw properly you need the perfect case for it. Because you can't fit your saw in any case, they have to be the right size and shape for your saw. So you need to consider a few things while buying a case for your chainsaw.
Available Types of Chainsaw Case
You'll find different types of chainsaw cases available in the market. To choose the right one for you, you need to know about them-
Double- Walled Case
This type of case is suitable for those who need to carry their chainsaws with them. The double walled case will protect your chainsaw from the bounce of the car trunk or truck bed.
Plastic Case
Plastic chainsaw case is perfect for both DIYr's or homeowners and professionals. These cases fit well in your vehicle and occupy minimum space in your workshop or garage.
Soft Carrying Bag
This is the best option for homeowners who need to travel around their property and carry the tool it allows the saw with its accessories.
Features of a Good Quality Chainsaw Case
Following the mentioned features always help you to choose the right case for the tool.
Size
 The first thing you should do before purchasing a chainsaw case is to measure the dimensions of the tool. Because the dimension of the case you're going to buy must match with the dimension of the chainsaw. For this, you can also check the manufacturer's specifications.
Types of Chainsaws it Accommodates
Usually, chainsaw manufacturers produce the case for their products. They design it by considering the size and shape of a specific chainsaw. So it'd be better to choose from the same manufacturer to store the tool properly.
But if you don't find any and have to buy from other manufacturers, check which type of chainsaws are safe to store in them.
Material
Chainsaw is the heavier tool than any other tool, so the case you're going to buy must be made with the material that is able to carry the weight of the tool. Otherwise, you won't be able to use the case for a long time as it will wear and tear down quickly.
Weight
Though modern chainsaws are not as heavy as before, they are still heavy in comparison to other tools. So the carrying case must not add too much weight that can make it difficult to carry the tool in a long distance.
Work Type
The type of your work and the working environment also determine what type of chainsaw case you need. For example, if you're working in a rough environment, a hard case will be more suitable for the working environment.
If you need to carry your saw often and have to work in small trees and shrubs, a lightweight and soft case will be a perfect choice.
Durability
If you have to travel often with your chainsaw, you must need a case that is durable and strong. Or you may need to replace your case very often.
Budget
The most important thing you should consider while buying a case for your chainsaw is your budget, but not over the quality of the product. You'll find different types of cases in different price ranges. You need to choose the one that is perfect for your tool and also match your budget.
Our Recommended Some Chainsaw Cases, Below-
Husqvarna Powerbox Chainsaw Carrying Case
Click on the Image to >> See on Amazon
For 455 Rancher, 460, 372XP and 575XP;
Model 100000107; 
Weights 9 pounds. 
The first pick of 'best chainsaw case' is from Husqvarna. Because chainsaws from Husqvarna are being used for ages and most of the professionals are using them for years. Besides, this case fits any chainsaw models from Husqvarna including 372xp and 575xp.  
For using High-Density Polyethylene material, this case is durable yet lightweight. The interior has a lot of space to place all compulsory accessories like filing accessories, spark plug, oils, spare chains and so on. Not to mention, this case is the most 'good looking' one on this list. 
The thing I didn't like about this case is its weak hinges. Hinges are the most important part of any case, as the case is worthless once the hinge gives out. Considering the high price of this case, the hinges could be a lot better. Besides, there is no pocket inside the case to hold things neatly. Whatever you put in it stays at the bottom; such a mess!
Pros
A lot of room to store accessories;
Fits any Husqvarna model;
Made of durable plastic. 
Cons
Poulan Carrying Case for Gas Chainsaw
Click on the Image to >> See on Amazon
For 18- to 20-Inch Gas Chainsaws;
Model Pro 952031152; 
Weights 9 pounds. 
For some, there is no point of spending on chainsaw cases unnecessarily when this thing is only used to carry the saw safely. I have got this Poulan chainsaw case just for them so, even people on a budget can have a functional saw case to put their chainsaw and other belongings. It is cheap, fits almost any saw of 18 to 20 inches size whether it is electric or gas operated. 
After placing the saw, there is still plenty of room left for other accessories. As it is meant for gas chainsaws, the extra space is for fuel can. But you can put lubricating oil, spare chain, sharpeners, etc. 
This box is somewhat ugly looking. It is simply dusty black and oddly shaped. To make it secure, the locks used in this case are to be pressed separately after closing the lid. Most of the chainsaw cases come with locks that close with the lid, but usually, those locks are not long lasting. However, if its ugly look doesn't bother you, it can be a functional case for your chainsaw. 
Pros
Extra space for fuel can;
Cheap price;
Holds almost any chainsaw of similar size. 
Cons
Poweka Chainsaw Carrying Canvas Bag Portable Protection
Click on the Image to >> See on Amazon
Included: 1pc Chainsaw carry bag;
Made of Oxford fabric with excellent workmanship;
Size: approx. 89 x 48 x 13cm / 35.04″ x 18.90″ x 5.12″;
Weighs 11.1 pounds. 
After putting the chainsaw in the case with added accessories, the total unit becomes heavy and difficult to carry. In comparison, this zipped bag is feather-light yet as much functional as the plastic cases. I love the idea of making compartments to neatly organize tools and cans in them. 
To keep the bag clean from any leakage from the chainsaw, there is a plastic mat at the bottom of the bag. The mat collects all the leaking so that you can clean that up easily later. My tip to make it even easier is to place a paper towel or kitchen towel on top of the mat. The towel will soak all the leaked bar oil so you don't have to clean up the mat very often. 
This bag lacks the durability of plastic cases. So, you can't put anything on top of it. Other than that, it is more convenient to use than any other plastic case. Besides, the price is almost half of the price of plastic cases. 
Pros
Durable and waterproof;
Easy to clean and hang dry;
2 handles + 1 sticky strip + long zipper design;
Budget-friendly option; 
Leak-proof. 
Cons
Chainsaw is not included.
Husqvarna Classic Style Chainsaw Carrying Case
Click on the Image to >> See on Amazon
For Chainsaws up to 20 inches;
Model 100000101;
Weights 6.7 pounds. 
This box is lighter and well balanced compared to other plastic cases I have reviewed in this list. It is the most affordable model from Husqvarna. If you desperately want a case from Husqvarna and at an affordable price, then this one is the best choice for you. 
This model fits most Husqvarna and other chainsaws, but still, I suggest you check their list first. Some have complained about not fitting their saw in it. So, check before you decide. The case and locks are entirely made of plastic, but not as durable as our top pick. But it is enough to protect your saw from bumps and scratches. 
After placing the saw, you will still have some space to put your gloves and oils in it. I recommend always putting gloves in the chainsaw case. So that you never run the saw without wearing gloves. 
Pros
Reasonable price;
Lightweight;
Fits most models of same size saw;
Well balanced. 
Cons
Echo ToughChest Chainsaw Storage Case
Click on the Image to >> See on Amazon
For Chainsaws up to 20 inches;
Model 99988801210;
Weights 3 pounds. 
The advantage of using a square chainsaw case is, it has more space inside to store tools and it is easier to store in workshops. Apart from these, there are some other benefits of this Echo ToughChest.
It is literally as tough as a chest and there are cutouts in the interior to organize file, wrench and spark plug. Your tools will no longer roll on the bottom of the box and make a mess. The rest of the room can be used to put chaps and gloves. This case weighs only 3 pounds, much lighter than other cases we have reviewed. 
The price is lower than Husqvarna cases and surely will fit any chainsaw from Echo. if your chainsaw is from other brands, then please contact the customer center for assurance that it will fit yours. 
Pros
Sturdy;
Compartment for tools;
Pre-assembled;
Comes with a manual;
Very light. 
Cons
Read more: Top Chainsaw Boots for Full Protection & Comfortable
FAQs
What Is a Chainsaw Scabbard?
The scabbard gives solid security against wounds from the sharp cutting connection. For securely putting away or shipping chainsaw tools, we suggest our viable chainsaw tool convey sack or chainsaw tool conveying case.
How Much Should Spend On A Chainsaw Storage Case?
In a perfect world, a chainsaw tool capacity case will live with you for quite a long time. Paying something else for your item will compensate you each time you quickly open the cover with sped-up, better quality precision, and a sweet view. 
Once more, the normal expense of another chainsaw tool capacity case is among $$ and $$$. Of course, you get out some extravagant highlights.
Conclusion
Chainsaw cases are important for their proper maintenance. If you're thinking that, you don't have to carry your chainsaw so you can skip buying the case. But it could be dangerous to store the saw without a case, moreover, your saw may get damaged quickly in contact with dust and dirt.
So to protect your saw and avoid any accident, you must store your chainsaw in a perfect case.
We hope after going through this guideline, you'll be able to choose the perfect case for your chainsaw.
You Might Also Like: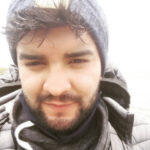 Hi, I am Eric Devin and I am a professional interior architect. Since childhood, I've always enjoyed DIY projects! And, I have loved to solve simple household problems using essential tools and equipment. I have also acquired a lot of information about basic household tools settings by working with contractors.