This article includes affiliate links, which means we may earn a commission if you make a purchase following our link. Please refer to our review guidelines.
No matter whether you need to work regularly with a chainsaw or work occasionally as a DIY, you just need to ensure your protection before starting the work.
Among various safety gear, chainsaw chaps are one of the most important safety gear. Usually, chaps create layers of protection between the tool and your body. So that your legs won't get cut or injured during your work time, you just need to get the most durable, strong, and safe chaps.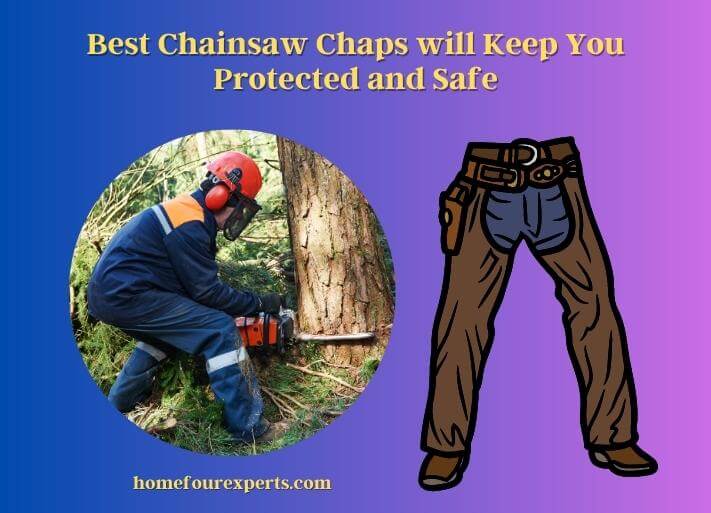 What Are Chainsaw Chaps
Chainsaw chaps are safety gear that can protect your legs while operating any dangerous power tool like a chainsaw. No matter what type of job you are doing, you can wear chainsaw chaps to avoid any chance of injury that may cause by the sudden kick of the saw.
They act as the shield and prevent any damage that may cause if you are wearing regular pants while dealing with your saw.
Best quality chainsaw chaps can make the chain stop within a second and also prevent the blade from cutting your legs. They also have multiple layers of protective fibers that help clog the chainsaw instantly before the blade reaches the leg underneath.
Top 10 Chainsaw Chaps
If you are researching to choose the right one, you can also check my guideline. Here, you can have an obvious idea about what to choose for your protection.
It is very simple and easy.
Just check that chaps are made with the best quality material, have durability, and protect you smartly.
For detailed information, you can go through the entire guideline; I hope you won't be upset after buying the right one.
1. Forester 36 inches Chainsaw Apron Chaps with Pocket
Size 36'';
Orange, forest green, safety green, camouflage, and brown colored;
UL Certified.
First of all, these chaps are not recommended for electric chainsaws. It only gives protection against only gas-operated chainsaws. These chaps come in 6 different colors and prints. A relief from boring orange chaps that we look at every one.
These chaps are UL certified, meaning it provides all the safety you need while using a saw. There is a large side pocket to carry necessities. The end seam of the chap has two flip belts to secure them on your legs.
These are a more affordable version of pricey chaps. These are also made oil and water-resistant. So, next time you spill motor oil, lubricating oil, or some chainsaw fuel on your chaps, you will less likely to make a mess of it.
2. Husqvarna 40 to 42-Inch Technical Apron Wrap Chap
Waist adjustable from 40'' to 42'';
Orange-grey colored;
UL Certified.
These are high-quality chaps with awesome detailing and perfect stitching. But the problem is, you need to be very careful while ordering these. As there is no information about chaps' length, some people end up ordering too long or too short. I suggest ordering based on your height, not on your waist. Because the waist of these chaps is highly adjustable. There is a buckle to adjust it like a seat belt. But the length makes confusion. Taller people should go for larger pants.
The material they used is pretty amazing. It is protective, top-quality, and washable. A side pocket doesn't show in the photo, but it's quite a big one. The grey patch on the rusty orange of these chaps makes them identical.
3. Husqvarna Chain Saw Apron Chaps, Gray (531309503)
Adjustable waist Size up to 38″;
Grey color available only;
UL Certified.
Husqvarna Classic Chaps comes only in grey color, but fortunately, you won't have to deal with the boring orange. It has also 600 denier polyester with PVC coating with Tek warp protective layers. The overall length is from waist to ankle which is adjustable up to 38 inches.
5 layers of Kev Malimot are used as protective measures to make these. These are washable, but hand wash is recommended to keep the shape and top layer intact. It's forbidden to use chlorine bleach. This pack has not been tried yet by anyone from Amazon, but there is no harm in being the first, right?
4. Forester Highly Adjustable Arborist ProChaps Chainsaw Chaps
Waist adjustable from 28″ – 44″;
Adjustable Length 35″;
Orange color.
It's wiser to order a pair of highly adjustable chaps than to get confused about the size of not adjustable ones. These chaps from Forester can be adjusted not only to the waist but also to the length. One pair can be used by all the members of your family if required.
These chaps have met all the standards it needs to get certified as usable chaps while using chainsaws. It has 8 layers of  WTS knitted nylon/polyester to make it protected. The gear pocket is zipped, a feature I like most. Zipped pockets are better than buttoned ones as it eliminates the dropping of contents from the pocket while bending over.
There is no color variation of these chaps. But for the adjustable features, I highly recommend it for a better fit and protection.
5. Makita 38-Inch Chain Saw Chaps (841008-A)
There is nothing much to tell about Makita products to convince people to get them. The products say themselves about quality and usability. These chaps are typical orange-colored chaps with adjustable waists. They are comfortable and washable. Comes with the protective nature a chainsaw needs to be.
Though these are Makita products, they cost less than other chaps from different brands. They are made of less fancy-looking material and fewer fine stitches. However, it will still provide you with protection from a chainsaw. To get the protection you want from cheaply priced chaps, think less and go for these chaps.
6. STIHL 36-Inch Protective ChainSaw Chaps (0000 886 3202)
Length 36'', waist 36'';
Orange colored;
Open-back style.
To make it well protected against any cutting tools, 6 layers of cut-retardant material have been used. In practice, when we tested it, it actually stopped the saw from cutting it. Sounds promising, isn't it? However, its fluorescent orange color shines from miles apart.
There are cargo pockets in the front part of the chaps, where you can put oil, wrench, or anything you feel necessary. On hot summer days, you may want to wear something breathable yet let you do the jobs. These chaps are open back to give you comfort even under the blazing sun.
The price of these chaps varies a lot among different marketers. But, indeed, these are more pricey than most other made and models. But the protection it offers is worth the price.
7. WoodlandPro Chainsaw Safety Chaps
2X, LG, RG, and XL sizes available;
Olive color.
These chaps are made for people who don't like adjusting and fixing belts and flips of their chainsaw chaps. These are super easy to wear and take off. They come in 5 different sizes that can be adjusted up to one or two sizes up and down. The dull olive green color may seem pale but looks better than the typical chaps' eye-catchy orange color.
These chaps are cheap also. But there is no pocket attached to it. It would be nice to keep tools handy and near all the time. With or without a pocket, these chaps do what they are made for protection against chainsaw injury.
8. Labonville Regular size Full-Wrap Chainsaw Safety Chaps
2x long, long, regular, x long sizes available;
Orange and green color.
While most other chainsaw chaps give protection on the front part, these full-wrap chaps will make sure your entire lower body is well protected. These are best to keep you functional even in a cold challenging environment. These are available in 4 different sizes and 2 different colors.
Even if these are full wrap chaps, there are adjustable flips on these to keep them secure on your legs. To ensure all-around protection, there is no other option than ordering this pair of chainsaw chaps.
9. Oregon Protective Chainsaw Chaps (563979)
Waist can be adjusted up to 46″;
Length can be adjusted up to 36''
Black color.
We have reviewed all the top and medium brand chainsaw chaps, then why not have a look at the Oregon chaps? Oregon is the king of all chainsaw accessories makers. So, obviously, their chaps will be something extraordinary.
These chaps are made of 8 layers of protective knit material. It is breathable yet well-made. While other chaps are recommended for a hand wash, these chaps can be thrown in the washing machines!
To not fall into the fuss of getting confused about the fittings of chainsaw chaps you intend to purchase online, these chaps are a great alternative. These are highly adjustable at the waist and length. Gives better coverage and just the right protection.
10. Husqvarna ChainSaw Chaps (587160702)
Waist can be adjusted up to 38″;
Black-grey color.
I have to admit that the Husqvarna chaps are the most stylish and well-made ones among all the chainsaw chaps. These chaps in a black and grey combination are made of polyester and have a PVC coating on them. These are meant for stopping a chainsaw chain from making injuries upon contact with the chap material.
There are three adjustable sizes of these chaps. The one I am reviewing can be adjusted from 36 to 38 inches. There is a small open-style pocket at the side. This pair is washable, comfortable, and heavy-duty.
How to Choose the Right Chaps
While working with a chainsaw, you need to be very careful about your legs' safety like eyes, ears, hands, and head.
So you need to choose the best product to protect your legs. And choosing the right one is so much easier if you simply follow the mentioned tips.
Size & Length
You must want your chaps to fit comfortably and securely. It should also cover up all vulnerable parts of the lower part of your body, including legs & formal arteries, like the large artery of your thigh.
The chaps must be enough to cover your ankles and also you can move around with them easily. Most common waist sizes for regular to large chainsaws may vary but generally, they are available in the range from 32"- 42".
Apron vs. Full Wrap
The fundamental difference between a chainsaw apron and full- a wrap apron is, the apron covers only the front half of your lower body, but full wraps, like its name, wrap your legs fully and cover your calves & sides. Though full wraps are heavier than the apron, they can protect the areas of your lower body part where aprons can't.
Aprons are lighter than full wraps and easy to move around with. But if you have work with a dynamic and risky setting, it is worthwhile to invest in a set of full-wrap chainsaw chaps. And for general use or to do casual household or simple jobs, aprons can work well.
Certification
The chainsaw chaps you will buy must meet the regulations established for safety & leg protection standards. So look for the certifications from those companies and organizations while buying your chainsaw chaps:
ANSI: American National Standards Institute
OSHA: Occupational Safety and Health Administration
ASTM: ASTM International Safety & Security Standards
Comfort
If you have to spend a long time cutting wood, you need to use safety gear and comfortable equipment. So your chainsaw chaps must not be so heavy or not make you feel hot during summer.
Generally, chaps around 5 lbs or more are considered heavy ones. So check the weight with which you're comfortable. If your chaps come with adjustable leg and waist straps, they will fit well with different types of body types.
For getting a comfortable chap, you can follow the instructions provided by some renowned brands. This is the must-follow step if you don't want to end up with an uncomfortable or unfit chap.
Material
The most important feature of a good quality chap is it must be made with high-quality, durable materials with a multi-layered core for protection. Most of the best quality chainsaw chaps come with 400 or 600 or 1000 Denier outer shells.
1000 Denier has the most stronger and larger strands while 600 Denier is more durable.
But the outer shell of the chap may not be as important as the inner part. For example, chainsaw chaps with 400 Denier can be the best if their inner part has many layers. If the chaps come with additional PVC coating and 4 or more strand layers, they can be considered the best.
Pockets
Pockets are the most crucial feature of chainsaw chaps because you can put your useful tools in them to not waste any time finding them. So look for the chaps that come with gear pockets for your convenience.
Durability
You can't replace your chainsaw chaps every now & then. So you need to choose the most durable product that can survive most wear and tear and save you from any type of accident for a long time.
Price
Chainsaw chaps are available in the price range of $45- $90 or more than that. But the most commonly used chaps will be found in $70- $80. Expensive chaps are usually made by well-reputed brands built with high-quality materials.
But while you're buying chaps for yourself, look for the durable one, good quality, and function over its price. Make sure that they fit you perfectly and are able to protect you from any unwanted accident.
Conclusion
Hope you've come to understand that chainsaw chaps are essential safety gear while working with a chainsaw.
No matter if you use this at your workshop or for wood carving, make sure that you've got the best quality chainsaw chaps to protect your legs from any unwanted cuts or falling objects.
To choose the best quality, this buying guide can help you to make the right decision. You can check the list of chaps I've provided earlier because they are the latest models of the market. Each of them is secure, durable, and made with high-quality fabric to make you comfortable at work.
You can choose any of them and start your carving.
You Might Also Like: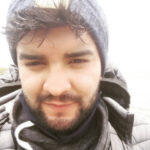 Hi, I am Eric Devin and I am a professional interior architect. Since childhood, I've always enjoyed DIY projects! And, I have loved to solve simple household problems using essential tools and equipment. I have also acquired a lot of information about basic household tools settings by working with contractors.