So you've been using your chainsaw for a long time! In that case, chances are high that the chains of your saw are getting dull. And dull chains won't be able to give you the best performance.
If you want to keep your chainsaw sharp or in great cutting condition, the only tool that can help you, in this case, is a chainsaw sharpener.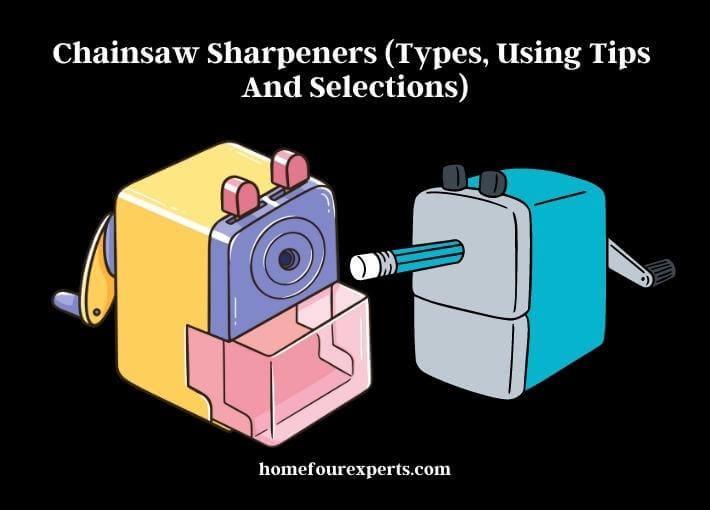 To help you to pick the right sharpener, I've listed here some must-have features with a few top-rated sharpeners.
Just go through the guideline and choose your one!
Types of Chainsaw Sharpeners
You should know about different types of sharpeners before buying one. It'd help you to choose your chainsaw. There are mainly three types of sharpeners available in the market, they are-
Handheld File
This is the most commonly used sharpener of all. It's a simple round file with a varying diameter which is related to the size of the chain you want to sharpen. You can use this file by running it over the tip of the chain. The process is simple but requires a certain amount of precision for the best result.
Electric Chainsaw Sharpener
These are the modernized and most commonly used chainsaw sharpeners by professionals. You can sharpen your dull saw easily and quickly by using an electric sharpener. If you have to sharpen your chainsaw frequently, this can be the best option for you.
Bar Mounted Guide
These sharpeners require a stable, flat platform like a table or a bench to be used. With it, you can secure the guide with the chainsaw and then mount the sharpener on the bar of your chainsaw and fasten it in place.
Read more: Top 5 Chainsaw Bar Oil (Lubricant) for Smoothest Work
How to Select
To restore the performance of your chainsaw, you need to sharpen the chain of your chainsaw. And for getting the right sharpening tool, you need to check some basic facts about a sharpener.
Features for Best Performance
Build and Quality
You must get a sharpener that will last for a long time and is also easy to operate. Sharpeners made with machined metal are more durable as sharpening involves metal on metal which can easily wear down the tool. Also, it is necessary to choose a sharpener that is easy to use. If you've to sharpen your chainsaw frequently, this feature can help you a lot.
Material
While buying a sharpener for your chainsaw, check the material that is used to make the sharpener. The sharpener is made with the composition of solid components of metal and is more reliable.
You'll also find some sharpeners made with hard plastic, but before buying, make sure which component is suitable for your chain, or you may have difficulties sharpening the teeth.
Power
If you're buying an electric sharpener, make sure to get the more powerful one. Also, check the RPM that the motor can generate because a higher RPM can sharpen your chain faster.
Construction
You never want to buy a sharpener that breaks apart after a few uses. So like other features, you should look for the construction of the chainsaw sharpener.
A good quality sharpener can withstand regular use and is tough enough to survive typical usage abuse.
Read more: Top 10 Chainsaw Chaps will Keep You Protected and Safe
Features for Best Fitting
Chain Compatibility
Chains are made with different materials and in different sizes so not all the sharpeners will fit with your chain. Make sure that the sharpener you've chosen for your saw is compatible with your chain, both in size and material.
Chain Size
Check the size of the chain of your saw because not all sharpeners can sharpen chains of different sizes. So before selecting a sharpener, make sure that it is able to sharpen the specific chain of your chainsaw.
Features for Your Safety
Chains can hurt you even if they are dull, so it is highly recommended that you should think of your safety while sharpening. Must wear heavy gloves, a helmet, and goggles whenever you need to sharpen your chain.
Never try to speed up the sharpening process by pulling the chain and while you're sharpening, use a vice and hold the saw down and make sure that it is unplugged or the battery is to avoid any kind of accident.
How to Sharpen the Chain
Sharpening the chain can be easy and simple if you get the right tool and follow these simple steps-
Step One: Choose Your Sharpener
The first and most important step is to get the appropriate sharpener for your chainsaw. Among the available three types choose the one that goes well with your chain.
Step Two: Choose the Right File
From the user manual, you'll get the necessary information about which type of file or guide, or stone size is perfect for your chains. Follow the instructions to get the best result.
Step Three: Start the Unique Link
Before sharpening your chainsaw, you must know the start and finish points of the chain. Because you don't want to sharpen the same spot many times. To avoid this, find out the unique link of the chain that is different from the rest of the parts, then start sharpening.
Step Four: Use the Correct Motion
Sharpening your chainsaw requires even & firm motions. You should start by aligning the file to the same angle, like the blade, then apply an even presser moving back & forth.
Step Five: Rinse & Repeat
After completing sharpening the entire chain, you need to rinse it to wash out the metal fillings. Then check out the chain thoroughly, if it isn't sharp enough, repeat the process.
View Top 9 Chainsaw Sharpeners, Below-
1. Oregon Bench Saw Chain Grinder for Low Profile and Full Profile Chains
0.4 HP, 4.3 amp, 300-watt motor;
3, 400 RPM;
5-¾ " wheels;
Weight 19.45 pounds.
Some professional chainsaw users usually depend on manual sharpeners to save on electric ones. But a reasonably priced electric sharpener can save you from back pain, and poor eyesight, save your time, and most importantly, improve your overall productivity. 
Some even get their chains sharpened by professionals, but to make it quicker, they file the tooth too much which may lead to wearing off your chains early. In the long run, your chain will wear off too quickly.
Considering these, we have placed this model of sharpener at the top of our list. It is not cheap, but the best in its class. It is easy to set up and easiest to use. Once you get to know the benefits of using electric sharpeners, you will prefer this over manual sharpeners and professional sharpening.
There are three wheels included with this model to sharpen a variety of chains. 1/4″, 3/8″ low profile, 0.325″, full profile 3/8″, and .404″ pitch chains are suitable for sharp use in this machine. In the beginning, everyone finds it problematic to use due to its poor instruction. But online tutorials help a lot in this matter. If you are already a pro at these, you won't need any manual; in fact, you already know how good this unit is because it is from Oregon.
Pros
Fits a variety of chains;
Quiet operation;
Easy to install and use;
3 wheels for different types of chains;
Suitable for professional use.
Cons
---
2. EzzDoo 3-in-1 Electric Chainsaw Sharpener Tools
Sharpening Attachment Angles 25°, 30°, and 35°;
Speed Gear 1, 2, 3, 4, 5, 6 max;
Speed: 10000~35000 (RPM);
Weighs 1.4 pounds.
Though electric chain sharpeners are the best for sharpening a variety of chains, there are advantages to using manual sharpeners. They take up less space at the workshop, need no electricity to power up, and most importantly, take little money. Besides, someone who uses only one type of chain all the time, really doesn't need an expensive electric sharpener.
The manual sharpener we are talking about here has a tungsten-carbide cutter. The unit is a high-quality aluminum-made one and lasts for ages. The best thing about this type of sharpener is, you don't even need to remove the chain from the bar, you can sharpen it on the go. A great tool for sharpening a dull chain right on the job site.
It has three clasps that help to fix this sharpener on the bar. Turning off the handle at the side of the device pulls the chain through this cutter and sharpens as it goes. Be careful not to turn the handle in the wrong direction as it will permanently damage the unit. It will be best if you enlighten yourself by studying the manual before you use it.
I truly missed a scale with this sharpener because once you encounter an oddly long tooth of your chain then you will mess up how much you were cutting at first. The angle guides work in 3 common angles only. So, the application of this unit is somewhat limited, which makes it suitable for people who use chainsaws moderately.
Pros
Carbon brushes;
Quick guide; Titanium-plated sharpening wheels;
Sturdy and long-lasting.
Cons
---
3. Stihl 2 In 1 Easy File Chain Sharpener for 325″ Stihl Chains
Sharpen only .325″ pitch chains;
Weights 12.3 ounces.
To avoid all the complications of other power grinders and manual chain sharpeners, using a simple old-school file is the best option. These files weigh only ounces and fit in a pocket. And surprisingly, with some tips and techniques, they sharpen as consistently as the power grinders do. Besides, over time, it takes less time to sharpen using this file.
First of all, be sure that your Stihl chainsaw is compatible with this file. This chain is available in three different sizes; check yours on the chainsaw bar. Using this chain basically doesn't require any manual, but it takes a while at first. Begin sharpening the tooth placed on the green mark of your chain. Keep counting the strokes you need to get the desired result. For the rest of the chain, use the same number of strokes to get an evenly sharp chain. Yes, it's that simple.
It works best while using a vice. If you don't have one, order both. Because, with a vice, you can sharpen four teeth in a row at once. If you have a different chain pitch, order a different model.
Pros
Best for beginners;
Easy to use;
Portable;
Cheapest option.
Cons
Requires a vice to work best.
---
4. Granberg Versatile Bar-Mount Chainsaw Sharpener
Accessory to use with files;
Weights 14.4 ounces.
Basically, it is an accessory to use with the file used for sharpening chainsaw chains. There is no sharpener included in this pack, so, literally, it is not a sharpener. But this bar mount works with every kind and size of the file available in the market. Using this bar mount takes file-based sharpening to a new level.
This device is a handy tool for users who do milling a lot. In the outdoors, they need to sharpen their chains several times and only a file makes it a lengthy process. Adding this bar mount just makes things a bit easier.
To use this properly, you must make sure that the chain runs freely on the bar when the saw is off. Set this bar mount to the desired length so that a sharpened tooth can pass through it, but unsharpened ones get stuck. This way not only you will get the idea of how much sharpening each tooth requires, but also the sharpening is done right on the bar. You don't need to take the chain off or use a vice or anything else.
Pros
Works with any file size;
Adds more precision to file-based sharpening;
Makes sharpening files easier;
Low cost.
Cons
---
5. Timber Electric Chain Saw Chain Sharpener with 3 Wheels
230-watt motor;
3, 600 RPM;
3/16-Inch, 1/8-Inch, and 1/4-Inch wheels;
Weights 17 pounds.
If power grinders draw your attention to this list, but can't afford the price of popular brands, then you can take a look at this Timber power grinder for sharpening your chainsaw chain. Its mechanism is the same as other power grinders, just costs much less. The only thing to concern is, it is not well built like the pro-quality grinders. If fixing and replacing some bolts and screws won't bother you, then you can cope with this.
First of all, it comes pre-assembled, you can use it right after the delivery. It has 3 wheels to sharpen different size chains. The wheels are not the best in class, but you can replace those when you are done with them.
Secondly, it has a transparent safeguard; which is great because some renowned manufacturers don't bother to use one in their power grinders. Thirdly, there are a couple of negative reviews about this product. But it is a budget buy, so you must have mental preparation to accept all its flaws. Otherwise, this sharpener is not meant for you.
Pros
Pre-assembled;
Low price;
Easy to use.
Cons
---
6. Buffalo Tools ECSS Electric Chainsaw Sharpener
85-watt motor;
4,200 RPM;
120V / 60 Hz/ 85 Watts;
 4-1/4″ x 1/8″ Grinding Wheel;
Weighs 6 pounds.
This one is the most simplistic and affordable among all power grinders on this list. It is even cheaper than some manual files we have been talking about. It's the only wheel that is enough to sharpen any chain one can have in his/one her collection.
It is very light, that's because of its small and miniature size. But surprisingly, its limited power motor produces speed that is enough to put the expensive sharpeners to shame. That's why this machine sharpens faster. Its features are simple, so it's easy to set up and use.
It goes a long way but the only problem about this unit is, if you ever need any replacement part for this, you will have very few possibilities to get any. Some even find it easier to purchase the whole unit rather than looking for its parts because it's so cheap.
Pros
Budget-friendly;
Adjusts to all chain designs;
Sharpens fast.
Cons
No replacement parts are available.
---
7. I_S IMPORT Electric Grinder/Bench Mount Sharpener
80-watt;
4,200 RPM;
4-1/4-inch wheel, 1/8-Inch thickness;
Weight 5.8 pounds.
Here is another affordable category power grinder for sharpening chains. It is not as good as professional-level grinders, as it lacks durability and power. Mostly it is made of plastic, which makes it lightweight. However, it does the job as it is advertised. Fixing around the home chains on a DIY basis and cutting the cost of sharpening by vendors, can really help.
This sharpener can be mounted on any surface, for ease of sharpening. Other features are quite similar to similar category sharpeners. But it has a chain rotation roller that roller the chain forward as you sharpen each tooth. It is convenient because you don't have to face the hassle of setting up the chain each time.
Another good thing, it can be used to sharpen chains of any size. Precision angle setting is also a breeze and the result is as good as professional-level sharpening. For beginners, it will take 15 minutes maximum to mount this unit and sharpen their first chain. But the time reduces to 3 minutes when you are used to it.
Pros
Easy to mount;
Suitable for moderate use;
Comes with chain rotation rollers.
Cons
---
8. Funshoppingmall Electric Chainsaw Sharpener Kit with 2 Grinding Wheels
Supply voltage: 110V;
Motor input power: 230W;
Maximum speed: 3000 rpm;
Grinding Wheels – 1/8″ & 3/16″;
Grinding wheels size: 5-1/2″ Diameter;
Sharpens chain pitch: 1/4″ / .325″ / 3/8″ / .404″.
Chisel and semi-chisel types of chains require a different manner of sharpening. This sharpener has numerous adjustments to fit chains of different types. Its motor and grinding angle both can be adjusted to a wide range of angles. The chain grinding angle can be adjusted up to 30º and the wheel can be adjusted up to 70º. Most chain types fit in this range, hence this one is a versatile sharpener and suitable for hobbyists and DIY people.
This unit is entirely made of cast aluminum, which makes it a durable and dependable sharpener. But there is some design flaw with the setting of their grinding wheel. Most users have complained about poorly balanced wheels but some were able to fix the problem by themselves. I agree that everyone is not willing to handle such a headache just for the 'low price tag.
Despite this, customer care is proven to always respond well to these problems and offers refund or replacement upon contact. Some manual files are way too expensive than this machine is. And if there is a refund policy, then what's the problem with trying this out, right?
Pros
Refund and replacement offer up on bad tool;
Lots of adjustments;
Durable.
Cons
Some machines arrive poorly balanced.
---
9. XtremepowerUS Mini Electric Chain Sharpener with Brake
.80″ to .50″ capacity;
4200 RPM speed;
1/8-Inch and 3/16-Inch wheels;
Weights 5 pounds.
If you are new to using a power sharpener, then this unit may seem convenient to you. The only difference it has is a brake that holds the chain in place while grinding. Other than that, the other features are pretty much the same as other low-cost power sharpeners in this list.
Again, it is for newbies to use, or for homeowners; not more than that. You can't expect professional quality performance from its 85-watt motor. For occasional sharpening, it does the job quite well enough to save you hundreds of visitors to the vendor's workshop.
Please note, its vice angle is limited up to 35 degrees to the left and right. Make sure the chain you use requires this configuration before investing in it.
Pros
High speed;
Inexpensive;
Easy to set up and use.
Cons
Mounting accessories are not included.
---
Conclusion
Chainsaw requires proper care and maintenance for better performance. So you need to sharpen the chain whenever needed.
You can sharpen your chainsaw in many ways, but all methods require the use of a good-quality sharpener.
Finding the best quality chainsaw sharpener is easy if you simply follow the steps I've mentioned above. Also, you can pick one from the list I've provided.
But always remember to be equipped with your safety gear while working with any power tool like a chainsaw.
Featured image credit: Amazon.com
You Might Also Like: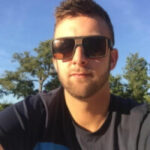 Hello, I am David Rowan. I am a professional contractor with 10 years of experience in home building, different tools used, construction, home remodeling, and other home improvement work. I have already built many custom homes and continued to do several woodworking projects along with how to deal with all categories of tools.