This article includes affiliate links, which means we may earn a commission if you make a purchase following our link. Please refer to our review guidelines.
Professionals better know how vital a corded jigsaw is in the workshop. Various models and types of the corded jigsaw are available in the market, but which one will facilitate the work that you decide upon.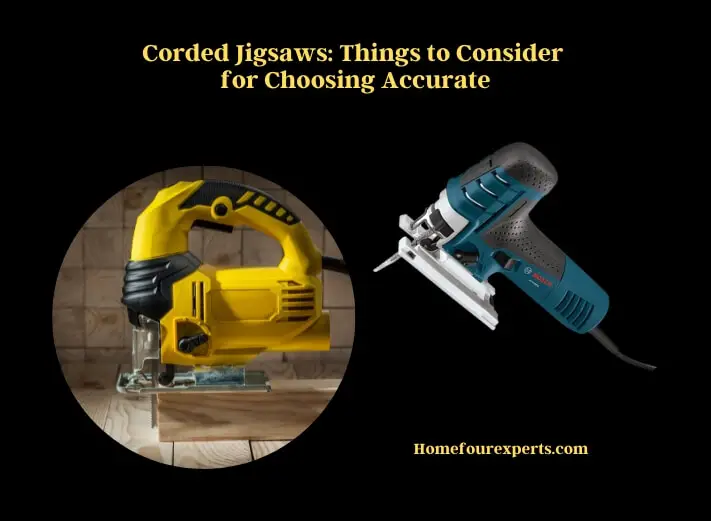 Though corded jigsaw is limited to the reach of an extension cord, robust power replaces freedom. Corded jigsaw delivers a reliable long term service rather than a cordless jigsaw. In terms of uses, both cover a range of functions and are incredibly safe.
Things to Consider for Quality Corded Jigsaws
From tons of different models of jigsaws, it is quite hard to find the best-corded jigsaw that you should keep attention to. So, before buying a new one, you should know some must-have features below:
Power
Generally, the power of corded jigsaw is measured in watts (determined by their amperage). You will look at the amps of the motor, which will indicate the amount of power that it has and strokes per minute. 
Most of these corded jigsaws come with a motor of 5 – 6.5 amperes.
Depending on the projects that you have, you may necessarily need very powerful corded jigsaws. 
Weight
You will definitely prefer a lightweight tool with adequate power. But a corded jigsaw is a little heavier than a cordless one. But you can find a corded jigsaw that is easy to use for more extended periods, without fatigue. 
For the severe applications, jigsaws that weigh about 5 pounds are recommended as they are more durable and will give you the power that you will need to cut through the various materials. 
Variable Speed
Two types of speed are available from the manufacturer. One is fixed, which suits the hobbyist, and another is a variable that professionals prefer. Blade speed relates to the number of times the blade moves up and down per minute, known as SPM. 
The SPM of corded jigsaws tends to range from 500 to 3,200. The higher a saw's SPM, the faster and harder it can cut.
Blade Types
A corded jigsaw can be fitted with two standard shaped blades -T shank and U shank. The shanks type will decide how the blade will be fastened to the jigsaw.
'T' shaped blade is the most common type found in modern jigsaws. This cone-shaped blade won't require any external tools to change. Whereas, a U-shank jigsaw is fastened to the saw that requires an Allen wrench to change the blades. The T-shank blades work better than U-shank in the corded jigsaw.
Body Material
Corded jigsaw blades manufactured by a variety of materials, the most common being steel and tungsten. High-speed and bi-metal steels are more durable and better for the harder stem, while tungsten is the hardest and most durable of all, also the most expensive.
Editor's Note
When you are looking for a corded jigsaw, the first thing you need to consider is the project type. After the above discussion, now you can understand which corded jigsaw will suit your work best.
Overall, it's good to select a handy jigsaw, which gives you an extra benefit. However, we tried to enlist the powerful, versatile, and durable corded jigsaw in this review below and hope our recommendation will never disappoint you.
Our Recommended Corded Jigsaws, Below
Bosch JS470EB 7.0 Amp Variable Speed Corded Jigsaw
Click on the Image to >> See on Amazon
Weight: 5.9 lbs;
Power: 7 AMP;
Speed: up to 3100 SMP;
Stroke length: 1 inch;
Cord length: 10 ft.
When ranking the best-corded saws, Bosch JS470E takes the crown with a 7-amp motor that is capable of 3100 RPM unloaded. Its comfortable and soft rubber grip top handle allows the user to place the trigger conveniently. The variable-speed trigger also controls the blade speed through a precision dial, so it's easy to project precisely as much force as you need.
The blade has a maximum cutting potential of 5⅞ inches on wood, but it can also work up to ⅜ of an inch of steel plate. This saw glides through softer wood like butter and cuts harder wood along smooth and accurate lines. This is the most suitable jigsaw for woodworking.
The blade is sharp enough that even a beginner can cut delicate curves into almost any stem. With four orbital settings, you've got considerable freedom to move this saw around. 
The tool-less blade change system makes it convenient for the user to replace a new blade fast. The blade ejection lever reduces the need to touch the hot blade, so it is the most secure jigsaw T-shank clamping system.
Pros
Fast and powerful 7 amp motor;
Variable cutting speeds;
Intense and accurate cuts;
Four orbital settings;
Comfortable soft-grip handle.
Cons
Lack of a laser guide;
Heavier than other models.
Black+Decker JS670V Corded Jig Saw
Click on the Image to >> See on Amazon
Weight: 5.95 lbs;
Power: 6 AMP;
Speed: up to 3000 SMP;
Stroke length: 13/16 inches;
Have a line finder.
The specialty of Black+Decker JS670V is the latest line finder technology that brightens your cut line for greater visibility and accuracy. Line finder technology is a laser on the front of the jigsaw that would enable you to track the correct cutting path. This is the main reason this Black & Decker Jigsaw made it to our best-corded jigsaw list.
Other top features include the onboard storage on the interface where you can keep the spare blades. The tool-free blade replacement system allows fast and easy blade change. The suitable speed dial and the lightweight design allows you to work with ease. 
The jigsaw only features a few bevel cutting options, which might be only for straight and curved designs, not for other models.
Pros
Line finder technology;
Onboard storage for blades;
Variable speed trigger;
Tool-free blade change;
Auto smart select orbital setting.
Cons
Few limited cutting designs can get;
The inadequate security features.
Porter-Cable PCE345 Orbital Corded Jig Saw
Click on the Image to >> See on Amazon
Weight: 6 lbs;
Power: 6 AMP;
Speed: up to 3200 SMP;
4 orbital setting.
Portal cable is one of the affordable alternatives in our list till now. This jigsaw comes with 4 orbital settings and a 6-amp motor, and the required framework for cutting through the hardest of material. Besides that, lightweight material makes it portable.
Seven-positioning speed dial provides multiple speed settings for improved applications. Due to the keyless blade, it saves a lot of time. Also, you can set the mood through the lock-on button.
Besides, the machine features an oversized and moulded handle that provides better cutting performance. In short, we need to say it is a unique tool for the right applications. 
Pros
Powerful 6 amp motor;
Integrated 7 positions speed dial;
Tool-free blade changing system;
Lock-on button for extended use;
4 orbital settings.
Cons
The motor is not as powerful than other models;
Doesn't cut curves smoothly.
AVID POWER 5.0A Corded Jig Saw with Variable Speed
Click on the Image to >> See on Amazon
Weight: 4.8 pounds;
Max cutting depth is 2-1/2 inches for wood, 1/4 inches for metal;
Power: 5 AMP;
Speed: up to 3000 SMP;
Speed 300 RPM.
AVID POWER corded jigsaw has a 5.0 Amp pure copper motor that produces up to 3000 SPM cutting power to help you cut multiple materials. Besides, 6 variable speed gives you better control over cutting speed and accuracy.
Less vibration and noise-free applications provide comfort and proper control over the saw. The ergonomic design comes in a compact size. Built-in laser guide plate and guide ruler ensure visibility and precise cutting even in dim light. 
Adjustable four orbital positions give you the freedom to precise cutting in harder material. This rotating button allows you to change the stroke from vertical to orbital and generate the saw blade's oscillator effect to increase the blade's strength.
Bevel can rotate 0°to 45° in either direction to make an angled cut.
The aluminum base ensures stable cutting. It comes with a T-shank Allen wrench to loosen screws and adjust angles. The dust removal pipe port connects the suction tool to help clean the service. 
Pros
Tool-free blade change & dust extraction;
Laser guide plate with LED light;
5 AMP pure copper motor;
Adjustable 4 position orbital knob;
 0°to 45° bevel cutting angel;
Built-in dust removal pipe.
Cons
Goplus Pure Copper Motor Corded Jigsaw
Click on the Image to >> See on Amazon
Weight: 7.9 pounds;
±45°Bevel cutting angle;
Speed: 800 to 3000 SMP;
5 variable speeds up to 3000 rpm;
Scale ruler and laser.
It's more important to be accurate than a harsh force in cutting a piece of material. Similarly, Goplus corded a powerful jigsaw that is that kind of tool that focuses more on its accuracy than brute force.
With a robust 800w 6.7AMP pure copper motor, it can generate enough rotating speed to reach 3000SPM. 6 speeds are set, and 6 piece blades can be applied to different materials to get an exact cut. 
Stroke can be adjusted from 0-3 to change it from vertical to orbital.
A higher gear position can cut soft materials faster. On the other hand, a lower gear position can cut hard material slower. The aluminum wear-resistant base plate can achieve a smooth cut from 45° left to right.
The scale ruler and laser guide make your cutting line more correct. An easily changeable quick-release button saves a lot of time. The base plate guard protects materials from being damaged while facing dust splatter in cutting. There is a dust blower and rear dust extraction for a vacuum to keep the line clean in front. The non-slip handle ensures a comfortable hold.
Pros
Powerful motor and 6 adjustable speed;
Four orbital settings and 45° angle cutting;
The laser guide and the scale ruler;
Quick-release chuck;
Dust blower and rear extraction for a vacuum;
Non-slip handle.
Cons
Craftsman CMES610 Corded Jigsaw
Click on the Image to >> See on Amazon
Weight: 4.6 lbs;
Power: 5 AMP;
Speed: up to 3000 SMP;
Blade shape: Both T and U;
Cord length: 6 ft.
Control and accuracy are the two most important things when using a corded jigsaw, and Craftsman achieves these two qualities with its counterbalanced 5 amp motor engine. The variable speed trigger ranging from 0 to 3000 SPM provides a clean and accurate cut.
A craftsman can cut the maximum bevel cut angle at 45° and develop a constant response circuitry that makes you not worry about inconsistencies in precision and performance. It is compatible with the versa-track wall organization system.
One can easily adjust the blade between four different orbital actions. This allows you to find the right kind of blade strokes for smooth to aggressive cuts. It accepts both T & U blades for versatility and availability. Also, a contoured over-moulded handle added extra comfort during use.
Pros
Both T and U blades fitted with this jigsaw;
Four orbital settings to adjust; 
Contoured over-moulded handle; 
Versa-track wall organization system.
Cons
Poor cutting capacity;
No LED light guide.
SKIL JS314901 Corded Jigsaw
Click on the Image to >> See on Amazon
Orbital settings: 4 settings;
Power: 6A;
Sawing capacity in aluminum : 16;
Sawing capacity in metal : 9;
Sawing capacity in wood : 85;
Stroke length : 23;
Voltage : 120.
This Skil corded jigsaw works well for those who need both accuracy and power for their designs. It arrives with a powerful 6-amp motor with a variable speed range. This model is extremely user friendly as it is lightweight and portable. 
The laser guide will help you to get an accurate straight cut. The variable speed trigger will adjust the speed while cutting and thereby provides you with complete control over the cutting process.
The 4-position orbital cut from 0 to 3 setting control let the saw work fast and produce smooth cuts. Its custom molded tool rest design prevents the blade from getting damaged.
The stable foot is also vital to get control for making quality cuts. It comes with an appealing rounded design with a unique handle that has a trigger at the front, within easy reach. This gives you the support that you will need to make different types of cuts.
Pros
Six amp motor generates.
Four positions orbital cut;
Integrated laser guide;
Custom molded tool rest design;
Variable speed trigger.
Cons
Don't have overheating protection.
CRAFTSMAN CMES612 Corded Jigsaw
Click on the Image to >> See on Amazon
Weight: 5.9 pounds;
Power: 6.0 AMP;
Power Source battery-powered;
Variable speed trigger ranging from 03, 200 spm provides;
Beveling shoe provides the ability to cut up to 45 deg;
4 orbital settings were provided.
CRAFTSMAN advanced corded jigsaw ranked the last on our reviews. This jigsaw has a mighty pure copper motor that consumes 6.0 AMP max. Its power consumption is higher due to its study motor.
On the other hand, all four orbital and bevel cutting options give you maximum freedom of work. The motor can generate enough power to cut harder materials like metals. The other materials like wood, laminate, and plastic don't add much cutting struggle. 
The laser light highlights the cutting line to increase accuracy when making straight cuts. Also, LED light increases visibility in dim light. Dust blowers help clear the sawdust in the cutting line, and an external vacuum can be connected with the saw to get more effective dust removal.
The aluminum baseplate is anti-deformation and can work to reduce vibration during operation. Blades are changeable without any tool.
Pros
Blade replacements fast and easy;
Dust blower and external vacuum installation;
Tool-less blade installation;
Aluminum base plates reduce vibration.
Cons
Frequently Asked Questions
Are Corded Jigsaws More Powerful?
These are seemingly the most powerful because it gets an endless supply of energy and implies that experts can take advantage of their unlimited run time.
What Is the Difference Between an Orbital Jigsaw and a Regular Jigsaw?
A standard activity jigsaw exclusively moves the edge of the jigsaw in an all-over movement, while in an orbital-activity jigsaw the sharp edge moves slightly forward and into the growing workpiece, then, slightly downwards on the downstroke. The edge is reset for the lower cutting stroke.
What's Better Corded or Cordless?
Corded power devices can quite often offer more prominent force than a cordless apparatus filling a similar role. This implies that a few apparatuses that require a high measure of force may not be accessible in a cordless choice, or won't be adequate for the gig.
Related Posts: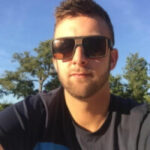 Hello, I am David Rowan. I am a professional contractor with 10 years of experience in home building, different tools used, construction, home remodeling, and other home improvement work. I have already built many custom homes and continued to do several woodworking projects along with how to deal with all categories of tools.