Published on: April 15, 2022
Written by Eric Devin / Fact-checked by David Rowan
Now, the wood materials have the most variety of types than ever before. Softwood, hardwood, engineered lumber, plywood, melamine board, and many other varieties are being used every day, from making artworks to regularly used items, furniture, and so on. A large number of projects are also getting done of used woods full of splinters and nails. 
However, the drilling needs of the wood also varied due to its variation in material type. The size, shape of the hole on different textures of wood required different types of drill bits. On the other hand, not everyone needs to use the heavy-duty bits. Besides, all the drill bits available are not meant for heavy use as well. 
So, one needs to know the type of drill they need for a specific purpose or project. A wrong drill bit may cost a couple of bucks, but the main concern is, it can ruin the entire project too. Now, let's find out the top quality drill bits for wood material.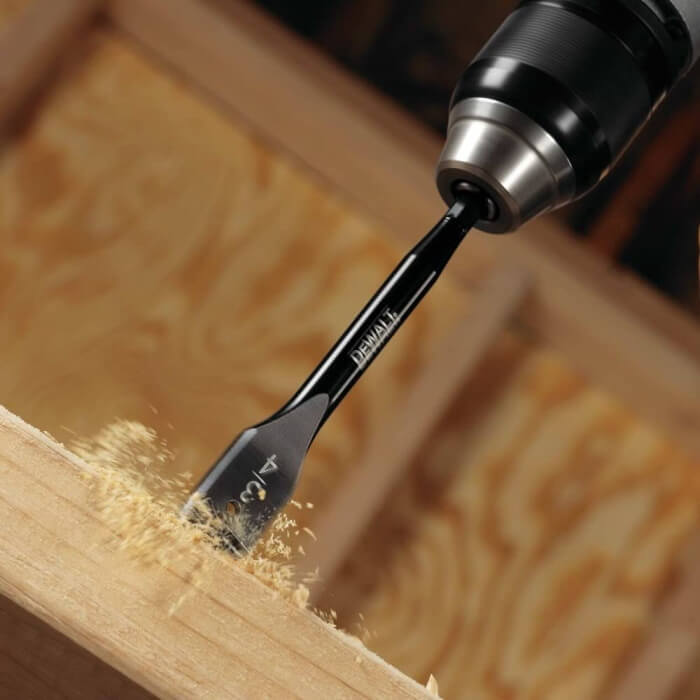 Which Drill Bit to Take for Woodworking?
Well, there are multiple types of drill bits reviewed, but do you need all of those? Your question is answered below. Let's find out which drill bits you should get and how to pick the right size and quality. 
Purpose of the Use
Obviously, the drill bits we use are purpose-specific. Contractors and construction workers go for specific kinds and sizes of bits for making holes on doors, windows, and other wooden parts of the house. 
On the other hand, cabinet makers, carpenters, and furniture shops require different kinds of drill bits. Are you a beginner or a homeowner? Then all you need is all-purpose bits. For your convenience, all the possible aspects have been considered. So, the bits you need for your project should be easily found on this list. 
Type of Material
Is the wood fresh, or it has got knots on it? Or is it collected off from another piece of furniture, and you are not sure if it has nails in it? Nails can ruin a good drill bit like a nightmare. Needless to mention that, it can cause injury if the right set of bits is not used in this regard. 
So, go for separate bits for fresh material and material with nails. Sometimes, metalwork drill bits can be used to wood with nails. 
Type of Holes
Are you thinking of making a hole on the cabinet door for attaching handles? Or you need to attach a hex nut to a piece of furniture? Both holes obviously are size and length different, so the drill bits will not be the same. 
So, the bits one should go for totally depend on the type of work they are involved in or the project's requirement. 
Quality and Size of the Bits
The quality of the drill bits determines its longevity. The shape, chuck compatibility, shank design, material of the bit, specification of the size, and sharpness of the edges should be checked to determine its quality. 
High-quality drill bits are a prerequisite for heavy-duty use. It is not mandatory to always get the best bits for hobbyists or homeowners because the list of best bits is endless, and a regular bit may be sufficient for them for their projects. 
The Versatility of the Bits
Some drill bits are versatile, can be used of wood, metal, plastic, and similar materials. Crafty hobbyists should keep those in their collection rather than the specific ones. On the other hand, for carpentry, material-specific drill bits ensure accuracy, cleanliness, and perfect results. 
You Consider These Drill Bits for Your Woodworking Project-
This list contains the type of mostly used drill bits on wood. All the bits are available in various sizes on the same site. So, one can easily get the size they need from the site.
DEWALT 3/8-Inch to 1-Inch Spade Drill Bit Set for Soft Wood
Click on the Image >> See on Amazon
Model no DW1587;
1/4 inch ball groove shank;
Spade bits of  3/8 inch, 1/2 inch, 5/8 inch, 3/4 inch, 7/8 inch, and 1-inch sizes.
Most of the woodworking is done on softwoods except floors. Making clean holes in a straight and angled manner needs spade drill bits. This Dewalt spade drill bit set has got the most commonly used assorted pieces of spade drill bits. Six drill bits range from ⅜ inches up to 1 inch in size. For hobbyists and DIYers, this set of bits should be enough to cover all the needs. 
The drill bits have a quick changing ball groove shank so that it fits almost any drill. All the bits have a hole for storage and wire pulling. The bits are hardened top to bottom for long life. The only problem is, the bits are not suitable for heavy-duty use on hardwoods. They just don't have the quality of pushing through hardwoods and knots smoothly. So, I recommend this drill bit sets for occasional use on hardwoods only. The set is cheap, so that beginners can go for this set for versatile use.  
Pros
Cheap;
Compatible with most drills;
Suitable for slow, controlled cuts;
Different sizes of bits for versatile use.
Cons
Not for hardwoods;
Suitable for occasional use only.
Wood Owl, Ultra Smooth Wood Boring Bits
Click on the Image >> See on Amazon
Model no 00706;
Shank Type: Hex
Once you get hold of this boring bit, you will never return to your favorite spade bits anymore. It cuts through wood much faster and is more durable. There is a small screw shape on the top of the bit. Once the screw sinks in the wood, the bit feeds itself nicely. It has been tested on woods with nails and knots; it cuts through all the obstacles without any problem at all. But it is not preferred at all. 
However, this boring bit is perfect for making holes in wood fast. For a nice and sleek finish on wood, this one might not be the best choice. It also eats up power from a cordless drill for good reasons. So, with a corded drill, it becomes unstoppable. 
Pros
Self-feeding boring bit;
Cuts faster;
Suitable for hardwood with nails as well;
Durable.
Cons
For aggressive drilling only. 
Irwin Speedbor Drill Bit Set for Clean Cuts on Wood (1877239)
Click on the Image >> See on Amazon
Three cutting spurs and screw top on each bit;
1/2″ ,5/8″, 3/4″, 7/8″, 1″ and 1-1/8″ drill bits, 1/4″ quick-change shank;
Makes holes up to 2″ deep.
Sometimes, woodworkers prioritize cleanliness over roughness. This drill bit set from Irwin is meant for delivering clean holes on any wood material. There are six bits of various sizes. All the bits have three cutting spurs and a screw point top. Together, this bit is super aggressive and hard to control at the highest drill speed. But the end result is the cleanest cut that doesn't need touch-ups. 
The bits are about 4 inches long. The best thing about this bit set is, it can be used on tight spots due to its short length. The bad thing is, the hole depth is limited to 2 inches only. Anyway, the drill bits are tough, made to last, and compatible with any kind of drill and impact driver. The price is quite high for only 6 pieces of drill bits, but this pack is a must-have to effortless clean holes on wood materials. 
Pros
Screw point for self-feeding;
Makes clean holes;
Short length for working in tight places.
Cons
Bosch Daredevil Auger Bit for Nail Containing Wood
Click on the Image >> See on Amazon
Model: NKL 16;
Rimmed dual  cutting edges with reinforced screw tip;
17-½ inch long 1-inch auger bit.
This drilling bit is impressively 17.5 inches long and can be used to make holes of 1-inch diameter. So, this bit is quite remarkable to make holes on thick lumbers. There are two cuttings edges on this drill bit that makes the sides of the hole clean and polished. The chip removal of these edges is also quite good, so it drills fast as well. However, it also causes a problem. For fast chip build up in the bit, the user has to pause a bit to clean up the chips. Otherwise, the build-up hampers the performance of the drill and the quality of the holes. 
The screw tip is phenomenal. It shoots right in the nails in the woods. No matter how mercilessly the wood pieces have been punctured with nails, but the drill bit from Bosch never slows down while going through those. This amazing bit is available in a wide range of diameter. Get as much as you need in various sizes as it is not found in the local stores. The drill bit also lasts more than a year, so keeping this bit in the collection will not cause any regrets. 
Pros
Clean entry hole and exit holes;
Suitable for making long holes in nailed woods;
Excellent chip removal.
Cons
Needs to clear up the chips during the cuts. 
DEWALT Drill Bit, Spade, (DW1586)
Click on the Image >> See on Amazon
1-1/2-Inch x 6-Inch spade bit;
Hex shank.
Screwing, driving, drilling on wood, engineered wood or lumber always need a spade bit for making holes for bolts, and so on. No matter how many drill bits you own, spade bits are the prerequisite for woodworking. This one is a 1-½ inch spade bit of 6-inch length. It has a hex shank to match with most of the screwdriver, impact driver, and of course, drilling machines. 
First of all, making a pilot hole will ensure that the bit will hit the right spot. It will help to prevent misguided drilling, as spade bits are known for their not-so-perfect finishes. If the wood shock is thick, then try making a pilot hole on both sides. This bit is incredible in making holes for bolts and hex nuts. 
Secondly, this one is not for making flawless holes. Rather, the work will need some subtle touch to remove chips and polish. In the given link, there are spade bits of more various sizes too. All of those are equally durable and effective. Just make sure to use a drill of a lower speed while using a large spade drill bit. As the bit is large, it may get stuck, and then the drill will impact the user's wrist. 
Pros
All-purpose drill bit for wood;
Heavy-duty bit.
Cons
DEWALT 16-Piece Drill Bit Set with Pilot Point, (DW1956)
Click on the Image >> See on Amazon
Package includes two  pieces of 1/16- and one of 5/64, 3/32, 7/64, 1/8, 9/64, 5/32, 3/16, 13/64, 7/32, 1/4, 5/16, ⅜,  ½, and 11/64-inch split point drill bits;
Pilot point bits with size marked above the shank.
This pack is organized with the most commonly used drill bits of 15 different sizes. The bits can be used not only on wood but also on plastic, fiberglass, plywood, thin metal, and similar material. All the bits have pilot points so that the holes are well guided and clean. On thin material, the holes might be a little messy if done using high speed. So, it is better to use these bits at a slow speed. 
To use on thicker material, using a lubricant will ensure that the bits are not overused. These Dewalt bits are made with high-speed steel (HSS) with a gold-tone ferrous oxide coating for long-lasting performance. The spiral shape of the bits will reduce lock-up on breakthrough. So, wood material with nails in them can make any problem on these bits. Professional woodworkers must have this set as it has all the assortment they use regularly. 
Pros
Pilot points make accurate holes;
Reduced lock-up;
Convenient case;
Drills smooth through metal.
Cons
Irwin Tools Speedbor Spade Bit Set With Case
Click on the Image >> See on Amazon
Includes 3/8", 1/2", 5/8", 3/4", 7/8", 1", 1-1/8", and 1-1/2" drill bits;
6" shanks;
Compatible to 1/4″ quick-change chucks.
This pack of 8 pieces spade drill bit set is handy for the size included and the high-quality storage box. All the bits have double cutting spurs for a neat and clean entry point of the holes. The blue identical marked groove point works fine to remove the chip built up so that the drill can cut through fast. 
These drill bits are all compatible with any ¼ inch chuck impact drivers and drills. These are best for use on clean wood, free from any nails or other metal pieces. Besides, these bits are light duty only. For heavy woodworking, carpentry, or cabinetry, tougher spade bits are needed, which will stay sharp for longer. For homeowners and DIYers, this set of spade bits will be worthy of their investment. 
Pros
Reasonable price;
Comes with a storage case;
Deliver smooth holes;
Excellent chip removal.
Cons
Not for wood with nails;
Does not stay sharp with regular use.
Irwin Tools Speedbor Spade Wood 1 X 16 Drill Bit (88716)
Click on the Image >> See on Amazon
For ¼ inch impact driver shank;
1-inch spade bit, 16 inches long.
Not all spade bits out there are designed for heavy use. This single piece of spade bit is made durable to meet the demanding woodworker's needs. This Irwin drill bit is ¼ inch in diameter and 16 inches long, compatible with ¼ inch shank impact driver. 
This bit has chamfered cutting edges. The unique edges result in fast cuts in less time. Thanks to the groove for its more chip removal than its competitors. Spade bits usually require more controlled operation due to its pointed top. In this spade bit particularly, the point is wider and longer. So, it causes less splintering and makes the hole making it more controlled. 
Not every woodworker is willing to pay the high price for a single spade bit. But the one who knows the worth of this durable bit will not set back from getting a hold of it. The bit is quite long, so it may bend if not taken care of while using. 
Pros
Cuts fast;
Heavy duty;
Good chip removal rate;
Controller drilling.
Cons
The bit may bend due to its superior length. 
Irwin Tools Blue-groove Pro Spade Bit With Case, (341008)
Click on the Image >> See on Amazon
Double cutting spurs;
Set includes 3/8", 1/2", 5/8", 3/4", 7/8", 1", 1-1/8", and 1-1/2" with 6" shanks;
Size range 1/4″ – 1-1/2″ diameter 4-3/4″ – 16″ length;
Storage case included.
Are you a big fan of the blue-groove series from Irwin's spade bit category? The good news is, this package includes 8 pieces of spade bits of assorted sizes. All the bits are compatible with 1/4-inch sized 6 shanks of drills and drivers. There is a storage case included as well. The bits are organized according to their size in that storage roll-up pouch. The quality of the storage bag has got mixed reviews, so it would be better if this package is bought due to the quality of the drill bits, not the packaging they arrive in. 
Like the former blue-groove spade bits from Irwin we have reviewed earlier, these bits are also efficient in fast chip removal and clean hole making. The real advantage is, this pack includes most of the drill bits. So, it is more cost-effective for professional use. 
Pros
Ideal for carpentry, plumbing, and electrical work;
Double cutting spurs leave holes smooth;
Quick change shank for faster bit changes;
For heavy-duty use.
Cons
Irwin Ship Auger, 17-inch Tubed Bit (47424)
Click on the Image >> See on Amazon
Heat-treated, non-bending tube bit;
1 inch bit, 17-inch length.
Tube bits are quite phenomenal when it comes to making extremely long holes. This hollow tube Augur bit from Irwin makes long hole homogeneous entry to exit due to its wide land. The bit is the heat-treated top to bottom so that it never bends due to overuse. 
The hollow center works miraculously to keep the chip built up in the center and make the bit chew through the wood and nails. Later, when the bit is mover out, the chip falls over as well. The chip build-up never creates problems like they do in the case of other wood-boring bits. 
There is a screw point on the top of the bit for the precision of the holes. When accuracy and neatness are ensured, there is no point in not giving this tube bit a try. 
Pros
Cuts through wood and nails;
Hollow center for fast chip extraction;
Can be resharpened.
Cons
Frequently Questioned Answers
What Kind of Drill Bits Are Really Needed for Woodworking?
So far a regular cordless drill works. In fact, even with a swing drill, you can avoid the wood without stretching too much, and in addition, a mallet (just bent, not pushed) is ideally suited for penetration into the wood.
Could Utilize a Metal Drill Bit on Wood?
The metal drill bits look great on wood, they just leave a more awesome finish on the opening. However, I would recommend using wood drill bit equipment for the wood.
Conclusion
No matter which drill bits you are using on your woodworking project, it is always necessary to keep in mind to use the right bits in the right way. Take time to study the material unless you want to break the drill bit in the middle of the operation due to hitting an unexpected nail in the wood. 
Besides, little initiatives like making pilot holes ,and putting lube oil on the bit also ensure the accuracy of the drill bits' hole and smooth performance. Proper use, maintenance, and storage are the key to long-lasting drill bits.
Related Posts: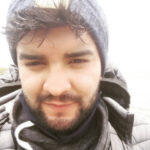 Hi, I am Eric Devin and I am a professional interior architect. Since childhood, I've always enjoyed DIY projects! And, I have loved to solve simple household problems using essential tools and equipment. I have also acquired a lot of information about basic household tools settings by working with contractors.