Drill is the must-have power tool in the toolbox of every DIY worker or a professional. Everyone knows the use of a drill. But nowadays, you'll find a similar looking power tool available in the market. Many of us may think it is the new model of the drill.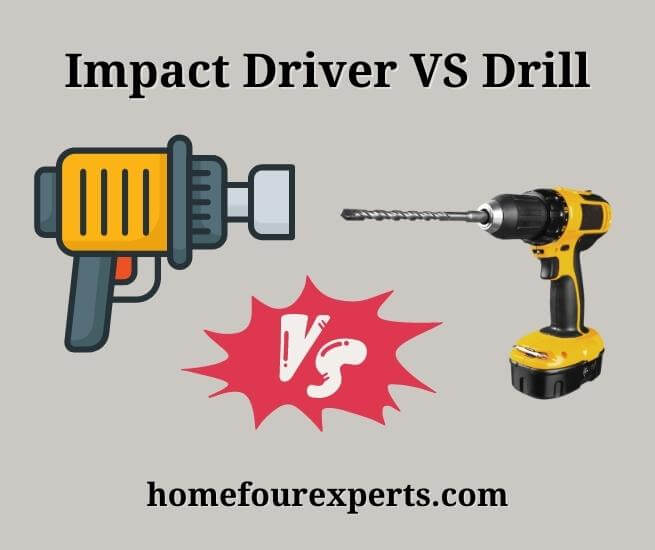 But no, it's not a drill machine.
This is the new addition in the power tool world, the impact driver. It looks like a drill, in most cases, a traditional corded drill without the cord. But it is different from a drill machine. In some cases, it can perform better than a drill.
But if you don't know the right use of it (basically any of the power tools), it'll result worse and you'll come to the decision that it's not a good tool like a drill or any others.
To know the difference and when you should use an impact driver or the drill, you first need to know about these tools, their features, advantages and disadvantages.
In this article, I've tried to make these things simple for you to understand. Because understanding your tool will make your working experience better than anything.
Impact Driver
Impact drivers are the type of tool which delivers a sudden, strong rotational- downward force. This tool is usually used to loosen bigger screws or bolts and nuts that are over torqued or frozen due to corrosion.
An impact driver is very much similar to a drill driver, but it works differently from drill machines and has a few special upgrades in comparison to the drill.
As, when you are using an impact driver to drill holes or screw any material, it just works like the typical drill machine. But the extra benefit you'll get from an impact driver is- when it senses any resistance, it starts to produce greater power.
Hex Bit
Impact drivers have a ¼" quick connect collet which can only hold hex-shanked bits. This tool is designed in this way because round shanked bits tend to slip than hex shanked while you're driving the tool for a long period of time or into a hard material.
Speed and Mode
Some impact drivers have different speed settings like drill drivers, but not all of them. And some also have the variable speed trigger but because of the power of these tools, triggers are more sensitive than the drill drivers.
Advantages of Impact Driver
Advantages you may get from an impact driver are –
It can power screws through any dense material with more torque and its concussive blows.
Using an impact driver allows you to avoid wrist pain caused from a long time.
They can drive long screws with less effort than a drill.
Easily fit in any tight spaces for their smaller designed body.
They stipe screws less than the drills.
Disadvantages of Impact Driver
Impact drivers have few drawbacks, like-
First of all, they cost more than a drill.
They make a lot of noise.
You can only use one type of driver & drill bits: hex- shanked.
Not suitable for any delicate material.
Drill Driver
A drill is a tool which is used to drive screws or make holes in different materials. This tool is attached with a cutting tool or driving attachment like- drill bit and driving bit. The attachment is held by a chuck at the end of the tool & rotate when it is pressed against any targeted material. The tip or sometimes the edges of that cutting tool do the cutting task on the working material.
 A drilling machine can perform various types of tasks, like- slicing off thin shavings by a twist drill or auger bits, grinding small particles with oil drilling, crushing or removing pieces of the workpiece with an SDS masonry drill, counterboring, countersinking or any other tasks can be done by them.
Drill machines are usually used for woodworking, construction, metalworking and DIY projects. Specially designed drills can be used in medicine, space missions or other applications. You'll find drills with a wide range of variety of their performance characteristics, for example, power & capacity.
Features of a drill driver-
Chuck, Bit & Accessories
In recent days, cordless drills use keyless chuck, which allows you to change the bit without any key. The interesting fact is, you can use most cordless drills with almost any type of drill bits with a hex or round shank.
Speed Switch
On top of almost all drills you'll find a speed control switch with two or three settings. This switch controls the rotation speed of the motor.
For most of your DIY projects, you can use the speed setting position 1. When you use this lower position setting with the combination of a proper bit and clutch settings, you'll have great control over drilling.
If you need more speed, you can set the control switch to position 2 or 3. This setting will help you to avoid overheating the workpiece you're working with.
Variable Speed Trigger
Almost all drills come with a variable trigger. You can make the motor spin faster at your required speed by repressing the trigger and adjusting the speed settings.
Direction Switch
Drill drivers have direction switches located near the variable speed trigger. These switches rotate the motor either clockwise or counterclockwise to help to drive or remove a screw. If you want to lock the trigger just set the direction switch to the middle. You'll also find an indicator on the switch which helps you to know the position.
Clutch Setting
The clutch allows you to adjust the number of torque needed to deliver to the screw. Setting up the clutch at a higher number will deliver high power and the lower number will disengage the tool after reaching a certain amount of torque.
So the best way to set the right amount of torque is to start with a lower setting and drive the screw partially in the material and then adjust the torque accordingly.
Mode Setting
Some drills allow you to run the tool in different modes. Like-
In drilling mode, you can drill holes in any materials and the clutch setting won't have any effect. These types of tools have the accessories to control or indicate the depth of a hole needed to drill or when you should stop drilling.
You can also set these tools in screwdriver mode by adjusting the torque on the clutch. This mode is designed in drill drivers to drive screws or other fasteners.
Finally, some drill drivers have the hammer-drilling mode which is also unaffected by clutch setting and use for drilling into hard materials.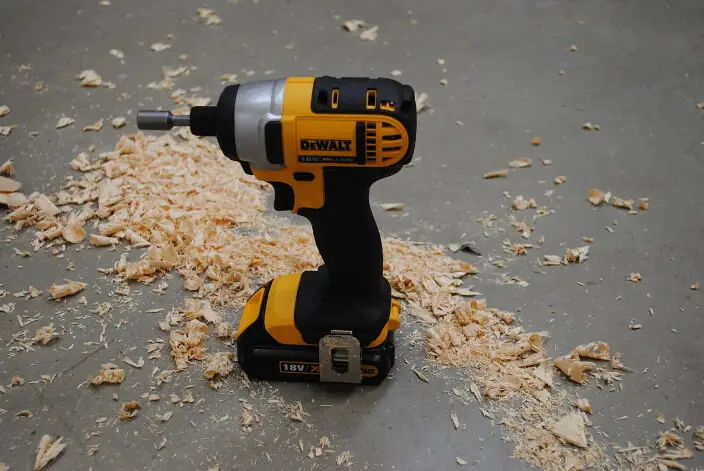 Advantages of Drill
The advantages of drill drivers are-
Drill drivers are the best choice for working with the task of delicate nature, like a thin or soft metal which needs special care.
Drills can deliver you the precise torque and speed that you need as you can adjust the torque setting on the clutch.
You can use a drill in different modes like- drilling or driving.
You can attach accessories like- rotary sanders or wire wheel brushes to your drill.
Most importantly, the price of drills is pretty much affordable.
Disadvantages of Drill
The disadvantages of drill drivers are-
Has potential risk to stipe the screw.
Bits can be loosened from the chuck.
Can create pressure on the user.
It may stop while driving long or large screws.
Conclusion
So, the impact driver and the drill have many differences according to their design, feature and working process.
But both of them are able to complete their tasks perfectly. You just need to use the right tool according to the type of job you're going to do.
For example, if you are going to use the tool for your regular household jobs, you can complete it with a simple cordless drill.
If you're going to use your tool for driving various types of screws in large numbers for different projects, the impact driver is the perfect tool for this type of task.
Selecting the right tool will help you to get a perfectly finished project without any interruption.
You Might Also Like: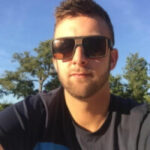 Hello, I am David Rowan. I am a professional contractor with 10 years of experience in home building, different tools used, construction, home remodeling, and other home improvement work. I have already built many custom homes and continued to do several woodworking projects along with how to deal with all categories of tools.