Do you have to struggle every day with a messy garage floor? Don't you ever have enough space to park a car, bike, or motorcycle because the tools and pieces of stuff are eating up the floor space? You can increase the storage space in your garage all by yourself by installing a ceiling rack.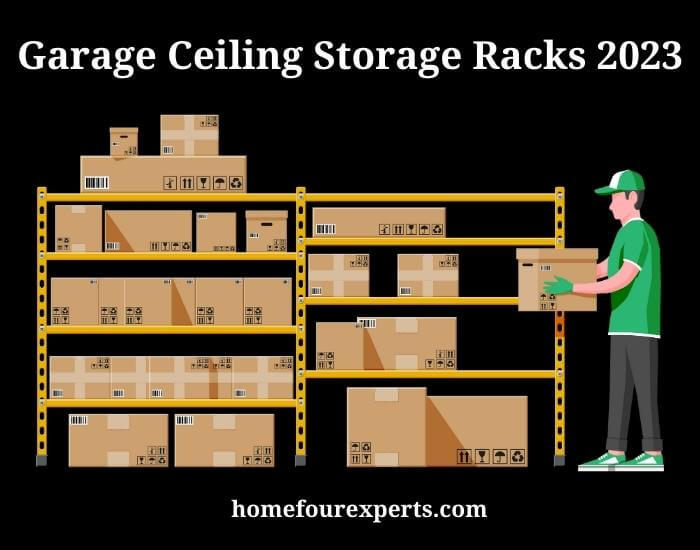 Garage ceiling storage racks are handy in storing away items we use in a garage regularly or keeping the items out of sight that we use seasonally. In both cases, if the rack is not chosen wisely can make a hassle in the garage and can lead to accidents or property damage. 
In this list, you will get ceiling racks of different quality, price, weight capacity, and size for your peace of mind. The tips and tricks I have mastered from years of experience will surely help you to choose one based on your requirements and make installation easier.
How to Choose an Overhead Rack
Plan Ahead
Measure Hoist
Overhead ceiling racks are screwed with wooden ceiling hoists or on plain concrete. If your ceiling has a wooden hoist, it will be useful to measure the space between hoists. Because ceiling racks are available in different models and some are made versatile to fit in different hoist sizes, while some are not. So, measuring the hoists gap will help you not to end up buying something that you can't use. 
Select a Place
You have the entire garage ceiling, but you can't cover it entirely with racks. There are some things you must consider, for example, the lighting, drop length of the entryway, and wall shelving if you have any. You should select the location in a way that won't disturb other features of the garage yet provide enough room to organize items neatly. 
Measure the Load
Size
If you have small seasonal items to store, for example, barbecue supplies, Christmas decorations, or camping tents, neatly place everything in a box or container. Now, make a note of all the items you want to keep on the ceiling rack. If the rack is 4×8 ft, then make sure all these kinds of stuff will be kept in that area easily. You can also order two separate racks and set them like one to increase the room. 
Weight
It is the most important thing, but people ignore it while ordering a ceiling rack for their garage. The garage ceiling can not bear loads of more than 600 pounds. So, always keep in mind the collective weight you are putting on the rack, the weight of the rack itself, and the distribution of the weight. There is no point in buying heavy and sturdy racks if you store only lightweight items on them.
How to Organize an Overhead Rack
To make the most of ceiling racks, I have listed some tips and tricks. These tricks will help you make the organization perfect and maximize the utilization of the rack. 
First of all, don't put heavy loads on one side. The weight distribution should be even. So, organize the containers with light and heavy items before putting these on the rack. You can also organize the back by putting lighter loads in between heavy loads. 
Secondly, use hooks to keep items hanging. It is only applicable to wired deck racks. J hook and other multipurpose hooks can be very useful to hang things that can't be stored or organized on the rack. For example, pipes, bikes, tires, and so on. 
Thirdly, if the screws arriving with the rack are not thick enough, use thicker screws from your own collection. Besides, if the wired deck slides or moves on the frame, use a cable tie to fix it. The rack will be more secure this way. 
Quick Solutions
Is Overhead Garage Storage Safe?
Overhead garage storage is safe and an excellent storage solution for your garage. You would like to remain under the utmost weight limits of both the storage rack and your garage ceiling. Attaching the overhead racks or shelves to the walls will add a further layer of security.
How Am I Able to Hang Things in My Garage?
With a touch of ingenuity, you'll hang almost anything on simple screw-in garage hooks that are inexpensive. You'll place garage hooks anywhere on your plywood wall. If you do not put them on the plywood, make sure to locate the garage hooks at the studs.
View Top 11 Garage Ceiling Storage Racks, Below
1. FLEXIMOUNTS Overhead Storage Rack Set with Adjustable Height
Pack of 2;
600 lbs weight capacity;
96″ (L) x 48″ (W) x 40″ (H) adjustable to 22''.
To store heavy loads without worrying about accidents, this pack of two shelves from FLEXIMOUNTS is unbeatable. They are made sturdy, yet easy to install and safe to use. All you have to do is measure the ceiling heist of your garage or workshop or wherever you want to install the rack. Because, unlike other cheap quality flimsy racks, this one uses two hoists to make a secure hold on the ceiling. If the ceiling is concrete, then you have to measure the width of the rack before installation. 
Once it is installed, it can carry up to 600 lbs of weight easily. The best thing is, the wired rack portion is built-in and non-slip. So that you can use additional hooks to hang even more items underneath it. Are you worried that the garage ceiling is too low to fit it in? Don't worry, the height is adjustable, and so is the heists. So, what are you waiting for? For the best quality garage ceiling rack, look no further than this one. If you are on a budget, then there are plenty of other options on this list for you!
Pros
Sturdy and high quality;
Spacious;
Suitable for different ceiling types. 
Cons
---
2. Fleximounts Heavy Duty Garage Ceiling Storage Rack Set
Up to 550lbs weight capacity;
96 in. L x 36 in. W x 22-40 in. H.
This one is a slightly smaller version of our top pick of Fleximounts storage rack, hence more affordable. This rack has a smaller width to organize a smaller garage with a more space-saving storage rack. 
Just like the former one, it also has an adjustable height, and the installation is versatile for different ceiling hoists. The weight capacity is reduced due to the size, but the quality is not compromised even by a tiny bit. Another difference is, it comes in a black colored rack while the other one is white. Other than that, the mechanism for installation and organization is all the same. The price is reduced, but it is still very high for most people. This one is the only saddening drawback of this rack.
Pros
Suitable for smaller overhead storage solutions;
Highly durable;
Arrives in one package;
Adjustable and versatile.
Cons
---
3. FLEXIMOUNTS Ceiling Mounted Rack, White
44.5 Pound Capacity;
Adjustable drop length available from 22'' to 40'';
Material: engineered wood;
 Dimensions: 96 in. L x 48 in. W x 22-40 in. H.
Adequate cold-rolled14 gauge steel development guarantees reliable use. What's more, equip protection stacking up to 600lbs with 3/8 " compressed wood or coarse. High-quality screws are provided. All equipment has undergone serious testing. It has all the impressive features of our top favorite storage rack on this list, but it lacks that high-end quality. To make this rack available at a sane price, the wired deck is made thinner. That is the reason I never recommend anyone to overload this rack with a heavyweight. 
The mounting instruction and assembly are elementary. Besides, it also arrives with additional hooks to hang items underneath, which is a plus. Are you worried that the size is too big for the garage? Go to their website, and you will find racks that are as low as 22 inches. I liked the variety of drop lengths available on their website. As long as you don't overload this, this rack is pretty decent to tidy up a messy garage floor.
Pros
Affordable;
Wide range of drop-length racks;
Includes additional accessories;
Easy installation.
Cons
Arrives in different packages.
---
4. HyLoft 45 x 45-Inch Overhead Garage Organizer
250 lbs weight capacity;
45'' x 45'' x 17''-28'' height.
This one is probably the cheapest overhear ceiling rack you can ever find; well, I never found one. I always consider the variety of clients I have to deal with every day. So, from that point, this rack will be useful for people who have a tiny garage or workshop and can't afford to purchase highly-priced ceiling racks. Besides, there is no point in breaking the bank to invest in a little storage rack for storing away seasonal items. A light-duty rack is just enough to solve this problem. 
This ceiling mounting rack is just the right option to organize the least used materials so that you don't end up purchasing those over and over again for not finding those when needed. The size is square, so you may need multiple racks to create a larger unit. Even if you purchase three or four of these, you will still be happy about how lower they are priced.
Pros
Cheap price;
Suitable for tight spaces;
Easy assembly.
Cons
May require multiple items to organize a large garage;
Low weight capacity.  
---
5. SafeRacks Racks w/Accessory Hooks
5/16"x3" lag bolts;
Most competitors use 1/4" hardware;
500 lbs capacity.
Here is another heavy-duty ceiling rack to amaze you. It is so good that it is even backed by a lifetime warranty if purchased new from SafeRacks directly. It has a 500 pounds capacity. Now you get the idea about how sturdy a ceiling rack can be. 
Moreover, you will get 8 additional hooks along with the rack and installation equipment. The hooks are handy to hang up loose and heavy belongings. The price may fall out of your budget, but I must say, it is rightly priced. In this pack, you will get two of these racks. The height is adjustable and the mounting should be attached to the joists, just like all other garage storage racks. 
Pros
Easily storing anything;
Backed by a lifetime warranty;
Long-lasting storage rack;
Heavy duty.
Cons
---
6. NewAge Products Pro- Ceiling Mount Garage Storage Rack
For wooden joists;
4 ft. X 8 ft. Pro Series shelf gives you a 32 square foot area;
Included: Pro Series Black 4x8ft Wall Mounted Shelf.
Not only do you get a total of 104 cubic ft. of overhead storage, but you will also get accessories and ideas to organize the rack. You will be amazed at how efficiently it can be used to store items that are even larger than the rack itself. The company has made this rack highly customizable so that it fits different garage ceilings and can store a lot of valuables. 
This rack is available in grey and white color. Unfortunately, this rack is only for wooden joist ceilings. Too bad that if you have any other type of ceiling, you have to miss the opportunity to install this in your garage. Another thing I want to add is, the wired base of this rack is not welded to the bars, so they slide sometimes. Using zip ties is an inexpensive solution to that problem.
Pros
Highly customizable;
Includes hanging bars, J hooks, and multipurpose hooks;
Reasonable price.
Cons
Not suitable to mount on steel joists.
---
7. MonsterRax Storage Rack Frame in White
Only frame, no deck;
12-21, 18-33, 24-45 inches drop length.
To cut the cost of overhead storage of the garage ceiling, choosing a frame-only rack is a smarter solution. You don't have to spend on the expensive wired deck. You can use any plywood, wood, or laminate board for a more budget-friendly option. 
This frame is available in three models; each has a different drop length. I recommend measuring the hoist length of the ceiling and planning ahead about where you want to install the shelf. Then you can easily select if you need a low-drop rack or a high-drop one. The weight capacity is 600 pounds for any racks from MonsterRax.
Pros
Deck material can be customized;
Cost-effective;
High weight capacity.
Cons
---
8. SafeRacks- Heavy Duty Storage Rack with 18″-33″ Ceiling Drop
4 ft x 8 ft x 18″-33″ ceiling drop;
Weight capacity: 600 lbs.
Keeping overhead storage in the garage is not easy. You have to consider the lighting position and the door opening and so on. Considering these, sometimes, in some parts of the garage, a low drop rack is more usable than a high drop ceiling. It is not always about how many items you can stack in it; which place the rack is being installed matters too. 
The brackets of this rack expand on a pair of beams for better hold. On the other hand, high-quality screws are used to make the tightening even more secure. So, when this rack is installed in the garage, you don't have to worry about falling over the rack or the items you put on it.
Pros
Suitable for the low-lying ceiling;
Sturdy rack;
Lifetime warranty.
Cons
---
9. Fleximounts Overhead Garage Rack in White
96 in. L x 36 in. W x 22-40 in. H;
Available in one and two racks packages.
This one is an even more affordable rack from Fleximounts. From this list, you must have noticed that this is the most expensive brand for ceiling storage racks. Surprisingly, this model has the same size, minus the extra cost. The weight capacity is compromised for that reason.
However, you don't have to worry about the wire rack bending from heavy loads or the screws snapping over time. The wire and screws used in it are the same heavy-duty quality. This model is available in one-pack, and two-pack packages, and you can choose from black and white color—a tremendous quality garage ceiling rack at an affordable price.
Pros
Cons
---
10. MonsterRax Garage Storage Rack Frame
4ft x 8 ft x12″-21″ drop;
Arrives without a frame.
Here, you will get a sturdy frame for the ceiling rack, without the wire or base. The advantage is, you can use any material you like as the base as many people don't like the wired base for ceiling racks. 
This frame also has an adjustable height. All you need is a ⅜ inch of plywood as the base. The plywood will sit on the frame without wobbling or sliding. This way, the ceiling rack is easier to clean and more suitable to store smaller items. The frame has a weight capacity of 600 pounds, but it also depends on the toughness of the material you use as the base.
Pros
Suitable for small-item storage;
Easier to clean;
Affordable.
Cons
Needs a plywood sheet as a base. 
---
11. MonsterRax 4×8 Overhead Ceiling Storage Rack
Weight capacity: 500 lbs ;
Adjustable drop lengths 12″ – 21″ / 18″ – 33″ / 24″ – 45″;
Multiple sizes are available.
Get out of the boredom from using ceiling racks in plain black or white color. This hammer-tone ceiling rack is equally high quality and available in a different tone of grey. It is made of steel and can hold up to 500 pounds of weight. 
Besides, the wired base is cascading type, so it is easier to install compared to a fixed base. 
This rack will arrive in two boxes, and it may take a while to arrive in both boxes. Don't lose your cool in the meantime because this rack is something that lasts for years! The bolts and screws are long-lasting too. 
All you need to do is measure the ceiling hoists to install this shelve correctly. The wired base helps to see all the loads you are keeping on it—no need to shift and shuffle when you are looking for a specific item.
Pros
Easy setup;
Long-lasting.
Cons 
---
Conclusion 
I hope this write-up helped you plan on purchasing one or two racks for your garage. All the items we have listed are based on first-hand experience and research. 
So, you can put your faith in me to choose any one of the racks we have reviewed here. Just keep in mind the safety issues and weight distribution I have talked about. The ceiling rack is supposed to last for years to come.
Hopefully, you will now be able to find a product regardless of the design of your garage.
Related Posts: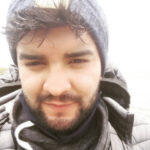 Hi, I am Eric Devin and I am a professional interior architect. Since childhood, I've always enjoyed DIY projects! And, I have loved to solve simple household problems using essential tools and equipment. I have also acquired a lot of information about basic household tools settings by working with contractors.