This article includes affiliate links, which means we may earn a commission if you make a purchase following our link. Please refer to our review guidelines.
As a mother of two younglings, I always try to feed my family with healthy food. For this, I've tried different types of cooking methods and found that grilled food is healthier than others as you don't need to use excessive oil. But it is difficult to have grilled food each time of the day using a grill.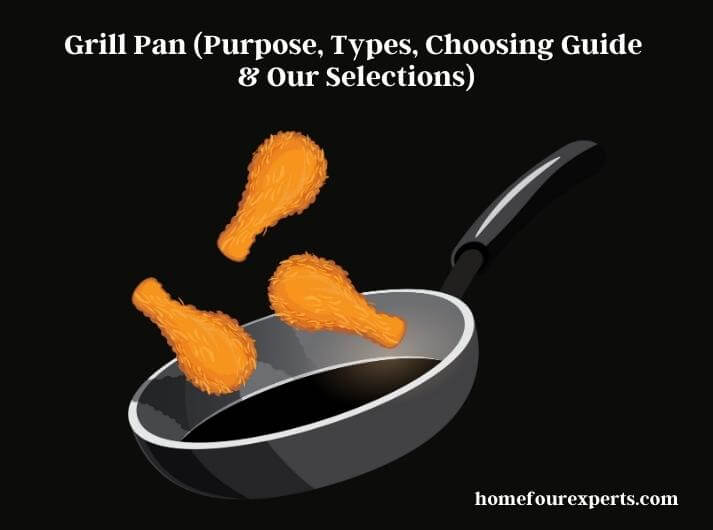 But you can use a grill pan to have grilled food right from your kitchen without using a regular grill. You can also surprise your guests by serving the amazing sauce from the juice of your grilled food.
And the most interesting thing is it can cook your food faster than a traditional grill.
So do you want to taste amazing grilled steak or veggies without spending so much money on a traditional grill? A good quality grill pan is the only alternative to grilled food.
But it would be better if I had the proper information about grill pans before buying. In this guideline, you'll find almost all of them. So let's dig in!
What is a Grill Pan
The grill pan is a kind of frying pan with raised edges. These grill lines are spaced about 1- 2 c.m. apart and raised up to 0.5 cm high. So they allow food juices to drip down while cooking. To cook your food evenly, the grill pan is designed with the best heating technology.
Grill pans are sometimes known as 'Griddle Pan' and 'Broiler Pan' in US & Canada.
Most grill pans are made with a non-stick surface, but you'll find pans made with other materials.
Why Use a Grill Pan
If you've questions like- do I really need a grill pan!? Or how I'll be benefited from a grill pan!? I can help you with that. There are lots of reasons you should own a grill pan but here I've discussed the most important reasons-
Grill & Chargrill Marks
We all love a steak with nice and solid grill marks which we can get only at the outdoor grill or in the restaurant. But using a grill pan we can taste the same indoors.
Grill More Food & Save Time
Usually, grill pans come in round and square shapes. Both of them allow you to cook meat and vegetables at the same time.
Raised Edges to Collect Fat
The edges of a grill pan collect juices from the food which you can use to make a sauce for steak, fish, or gravy.
Indoor Grilling
A grill pan for steak can be used in indoor cooking. You can enjoy a steak without going outside.
Read More: Grill Basket for BBQ Fish & Vegetables
How to Use a Grill Pan
Using a grill pan is quite easy. But the following few tips and tricks can make your food even better.
Prepare the Food
Preparing your food properly ensures that it'll cook evenly. You can pound or cut the food into pieces so they remain flat on the surface.
Heat the Pan
Turn your stove to medium-high heat and place your grill pan for 5- 20 minutes (time depends on the type of stove you're using). To check the heat, put a few drops of water on it. If the water evaporates right away, it is hot enough to cook.
Grease the Pan
Greasing your pan before cooking will prevent your food from sticking to it. You can use spray or a paper towel to grease the pan.
Grill Your Food
When everything is ready just put the food directly on the grill pan and cook. If you want a square grill mark on your food, rotate the food by 90 degrees before flipping. When one side is done, flip the food and repeat the method.
Types of Grill Pan
Grill pans are classified according to their construction material and according to this, you'll find 3 types of grill pans-
Cast Iron Pan
This type of grill pan is most popular for its durability, heat retention, and excellent cooking.
Stainless Steel Pan
Stainless steel pans are lightweight, long-lasting, and rust-resistant. The only drawback of this type of pan is they are not good at heat retention.
Aluminum Pan
Aluminum pans are also light, rust, and corrosion resistant heat fast, and easy to maintain. But heat retention is not like cast iron.
What to Look for Before Choosing a Grill Pan
So a grill pan can help you to cook amazing food at home. You don't even need a regular grill to taste the grilled food. But there are a few things you need to consider before buying a grill pan for your induction or glass cooktop.
Handle
Pick a grill pan with an appropriate length handle. Because a short handle may burn your hand or fingers and a grill with an excessively long handle will increase the weight.
Material
Construction material is the most important thing to look for when buying any cookware. The most common materials to make grill pans are cast iron, stainless steel, and aluminum. You must know about the features of each material before buying.
Cooking Surface
The cooking surface of a cast iron grill pan can be pre-seasoned or coated with enamel. Pre Seasoned pans are long-lasting and enamel-coated pans are easy to clean. Whereas, stainless steel grill pans are not coated so they are not easy to clean and can burn the oil.
If you are buying a pan, you must pick one which is easy to clean and have a non-stick coating.
Shape
Though the shape of the pan isn't so crucial, it's totally up to you which one you choose. But square-shaped pans are larger than round-shaped ones.
Size
Size is another important thing you should consider while buying a grill pan. You need a smaller pan if you are cooking for a small family of 1-2 people. You need a big one if you need to cook for more people.
Ridges
Check the durability of the ridges or grates of the grill pan before buying. In this case, cast iron pans can grasp a lot of heat and distribute them evenly into the food and leaving beautiful grill marks on the food.
Read More: Top 8 Ring Mold for Eggs
Our Recommended Grill Pans-
1. Cuisinart 630-30 Chef's Classic Nonstick Round Grill Pan
Put marks on your steak on the burner, put in the oven to complete cooking then leave the pan in the dishwasher after use. Yes, cooking is that simple and comfortable with a 630-30 grill pan from Cuisinart. 
This pan is large enough to house 6 chicken breasts at once and small enough to fit in the oven. It is non-sticky, but you don't need to bother about what spatula to use to flip the burger-wooden or steel or silicone during rush. This grill pan is compatible with anything.
It is made dishwasher safe, I prefer hand washing though. Because no one wants to take any risk with this beloved grill. You want it to last long and perform great for you.
The ridges are not bold, leaving faint grill marks on food but the good thing about it is, you can cook the sauce in it after draining the grease. It does not have any pour spouts yet the draining is nondripping.
Things We Liked
Easy cleaning;
Durable;
Economic;  
The oven and dishwasher are safe.
Things We Didn't Like
---
2. Lodge 10.5 Inch Square Cast Iron Grill Pan – for Induction Cooktop
Cast iron pans never get out of fashion due to their durability and endless performance. This square pan from Lodge is pre-seasoned; that means you will need 'little seasoning' before use. Many people misunderstand this term as 'no need for seasoning'.
Its 10.5 inches width may seem smaller but the square shape makes the surface area larger compared to circular pans of 12 inches. The ridges are deep enough to make dark grill marks on your food and keep them above the grease. There are loops to hang the pan if you seem to store it eats up space in your cabinet.
Cast iron heats up slowly but gets burning hot once heated up. You can cook in a versatile style with this grill pan if you know how to deal with the heat of cast irons.
It may seem hard to clean; but you can scrap this with anything to get the mess out of it, without worrying about scratches. This pan costs little but can be used over generations for its unbreakable characteristics.
Things We Liked
Pre-seasoned;
Heavy duty;
Bold ridges;
Affordable.
Things We Didn't Like
The season is often for easy release.
---
3. TeChef – Non-Stick Grill Pan for Healthy Grilling
By the look of this pan, you can say it looks different. It really is different but not only because of its looks, but also for its construction, functionality, and performance as well. It has five layers of the non-stick plate with insulation in between. Hence, it holds heat perfectly compared to other non-stick pans. 
This pan lets you grill any fatty meat on it but saves you from consuming unhealthy grease. It has a self-draining system that removes grease from food during the time of cooking. Your food will not float on its own grease and you won't need to pour the grease after cooking each batch.  These qualities make this pan a must-have for every fitness freak.
Its 12 inches of non-stick surface keep it new for years. The print and engraving on it are very decorative but may not give you a conventional grilling mark on your food. However, its efficiency and affordability beat that lacking.
Things We Liked
Attractive look;
Produce fat-free food;
Easy cleaning;
Economic;
Self-draining the grease.
Things We Didn't Like
---
4. Staub 12″ American Square Grill Pan – Best for Steak
Staub launched this 12 inches grill pan for users who never hesitate to invest in quality products. You may never find any cast iron pan which can pass the 'high-end' mark with the finish. This pre-seasoned pan has a perfect finish on top and an enamel coating on the bottom, making it suitable for glass-top stoves. 
The ridges on the surface are high enough to keep the unwanted grease far from your patty, forming an admirable mark while sealing the juice and tenderness inside. Pouring spouts on both sides are convenient to drain grease.  
This pan is suitable to cook small roasts in the oven and cleaning in the dishwasher. The loop on the handle is meant for hanging up. The excessive price and weight are the only drawbacks of this heavy-duty grill pan. You may never miss cooking on a smoker after seeing its performance on your stove.
Things We Liked
Dishwasher and oven safe;
Deep ridged;
Pouring spouts.
Durable.  
Things We Didn't Like
---
5. All-Clad E7954064 HA1 Hard Anodized Nonstick Grill Cookware
All-Clad is a popular brand among cooking enthusiasts for its quality cookware within an affordable price range. This non-stick grill has similar characteristics as cast iron due to its hard anodized construction. It heats up fast and spreads evenly.
Its 11 inches square shape should suit your requirements if you find a 10 inches pan has little room for your food to cook at once and 12 inches is too big for your stove. its ridges are deep to put defined marks on your food and have high sides that are convenient not to splatter.
You may find many grill pans in the market with similar qualities but the handles of those may not be as comfortable as an All-Clad grill pan. The handle has a stainless steel body and is slightly contoured at the end so that you can have a secure grip on it.
Cleaning this pan is a breeze. You can remove the food and grease with just only running water. Using mild dishwashing liquid is enough to remove the oiliness afterward. It is dishwasher safe but hand wash is preferred for longevity. The only thing that does not match the advertisement is, this pan is not compatible with inductions.
Things We Liked
Easy cleanup;
Fast, even heating;
Durable;
Oven safe;
The handle is good to grip.
Things We Didn't Like
Not suitable for inductions as advertised.
---
6. Anolon Advanced Hard-Anodized Nonstick Deep Square Grill Pan
This grill pan from Anolon lets you get all the advantages of a non-stick grill pan without dealing with a heavy weight. Besides, like its inner surface, the outer surface is also nonsticky, making this pan easy to clean inside and out.
Unlike other pans, its handle has rubber padding. The handle won't slip off your hand even if you are sweating and ensures a comfortable grip. This pan is oven-proof up to 400 degrees. Never forget to use your oven mitt to take the pan out of your oven, because the handle gets excessively hot.  
Its sides are deeper than other pans and useful if you are grilling fatty food in it which tends to splatter a lot. The ridges are low; food will not look or taste like BBQ.  The bright side of lower ridges is, you can make mouth-watering gravy in it using the juice from cooked chicken breast or vegetables.
Things We Liked
Pour spouts;
Deep pan;
Good warranty;
Oven safe.
Things We Didn't Like
Widgets are low;
Less durable.
---
7. Norpro Mini Cast Iron Panini Pan
The unique feature of this pan is, that it is rectangular shaped and the ridges are diagonal. Whether you put the food length or width-wise, it gets diagonal grill marks every time.
It has 3 layers of non-stick coating on an anodized aluminum body. The aluminum makes its construction durable while the multiple layers make the coating long-lasting.
It is perfect for searing, grilling, and roasting because it is oven-proof to make nice juicy roasts after marking on the meat. The manufacturer offers a lifetime warranty for every part of this pan.
This pan is a bit pricey; twice the price of other pans. However, its 2-in-1 functionality should not restrain you from buying it. It is a perfect pan to make panini sandwiches, as it comes with heavy press. This pan lets you experiment with your sandwiches by mixing and matching different combinations of filling.
Things We Liked
Sleek design;
High end;
Oven and dishwasher safe;
Perfect for making panini sandwiches;
Easy clean-up.
Things We Didn't Like
---
8. Lodge Pro-Grid Cast Iron Reversible Grill/Griddle Pan
This cast iron pan is large and reversible. That means, when you need grilling, the grill side will work twice the capacity of a regular pan; the griddle side does the same. With this pan, you can cook two to three types of food at once to complete a decent meal or cook a massive amount for a crowd. 
You have to set this up on your two stove top burners to get all the advantages, but not necessarily use both burners. You can cook on one side and leave cooked food on the other to keep warm for longer.
It is pre-seasoned with vegetable oil, so cooking and cleaning are easy with no mess. You even have the freedom not to use any soap on it after cooking to keep it seasoned.
You get durability and have the opportunity to cook versatile with this reversible pan. From crepe or pancake to steak or grill everything can be cooked on it. you may need time
to learn its full functionality and get used to it.
Things We Liked
Suitable to cook for crowds;
Seasoned;
Easy to clean;
Grill and griddle on the same pan;
Durable. 
Things We Didn't Like
May take time to get used to it.
---
9. cuisinel Pre-Seasoned Cast Iron Grill Pan
This cast iron grill pan from cuisine can be a considerable option if you are looking for something durable within the economic range. This 11 inches pan is the cheapest on this list but has the functionality of pricey pans of popular products. 
Pre-seasoning makes it as good as a non-stick pan in terms of food release. It is compatible to cook on gas, electric, and glass top burners. It has a deep rim on the border with pour spouts. A red rubber cover for the handle comes with it at this price.
The only drawback I found is, that it's too shallowly ridged, making it less suitable to grill fatty pieces of meat. Your burger may soak in its own fat while grilling on this pan. It is more suitable for cooking vegetables, fish, chicken, and lean meats.
It is oven-safe up to 480 degrees but is not meant for dishwashers. Nevertheless, washing this pan with your hands will not be hectic, as food won't stick to it.
Things We Liked
Elegant looking;
Heavy duty;
The lifetime of quality cooking.
Things We Didn't Like
---
10. Cuisinart CI755-30CR Cast Iron Grill Pan
Not everyone has the same requirements when it comes to the size of kitchen utensils. This pan is adequate if you are living away from home or you have a small family.
This pan is still cast iron, it is modern looking. The porcelain-enameled interior and the bright red exterior make this pan look beautiful and exceptional compared to other cast iron pans.
One pour spout is made on one side but the sides are not too high to protect from splattering. Besides, I assume the enamel coating makes this pan less suitable to deal with high heat. It is oven-proof though. And dishwasher safe as well.
The handle is cast iron made, so be careful holding the pan while it is still hot. There is a hole in the handle to hang the pan after cleaning. The price seemed a bit higher to me, but the weight proves its durability. You can also use the Best stone frying pan.
Things We Liked
Elegant looking;
Heavy duty;
Pour spout on one side;
The oven and dishwasher are safe.
Things We Didn't Like
Enamel coating may not be long-lasting.
---
Cleaning the Grill Pan
Grill pans can get messy quickly as the fats, oils, and juices of food drip down at the bottom of the pan. It'll be tough enough to clean if it cools down. You can follow these simple steps to clean your grill pan-
Drain the excess grease into another container or trash.
To clean the gunk, add a bit of warm water and a handful of salt. You can also use soapy water to clean your pan.
Scrub the pan with a nylon brush.
Rinse the grill pan with hot water using the scrub.
Now pat your grill dry. You can put it on the stove on low heat, it'll prevent your grill from getting rusty.
If you are using a cast iron grill pan, you need to reestablish the seasoning by brushing some oil on the surface.
Conclusion
I know it is difficult to choose one grill pan among so many varieties available in the market. So I've listed the 10 best grill pans and tried to highlight every single detail you need to know from my own experience.
Each of these pans is made to meet the different needs of different customers. You can match them with your needs and pick the one that suits you best.
Once you get the right one for you, you can enjoy grilled food from your kitchen with a little bit of preparation.
You Might Also Like: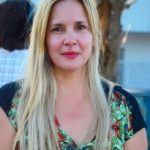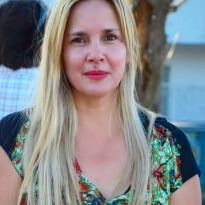 Guys, I am Camila Avery and I love to help my mom to do indoor & outdoor activities. As a lady, I have passed my time on gardening, home improvement, and personal or self-care. I have acquired some degrees in outdoor recreation, beauty, and hair care. It is not easy to work with top-level professional beauty experts. But, I got that opportunity and experimented with different hair extensions, hair colors, and cuts.