This article includes affiliate links, which means we may earn a commission if you make a purchase following our link. Please refer to our review guidelines.
A hacksaw is the most common tool in any household, workshop, or even dormitory. Cutting large and hard materials like pipes, rods, sticks, screws, and almost anything on your own on an emergency basis requires this handy tool.
With the right blade, a hacksaw is enough to mend or fix broken things around the house or complete a small to medium DIY project. No matter what the reason is, a good quality hacksaw can save you money and make your life a lot easier.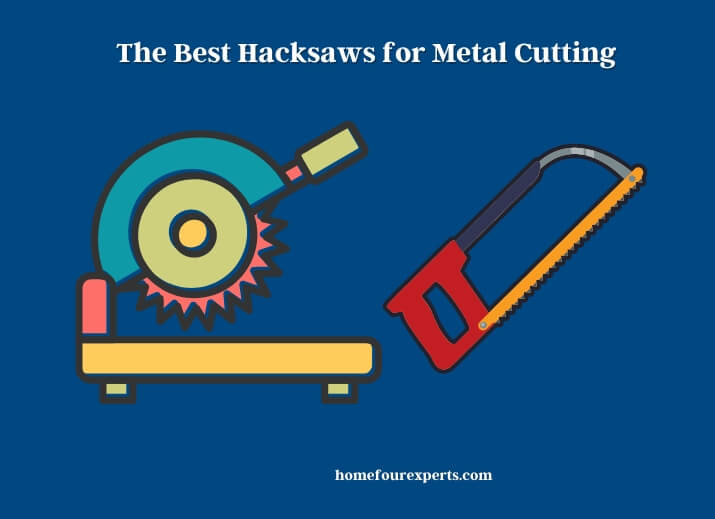 Hacksaw's price starts at as low as 5 bucks and goes up to 50 bucks and more. Of course, the price depends on features and quality, and if you don't need a superior one, you don't need to spend a lot on a mere hacksaw. On the other hand, even if the hacksaw is super cheap, you shouldn't spend on it if it doesn't last.
So, here we are, to save you from the jeopardy of picking up a hacksaw that is good at cutting metal. 
Is There Any Such Thing as a 'Hacksaw for Metal'?
To be honest, no company labels their tool to be too specific. The main reason is, most hacksaws out there are more or less versatile, and the manufacturers want to target as many customers as they can. Moreover, users also look for versatile tools to save money. So, why are we labeling some random hacksaws 'metal cutting'? 
That's because, when it comes to cutting metal, we need a hacksaw that can make cutting more accurate, seamless, and easy. You can always sand the cut-out edge to get a polished look, but it takes time and energy. 
To cut metals on a professional basis, a hacksaw with a proper tensioning system is the right choice. Not every hacksaw in the market provides high tension that needs to cut metal easily and effortlessly. Metal cutting requires high tension and proper grip on the hacksaw. 
So, we reviewed the top-notch high-tension hacksaw that offers a better grip, is versatile, durable, and easy to operate. Here, you will find hacksaws that are perfect for professionals and some are good for beginner DIY enthusiasts and some are useful for homeowners, and so on. The ones we listed here have adjustable tensioning systems. With the right blade, you can cut not only metal but also wood, plastic, and many more. 
View Top 8 Hacksaws for Cutting Metal, Below-
1. Klein Tools- Hacksaw with Adjustable Tension
Includes a 12-inch hacksaw blade and a 6-inch reciprocating blade;
Convenient blade storage;
Alternative 45 degrees blade mounting.
This model has gained popularity among professionals for its blade storage system. Isn't it nice to have an extra blade ready when you are working out of your workplace? This simple feature makes this model a winner above other competitors. However, there are a lot of other functionalities that make this hacksaw the best for metal cutting. 
First of all, blade tensioning and blade changing. Only a simple turnover on the knob is required to tighten the blade or to change it. When it comes to cutting metal pipe or any other material, the blade needs to be at the right tension. When you can adjust it easily, the job becomes easier as well. The same goes for blade changing. Just a flip on the knob and the blade comes off easily. 
This hacksaw is sturdy and that is why it is a bit heavier. It is pricey too! Considering its durability, ease of use, and included high-quality 12-Inch 24 TPI bi-metal hacksaw blade and 6-Inch 24 TPI bi-metal reciprocating saw blade, the price does not seem very high to me.
Positives 
Built-in blade storage;
Adjustable high-tension hacksaw;
Includes an additional reciprocating blade.
Negatives 
---
2. DEWALT 5-in-1 HackSaw
Works as a long reach hack saw, low profile pistol grip saw, jab saw, and many more;
Easy to change between different features.
You can spend three or four times more to get four to five different tools of various qualities or just order this Dewalt 5-in-1 hacksaw. Its revolutionary design makes it an awesome alternative to a quick-fix jab saw, pistol grip saw, long-reach saw, and hacksaw for standard and flash curls. Moreover, it comes with two separate blades for cutting metal and wood. It is an all-rounder with all its features. 
Changing modes is quick and convenient. It is a must for professionals who not only work with metal parts but also encounter odd situations quite often.  It is well-made, durable, and backed by a lifetime warranty. This is a Dewalt hacksaw, it is very unlikely that you will ever need any repair or replacement within a decade of regular use. 
Positives
Superior quality;
Low profile design;
Multifunctional;
Lifetime warranty.
Negatives
---
3. Klein Tools 3-In-1 Dual Purpose Hacksaw
Pivot-lock adjustment;
Includes hacksaw blade and reciprocating saw blade;
Storage for an extra blade.
This is the second hacksaw from Klein tools on this list. This is a lighter model and cuts more precisely. If you need a hacksaw that offers accuracy, then this is the one. You can tighten the blade tension to get the desired and flawless cuts. To make cutting easy, you can use both hands as well. There is a thumb guard on the frame to let you apply pressure with both hands to make the cuts faster. 
Like other Klein tools hacksaw models, this one also offers 90 degrees and 45-degree blade placement. Moreover, built-in storage is offered with this model too! For some, the pivot locking mechanism is more convenient than the basic locking mechanism. If this is the case for you too, then you can invest in this hacksaw right away!
Positives
Cuts straight;
Can be used by both hands;
Lightweight;
Built-in storage for a blade.
Negatives
---
4. Greenlee 12″ Hacksaw for Metal Cutting
Lever attached for blade tensioning;
Long-lasting bimetal blades;
Maximum tension 30,000 Psi.
While cutting overboard, a metal cutting hacksaw as light as possible is the best item to pick. In any other case, using a metal cutting saw becomes effortless when it is heavier and well-built; just like this Greenlee hacksaw. It is rugged and made from high-quality heavy-duty die-cast aluminum so that it can withstand years of abuse. 
The bi-metal blade with 30000psi tension wins the test of time. The tubular frame is an excellent housing for blade storage and keeping spare blades on the Jobsite. Together, the blade and the hacksaw frame itself may last a really long time. Instead of screws, there is a lever attached to this model for easier blade change. This works way better than the set-screw attached hacksaws. 
Positives
Long-cutting life; 
Flexible blade;
The durable construction of the frame.
Negatives
Heavier than most other models. 
---
5. Stanley Hacksaw for Various Materials
225 pounds maximum tension;
90 degrees and 180 degrees angle for a flush cut.
Takes 24 Tpi 12 " blades.
If simplicity is what you opt for, then this is the right choice for you. It does not have any fancy and lacy features, but it cuts metal pipes just right. Thanks to its 24 Tpi 12 " blade which retains its sharpness for a long. It only creates 250 lbs of tension for the blade and can not be set at 4 degrees. These are the two main differences between this model compared to other models we have reviewed here. This makes sense for its super affordable price. Beginners, just jump for it!
It may be cheap, but its quality is not compromised. The blade tension adjusting knob is big and convenient to do the job. The frame is made of all-metal construction for sturdiness. If you plan to work with it for years, I suggest investing in some good-quality blades for that. 
Positives
Affordable;
Lightweight;
Basic and simple features.
Negatives
---
6. Stanley High Tension Hacksaw
Up to 32,000 PSI blade tension;
Weights 1.75 pounds.
Whereas the former Stanley hacksaw was meant for beginners, this one is designed keeping professionals in mind. It is heavy-duty, rugged, and long-lasting. I can bet that the 32,000 PSI blade tension is rare in the market. If you can't afford inaccurate cuts, then surely you can afford this hacksaw because its price is quite reasonable against its quality. 
Apart from being durable, it is lightweight as well. Again, this combination is hard to find for a hacksaw. That is why this hacksaw is suitable for any horizontal, vertical, or overhead jobs or any long-term sessions. You can choose to use multiple blades to cut different materials with it. Blade changing and tension adjusting are so easy with this frame, you will not prefer spending on another hacksaw for cutting wood, plastic, or other materials. 
Positives
Easy and quick blade adjustment and change;
lifetime warranty;
Suitable for heavy-duty use.
Negatives
---
7. Milwaukee 10 Inch Compact Hacksaw for Tight Spaces
Compatible with 10-inch blades;
Adjustable blade length.
It is cheap, light, and low profile. There are critical jobs around the house and the construction sites which need special care. These kinds of low-profile tiny hacksaws are the only rescuers in those situations. So, my suggestion is, if you already have a big bulky hacksaw to cut metal pipes, you still need this small hacksaw if you need to cut small nuts, screws, and bolts in awkward spaces.
On the other hand, if you want only one hacksaw for DIY projects, this Milwaukee is enough to do any job. For bigger projects, you can lengthen the blade to enlarge the cutting surface and cut faster. For delicate jobs, the smaller length might seem okay. 
Usually, it is good for cutting bolts and nuts, and other metals. But the front part of the blade can be used as a jab saw for cutting styrofoam or drywall. In that sense, this is a versatile hacksaw that is available at a cheap rate. 
Positives
Cheap;
Suitable to use in tight spaces;
Versatile use;
Comfortable grip.
Negatives
Loose part in the handle. 
---
8. HAUTMEC  Heavy Duty 2-in-1 Hacksaw Frame for Cutting Metal
Straight and 45° cutting;
Built-in blade storage in the tubular frame;
Weights 1 pound.
Hautmec makes tools as good as high-brand made tools, but sells at half the price. If you don't have a soft corner for branded tools, then you are one of those smart ones who know how to seek good quality items for less price. This metal cutting hacksaw from Hautmec is made light, well-balanced, and sturdy. To cut metal pipes of various sizes to screws or nails, this hacksaw has the right amount of tension on its blade. 
There is a blade included in this package and you can always store a spare blade inside the frame. When needed, changing blades takes seconds and the process is totally effortless. So, when it comes to getting a high-quality hacksaw for a budget-friendly price, why would anyone leave this?
Positives 
Very light;
Convenient storage for blades;
Budget-friendly price;
Two cutting positions.
Negative
---
Final Verdict
You see, all the hacksaws we have listed here are more or less the same in terms of performance. Quality, longevity, ease of use, and versatility make all the difference. Choosing your favorite hacksaw among those shouldn't be bothersome, right? 
I recommend paying attention to the blade of the hacksaw you are going to use. Because to get the most from a hacksaw, only a good frame is not enough; the blade also affects the performance a lot. Only use bi-metal blades for cutting metals like iron, steel, and aluminum.
Other blades are specified for wood, plastic, and similar materials. For your convenience, we have enlisted compact hacksaws as well as large ones. Now, cutting metals will not be bothersome anymore no matter how large the pieces are, or how it is placed in a hard-to-reach space.
Related Posts: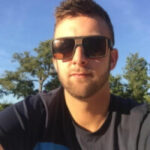 Hello, I am David Rowan. I am a professional contractor with 10 years of experience in home building, different tools used, construction, home remodeling, and other home improvement work. I have already built many custom homes and continued to do several woodworking projects along with how to deal with all categories of tools.