This article includes affiliate links, which means we may earn a commission if you make a purchase following our link. Please refer to our review guidelines.
Wearing hair extensions is very common for many women and celebrities to enhance or change their looks.
You'll find a huge range of collections to choose from. But you need the right type of extension that will look like your natural hair.
In this case, 100% human hair extensions can help you to achieve your desired look and increase the length and volume of your hair.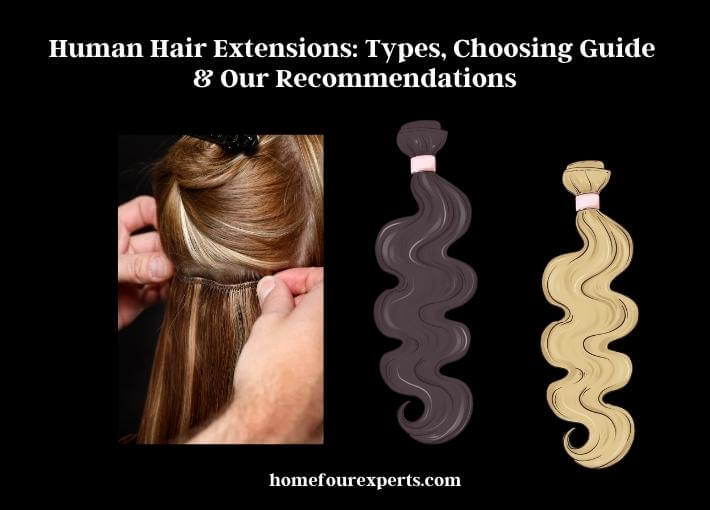 The ultimate guide to human hair extensions, your idea about human hair extension types, how to pick them, and how to understand the real, you can find here.
In this article, we'll introduce you to some popular types of human hair extensions, from which you can easily choose one according to your hair type.
Types of Human Hair Extensions
Before buying, you should know about the different types of human hair extensions that are available in the market. And the most common types are-
Cuticle Virgin Human Hair Extensions
According to many experts, this type of hair extension is the highest quality among all other types. Because it comes from 100% real human tresses. It is collected from donors who have healthy hair and have never come in contact with any kind of chemical. They are healthy, glossy & natural looking while processing.
Though they are pretty much more expensive than others, they also last for a long time.
Remy Human Hair
Remy hair extensions are the most popular extensions for their quality and reasonable price range. It also collects from donors but they don't need to be in the virgin state as long as all their cuticles are intact and the strands follow the same direction.
European Hair
This type is categorized by many experts for its natural straight and silky texture. European hair extensions are perfect for Caucasian hair texture.
Regular Human Hair
Most hair specialists consider regular human hair as the lowest quality human hair. This type of hair extension is made with hair collected from saloons and temples all over the world. As it is collected randomly, cuticles are positioned in different directions, so they tend to mat or tangle.
Also, manufacturers use harsh chemicals to cover the problem and achieve a silky smooth look. That's why the beautiful look doesn't last too long.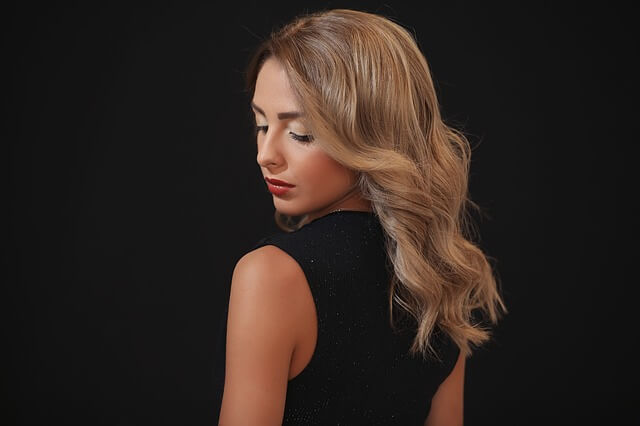 How to Pick the Best Human Hair Extension
While buying 100% human hair extensions, you need to consider some basic things that help you to get a natural look. They are-
Choose 100% Human Hair
No matter which method you prefer, for a natural look, you must choose 100% human hair extensions. They are the best and highest quality human hair extensions available in the market. The highest quality extension you get the more natural look you'll achieve.
You'll find some companies who claim that they have 100 percent Remy human hair extensions, but actually, they mix Remy with non-Remy. So be careful and look for some honest reviews before buying.
Hair Texture
The most common origins for human hair extensions include Chinese, Indian and European. Each of them is suitable for different types of hair textures. Such as, Chinese hair extensions are perfect for medium-density hair, and European, especially Russian hair can add a good volume to your hair.
So choose the type that blends well with your natural hair.
Match the Color
Another important thing you should remember while buying extensions is to match the color of the extension with your natural hair.
If your hair is multidimensional, you'll find some companies offering dual or tri-blended or more bright colors. So choose the one that really matches well with your hair. Read more: Top 7 Shampoo for Hair Extensions – Take Care Properly
Styling
Human hair extensions are heat resistant so you'll be able to style them as your natural hair with a straightener, blow dryer, or curling iron. Some of them come with silicon strips on the clips which protect the hair and keep your hair extensions secure and intact.
How Do I Know My Hair Is Real Hair?
If you buy low-price extensions, you may be purchasing real hair that isn't REMY quality or buying a blend of human hair with synthetic hair or animal hair. The simplest way to check what kind of hair is in your extension is to do a strand burn test.
Human hair will burn, but synthetic hair will melt. Take a strand of your extension and hold it over a lighter. If it blackens and crumbles, the extension is real hair. If it shrinks and melts, you know it's synthetic.
It might be tough to say the difference between human hair and animal hair. Generally, manufacturers will mix human hair with yak hair, sheep hair, or horsehair, which has been treated to make it soft, clean, and easy to style. If you feel strongly about having only human hair in your extensions, you may have to pay for luxury extensions.
Our Selected Top 12 Human Hair Extensions-
1. Labhair Human Hair Extensions in Chocolate Brown with Honey Highlight
Tape in hair extensions;
14 inches long;
100% real Remy human hair;
Chocolate Brown Mixed Honey Balayage Color.
The best things about these extensions are, you will experience zero sheddings even after wearing them for months. These are Remy's hair but look and feel just like virgin human hair extensions. Tape-in extensions are the most long-lasting type of extension but it requires professional help to wear in the beginning. 
Lab hair extensions require a little bit of extra care if you wish to make them last longer. Using mild sulfate-free shampoo and applying coconut oil at the tip of the extensions will prevent the hair from damage. Never comb the hair in wet condition and try to air dry the hair. Making a loose braid before sleeping will save you from dealing with tangled and messy hair the next day. 
The extensions are 20 pieces per pack and weights 50 grams. For super thin hair, 4 packs may require otherwise 2 packs are enough to add length. This shade of chocolate and honey brown will match any shade of chocolate and honey-type hair color.
---
2. Hikyuu Remy Tape in Human Hair Extensions in Jet Black
Tape in hair extensions;
18 inches long;
Virgin human hair;
No. 01 Jet Black Color.
These are virgin human hair, hence it is lighter than Remy's hair. In this pack, 20 pieces of extensions weigh 40 grams; it is not a major difference, but you will need more extensions from this brand compared to other brands. However, for a natural hair extension, who won't want to pay some extra bucks? 
The tape used in these extensions is hypoallergenic so you can use it without any worries especially If you are allergic to synthetic materials. Hikyuu usually takes about a week to ship their extensions. The great news is, they also make customized extensions upon order. If you are satisfied with their ready-made extensions then I recommend ordering extensions in your desired colors. Exceptional color, highlight, ombre, or anything can be ordered; isn't it amazing?
---
3. Full Shine Clip in Human Hair Double Weft Hair
Soft clip-in extensions are made Of real Remy human hair;
14 – 22 inches long;
Remy human hair;
7 pieces clip in hair extensions design.
For ash blonde hair, these mixed-type extensions will look good and the light and dark shades of blonde will create an illusion of voluminous hair. Style your hair in a bun, braid, french braid, or ponytail. The strips of hair will look good in any updo. Leave your hair open or tied up, and you will always look gorgeous. 
More usually makes extensions that never slip. The tape they use is strong and larger in size. It also takes time to remove. But 'no slippage' is guaranteed. To dye extensions, first, take a very small part and test the dye before coloring the whole batch. This blonde extension will absorb any color faster. For young girls, one or two streaks of eye-catching color will look beautiful.
---
4. Sunny Tape in Human Hair Extensions in Natural Black
Tape in hair extensions with skin weft;
16 inches long;
Remy human hair;
No. 1B black.
Brands that offer custom and color-matching services generally price their extensions high. But with Sunny hair extensions, you will have the same experience but on a budget. Even the hair quality is as good as pricey extensions and lasts long. The Duration of hair extension is relative. It depends on how much care is taken and how much heat is applied. These extensions can take heat pretty well but require maintenance afterward. For example, use heat-protecting spray and special shampoos and conditioners, etc. 
These extensions are not jet black, they are lighter than jet black; so, they look more natural. Jet black extensions make the face outstanding but look artificial. To achieve a more natural look with black extensions, 1B is a better option. These extensions can't be bleached. If you want highlights on your extensions, better purchase in a lighter tone and dye a large part of the extension in black. That way, you will get a highlighted look. Never forget to dye extensions with professionals.
---
5. Moresoo Clip in Hair Extensions Black
Clip-in hair extension;
20 inches long;
Brazilian human hair;
Jet Black color.
Clip-in extensions are easier to wear and remove and are budget-friendly. Often the salon bill outgrows the price of tape-in extensions. But with the clip-in extensions, cost less and need no professional touch. You can wear them whenever you want, wherever you want. Besides, there is no hassle of reapplying the hair every month. Easy to maintain. 
This pack includes one piece of clip-in extension in jet black color. It can be used to add volume and length so that you can style your hair easily. Make a more alluring ponytail for everyday office or a big bun to attend a friend's wedding, everything you can do yourself at home and at an instant. 
These are Brazilian human hair, so there is nothing to mention about how good and natural they are. Brazilian hair is best to carry styling and heat but I recommend having mercy on these extensions and putting at least heating equipment. These are straight hair, so no need to use a straightener. To get a curl, just use old-school overnight curlers, not a curling iron.
---
6. GOO GOO Human Hair Extensions
Clip-in hair extension;
20 inches long;
Straight natural hair extensions.
To reduce the boredom of plain blonde hair, highlights do an amazing job. It instantly adds charm, and volume and enhances the beauty of natural hair. This extension can be a great option to achieve a highlight without paying the salon bill. 
These are 16-inch long clip-in extensions and go well with medium-length hair. To add length you will need 2 packs. For added volume, two to three packs should be enough but it basically depends on the thickness of your hair. 
According to renowned hairstylists, the latest trend 'long bob' style looks well on thick hair. It is okay if you are not fortunate enough to have that but you can still achieve the long bob look. 
Just wear this extension and have your haircut in a long bob style. After that, you can always wear the extension to make your bob more attractive.
---
7. GOO GOO Dark Brown Human Hair Extensions
Clip-in hair extension;
22 inches long;
120g 7pcs Straight Natural Hair.
We all know, that to get the best result from any extension, it is best to get a haircut from the salon so that the extension matches seamlessly. Often upon first-time purchase, some ladies make a mistake by ordering the extension without keeping that in mind. 
As a result, the extension falls shorter than their hair, and to match the extension, the real hair needs to be trimmed. To avoid that it is always advised to purchase extensions that are longer than required. 
This 22 inches long mixed blond extension will add length to your hair if it is already long. For volume, you will need more packs.
The mixed blond color is a good option to avoid the problem of perfectly matching with real hair. If you already have blonde hair, then this extension will match no matter which shade your hair is. 
You can curl or straighten it as you wish but make sure to wash the hair after applying hair spray or other styling products.
---
8. SUYYA Human Hair Extensions
Tape-in hair extension;
22 inches long;
Jet Black 50g/pack 20pcs.
Asian girls with black hair always have issues with coloring their hair. No dye or highlight sits on black hair perfectly. 
When it comes to hair extensions, the problem is the same, only black hair matches well and the extensions are also not recommended for dying. 
To overcome the problem, it is better to use extensions in the Balayage style that gradually fade to a lighter color at the tip but very dark at the roots. 
This extension is specially picked for black hair. Its dark brown root will match the black hair perfectly and become seamless. 
The gradual fading of dark brown to light brown and to ash blond is done professionally and looks expensive when it is worn. The final look is trendy, fashionable hair without taking the risk of hair dyeing.
---
9. GOO GOO Balayage Chocolate Brown Human Hair Extensions
#(4/27)/4 Chocolate brown to caramel blonde Remy human hair;
20 inches long;
Tape in Balayage Natural Hair;
Real Human Hair, Full End, Natural, Soft, Straight Hair.
It is one kind of clip-in extension that needs to be wrapped around a short, and thin ponytail. To add instant length, volume, and look this extension is beyond comparable. 
This is the most common hairdo for busy girls who go to college or the office every day. But with thin and fine hair, a ponytail can look worse. Now take a break and bring this extension that lets you get the quickest hairstyle with less hassle. 
In fact, it makes a simple ponytail more alluring. 
It has a kinky straight texture but can be straightened and curled. So, one ponytail will give you several looks and will less effort and damage to your own hair. Have a party after office? 
No problem, make a ponytail with this extension, make a bun using the ponytail and you are good to go on dates and dinners wearing nice gowns. It lets you get ready in minutes.
---
10. Nvnvdij Human Hair Extensions
8pcs per set double weft clip
18 inches long straight hair;
Brazilian virgin human hair natural black color.
These are more long-lasting than the clip-in ones. Putting these on is more difficult, but not as hard as the tape-in ones. Youtube tutorials help a lot in this. Watch some tutorials, and start doing this from the bottom hairline. 
At first, it takes time, but over time it becomes easier and faster. 
This type of extension causes less damage than tape-in extensions. These are more seamless too. This extension from Moresoo is renowned for not tangling and not shedding even after prolonged use.
The 18-inch length is enough to achieve any short-length hairstyle. So, have a haircut with the extensions that you dreamed of, but can't have for thin hair. The darkest brown color looks more natural and sober than colored or highlighted hair.
---
11. DOORES Human Hair Extensions
Straight, long, thick, natural silky human hair;
#4/27/4 chocolate brown to caramel blonde;
18 inches long;
9A-grade high-quality hair & is comfortable to wear.
We all want to look beautiful without harming our natural features. Having a hair extension is probably the easiest, cheapest and safest option to enhance our beauty quickly. 
Blond hair is usually thin by nature and that is why they are prone to breakage and damage. This extension with 2 shades of blond will help you to achieve a trendy look without putting your real hair in danger. 
Just to achieve a highlight, one pack should be enough. But for added length and volume you may need 2 to 3 packs. Always use a good-quality keratin remover to remove this extension from your hair. 
Otherwise, the remover will damage your own hair and the extension in the process.
---
12. Yamel Human Hair Extensions
Material: 100% Human Hair;
Grade: 9A High Quality;
Quantity: 7pcs 16clips;
Length and Weight: 14″-80g, 16″-90g, 18″-100g, 20″-110g.
To me, white girls look most glamorous with golden blonde hair. They don't have to do any tricky hairdo; the golden color adds warmth to their skin and they look more blushed and tanned. 
Long flowing golden blond hair outruns any expensive outfit as well. To get that effortlessly glamorous look, this extension from Guest does a great job. 
As this extension is pretty long, you may not need any haircut from the salon. A long hairstyle requires a less professional cut. At home, get help from your friend and cut the hair in a straight line with an electric razor. 
Otherwise, you can always go to the saloon for a more complicated cut.
---
Conclusion
Hope all this information will help you to choose the right human hair extensions for you.
No matter which method you choose, you need to take proper care of your precious hair extensions to enjoy silky and gorgeous looks for a long time. And for a long-lasting beautiful look, the only option is to use 100% human hair extensions.
For more information about hair extensions, you can check our other guidelines.
Or you can also share your opinion or tips with the user regarding hair care tips.
We'll be glad to hear from you!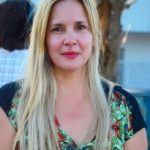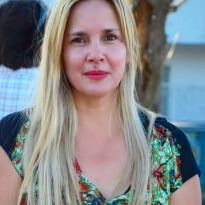 Guys, I am Camila Avery and I love to help my mom to do indoor & outdoor activities. As a lady, I have passed my time on gardening, home improvement, and personal or self-care. I have acquired some degrees in outdoor recreation, beauty, and hair care. It is not easy to work with top-level professional beauty experts. But, I got that opportunity and experimented with different hair extensions, hair colors, and cuts.