Published on: March 14, 2022
Written by David Rowan / Fact-checked by Eric Devin
This article may contain affiliate links, which means if you make a purchase following our links won't cost you extra, but we may earn a commission. Learn more
If you are in the construction industry, you know how important a magnetic drill press is for steel fabrication or welding.
Magnetic drill presses are available in various sizes, weights, and designs. Some are designed to perform heavy-duty tasks and some are designed for small or medium-sized projects. You can smoothly complete your project if you get the right tool.
But choosing the right one from hundreds of available options is not so easy as you can't check each of them for confirmation.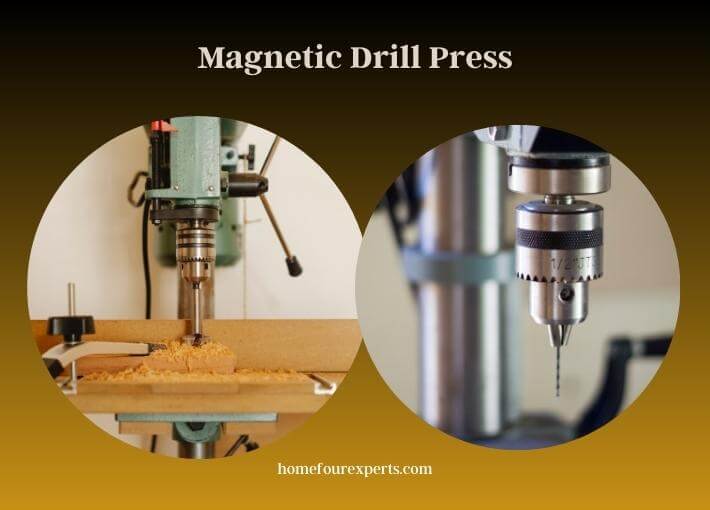 As a professional, I've researched for many hours and found some models that are worth buying. So to lessen your time and money I've listed them in this article with every important detail of each product.
I've also highlighted some most important features which you should look for while buying one for you.
So if you go through this guideline carefully, I hope you'll be able to select the right product without any confusion.
What is a Magnetic Drill Press
A magnetic drill press is a drill that is designed to create holes in metal. With these drill presses, you'll be able to drill into thick metal easily and accurately.
The features of the magnetic drill press are quite similar to the benchtop drill press with the advantage of a magnetic base.
Basically, the magnetic drill press was designed for the construction industry. Because there you need the high powered drill press which is able to drill through any strong metal like- I-beams.
From then, people also find them useful for repairing and constructing metal structures or working on other heavy-duty metal equipment.
Type of Magnetic Drill Press
There are three types of magnetic drill press available in the market. They are-
Electric Magnetic Drill Presses
This type of drill press is perfect for the workplace which is comparatively dry and where you can use electricity as a power source for the tool.
Pneumatic Magnetic Drill Press
Pneumatic drill presses are suitable for a wet or hazardous work environment.
Hydraulic Magnetic Drill Press
These drill presses are mainly used in construction, industrial and marine drilling projects.
Who Needs a Magnetic Drill
Magnetic drill presses are useful because they are portable and you can take your drill press to the material without dragging the large, heavy material to the tool.
If you work in the construction, fabrication, welding, or automotive industry, the best quality magnetic drill is the tool that can help you to complete the job easily and quickly.
But these tools are quite expensive.
So if you don't work with metal on a regular basis, you don't really need to buy one. You can manage one from your friends or rent from professionals.
How to Select Your Magnetic Drill Press
Now that you've got an idea about the magnetic drill press, its use, and the working process of it you can select one from my mentioned list. But it would be better if you also consider some most important features that I've discussed below.
Power
Before buying your mag drill press for the money, you should have a clear idea about what you will do with the tool.
If you are going to use your drill press regularly for drilling holes into dense and thick steels, you should go for the most powerful motor of 10 amps or more than that. But this type of high-powered drill is usually large. So if you work with this tool every day in a narrow space, you should check the size of the tool you are going to buy.
Motor
The quality of the motor of the machine is another important feature you should check before purchasing. You should pick the one with a built-in protection system. This feature also includes the overload of electric power and cooling systems. So this type of motor can ensure that the drill press can withstand any kind of heavy-duty industrial job.
Magnet Strength
Mag drill presses are different from other drill presses for their magnet strength & operation system. It can be attached smoothly to the surface of a metal for its magnetic strength.
So you should look for strong magnets while buying a magnetic drill press. This is essential for consistency and stability in the performance of the machine.
Performance
While your drill presses, pick the one which has the variable speed. This type of mag drill press gives you versatility and offers better options than the one with one-speed units.
If you want a consistent performance from your drill press, you should avoid cordless models. Because cordless tools are great for work at home but they are not able to give you support for any big professional construction project.
Size
While buying a drill press, always remember that bigger is not always the better option. So try to get something which will serve your requirements.
If you're a professional and need to handle more heavy-duty projects regularly, the larger one is the perfect tool for you.
And if you don't use your drill press every day, you should go for a portable magnetic drill press.
Safety
Before getting your mag drill press you should go through the specification very carefully and look for the safety features that the tool is offering. Because safety should be your first concern while using any power tool. You can also read: Things to factors while picking a Benchtop Belt Sander
Rotation Per Minute (RPM)
Rotation per minute or RPM is an important feature you must look for in your magnetic drill machine. RPM indicates how fast the machine rotates per minute. The higher the RPM, the faster you're able to complete your job.
Price
Though most of us think that quality comes with a high price, well, that's not true in all cases. Because, when you're about to buy a mag drill press, you'll find a lot of options with great features and quality at less prices.
So if you have a small budget, take time to research and find the best quality mag drill for money.
The Size of the Table
You might be inquiring as to why the table matters. All things considered, the table can make it more straightforward for you by permitting you to drill in different materials and at different points. A table that turns 360 degrees makes more distance under the toss which permits you to drill thicker materials.
The genuine size of the table is significant as well. The platitude, "greater is better" is surely obvious on account of the table for the attractive drill press. A bigger table allows you to bore bigger materials and secure materials all the more effectively when required.
View Top 10 Mag Drills, Below
1. Hougen Magnetic Drill (HMD904)
Motor: 7.2 amp;
Shank: 3/4-inch;
Weight: 27.5 pounds,
Speed: 450 rpm ;
Magnetic force: 1680 pounds;
In the package: drill chucks, tapping, countersunk, coolant, and many more.
There are additional features paired with high capacity and unbeatable quality that make this mag drill press from HOUGEN our top pick. Its pilot light is handy to work in poorly lit places or work more accurately in broad daylight. Besides, changing bits is also time-saving due to the slot drive arbor.
For added safety, lift detector functionality is added to this machine. The 2-stage magnet is proven to be long-lasting because those turn on only when the motor is fired up. You can pierce up 2-inch steel to 1-½ inches hole with this, making it perfect for demanding applications.
The thing I liked most about this drill press is its lightweight just like the MILWAUKEE one but costs almost one-third. The only drawback is, it does not have any speed settings to control its high rotation.
Things We Liked
Lightweight;
Light and lift detector included;
Affordable;
2 stage magnets are provided.
Things We Didn't Like
---
2. High-End Electromagnetic Drill Press Kit (4272-21) from Milwaukee
Motor:  13 amp;
Weight: 35.8  pounds:
In the package: 1″ retractable pilot pin, 3/4″ Weldon to ½" chuck adapter, 1-5/8″ electromagnetic drill kit, Carrying case, Chuck key, lubrication spray bottle, and safety strap.
The best thing about this drill press is, it delivers the performance of a heavy and durable magnetic drill press but weighs less. It is highly portable, suitable to carry from job to job, and comes with simple functionality for ease of use.
It comes with a mechanism so that you can place the feed handle on any of the sides according to your convenience. Besides, its control panel has only two buttons to make operation a breeze.
In this mag drill press, the magnet is the two-coil type and is able to create high force, so that it can fit in heavy-duty jobs. Besides, it has a slit to keep the cutter wrench close by in times of necessity.
Its high price hinders many users from buying it, but it is an amazing drill press for professional-level applications and super easy for even beginners.
Things We Liked
Powerful motor;
Portable;
Easy to use;
High quality.
Things We Didn't Like
---
3. Durable Magnetic Drill Press (DWE1622K) from DEWALT
Motor: 10 amp;
Chuck: 3-jaw chuck, 3/4-inch Weldon shank cutters;
Weight: 38 pounds,
Speed: 300/450 rpm ;
Magnetic force:
In the package: DWE1622 Drill Press, Height adjustment tool, Safety chain, 1/2-in keyed, and many more.
This model of magnetic drill press from DEWALT  is made for heavy-duty applications and can resist overuse. Like all other DEWALT power tools, this drill press is also equipped with an overload-protected motor to save the tools from overheating, overloading, and an abusive environment.
You will get the benefit of 2-speed settings in this press. A toolless chuck change is another added benefit. But the chuck is somewhat wobbling and less durable.
Most of the users have complained about the poor making of the chuck. Most probably you have to replace it with a new one once it gives out. However, this device is protected by a long warranty. Its price is reasonable to me, considering its durability and performance.
Things We Liked
Overload-protected powerful motor;
For heavy-duty applications;
Durable and long-lasting;
Speed settings available;
Magnetic coolant tanks can be mounted on either side.
Things We Didn't Like
---
4. Light Application Magnetic Drill (BRM-35A) from BLUEROCK Tools
Motor: 1110V/AC 60Hz;
Shank: 3/4-inch Weldon shank;
Weight: 28 pounds,
Speed: 570 rpm ;
Magnetic force: 2600 ft/lbs;
In the package: Free Chuck, Adapter, Safety Chain, Case, etc.
This one is equipped with a powerful motor that creates a high rotation. It is good to use for occasional projects and DIY tasks. The matters that make it less suitable for professional jobs are its lacking quality and noise.
With this drill press you can make holes from 7/16'' to 1-½'' size on steel sheets up to 2'' thickness. This package comes with a lot of necessary accessories including a chuck, which is somewhat useless. The attached direct arbor Weldon-type shank is enough to do the job.
If you are looking for a drill where you can work with your 1-inch bits, then this is not your deal. Because the gap between the chuck and the magnetic base will fit bits only up to 7/16'' in size. However, this powerhouse is available at an affordable price and is highly recommended by its users.
Things We Liked
High speed;
Lightweight;
Affordable.
Things We Didn't Like
Buzzy motor;
Can't use bits larger than 7/16″. 
---
5. Magnetic Drilling with Best Coolant System (EVOMAG28) from Evolution Power Tools
Motor: N/A;
Chuck: ½'' inch chuck and key;
Weight: 38 pounds,
Speed: 570 rpm ;
Magnetic force: N/A;
In the package: Free Chuck, Adapter, cutter set, Safety Chain, Case, etc.
EVOLUTION TOOLS is a renowned name in the field of power tools for their industrial-grade inventions and making those available is a budget price. This EVOMAG drill press is no different. They recommend this machine to use in building metal frames for bridges and buildings for durable and accurate results. 
This drill press comes with a single speed, but the rotation is quite high for use on tough metal. It would be thoughtful if there were torque settings as well to pierce hard metals with low rotation and high torque, for a better application.
The coolant system is integrated into this machine. It is good that you won't have to deal with it. The price point is fair and this machine is backed by a long warranty for hassle-free usage for years to come.
Things We Liked
Suitable for light to heavy applications;
Integrated coolant system;
Durable construction.
Things We Didn't Like
---
6. Portable Magnetic Drill Press from Champion Cutting Tool
Motor: 8 amp, 1200 watt;
Shank: 3/4-inches Weldon shank;
Weight: 23 pounds,
Speed: 600 rpm ;
Magnetic force: 2200 lbs;
In the package: hex keys, safety chain, external coolant bottle, safety guard, quick change arbor, and more.
Investing in a pack with accessories is wise for beginners. This helps to save hundreds of bucks to collect those accessories that they are supposed to use frequently. This package from CHAMPION CUTTING TOOL is pretty extreme for a beginner due to its insane power, but the uncompromised quality of additional accessories makes it a potential investment for a newbie and professional as well. 
The Carbide Tipped Annular Cutters are great at creating flawless cuts whereas Carbide Tipped Stack Cutters work wonderfully to punch several metal plates at once. The included lubricant lengthens the life of the machine itself and the given accessories.
The added items increased the price of this unit, but the beastie performance this drill press delivers is worth every penny.
Things We Liked
Comes with impressive accessories;
Smooth operation;
Responsive customer service.
Things We Didn't Like
---
7. Magnetic Drill Press for Money (MD45) from Steel Dragon Tools Steel Dragon Tools
Motor: 1200 W, 110 V, 50/60 Hz;
Shank: 3/4-inches Weldon shank;
Weight: 47 pounds;
Speed : 0-500 rpm;
Magnetic force: 2700 lbs;
In the package:  Adapter.
When other magnetic drill presses cut through 2'' metal plates, this monster from STEEL DRAGON TOOLS pierces metal plates up to 7'', which is impressive for demanding applications. Its speed is medium compared to other heavy-duty drill presses of this list but comes with variable speed settings for better control over its performance.
Adjustable base and high magnetic force help to keep the drill press during applications, leaving precise holes and cuts every time.  An adapter is included in this package to easily change between the MT2 spindle taper and 3/4-inch Weldon Shank.
Despite the heavy-duty performance and super advanced features, this magnetic drill press fits tight budgets. The brand is not very popular, hence, this unit is not widely used. However, to obtain a heavy-duty drill press in an economic range, this one is a smart choice.
Things We Liked
Variable speed settings;
High cutting depth;
Budget-friendly;
Delivers precise performance.
Things We Didn't Like
---
8. ​Low Profile Magnetic Base Drilling Unit from Jancy
Motor: 750 watts;
Shank: 3/4-inches Weldon shank;
Weight: 22 pounds,
Speed: 680 rpm ;
Magnetic holding force: 1800 lbs;
In the package: case, coolant tank, chip hook,  centering pins, 5-millimeter hexagon wrench, and more.
This unit from JANCY surprisingly fits in small spaces with its 9 inches height. It is also compact enough to conveniently do its job without any interruption from loose pieces like cables. Its cooling system is also identical compared to other mag drill presses from this list. It passes through the spindle of this press and comes with a multi-position coolant pot. 
Easy adjustment of guide, feed handles and bits is another feature of this press that I like. You will spend less time adjusting and more time drilling when this drill press is on the job. This drill press is a bit pricey. Depending on your application requirements, if you really need something to fit in hard-to-reach places yet deliver pro-quality performance, then you won't hesitate to pay the price.
Things We Liked
Portable;
Good for tight spaces;
Innovative cooling;
High speed.
Things We Didn't Like
---
9. Mophorn 1100W Magnetic Drill Press Tools  
Motor: 1100 W;
Power Source: corded electric;
Maximum Coring Depth: 5" (125 mm);
12,000 N magnetic force;
Weight: 22 pounds,
Speed: 670 rpm;
Maximum Coring Diameter: 1.57" (40 mm);
In the package: magnetic drill press and accessories.
I recommend this magnetic drill for power tool enthusiasts, to work in pocket spaces perfectly. With all features of a conventional heavy-duty drill press, this little devil comes with a built-in LED to light up the workpiece; a feature that is super handy but absent in most of the renowned magnetic drill presses. 
Despite its tiny body, this press is equipped with a powerful motor to create high rotation and magnetic force. Its quick-release arbor makes changing cutters faster.
The price is really high for a magnetic drill press, but fitting in a powerful motor in a small machine is not a regular job. So, one must pay for its tiny size and massive performance if one truly needs it.
Things We Liked
3 extended crank handles;
Superior performance;
Premium coring bits and cooling pot;
Suitable for heavy-duty applications.
Things We Didn't Like
---
10. Mophorn 1200W Magnetic Drill Press
Motor: 1200 W;
Material: steel;
Weight: 22 pounds,
Rated Voltage: 110V,50Hz;
Speed: 50 r/min;
Magnetic Adhesion: 13000N (2920LBS).
Mophorn 1200W Magnetic Drill Press to fit in low-profile jobs and an economic budget. It is a cheap drill press but not so cheaply made.
Neither this brand nor this drill press is widely used. Hence, its performance, in the long run, can not be ensured. Besides, its economical price tag makes it even less preferable for industrial applications.
I recommend this tool for DIY hobbyists, beginners, and for homeowners for their occasional projects.
Things We Liked
Low profile drill press;
High-depth drilling capacity;
Powerful motor;
Economics.
Things We Didn't Like
---
Tips to Use a Magnetic Drill press Works
You can follow a few simple tips while using a mag drill press.
Electromagnetic power works well in a ferrous material base.
The steel you're going to use has to be flat & clean, otherwise, the magnet won't hold the surface.
Keep the bottom of the drill free from scraps.
Always wear safety gear while using your drill press.
Try to use a safety chain that will secure your drill press because once the tool starts, it will lose off the metal & drop.
Frequently Asked Questions
How Much Horsepower Does a Drill Press Require?
For leisure activity carpentry, a 1/3 to 1/2 horsepower engine will likely meet the most necessities.
Can You Use Regular Drill Bits During A Drill Press?
If by handheld drill you mean an electrical drill held within the hand, then yes, such drill bits should be ok during a drill press. I even have some antique bits from my great uncle that were used with a kind of handheld drill called a brace.
Can You Drill Out A Simple Out?
Easy outs aren't easy to drill. The metal is so hard that a daily or maybe a cobalt drilling bit cannot touch it.
What Is A Screw With No Head Called?
Set screws
Set screws are most frequently headless (aka blind), meaning that the screw is fully threaded and has no head. A blind set screw, known in the UK as a grub screw, is nearly always driven with an indoor wrenching drive, like a hex Allen key.
Conclusion
This is all you need to know about the magnetic drill press before buying. You'll find so many models available to choose from. In this huge available variety, you'll find many substandard products which may trap you for having less knowledge about the best product.
But if you follow my guideline and find one that suits your requirements you'll never have to regret the quality.
You can also consider the top 10 list I've mentioned above. Each one of them has great features and will give you amazing performance.
You Might Also Like: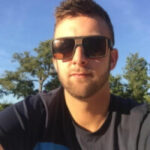 Hello, I am David Rowan. I am a professional contractor with 10 years of experience in home building, different tools used, construction, home remodeling, and other home improvement work. I have already built many custom homes and continued to do several woodworking projects along with how to deal with all categories of tools.