This article includes affiliate links, which means we may earn a commission if you make a purchase following our link. Please refer to our review guidelines.
Cutting metal is a laborious job. It involves choosing the right tool depending on the cuts, applying pressure to cut, and then filing the edges to smooth out the burrs. The problem is, the end result looks quite gross and not presentable for applications like stencil making, crafting, or car repair.
There are also other applications where metal cutting is necessary. For around the house jobs like roofing, metal cutting becomes compulsory, but every homeowner is not interested in investing in a nibbler machine for the high price.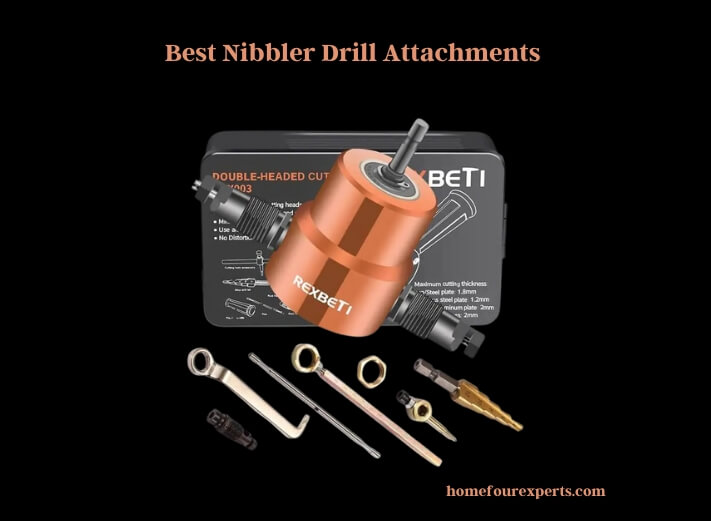 A nibbler drill attachment costs almost as much as the manual tools used regularly for cutting metals. Besides, it is easy to use with any general utility drills and works as good as a professional quality nibbler. So, it became popular among many professionals and general people for its usability. One does not need to be a specialist or mechanic to use a nibbler.
Considering the growing popularity of this tool, we have merged a list of 10 nibbler drill attachments that won't fail to impress with their performance. 
How to Choose a Nibbler Drill Attachment for Successful Sheet Metal Cutting
Some specifications need to be checked before buying a drill attachment type nibbler. As this kind of attachment is used with a drill, it is important to see if the attachment is compatible with the drill we have in hand. Read more: 9 Best DA Sanders for Auto Body Work
Speed of the Drill
No matter which nibbler attachment is chosen, the speed of the drill needs to be 1500 to 300 RPM, no less than that. Some nibbler drill attachments run only at 3000 RPM. In that case, the drill has to be that speed limit to operate the attachment. 
Cutting Radius
This is the feature of the nibbler drill attachment. The cutting radius is determined by the tools that are supplied by the manufacturer with the cutter. In most cases, the radius is a maximum of 11.5 inches. For making larger circles, a separate circular cutting guide may need to be purchased. 
Metal Sheet Type
It is determined by the job for which the metal cutter is being purchased. If the job requires cutting iron or steel, then the thickness of the material should be compatible with the nibbler cutter. On the other hand, for cutting softer materials like aluminum or fiberglass or other metals, it is better to be sure if the nibbler cutter can cut it. Only reaching out to customer service will provide the most reliable information. 
Vibration and Noise
For a flawless cut with zero distortion, the drill and the nibbler cutter both have to be noise-free. The noise comes from vibration, and sometimes, vibration is the main culprit for making shaky cuts. So, the less the vibration and noise the better. 
Ease of Operation
Nibbler drill attachment is bulkier than the actual nibbler machines. So it can seem hectic to hold and move while making complex and delicate cuts on metal for beginners. So, the easier to operate the nibbler for the first time purchasers would be the better choice. See also: The 7 Best Dry Cut Metal Chop Saws
Tips to Successfully Operate Nibbler Drill Attachments 
There are some rules to follow while operating the metal cutter for cutting metal with it. Following are some guidelines that will help a beginner and non-professional to use a nibbler drill attachment with minimum mistakes. 
-most people complain about the slow speed of attachment. But for a flawless cut and better control over the power tools and the cut, it is a must to run the drill slow. It applies while making an intricate cut on metals for making stencils and so on. The slower the cut, the more perfection it will have. 
-always use lubricating oil while cutting metal. It helps to glide the cutting head through the metal and also helps to run it cool. This practice will also help to make the tools last longer. 
-always vacuum the workplace after using a nibbler on metal. It creates sharp splinters that are tiny and dangerous. Vacuuming the place as soon as the work is done will help to make the workplace less injurious. 
View Top 10 Nibbler Drill Attachments Reviews, Below
Among countless options available online and markets, only high quality and affordable nibbler drill attachments are enlisted below. These will save time for fishing through different available attachment options and hit the trigger, you are here for.
1. Dicfeos Double Head Metal Sheet Nibbler with Accessories
Click on the Image to >> See on Amazon
Fits 1500-3000 RPM drilling machines;
It is a 4-12 MM step drill bit; 
The highest cutting diameter is 11-2/5 inch; maximum depth is 2mm thick or 14 gauge.
This pack includes everything one needs to make intricate cuts of virtually any up to 2mm thick metal. A double head sheet metal nibbler, replacement head, replacement blade, circle cutting accessories, wrench, step drill bit, plastic handle are the main components of this pack.
The drill head can be mounted to any cordless or corded drilling machines of 1500 to 3000 speed. The drill has to be of noise and vibration-free for better performance with the nibbler attachment on. Here you can find some that may work for you. 
It is a step drill bit that can be used for making holes of 4mm to 12 mm in diameter. The nibbler attachment makes curves and complex shapes on metal pieces with almost no distortions. Tough jobs like making metal stencils are relatively easy with this. With all this goodness, this attachment is priced reasonably so that DIYers can get a hold of it without spending much. 
Pros
Noise-free;
Suitable for circular and curvature cuts;
Includes all the assortments;
Cheap.
Cons
---
2. REXBETI Sheet Nibbler Drill Attachment
Click on the Image to >> See on Amazon
Double head nibbler for straight and curve cutting;
Suitable to use with 1500-3000 RPM drill.
General people rely on shears and snips to cut metals rather than nibblers. Shears and snips work to cut the metal, but it lacks precision and smoothness. Besides, different tools need to be used on other materials and different cutting needs.
Only a simple attachment like a nibbler drill attachment can solve the problem. It can cut a wide range of metal pieces, including Sheet metal, pipes, powder-coated material, stainless steel, copper, aluminum, Formica, fiberglass, and many more. Besides, one tool is enough to make straight and curved cuts. 
The advantage of using Rexbeti nibbler attachment is, the produced cuts will not need any filing to make it flawless. The edges of the cut are already smooth and clean, without any sharpness or distortion. A regular medium-sized drilling machine is all you need to use this attachment. The price is worth it compared to the cost we spend on shears and snips regularly. 
Pros
Burr-free cuts;
Cuts smooth and flawlessly;
Affordable;
Attached to any standard drill.
Cons
---
3. REXBETI Metal Cutter Drill Attachment with Extra Punch and Die
Click on the Image to >> See on Amazon
Includes cutting accessory, nibbler die, and punch;
For straight and round cuts.
So, the nibbler drill attachment specifications are the same as the previous Rexbeti nibbler we have reviewed earlier. The difference lies in the package. This package includes all the accessories plus a nibbler cutter die, punch, and handy storage and carry case. The cutting capacity differs from different materials. For steel plates, it can be used up to 1.8 mm thickness, and for fiberglass, up to 2mm thickness. 
I would like to notify you that, as the drill bits are round, making a boxy shape with sharp corners is not possible. Instead, it will make a boxy shape with rounded corners. So, to make a sharp corner on a shape, some other tools like hand nibbler may seem handy, 
However, all the straight and curve cuts will be burr-free for the round drill bits, and it eliminates the need to sand or file the edges. For the price, this complete package is a must-have for every DIYer and homeowners to save their hands from the fatigue of using a hand nibbler. 
Pros
Versatile use;
Suitable for homeowners;
Easy to store and carry;
Long-lasting blades.
Cons
Not possible to make square holes. 
---
4. Antrader Budget Friendly Metal Nibbler Drill Attachment
Click on the Image to >> See on Amazon
Package includes a double head nibbler and a wrench;
Suitable for aluminum, brass, and stainless steel.
For rare and occasional uses, there is no point in investing in a high-priced nibbler drill attachment. Especially when cheaper options like this Antrader metal sheet nibbler are available, anyone who has a 3000 RPM speed drill can get this inexpensive attachment to work on thin metals of any type. The cutting capacity is the same as other pricey models but lacks long-lasting performance. 
Besides, this pack does not include an array of tools and accessories like the nibbler drill attachment from popular brands do, but it is a lifesaver for people on a budget. It takes longer to cut on thicker materials and longer cuts, but it is better than using manual cutting tools. For being prepared for emergency usage, even if you don't need a nibbler drill attachment right now, getting a cheap one like this won't hurt. 
Pros
Budget-friendly price;
Suitable for light-duty use;
Easy to operate.
Cons
Only suitable for 3000 RPM drills.  
---
5. Antrader Metal Sheet Nibbler Cutter Drill Attachment for Affordable Nibbling
Click on the Image to >> See on Amazon
The package offers a double head cutter, hex key, metal box, tool rest, cutter holder, plastic handle, and many more;
Suitable to use for car repair and metal sheet workshop.
Don't underestimate this metal cutter nibbler attachment for its price. It comes with handy accessories like a tool rest and cutter holders. When everyone complains about how it is difficult to manage while cutting on thin metal at high speed, I found the tool rest to be a blessing! Simply lie down the drill with the nibbler facing up and move the metal piece as it needs to be cut. Voila! All the cuts are nice and sleek, without any shaky edges. 
But this only applies with smaller sized metal sheets only. For use on the larger sheets, the attachment won't make any trouble as long as the drill machine works fine. The advertisement claims it to be compatible with electric and pneumatic drills. But the reality is, pneumatic drills are stronger and make vibration sometimes. The vibration may hamper the accuracy of the cuts. 
Pros
Suitable to use with an electric and pneumatic drill;
Convenient tool rest included;
Fast and stable cutting performance;
Cheap price.
Cons
Hard to find replacement cutting heads.
---
6. Dicfeos- Versatile Double Head Drill Attachment for Metal Cutting
Click on the Image to >> See on Amazon
Durable HSS cutting blade;
Straight and round cuts on up to 14 gauge steel and other materials.
This nibbler drill attachment is so durable that the user rarely uses the replacement bit. When they use the replacement blade, the money spent on it is already worth it. So, this one is highly recommended for professionals who need metal cutting devices to use on a daily basis. 
This tool is versatile to cut line, curve, and circle on metals and other hard materials of different thicknesses. In workshops where thin metal needs to be cut in different complex and irregular shapes flawlessly like a car repair shop, this tool is a no-fail measure. 
There are replacement cutting heads, step drill bit for starting cutting holes, circular cutting attachments, and a convenient metal storage case are provided in the pack. All these things are made with durable material, and high quality is ensured in the making process. 
Pros
Compact and durable;
Durable and long-lasting cutting head;
Fast cut;
Easy to operate.
Cons
Make cuts are wide about 3/16. 
---
7. Lichamp- Nibbler Cutter Drill Attachment for Home and Car Repair
Click on the Image to >> See on Amazon
0.47 inches cutting radius;
Maximum cutting capacity: 15 gauge steel.
Most of the users of nibbler drill attachments use this for cutting flat metal sheets. But some jobs include cutting metal of corrugated or round shapes as well. While other nibbler drill attachments deliver not such a perfect performance on those materials, this Lichamp has proven to be a champ in this regard. It effortlessly cuts through the round and curved metal sheets as well as flat ones. 
The maximum cutting capacity is compromised a bit. The capacity is limited to 15 ga stainless steel, whereas others can cut 14 ga steel materials. However, for its capacity to cut on curved material, it already wins the game. The price is also within reach of the general users. 
Pros
Userfriendly refund and replacement policy;
Compact;
Light and well balanced;
Cuts corrugated and round materials as well.
Cons
Lower cutting capacity compared to regular nibbler attachments.
---
8. Lnchett Double Headed Metal Sheet Nibbler Cutter
Click on the Image to >> See on Amazon
Speed: 1500-3000 RPM;
Weight: 2.25 pounds;
It has 14 gauge materials.
Those who can't compromise with their tools can look at this nibbler cutter attachment.  All the heads, blades, wrench, hex key, and cutting accessories are made from HSS material for durability and lasting flawless performance. The cutting head is a double cutting head so that it cuts fast, easy, and effortless. 
The other features are just like any other nibbler drill attachment. The drill has to be a regular 1500-3000 RPM speed, and the metal can be as thick as 14 gauge for steel materials. For specifications about other materials, please visit the site to know more. 
The quality and long warranty give assurance about the performance of this tool. For heavy-duty use and long cutting performance, there is hardly any attachment found as durable as the XH nibbler drill attachment. 
Pros
Long warranty offer;
Highly durable attachments and accessories;
Double head design for more efficiency.
Cons
---
9. Vkinman- 360 Degree Rotating Nibbler Drill Attachment for Home Use
Click on the Image to >> See on Amazon
Suitable for renovation, home improvement, and alike use;
Attachment for drills of 1500-3000 rpm speed.
In the construction site for home renovation, construction, or improvement, the workers always prefer versatile tools. A drill nibbler attachment is a handy tool that eliminates the need for dragging along an actual nibbler machine in the job site. Besides, this nibbler drill attachment by Vkinman is a real gem for cutting HVAC vent pipes and other tough materials like butter with a hot knife. 
Along with cutting rigid materials fast and effortlessly, it also saves time for filing the edges of the cuts. That is another feature that construction workers and contractors prefer in their job site. The 360 degrees double cutting head smooths out the edges as it cuts through the material, so it is already smooth and sleek. The price of this simple attachment and its portability, using tough and hard to reach places makes it a favorite among renovators. 
Pros
Meant for home maintenance and renovation use;
Versatile use;
Superior quality and performance.
Cons
---
10. Zreneyfex Double Head Metal Nibbler with Extra Punch and Die
Click on the Image to >> See on Amazon
Speed: 1500 to 3000 RPM;
max Diameter: 11-2/5 inch;
Rotating 360 degrees;
Perfect for HVAC vent pipes.
This metal cutter is meant for especially automotive use. To cut various metal sheets and pipes of aluminum, stainless steel, and other materials that are specially used in automobiles, there are no other competitors then this metal nibbler from Zreneyfex. This one is specialized in cutting flat, curved, and round metal sheets even in hard-to-reach areas accurately. 
In the car repair shops and garages, metal roof cutting and fixing vent pipes are regular jobs. This simple drill attachment is a low-cost alternative to using a nibbler and delivers flawless results compared to manual metal cutters. The best part is, this nibbler drill attachment files the edges as it cuts so that it leaves smooth and rounded edges. This drill attachment lasts for countless projects yet costs very little. 
Pros
Meant for automotive use;
Fast and safe cuts on the automotive body;
Precise, accurate, and burr-free performance;
Multifunctional.
Cons
---
Final Verdict
Nibbler drill attachment makes life easy by doing a tough job like cutting metal a breeze. No matter how easy the job looks, it is hazardous, and anything can go wrong without any notice. So, always use protective gloves and eye shields while operating a nibbler, or a nibbler drill attachment.
Making a perfect cut on metal does not only depend on the nibbler attachment. It takes patience and practice to look professional. So, don't judge a nibbler drill attachment by its first performance. Maybe over time, with a lot of practice and time spent on cutting materials, the cutting will be as expected. 
You might also like: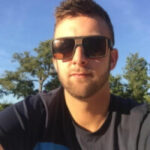 Hello, I am David Rowan. I am a professional contractor with 10 years of experience in home building, different tools used, construction, home remodeling, and other home improvement work. I have already built many custom homes and continued to do several woodworking projects along with how to deal with all categories of tools.