If you haven't purchased floor fans for a long time, then be prepared to get amazed. A revolution has been passed in the era of floor fans. Now they are available in different looks, sizes, features, and usability. I tried my best to pick the most useful ones while maintaining harmony and variety simultaneously.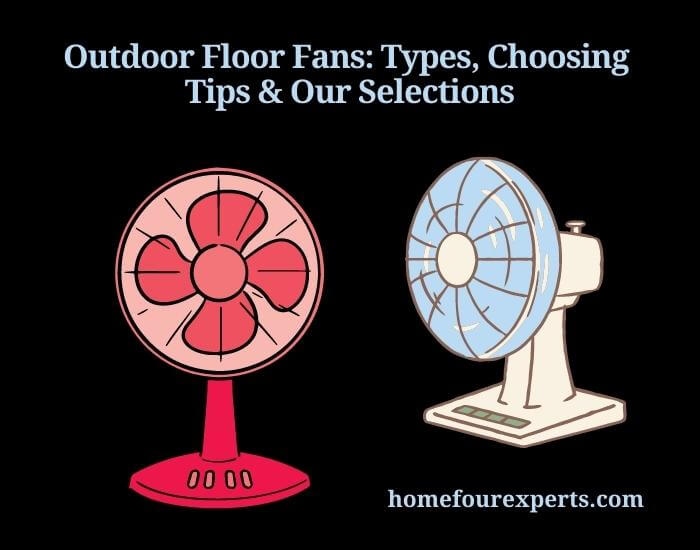 Here, you will find fans that are high-tech to basic, or for singular use or a party. We all need floor fans for different reasons. It is expected that you will be able to choose one that meets your needs. 
Types of Floor Fans
Based on the size, power type, features, and functionality floor fans can be broadly categorized as follows. 
Portable
These are the lightest and smallest floor fans with rechargeable batteries. Most of these fans can be operated using an AC adapter also. These are great for off-grid usages like emergencies and picnics. These are pre-assembled. 
Pedestal
Pedestal or stand fans are bigger and bulkier and have a stand and a sturdy base. The operation is basic and these are best for indoor and outdoor use. For the bulky size, these fans arrive scrambled. You have to assemble it before use. 
Misting
Pedestal or floor fans with spray functionality are great for outdoor use during parties in the summer. A Garden hose and/or a built-in water tank is the water source of misting fans. 
Wall Mount
These only fan heads without any stand or base. These are pre-assembled and simple to operate. As all mount fans are hung from a wall, tilting or oscillating functions are somewhat compromised in it. 
Which One to Choose?
Utility tools are best to choose considering usage. Determine your needs for a floor fan and where you want to use it. This makes choosing floor fans more confident. 
Home Use
For home use, pedestal or stand floor fans are the best. Choose the misting fan if you are planning to use it for outdoor parties. Because these fans are made waterproof, others are not. Besides, to use a misting fan you either have to have a water source outdoors if the fan uses a garden hose to spray water. Otherwise, look for the misting fans that have a water bucket.  
The fan head size should be perfect to cover your room. Weight and noise level are the other factors to be considered before buying for home.  
Industrial Use
For industrial use, the bigger is the better. The oscillating fan will be good to cover a large area at a time. Wall mount fans are also useful to use in a small space. 
For Workshop
It depends on how big or small, how professional or beginner the workshop is. A large workshop may require a large fan but the blow from the fan can be disturbing for woodworking workshops. Contrary, garage and similar workshops require high wind flow for better ventilation. So, you are the master here to decide which fan you and the workshop need. 
Campaign or Fishing
Rechargeable fans are the only options here. The better the battery the better. Smaller portable fans are good to carry, place and store anywhere.
Quick Solutions
How am I Able to Make My Fan Quieter?
Effective Methods to form Your Room Fan Quieter
Place your fan on a flat surface.
Put a Soft and Heavy Soundproofing Material Under the Fan.
Clean your fan more often.
Fix loose screws and knobs on your fan.
Properly Position the Fan Blades.
Oil the Motor.
Change the cushioning.
Keep the Fan cage fitness.
Are Bladeless Fans Worth It?
If you're getting to spend money on any space-cooling device, then a bladeless fan is often one of the simplest investments. it'll cost quite a standard fan, but at the end of the day, it'll be well worth the extra cash due to the security and performance features you'll get out of it.
View Our Top 10 Outdoor Floor Fans-
1. Geek Aire- Battery Operated Floor Fan for Camping travel
1500 CFM;
120-degree tilting head;
Rechargeable. 
For me, floor fans always turn a house into a home. What about the outdoors? What if I can give you a floor fan that can make staying outdoors a breeze even in the craziest summer heat? Yes, this portable floor fan is just the right kind to make a picnic, campaign, fishing, and any other outdoor activities three times more enjoyable by reducing the temperature. 
There is no hassle to plug in this floor fan. It runs on a high-capacity Li-ion battery that serves up to 24 hours upon a charge of 3 to 4 hours. Can a floor fan be better than this? I don't think so. There are other features that will make your jaw drop. There is a USB port to power up electronic devices. Meaning charging phones and cameras are now checked by this very floor fan!
You might be thinking about how a tiny floor fan serves a large group, right? Thanks to its 120 degrees tilting head. The head size may be small, but when it is tilted upward, it circulates air for a bigger area. You can even use it at home without the charging function. Just use an AC adapter and the fan will run and charge at the same time. 
Pros
Quiet;
Portable;
Long-running time;
Water-resistant.
Cons
---
2. Lasko QuickMount Floor & Wall Fan
3670 CFM; 
20-inch pivoting head;
14 pounds. 
With 3670 CFM, you get the idea of how powerful this fan can be. It is lightweight, so you can carry it from outdoors to indoors easily. The most unique thing about this fan is not its speed though. The sturdy base and wall mount design both are impressive. The fan will not fall off when placed on the floor. It won't wobble either due to vibration when mounted on the wall. This is what makes a fan last long. 
This fan has an all-metal construction. It creates a noise that is noticeable in a high-speed setting. So, it is less desirable in confined small spaces in particular. You can let your kids play with their pets under the breeze of this fan. Mount this fan on the wall of your patio wall and you never have to worry about kids or pets getting injured by the blade. However, some users have claimed that they never were bothered by the buzz. One thing is for sure, it is a deal-breaker to use in the gym, garage, workshop, factory or any large space.
Pros
Easy assembly;
Easy to carry;
Quick wall mount design.
Cons
---
3. Ryobi P3320 Battery Powered Floor Fans for Outdoor Use
Model: P3320;
Rechargeable; 
2 pounds. 
If I peek in your toolbox, I am sure I will find one or two power tools from the Ryobi one plus series. Cause, who does not own them? The Li-ion battery and charger of those series are versatile to all power tools from that series. So, this fan is a reasonable option as a rechargeable floor fan for people who already own a battery and charger from Ryobi one+ series. Please note, if you don't have those, you will need to purchase those separately with this fan. You can also use it using an AC adapter.  
I would say if you already have a floor fan of a non-rechargeable kind, you still need a rechargeable fan while working backyard mending things. On the other hand, it is also convenient in times of emergencies. Power outages, hurricanes, and other disasters hit us without any notice. So, this fan can be a great way to stay prepared ahead of time. 
Pros
Long-running time;
Easy to store;
Suitable for emergencies and off-grid.
Cons
Battery and charger not included.
---
4. Stanley High-Velocity Direct Drive Floor Fan
If durability is what you are looking for, you must invest in this all-metal construction fan. The weight is kept surprisingly low even if it has a metal construction. Keep in mind that the weight will vary due to the size. There is a handle at the back that makes moving it around a lot easier. So, no matter how bulky the head is, you will always be able to carry it. 
The price of this fan surprised me at first. It costs almost any other floor fans you will find in the local stores but the quality is far better. I haven't encountered anyone who had a negative experience with this fan. No matter how good the product is, there is always some risk of getting a faulty item delivered. It is backed by a warranty. So, if I don't have any misfortune regarding this fan till that duration. 
Pros
Inexpensive;
Durable;
Low noise;
Powerful air circulation.
Cons
---
5. Ironton High-Velocity 4,590 CFM Floor Fan
In this budget, you will hardly find any floor fan as powerful as this model. Just like any other floor fan, this one also has three-speed settings. The difference is, it has a mighty speed even in the lowest setting. In the highest setting, it makes a noise which is obvious for 4590 CFM.
Generally, this fan runs just fine without rattling. It lasts as well. But for the price, the quality is compromised to a little extent. So, you have to do it for yourself after the fan arrives. While running, look carefully if the fan wobbles. If it does, then check for disproportion in the blades and placement of all the nuts and screws. For any faulty placement of any screw, you can fix it yourself and can ensure that this fan lasts for years to come. 
Please note, it is powerful and loud at the highest speed. It didn't bother me much as I placed this fan far away from me for better coverage. Noise usually never feels bothersome when the fan is placed outdoors. So, if you have any issues with noise then think twice before purchasing it.
Pros
Very strong flow;
Cheap price;
High performance.
Cons
Noisey in the highest setting.  
---
6. Master PROFESSIONAL MAC-12-Inch Floor Fan
A General 12 inches fan covers a small area and the airflow is also less than the bigger ones. This fan is exceptional among those fans as it flows cool air. Other than that, its coverage and airflow are suitable for its size.
Mostly, it is made of metal. Some minor parts are made of plastic. Overall, with its 9 pounds weight, this fan is super portable. Even senior citizens won't have trouble lifting it up and moving while holding this. 
The fan is just what it was advertised to be. Floor fans are used in versatile issues from drying up walls or floors to cooling down the pets. This model is perfect for getting a breeze inside the home on hot days. For other uses, the bigger one is better.
Pros
Passes cool air;
Solid and sturdy;
Easy to operate.
Cons
---
7. HUNTER Adjustable Retro Pedestal Stand Floor Fan
All metal construction;
Onyx Copper designer finish;
3-Speed hunter motor;
80 degrees of smooth oscillation;
Adjustable tilt with adjustable height: 37-52.
I hardly know any person who has never heard of 'HUNTER fans. They have been the best ceiling fans for several decades. In terms of floor fans, the quality of their product is as good as their ceiling fans. From numerous models, I have chosen 90439z models for their retro look. It stands out because of its style. Other than that, its features are common as a stand fan. 
So far, the floor fans I have reviewed are mostly pivoting heads. This fan has a wide 80-degree oscillation function to cover a great area. Its height is also adjustable, making it more versatile to use. You can change the height while sitting in the living room or having a backyard BBQ party with friends. 
For its large 16 inches head, and durable body, this fan is quite heavy. It may feel exhausting to move it around, but this is what makes a floor fan stable. Don't forget to consider that, it also makes loud gushing noises.
Pros
Easy to use speed selector and wide oscillation;
Telescopic height coordinator;
Retro style;
Durable.
Cons
Rear-positioned speed control.
---
Read more: Pack the best lighting sources you'll want for your camp stay.
8. STANLEY Blower Fan with Built-in Outlets by Lasko
2 USB outlets;
305 CFM;
7.6 pounds.
I can't explain how handy a blower fan can be in the workshop and garage. Just think about using this same fan to blow out dust and dampness from any surface and use it to cool yourself down the next moment. It is so light and tiny that it can be stored even under a stool. 
By the look of it, anyone can tell how well-built this plastic blower is. The pivoting head can be moved from the downcast position to the all-the-way back. The fan head covers approximately 210 degrees from front to back. I would say, it is quite impressive for any fan or blower. 
To make it more useful, two industrial USB ports are placed on the side of this fan. Plugin your phone or power tool and stop worrying about both altogether. The only drawback of this fan is, for being small, it can not cover a large area at once. The wind flow is quite impressive for its size. 
Pros
Doubles as a blower and a fan;
Wide angle pivoting head;
Easy to store.
Cons
---
9. MYCARBON Indoor-Outdoor Stand Floor Fan
Save over 80% of electricity bill;
Maxi wind speed: 5.80 m/s;
9-speed setting and timer;
Weight: 9.93 pounds;
maxi wind distance: 8 meters.
From the tilting angle of the head to the oscillating angle or the speed with a timer all can be adjusted with this model. Gone are the days when you had to get up from a sweet nap or comfort zone to change the speed of the fan now or then. 
The included remote control lets you change the position of the fan head along with its speed even when you are asleep.
This fan is the best option to be used in a bedroom or living room. The timer is an awesome function to save you from catching a cold due to high speed. Cause, when we sleep our body temperature falls and we no longer need the speed at which the fan was running before. 
So, set the timer before bed and the fan will automatically reduce its speed till when you are in deep sleep. As it is a lightweight and all-plastic fan, it may not be suitable to use outdoors for long.
Pros
Long-distance remote control;
Auto oscillation;
No light, no sound.
Cons
Remote may not be useful. 
---
10. NewAir AF-600 Misting Outdoor Cooling Floor Fan
600 sq. ft. coverage;
With 3 fan speeds;
Wide-angle oscillation.
Complete your deck arrangement with the Newair AF-600 18-inch Outdoor floor fan. It is a great cooling fan to use on the patio, pool, and backyard for parties, brunch, or any other outdoor activities. Don't let the sunny days of summer get ruined by the heat. 
Use a misting fan when you are outdoors. This fan can be used indoors also. Just remove the misting feature and it is ready to serve you as any other pedestal fan. 
To make the fan safe using water, a GFCI circuit is used. The nozzles spray water droplets which are a little bit big. Some like it as it is. But for finer mist, you can simply replace the nozzles with smaller ones and you are good to go.
Pros
Waterproof and safe;
Cool air;
Durable metal construction.
Cons
Nozzles may need to be replaced for a finer mist.
---
Conclusion
Floor fans are used for one reason only, and that is comfort. The comfort you are enjoying by using a fan totally depends on how good the purchase was and how well it suits your lifestyle. We have tried to pick the best quality floor fan of each kind, different sizes, and budgets. Hopefully, it helps to pick one or two for the comfort of yourself and your loved ones.
Related Posts: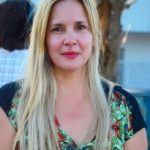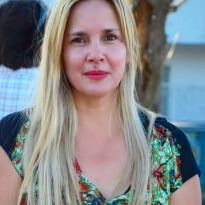 Guys, I am Camila Avery and I love to help my mom to do indoor & outdoor activities. As a lady, I have passed my time on gardening, home improvement, and personal or self-care. I have acquired some degrees in outdoor recreation, beauty, and hair care. It is not easy to work with top-level professional beauty experts. But, I got that opportunity and experimented with different hair extensions, hair colors, and cuts.