It's not a deniable fact that sanding is a complex, time-consuming, and labor-intensive job. Sanding on the one hand deals with the precision to achieve a smooth finish on the workpiece, but it also triggers the associated risks of workplace injuries and hazards on the other.
Amateurs or DIYers often get confused with the hundreds of terminologies used to refer to woodworking tasks, including sanding. Simultaneously, there are a variety of sanders, sandpapers and accessories available in the market to address the associated needs and render a professional-grade performance.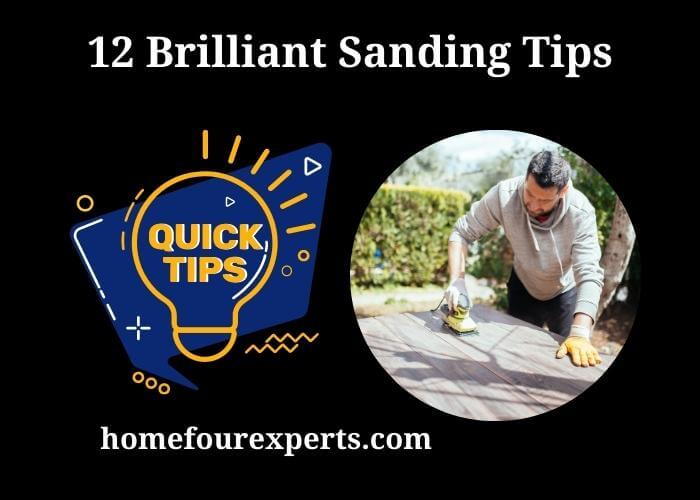 Professionals also trigger numbers of cautions related to sanding to ensure the efficient accomplishment of the projects. However, despite having available tools, accessories, and expertise, there are so many mistakes still made due to the use of wrong tools, applying wrong sanding techniques, lack of required skills, etc. These are the key factors enough to ruin your sanding project, trigger serious injuries, and end up a complete waste of money and time. 
Considering above all key issues, I have designed this article outlining 12 brilliant sanding tips that you need to know to overcome such risks and failures of projects.   
1. Appropriate Sanding Grit Preference
Sanding creates a smooth surface by removing uneven surfaces through scraping away excess materials. It's always recommended to start sanding with 80-grit sandpaper for unplanned or rough lumber. 100-grit sandpaper works great for smooth wood having no deep scratches, marks, or other surface flaws.
Then you can prefer the finer grit. If 80-grit is used initially, then it's better to switch over to 120-grit, or in the case of 100-grit, then the next sanding would be preferable with150-grit. And for final finishing, 220-grit would be a perfect choice. 
Read more: How to Select a Perfect Sander for Deck Refinishing
You may need to apply higher grit like 320 or 400 depending on the compact wood grain pattern to remove detectable marks. The recommended grit progression for 2 series would be like 80/120/220 and 100/150/220.  
2. Sanding Block, a Brilliant Option for Flat Surfaces
Sanding block gives a brilliant sanding result with much less effort than a folded piece of sandpaper. It helps dispense an even pressure on the surface while sanding and maintain an adulate surface. Rubber sanding blocks are available in the hardware stores.
The design of the block allows fitting in hand grip while the clamp allows installing a quarter sheet of sandpaper. It's preferred to have more frequent changes of sandpaper while using a sanding block.  It's recommended to cut a bunch of paper sheets according to the size of each of the grit you would be using. An exact-size sheet would help you draw the sheet instantly while you need to replace your sandpaper. 
3. Coarser Grit, a Time-Saving Solution
Coarse grit is one of the brilliant sanding solutions when a huge amount of abrasive materials need to be removed. One of the thumb rules is to go directly with coarser grits instead of 80-100 grit sandpaper to finish sanding works faster, saving 80% time. Then the remaining marks could be removed with 80-100 grits as appropriate.  
4. Contour Sanding Grips Protects Fingers
You can have a good grip with contour sanding grips while going to sand molding profiles. Contour sanding grips make it convenient to sand molding profiles with sufficient grips producing a consistent shape while sanding.  Just get a set of rubber sanding pads that fits into the profile to be sanded and wrap the sandpaper around it to achieve an excellent sanding result. Besides, mini rolls of adhesive-backed sandpaper available in woodworking supply stores also work absolutely brilliantly. 
5. Clog-Resistant Sandpaper, a Smart Solution for Sanding Painted Surface
As we know, paint or gummy wood like pine blocks most types of sandpapers interrupting flawless sanding. In such a situation, one of the brilliant solutions is to use clog-resistant sandpaper to sand painted surfaces. Clog-resistant sandpaper is encrusted with foamy film, called stearate.
It works like a shack while sanding takes place extracting the paints or gum and allowing the grit to be adequately exposed for further efficient sanding. Brown aluminum oxide and yellow garnet are common types of sandpapers that work excellent for clogging as they are not coated. It lasts three to four times longer and gets you rid of the hassles of frequent changes of sandpaper. 
6. Customize Sanding Block for Quicker Complex Sanding
To customize your sanding block, one of the brilliant solutions is to make sanding blocks with scraps of stiff foam insulation, called extruded polystyrene, which is able to change its own shape as required for efficient sanding. Your customized sanding block would fit into your molding profile.
You would need to make only three blocks to be used for sequential sanding to complete your sanding task. However, first get them appropriately glued with three progressive finer grit papers to start your sanding with. If you don't find extruded polystyrene, you may alternatively find scraps at the nearest building site or a damaged sheet at a lumberyard, which also would work as good as polystyrene. 
However, you need to begin with spraying the molding and the backside of a120-grit sandpaper with spray adhesive. Twig it to the molding by pressing it into breaks with a putty knife. 
7. Sponge-baked Sandpapers or Deck of Cards Sand Excellently in Tighter Space
Sponge-backed sandpaper works great while needing to sand round-shape or uneven workpiece. In failure, you can also alternatively also go for a deck of cards to sand contoured edges. Take cards and get them wrapped around with the sandpaper. This unique technique would allow the deck of cards to conform to the contour and access to tighter or unapproachable spaces while sanding.  
Read more: A Guide to Finding Accurate Handheld Belt Sander
8. Soft Pads Increase Random-Orbit Sanders' Flexibility
It's good to know that random-orbital sander combines a soft replacement pad, which yields much better quality sanding results than that of the firm pad. Soft pad is enormously feasible to sand contoured areas. Its flexibility feature offers enough leverage to conform to a soft curve, which a firm or hard pad can't do. Besides, hard pads are much more likely to ruin the workpiece unless the proper tools and procedures are applied. Another advantage of the soft pad is its ability to regulate or enhance orbital sander's flexibility as required. 
9. Rubbing Safety Glass with Fabric Softer Sheet
It's one of the brilliant tips to scour your plastic safety glasses and face shields with a used fabric softener sheet already gone through a drying cycle that would allow you to see-sawing and sanding tasks clearly. This technique helps the wood dust to be a lot less clingy.
10. Pencil Lines Guides Towards Perfect Sanding
Sanding through veneer is triggered as one of the worst techniques triggered by the professionals. Instead, you can draw an outline with the pencil to measure the sanding progress systematically. It's suggested to draw outlines on plywood where it connects a solid hardwood edge.  This line vanishes when the hardwood edge turns as flat as the plywood giving the signal or indication to stop sanding. 
See also: How to Choose the Best Drum Sander for Your Project
11. Never Over Sand
It's universally recognized to use fine-grit sandpaper and rub a pencil firmly along the joint glued portion prior to sanding. This technique helps monitor the performance of the sanding task as to where and how fast the sanding is taking place. It's recommended to slow your sanding and leave a hawkeys on the disappearing graphite while pressing the sander more to the banding side. This technique helps you save your 4×8 sheet of costly plywood or time employed for fitting and gluing of bandings burdened with irreparable mistakes. 
12. Dust Collection Enhances Sanding Performance
Dust management is an extremely vital task for effective sanding. Sawdust and grit particles could be promptly removed with a shop vacuum hooked up to a sander. This dust collection vacuum keeps constant contact between the sandpaper and the wood, allowing your sander to perform at the highest efficiency.   
What Type of Sandpaper is Best for Different Types of Materials
The type of sandpaper best suited for a particular material depends on the type of material and the desired finish. For example, coarse-grit sandpaper, such as 60- or 80-grit, is best for removing material quickly and shaping wood, while finer-grit sandpaper, such as 220-grit, is best for sanding between coats of paint and providing a smooth finish. For metal, ceramic, and plastic materials, medium-grit sandpaper, such as 120-grit or 150-grit, is best for achieving a smooth finish. For extra-fine sanding, ultra-fine sandpapers, such as 400-grit or higher, can be used.
Final Notes
I hope the compilation of 12 sanding tips and associated safety issues would give a primary understanding to achieve an expected sanding result. Always keep in mind the right tools and correct techniques would ensure the optimum result of your project and make you room for progressive improvement. As we know, learning by doing is the best policy to be proficient in any kind of work. 
You are advised to strictly maintain all safety protocols and train yourself on every aspect of the equipment, recommended practices to avoid unanticipated accidents and workplace hazards. 
Knowledge management is extremely vital to stay updated about current information and technology in the related field. Always try to get associated with the associations and professionals in the relevant field for your progressive development. 
I would love to hear from you about your feedback and comments, as usual. Also, it would be helpful for us if you kindly share this article with people around so that we are able to share our expertise to serve more people at the soonest possible time. 
You might also like: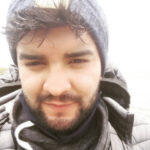 Hi, I am Eric Devin and I am a professional interior architect. Since childhood, I've always enjoyed DIY projects! And, I have loved to solve simple household problems using essential tools and equipment. I have also acquired a lot of information about basic household tools settings by working with contractors.