Day to day our lifestyle changes. Now we live in a modern society with modern accessories.  Now we try to make a comfortable life through different products and gadgets. To make life easier we use different tools for our homes and workplace. Sometimes new users or businessmen are confused when deciding what should be buying or renting tools. It is a common problem for new people. 
So I decided to describe this issue. In this article, I am trying to give you some pros and cons of buying vs renting tools. So that you can choose the best option for your work.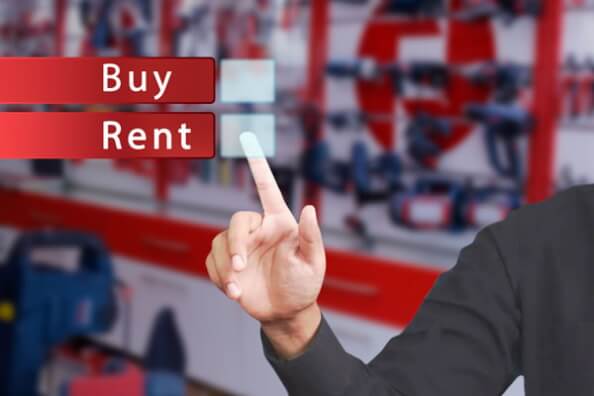 Necessary Tools at Home and Workplace 
Various brand tools are available in the market. We use tools for our business and sometimes in our house. The main purpose of tools is to make work easier and to innovate new devices for our life. Here are some affordable regular use tools:- Hammer, Screwdriver, regular use drill machine, Mouse Sander, knife, Multi-Bit Screwdriver, Hand Sander, Sandpaper, Hex Key Set, Wrench, Pipe Wrench, Cutting Pliers, Pliers, Tape Measure, Scale, Palm Sander, etc.
Some tools are different and heavy because they are used for heavy-duty work. Here is a small list of expensive tools:- Plate Compactor, Jack Hammer, Table Saw, Circular Saw, Hammer Drill, Job Site Table, Jig Saw, Lawn Mower, etc.
Pros and Cons of Buying Vs. Renting Tools
What is the best option to buy tools or rent? It is a critical question, especially for the new investor. Whether you buy tools for work or not depends entirely on the situation. There are advantages and disadvantages to renting or buying tools. I will now present to you both the advantages and disadvantages, which should be the best for you.
Buying Tools
There are advantages and disadvantages to buying tools for work needs. Considering these pros and cons, you need to decide whether or not to buy the tools you need.  The following issues are discussed according to the pros and cons. Because in a long-term project, when you rent the equipment over and over again, it will cost more than buying.
Pros of Buying Tools
In this section of the article, we talk about the pros of buying tools. Here are the pros of buying tools. In this section, you will know some advantages of buying tools. 
One Time Investment
Buying tools or equipment for your own need is a one-time investment. If you are working on a long-term work project it is better to buy tools. This is because the long-term project is that if you rent the equipment over and over again, the cost of rent will be more than buying the product.
Buying the necessary tools for the project is a big expense but it is a long-term investment that will pay off in the future. Buying the necessary tools for the project is a big expense but it is a long-term investment that will pay off in the future.
Ownership
The biggest advantage of buying equipment is that you own it. Because you own your faults, you can use them any way you want. If you face any financial problems in the future, but you can try to solve the financial problems by selling these posts because it is an asset of yours.
Save Your Time
Renting tools is a time-consuming process. Sometimes it delays your project deadline. But when you are the owner of your tools you can access them when you want so it saves your time and makes your project faster.
Rent Your Tools 
You can earn extra money by renting tools. Once the project is done, You can rent the tolls without leaving them unattended. With your unused tools, you can start tools rental business, which is really nice.
Cons of Buying tools
Now I am going to discuss the cons or disadvantages of buying tools. Look at the bellow part of this section and take your valuable decisions.
Maintenance
The task of maintaining tools is very difficult. If you have a lot of expensive posts, you have to spend a good amount of money to maintain them. You even need to give extra space to keep the tools you buy. I know many investors who don't buy tools because they don't have enough space to store them. You can not leave your tools outside so before buying tools manage enough space to store them. 
Old Tools Old Technologies
It is true that when you buy equipment that costs more money, it becomes an asset for the future. It is true that technology changes over time as your tools get older. That's how you get stuck in the old technology through old tools.  
Unseen Future
None of us can say what the future holds and what could happen. Sometimes we spent lots of money on your future project. When we buy tools for a new project it can be a big mistake for us. Because anything can change in the future we take the risk to invest money in the tools.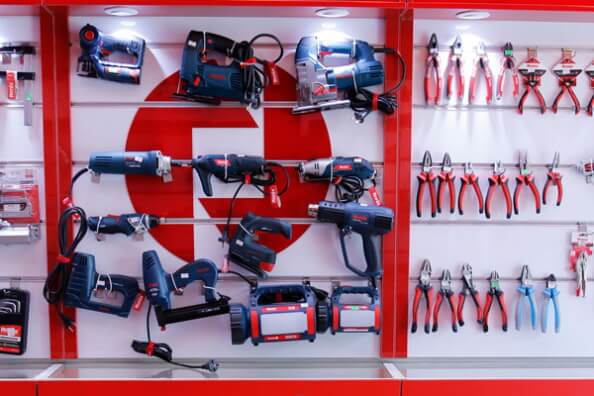 Renting Tools
Some users want to rent tools for their use. Do you want to rent tools? Ok in this part we discuss the pros and cons of renting tools. Hope you will find the right way. 
Pros of Renting
Renting tools have some advantage. When you know the pros od advantage it is easy to you to decide the best one. 
A.No-Risk
Since you are starting a new project, you should not spend a lot of money buying tools for your project. That's why you should hire tools and it doesn't cost much if you lose the project. So it is better to rent tools because it is safe, you need not take a risk. 
Small Investment
If you are a new investor and you don't have enough money then resting tools are the best options for you. This is because you can rent tools for your project by spending a small amount of money.
Zero Miantainest
When you rent tools you need not maintain them.  Tools maintenance takes extra money even sometimes you have to hire people to do maintenance work. Even you need not take extra space to store rental tools because you can store them in the owner's place. 
Cons of Renting Tools
Everything has its ups and downs so you have to choose which way to go and what to do. Here are the cons of renting tools. 
Over Cost
A low-budget investment like ranting tools because it is safe for their budget. But sometimes ranting costs come with a big figure amount of money. When you work with a long-term project you should avoid ranting tools. Because sometimes ranting tools fees more than buying tools.
No Asset No Earning
Through the necessary tools or equipment, you can earn money. It works like an asset. Most of the time it is seen that when the equipment owners do not have work on any project, they rent their equipment to other people. If you rent tools then you can not earn this way. 
Is Renting a Waste of Money?
There are many people who want to start a new business. They want to know different things about business. There are money new investors who want to know is renting a waste of money? The answer is No, renting is no wasting of your money. Rather it is a good way to save money. Ranting is the easiest way to start a new business without taking a risk. 
For those who want to start a new business or buy the necessary tools for the house, the first thing they should do is rent the tools. So that they can learn how to use the tools or equipment and make the right decision by understanding whether it is possible for them to maintain it.
Is It Better to Rent or Buy in the Recent Year? 
We all know that in 2020 we all face pandemic situations. Coronavirus changes our life. Many of us lose their life. Many lost their job and plan to start a new business. Last year we got new investors in the world. If you are a new investor or want to buy new tools and for your regular use and can not decide what should you do rent or buy then you are in the right place. 
If you have enough money to start a new business but can not afford new tools then it is better to rent. Or you do not want to take risks then rest tools. Frist think amount your capacity then invent to buy or rent tolls.
Conclusions 
One door closes then the new door is open for you. Different tools are used to create new things. Sometimes we use tools at the house for our regular use. When you choose between buy or rent always remember about your capacity of earning.
Before investing in rent or buy, make a future plan for your work. If you think you can afford to buy a new product and it is profitable for you, then it would be better for you to buy a new product. 
If you have no idea about the tools you need then it would be better to go to an expert. Understand your position and consider the opinions of experts then decide what you will do. Don't rush into making a wrong decision. The best way is to spend more time thinking about which one is best for you then take the final choice. 
Read more: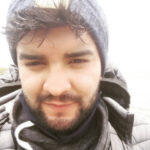 Hi, I am Eric Devin and I am a professional interior architect. Since childhood, I've always enjoyed DIY projects! And, I have loved to solve simple household problems using essential tools and equipment. I have also acquired a lot of information about basic household tools settings by working with contractors.