If you're someone who works with glasses, you already know that, while cutting glasses, making a clean cut is very important, right?
But, sometimes, we don't have the right tool at our hand at the right time. Likewise, sometimes we don't have a glass cutter at our hand to make a clean cut on glass. Thus, we look for ways to cut glass with the tools we have at our house.
For instance, many people ask, Can you cut class with a hacksaw? Or, how do you cut glass without a glass cutter?. Well, the short answer is Yes. But it's not the best idea to cut glass without a glass cutter (if you want to make a neat cut). It is a hand power-tool and is used as a plastic, metal and wood cutter.
But, if you want to know anyway, we can let you in on some exotic techniques of cutting glass without a glass cutter. So, bear with us to the end.
How Do You Cut Glass Without a Glass Cutter?
First off, let us tell you that the best way to cut glass is to use a glass cutter. However, you can indeed cut glass without a glass cutter too. How? 
Well, let me explain it to you. Technically speaking, glass is never actually cut. You break the glass into your desired pieces by using your glass cutter. Because glass is a brittle object, you can't even cut it. 
But, what you can do is put a straight line of scratches on the surface of the glass and then snap it apart. Now, you need a glass cutter to make a neat straight-line scratch. But, mind you, you can make a scratch line even without a grass cutter. 
If you have a very sharp and pointy object (like a sharp knife) at your home, you can use it to make a straight line of scratch on your glass surface and cut it apart.
Is It Possible to Cut Glass with a Hacksaw?
No. It's not officially possible. But, if you want to be creative, you can use a hacksaw blade to cut glass. Like we told you above, you can't cut glass. Rather, you can put a deep scratch like a straight line and snap the glass apart into 2 pieces.
In this aspect, you can utilize a hacksaw blade to cut glass into pieces. So, let's see the steps of how it's done:
1. Hacksaw Blade
Using your hand, break a hacksaw blade into 2 pieces. Thus, the blade will divide into 2 pieces with pointy heads.
2. Draw a Straight Line
Now, use either of the 2 pieces of the hacksaw blades to draw a straight line on a glass surface. Remember to use a measurement ruler to maintain a straight line.
3. Make a Curved Line
Once the straight line has been carved into the glass surface, use your hand to put pressure on the two sides (left and right) of the carved straight line. 
And, upon pressing on the glass with your hand, the glass should easily fall into two pieces. 
There you go. You have just cut your glass sheet into two pieces using your hacksaw blade. On the other hand, if you want to cut metal things using a hack saw, its functionality makes it an ideal choice. 
Which Type of Saw is Suited to Cut Glass?
There's not a single type of saw that is fully equipped to cut class. It's because glass is not a solid object like wood, iron, or steel. Rather, glass is a very brittle crystal that can shatter at any time.
So, even if you start cutting glasses with a saw, it's likely that the glass will shatter into irregular pieces in the middle of the process. However, special saws, such as diamond saws, have blades manufactured from Tungsten Carbide. 
And this type of saw can cut grass with 100% accuracy. But, as these saws are expensive, they are used for industrial purposes only.
Is It Possible to Cut Glass with a Hand Saw?
Although it's very unlikely, you can utilize a handsaw to cut class. There are dedicated blades available in the market manufactured from tungsten carbide. The tungsten carbide is a massively hard metal multiple times harder than steel.
So, if your hand saw is equipped with a tungsten carbide blade, it can cut glass pretty easily. But, with a regular blade, a handsaw can't cut through glass. 
Can I Cut Glass at Home with Scissors?
Using scissors to cut glass is a very peculiar thing to do. But, it is somewhat possible. To do this, all you have to do is lay your glass on a table and use the pointy head of a scissor to carve a straight line on the surface of the glass.
After the straight line is carved, you can use your hand to put pressure on the glass and break it into 2 pieces. Now, when you use your hand to put pressure to break the glass into two pieces, it will create the partition following the exact straight line that you have carved on the surface earlier. And, you'll get your glass sheet cut into 2 pieces.
How Can a Beginner Cut a Glass?
Learning to cut glass takes the right tool and know-how as a beginner. But, for your convenience, we have laid down the instructions in easy steps for any beginner to follow:
Put Gloves And Use Flat Table
First, put on hand gloves to protect your hand from glass particles and splinters. Choose a flat table as the workplace for cutting glass. Lay down the sheet of glass that you want to cut.
Use a Measurement Ruler
Hold a measurement ruler on the glass sheet and use the class cutter to scratch a straight line on the glass surface.
Pen/ Pencil
Now, lift the glass and put a pen or a pencil under the glass sheet (right under the spot where you made the straight line).
Get the Final Pieces
At this point, use both of your hands to impart some pressure on the glass sheet. As a result, it will neatly come apart into two pieces.
Conclusion
So, the bottom line is that if you want to cut class at home, having a glass cutter at your disposal is the best way to go. But, if you don't, you can take advantage of any other sharp and pointy object to carve out a straight line and cut the glass into two pieces. 
However, whatever procedure you employ to cut glass, we recommend that you follow the proper safety precautions beforehand. This way, you can stay protected from accidental physical harm while cutting glass.
Read more: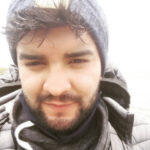 Hi, I am Eric Devin and I am a professional interior architect. Since childhood, I've always enjoyed DIY projects! And, I have loved to solve simple household problems using essential tools and equipment. I have also acquired a lot of information about basic household tools settings by working with contractors.