Glass has been around for 1000 years and can be found just about anywhere. Skyscraper walls, home windows, vehicle, and airplane windshields. Glass segments can be found in cookware, bottles, crystal, jars, and a variety of other things.
Glass, as beautiful as it is, is a delicate substance that is easily scratched, cracked, fractured, and so on, exposing jagged, uneven surfaces that are not only unsightly, but also hazardous.
Whether the afflicted region is due to wear and tear or glass cutting to produce new glass items, it must be smoothened out to provide a smooth finish to your glass project, or to polish up an existing glass to make it seem as good as new without having to make any replacements.
Now the question may arise, can you sand glass? Yes, glass can be sanded. Sanding a glass is a wonderful idea if it has scratches and you want to eliminate them or if you desire to smooth the edges.
A few tools can be used to sand glass. Sandpaper is my preferred method, but you may also use a sander or a Dremel. It's a simple procedure, but you must use caution. While sanding, the glass is readily broken. That's why you'll need a step-by-step instruction manual. 
What Is the Best Way to Sand Glass?
Glass may be used in a number of DIY projects, including candle covers and drinking glasses. However, you'll need to smooth off the shattered, jagged edges of a glass bottle or object before repurposing it. Fortunately, you can simply smooth glass edges with sandpaper, a sanding bit and power tool, or even silicon carbide powder.
Glass edge sanding is a difficult talent to perfect. Scratches or other scars on your valuable glass surfaces are not desirable. It's feasible to sand glass like an expert with the correct equipment for the task.
To sand glass edges, you may use sandpaper, a Dremel, a drill, or even silicon carbide powder. To achieve a near-polished effect on the glass use medium, fine, and extra-fine points and wheels.
What Sandpaper Do You Use to Sand Glass?
For optimal results choose a medium-grit sandpaper finish (60- to 100-grit) and a moderately big sanding tool. The bigger the bit, the more of the edge it can smooth at the same time. Make sure the sanding bit you're using is the proper size for the glass you're working with.
Can Glass Be Sanded and Polished?
Fortunately, you can readily shave glass edges with sandpaper, a Dremel, a drill, or even silicon carbide powder. I use medium, fine, and extra-fine points and wheels to achieve a near-polished effect on the glass. If you want a real polish look, it might be the ultimate near finish or the pre-polish.
How to Sand Glass
The fewer steps required to complete the task, the better. Otherwise, optical refraction is a possibility.
The polishing procedure takes a little longer than the sanding procedure.
Due to the possibility of optical refraction, we do not suggest this method for front-facing automobile windshields.
Wear a dust mask at all times. Please verify your local laws for any known harmful amounts.
The glass may seem dull and hazy once it has been sanded. Glass polish brightens and restores the clarity and luster of the glass.
Polishing glass removes surface flaws and restores the transparency and brightness of the material.
How to Polish Glass Step by Step
Although the process of polishing glass is not difficult, it is important to understand the procedures to follow in order to get the best results.
The First Step Is to Clean
It is necessary to clean the surface thoroughly to eliminate dirt and to be able to find the scratches or scratches that we want to erase with polishing for a good outcome.
The Second Step Is to Sand the Surface
Perform an initial sanding with a radial polisher and a 150 or 180-grain silicon carbide ore abrasive disk until the imperfection has been physically eliminated. We utilize the finest sandpaper grain that can remove the fault for this. This operation must be carried out on the glass surface to avoid sanding with the discs' edges. We must also ensure that the glass does not overheat throughout the glass polishing process, which is comparable to declaring that it does not surpass 65 degrees Celsius.
Advanced Sanding Is the Third Phase
Then, in a staggered order, we'll repeat the preceding procedure, but this time with different abrasive grains: 240, 320, and 400 are the three levels of difficulty.
The Nuance Is the Fourth Phase
We'll sand the matting with a disc with sponge support, soft finish discs in 400 or 500 grain, to get the scratched surface to blend in with the surface without sanding. The temperature of the glass must be maintained at all times. Replace grain 600 with grain 1,000 and repeat the operation. The sanding stripes get narrower and finer as the surface is refined, and the surface takes on a more transparent look.
The Polishing Process Is the Fifth Phase
We'll polish the mended surface and the surrounding regions after they've been refined. We'll do this with a felt velcro disc and abrasive paste that can remove the scratches caused by the 1,000 grain.
We must guarantee that the glass does not become too hot during the polishing procedure. As a result, we'll work with low revolutions (between 900 and 1,400 rpm). After that, we'll clean the surface and repeat the process until the surface is totally done.
When You Sand Glass, What Happens?
Because sanding glass creates fine dust, you'll need to use a mask and eye protection. When sanding glass, you should always use gloves. They can protect you from being cut on the glass edge and from being sanded by the sanding equipment.
Final Words
The smoothness with which a glass object's edges are polished determines how beautiful it is, therefore you'll need to sand your glass item properly.
Because glass is such a delicate material, it requires extreme caution and experience, as well as the proper equipment for faultless sanding.
Please take your time. Things should not be rushed. Make sure you've sanded the whole area with one sandpaper before switching to the other, and always clear up any dust or wetness before moving on to the next stage.
If you don't obtain a smooth surface, simply repeat the operation, which should take no more than 10 minutes.
Once you've done this a few times, you'll be able to obtain the greatest results in one go, but until then, be sure you re-do each process until you're happy with the glass effect.
Relevant Resources: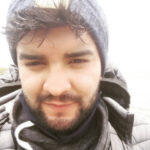 Hi, I am Eric Devin and I am a professional interior architect. Since childhood, I've always enjoyed DIY projects! And, I have loved to solve simple household problems using essential tools and equipment. I have also acquired a lot of information about basic household tools settings by working with contractors.