Hardie board siding is a composite siding material named after the producer James Hardie. It may be utilized as a protective solution for your home's exterior.
Its incredible longevity, fantastic curb appeal, little maintenance, and unrivaled guarantee are just a few of the reasons why it is so popular. Hardie board siding has been meticulously designed to endure the effects of climate change and damage.
Is it possible for you to screw into Hardie's board? It can be cut and drilled in the same way that wood can. Drilling through cement-fiber siding, on the other hand, works better with a carbide drill bit than with a conventional steel drill bit. Drilling cement-fiber siding can be done after it has been installed or before it has been put.
Can You Screw Into Hardie Plank Siding?
Yes, you may, as long as they're not too heavy. The Hardie Board may be immediately affixed to anything weighing less than one pound (half a kilogram). If it's more than a pound, use a stud finder to locate the stud and connect whatever you're hanging to it. If you don't, the object you're hanging will pull the screw out of the Hardie Board, causing everything to fall apart.
How Do You Hang Things on Hardie Board Siding?
Nails or screws are the best technique to adhere to Hardie Plank siding. The pilot holes the siding first, using a drill bit that is slightly smaller than the nail or screw, to avoid shattering it. Caulk the hole you're making before driving in the fastener to be sure it doesn't leak.
Hardie Board may be used to hang a variety of items. However, make sure you do it safely. Always put on the proper PPE, which should include at the very least safety glasses and gloves. Wear a dust mask if you plan to drill a lot of holes in a short period of time, as the cement board produces a lot of dust.
Christmas Wreath
The weight of your wreath will determine how you hang it. If it's only a light adornment, a standard screw will suffice. Hardie Boards, on the other hand, are often used as siding outdoors, and the Christmas wreaths you use outside are typically rather heavy. If this is the case, you'll need a larger screw and will have to work a little harder.
Here's how:
Use a stud finder to locate studs behind the Hardie Board and mark the spot.
Drill through the Hardie Board to reach the stud.
Bolt an eye-hook into the stud through this hole.
Weatherproof this hole using a bead of caulk.
Use a double-ended snap hook for a quick change-over to attach the wreath to the eye hook.
The double-ended snap hook allows you to quickly and easily change the artwork as the seasons change.
Decorations
Decorations are available in a variety of forms and sizes. Install a screw right into the Hardie Board to hang your tiny elf from if you're hanging something little and light. If it's a heavy item, such as a plant basket, you'll have to put in a little more work. Here's how to do it:
Choose where you want your plant basket to be hung. In this region, use a stud finder to identify a stud behind the Hardie Board. Mark it with a marking pencil after you've found it. Make sure it's at least 3/8 inch (1 cm) away from the plank's side. If it gets any closer to the edge, it might harm it and tear it out.
Next, determine the diameter of your plant basket. Reduce this by half and add 3 inches (7.6 cm) to the total. To keep the basket from hanging against the Hardie Board, make sure the basket bracket is at least this length.
It's now time to attach the bracket to the earlier mark. Mark the drilling holes on the bracket and leave it aside. On these marks, drill 14–12 inch (0.6–1.2 cm) deep pilot holes. Install the screws after placing the bracket over the pilot holes.
That concludes the discussion. Your bracket is up and running, ready for a plant basket.
Hanging Lights
It's not easy to hang Christmas lights. We recommend hanging them on something that is screwed through the Hardie Board rather than into it if you want them to be secure.
So screwing or nailing your lights to the Hardie Board isn't the greatest choice. Using a stud finder, drilling pilot holes, and attaching the lights to anything attached to those studs is preferable.
Unfortunately, when you remove the lights, small holes will appear in your Hardie Board, detracting from the visual finish and jeopardizing the weatherproofing. To remedy this, fill the holes with wood filler, smooth them down, then paint them. Just like you would with wood.
What Kind of Screws Can You Use on a Hardie Board?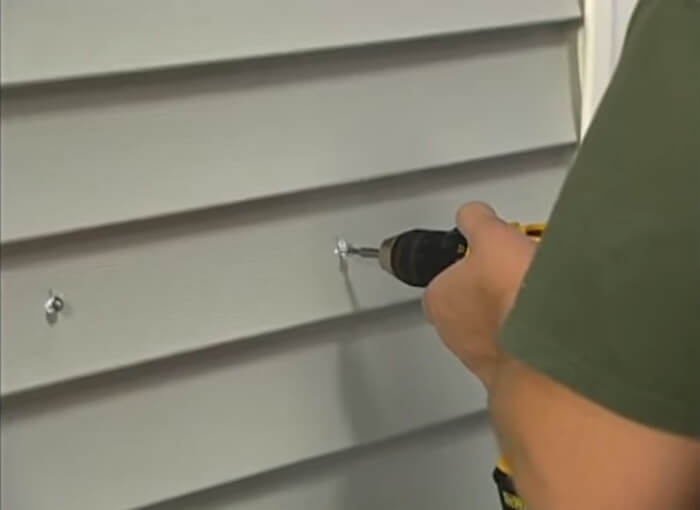 In accordance with the tile industry, James Hardie recommends 1-1/4″ long galvanized or Stainless steel roofing nails or 1-1/4″ long ribbed wafer head screws. Its dimensions are 8-18 x 3/8″ HD.
How Do You Put a Screw on a Hardie Board?
HardiePlank siding is a fiber cement-based product manufactured by James Hardie. HardiePlank is a weather-resistant, insect-resistant, and rot-resistant substance composed of Portland cement, silica, and wood fiber. The siding is fire-resistant, ensuring that a home is well-protected. HardiePlank is offered in two versions: ready-to-paint and color-layered. Although no pilot holes are required for the siding, you may need to run wire or cable through it, which will need drilling a hole. While HardiePlank siding is durable, it is also readily broken, necessitating the use of the correct equipment and skills when drilling through it.
Step 1
Using a professional-grade crayon, measure and mark the location of the hole on the siding.
Step 2
Before resting the siding on the sawhorses, place wood supports across two sawhorses. Allow the hole to be marked if there is a gap between the supports. HardiePlank may snap if left unsupported when drilling.
Step 3
Use a power drill with a masonry drill bit for tiny holes and a carbide hole saw for bigger holes, preferably one made for fiber cement siding.
Step 4
Align the tip of the bit with the hole's marking. Turn on the drill and use light pressure to drill through the mark. If you apply too much force on the drill, the siding may crack.
Do You Need Plywood Behind the Hardie Board?
Over plywood, Hardie boards can be put. Fiber cement siding can be put over steel studs or braced wood, or directly over OSB, plywood, or sheathing, as James Hardie advised.
So, while plywood is an excellent underlayment for Hardie board siding, it is far from the only alternative. Because of its shear properties, many people choose OSB to plywood.
Final Thoughts
To make a long story short, you may use a suitable drill and the appropriate screws or nails to drill and screw into Hardie board siding. It's ideal for giving your home a contemporary vibe. Hardie board siding may be used to its full potential if you apply the correct techniques and tools.
Wear a dust mask if you want to drill multiple holes in a short period of time, as the cement board generates a lot of dust when over-drilled.
Remove your hanging baskets from the brackets and store them in a sheltered spot when wind or rain is forecasted, since baskets left swinging in the wind can harm the siding.
Relevant Resources: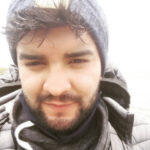 Hi, I am Eric Devin and I am a professional interior architect. Since childhood, I've always enjoyed DIY projects! And, I have loved to solve simple household problems using essential tools and equipment. I have also acquired a lot of information about basic household tools settings by working with contractors.