Published on: March 7, 2022
Written by Eric Devin / Fact-checked by David Rowan
Most of your miter saw performance depends on your saw blade. If the blade is dull, or inappropriately installed it can cause defective cuts, serious accidents, and even injury. These incidents are avoidable if the right blade is installed in the right way. 
So, here I have elaborately discussed how a Ryobi miter saw blade can be replaced. Following these steps, you can change any blade from any miter saw. There are numerous options to know how to change a saw blade, but the technical terms used in those can be confusing for a beginner. So, this write-up is here to help you out and make blade changing an easy task as it sounds: changing blade in a minute!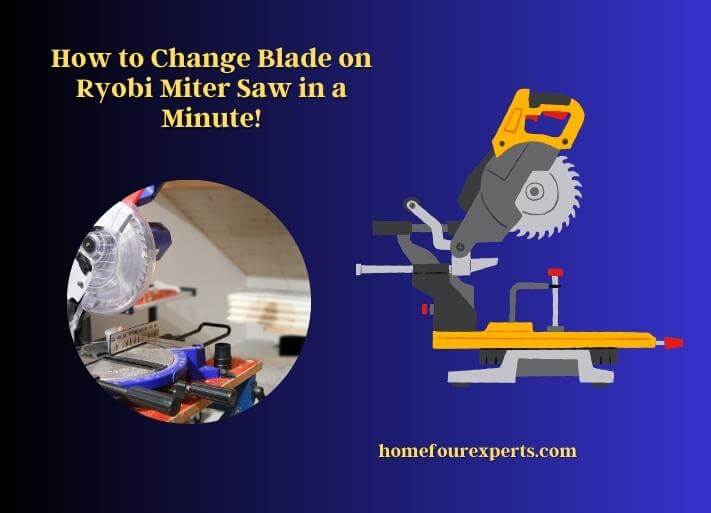 Why Ryobi Miter Saw?
Because those are cheap, accurate, user-friendly, and widely used. Well, not only the miter saw, every Ryobi product line is made affordable and user-friendly. Due to its popularity, we chose to cover this article on Ryobi miter saw. However, this procedure to change blades to miter saws is applicable to any miter saw. So, even if you have a different brand saw, reading this will still be helpful for you. 
FAQs
When the miter Saw Needs a Blade Replacement?
When the blade is dull. 
The machine needs a thorough clean-up
Different materials need different blades. Though it is not recommended to cut metal on a miter saw. But some prefer cutting softwood and hardwood using different blades. 
What Tools Are Needed to Change the Blade on a Ryobi Miter Saw?
1. Miter saw blade wrench
2. Safety glasses
3. Dust mask
4. Work gloves
5. Clamps
6. Block of wood
7. Vacuum cleaner
How do I know if my Miter Saw Blade is Dull?
You will just know by the cutout edges. The edges will be rougher, the blade will cut slower and produce more chipping than normal. With all of these, you will feel the need for touch-ups on every cut-out piece. Then you will be sure that it is all about the dull blade. 
How Long Does a Miter Saw Blade Last?
Usually, a blade lasts up to 10 to 12 hours of continuous use. It depends on which material you are cutting with it and the maintenance of the blade as well. 
How Do You Properly Remove the Old Blade?
1. Unplug the saw from the power source.
2. Loosen the nut or bolt that secures the blade to the saw.
3. Carefully remove the blade from the saw.
4. Using a file or similar tool, clean the blade mounting surfaces on the saw.
5. Install the new blade and tighten the nut or bolt.
6. Plug the saw back into the power source and test it before use.
Can a Miter Saw Blade be Sharpened?
It is a tricky question. Some miter saw blades can be sharpened and worth sharpening. Other blades are so cheap that sharpening will be a loss of time and won't last long. However, yes, the miter saw blade can be sharpened with a diamond file. Place the blade on clamps and file each tooth from one side. When done, place the blade on the opposite side and repeat the process. You can mark the tooth with a crayon to keep track. 
Things You Will Need for Saw Blade Replacement
You have got all you need to replace your Ryobi miter saw blade. A blade for replacement, blade wrench, Phillips screwdriver, and machine oil is all you need to replace the blade. All these items are always available in our workshop and the wrench comes with the Ryobi miter saw. 
Steps to Follow
Here is a long list of steps to follow to change your miter saw blade, but we promised one minute, right? Well, it literally takes one minute to change the Ryobi miter saw blade. The steps are elaborated here so that they will become crystal clear to you. 
The first step is to wear your safety gloves, and eye gears as you do while operating the miter saw. 
Now unplug the saw from the electric outlet. Whenever you are running an adjustment to this machine you have to ensure that the machine is not connected to any outlet. The same goes for changing blades as well. 
The first thing we need to do to remove the blade is to loosen the screw on the blade bolt cover. Simply extent the saw blade to its full height and remove the transparent blade guard backward. Now you have full access to the blade bolt cover screw. Take a Phillips screwdriver and remove this screw. 
Once you remove the blade bolt cover screw, now you have access to the Spindle lock. Take the blade wrench that was given with your miter saw from Ryobi. Turn the spindle lock screw clockwise because it has left-handed threads. You should be careful in this step as people mistakenly turn this screw counterclockwise and accidentally break it or make it too tight to loosen at all. 
When the blade bolt is removed, you have to remove the washer that is placed in between the blade and the bolt. Only the outer Blade bolt washer needs to be taken out for a blade replacement. Do not touch the inner washer and bolt if you don't need to. 
Now take your machine oil and apply it on the sides of the new blade where it will contact the washers. The machine oil will help to make the smooth turning of the blade. 
Remove the old blade and replace it with the new oiled blade. Make sure to put it facing the tooth downward. 
Now the blade is replaced and it is time to put everything back on it was before. First, put back the washer and tighten the spindle lock. It has to be tightened counterclockwise this time. Again, don't make mistakes by turning it in another way. 
Now tighten the blade bolt cover screw and move the blade-guard forward covering the blade. 
Next, you have to press the miter saw blade down to see if the blade guard works as it should be. 
You can plug in the machine to test the new blade with a scrap piece of wood. 
Be Aware
While replacing the blade, there are some issues you need to keep in mind. I recommend touching the blade after reading all of the following tips. 
Never tighten any bolt or screw too much or turn it in the wrong direction. The screw may break or damage the blade. 
Always use the recommended blade on your Ryobi miter saw. You must use your miter saw for intended purposes only, not for cutting materials that are not supposed to cut with it. 
Never use or adjust the saw without wearing proper safety gears. 
Put the blade in the right direction. 
Make sure washers and bolts on both sides of the blade are placed. 
Don't go against the user manual. 
Conclusion
Was it hard? What do you think? It's as easy as it is written here. Others have made it sound difficult by putting too many technical terms. However, if you follow all the procedures without skipping one, the blade you are going to replace with will work at its best. 
Again I want to remind you not to use blades that are not the right size. And don't cut materials with the miter saw that is not recommended to cut with it. 
Read more: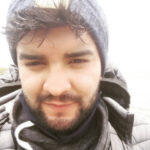 Hi, I am Eric Devin and I am a professional interior architect. Since childhood, I've always enjoyed DIY projects! And, I have loved to solve simple household problems using essential tools and equipment. I have also acquired a lot of information about basic household tools settings by working with contractors.