Camping is an exciting outdoor activity. After every camping trip, we can revive ourselves as a new person. Also, it will help to enrich our learning.
In camping, we require many things, among them a tent is the most important one. We should take proper care to maintain the tent as a new one. Otherwise, the tent becomes dull or damaged by mold and mildew.   
We can get rid of mold and mildew by applying some methods. In this article, I will try to discuss how to clean a tent with mold. Before it, you should know about mold and mildew.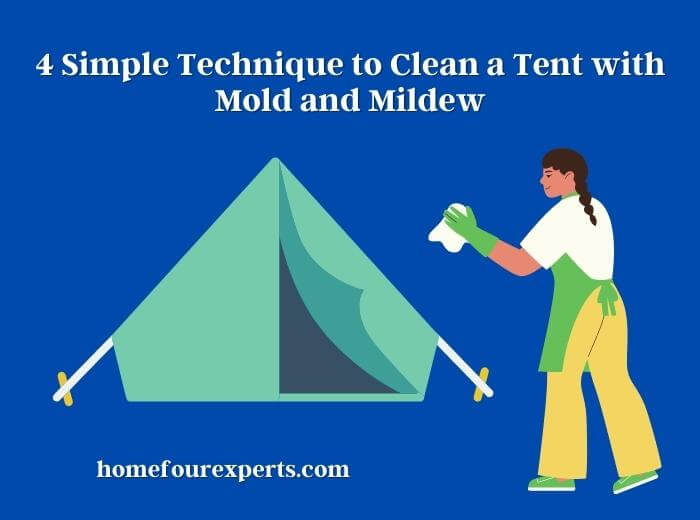 Mold and Mildew
A tent can be damaged in many ways. When mold and mildew affect a tent, we may need to be concerned. We need to take proper steps to clean the tent from mold and mildew.
In a word, we can say that mold and mildew are a form of fungus. It occurs for moisture and humidity and is made of a lot of bacteria. Both mold and mildew produce odor, but they are different in color. Mildew is white, whereas mold is found in various colors.
Sometimes it may cause humans harm. Mold can spread like a tiny spore through the air, which causes breathing problems by inhaling. Mold and mildew produce on plants, paper, fabrics, etc.  
Simple Technique to Clean a Tent with Mold and Mildew
There is a different technique to recover a tent from mold and mildew. You can also learn from the video. 
The method to clean a tent with mold and mildew is given below:
Baking Soda Method
For this process, you need some ingredients, which is given below:
1/4 tablespoon baking soda;
Bottle;
Scrub brush;
Hot water.
Procedure
First, mix the baking soda with hot water and shake it to dissolve. Then spray the solution upon the mold and mildew. Scrub the tent with a brush to remove the mold and mildew. Keep in mind that you need to scrub the whole tent gently. After a gentle scrub, you need to rinse properly with water. Then apply the solutions again to the affected area and let it dry properly.
Soap and Water Method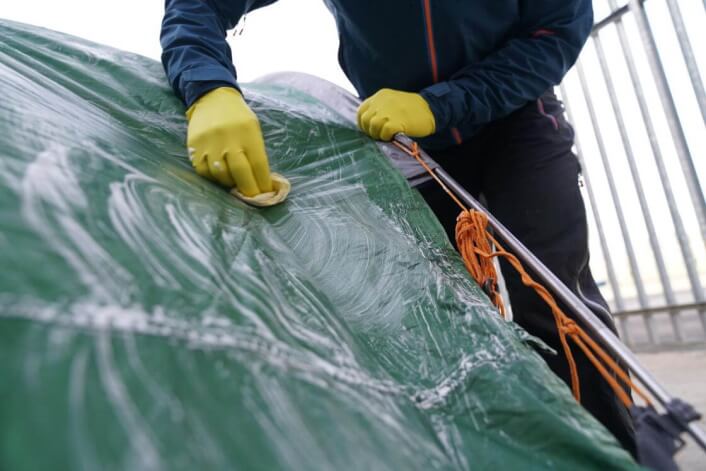 For this process, you need some ingredients, which is given below:
Warm water;
Non-detergent soaps;
Brush, rug, etc.
Procedure
In this method, at first, you need to set up the tent to clean it easily. Now mix the warm water with non-detergent soap properly and apply the solutions into the affected area. You can use a rug, brush, etc., for scrubbing gently and rinse with water. For the canvas type of tent, you can use a stiff brush. After rinsing properly, let the tent dry.
Vinegar or Lemon Juice Method
For this process, you need some ingredients, which is given below:
These ingredients are required if you use only vinegar for cleaning:
1/4 cup vinegar or white vinegar;
1 cup warm water;
Sponge or brush;
Spray bottle.
Procedure
In this process, you can use a spray bottle to mix the vinegar with warm water to make the solution. Before using the solution in the affected area, shake the spray bottle properly. After spraying the solution, let the tent dry. You do not have to worry about rinsing the tent. It would be helpful if you use a stiff brush for the canvas tent.
On the other hand, if you want to practice only the lemon juice method, you need to use the below ingredients:
1 cup of lemon juice;
1 cup of salt;
1 gallon of boiling water;
Spray bottle;
Sponge or brush.
Procedure
The vinegar and lemon juice methods are quite similar. First, you need to mix lemon juice and salt into warm water in a gallon. Then take the solutions in a spray bottle. Before using the solutions in the affected area, shake the spray bottle properly and let the mixture sit in the affected area. Then scrub the area and allow the tent to air dry. 
Deep Cleaning Method
If you need to clean the tent thoroughly and the above methods are not good enough, you can use a deep cleaning method. In this method, you can remove all mold and mildew from the tent.
At first, you must spot the area to clean as best you can with your liken method. For deep cleaning, you need to fill a bathtub with lukewarm water and add a cleaning product. To mix in the proper ratio, you should follow the instructions.
As we use various types of camping tent, you can see multiple types of cleaning products also in the market. It would be helpful if you learn about the tent cleaning products properly before choosing one.
After mixing the cleaning products properly, you should submerge the tent and wait to soak it according to the instructions. Then rinse the tent with water properly. Finally, dry the tent before storing it in a shady area.  
Tips
The most important thing is that you should check the waterproofing of the tent after every wash. Mainly, it is essential to let the solutions sit in the tent more than the instructions.  
Quick Solutions
How Do You Identify Mold or Mildew at Your Camping Tent?
The most important thing after camping is to inspect the tent properly if there is any mold or mildew. If you are frequently camping, it is a must to check your tent every time. If you find any spots during the inspection, make sure that it is dirt or other things.  
If you do not wipe the spot, you can deal with mold or mildew. Generally, mold spots seem black, green, or blue. On the other hand, mildew spots appear white, grey, or yellow. As mold and mildew occur from moisture and humidity, you can sense smells—the mold and mildew odors are very similar.
What Materials Should Be Used to Clean a Tent With Mold and Mildew?
To clean a tent with mold and mildew, you should use a combination of a nontoxic cleaner, such as vinegar or baking soda, and a soft-bristled brush. You can also use a mild dish soap to help break down the dirt and grime, and a disinfectant to kill any remaining mold and mildew. Be sure to dry the tent thoroughly before storing it to prevent future mold and mildew growth.
Is the Mold or Mildew Good for Health?
Mold or mildew has been around us in the world for centuries. Though a small amount of mold or mildew is suitable, a large amount of mold or mildew is harmful to our health. As mold or mildew is caused by moisture and humidity, it increases the suffering of nasal stuffiness, throat irritation, coughing, eye irritation, or for some reason, skin irritation.
Those who have allergies or sensitivity to mold or mildew can cause an asthmatic problem. Some studies show that if children are exposed to mold or mildew it can cause asthma. Also, those who have asthma genetically can develop asthma to come in contact with mold or mildew.
Does the Mold Cause Harm to the Tent?
At the primary level, mold seems terrible in the tent, and it causes stains on the tent fabric. For this purpose, it would be difficult to eradicate the stains from the tent. If you overlook the mold, it can slowly damage the affected area, which causes a hole. That's why you need to lose the tent completely. When the mold starts to damage the tent's fabric, it is impossible to recover and begins spreading, after all, takes care.
How Do You Store the Tent After Removing Mold or Mildew?
After removing mold or mildew, the essential concern is what will be the best procedure to store the tent. As mold or mildew arises from moisture and humidity, you need to keep the tent in a breathable bag after proper sundries. In this way, the airflow in the bag helps from affecting mold or mildew.
Conclusion
If you like camping so much, you need to keep your tent safe from mold and mildew. After reading this article, you may know the method of cleaning mold and mildew. If your tent is affected with mold and mildew in a small area, you can use some home remedy type techniques like soap and water, vinegar or lemon, etc. For a massive amount of mold and mildew, it would be better to apply deep cleaning.
If you find mold and mildew, you can still use the tent in the campsite for a small amount. But the wise decision is to clean the tent to avoid unexpected things. Before using any cleaner, the most important thing is to protect your hands and follow the instructions for good.
Read More: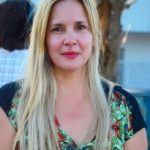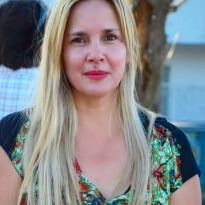 Guys, I am Camila Avery and I love to help my mom to do indoor & outdoor activities. As a lady, I have passed my time on gardening, home improvement, and personal or self-care. I have acquired some degrees in outdoor recreation, beauty, and hair care. It is not easy to work with top-level professional beauty experts. But, I got that opportunity and experimented with different hair extensions, hair colors, and cuts.