This article includes affiliate links, which means we may earn a commission if you make a purchase following our link. Please refer to our review guidelines.
Before going through the list and reviewing the best canvas wall tents, I want to reflect on why use a canvas tent when there are numerous other types of weather-resistant tents available in the market. Well, the answer is, that canvas is natural and more comfortable than plastic materials.
Even if canvas tents are way too heavier than plastic tents, it is unbeatable in terms of comfort and breathability, and durability. Canvas is thicker than any other artificial tent materials, so these tents are less likely to get damaged and last a lifetime.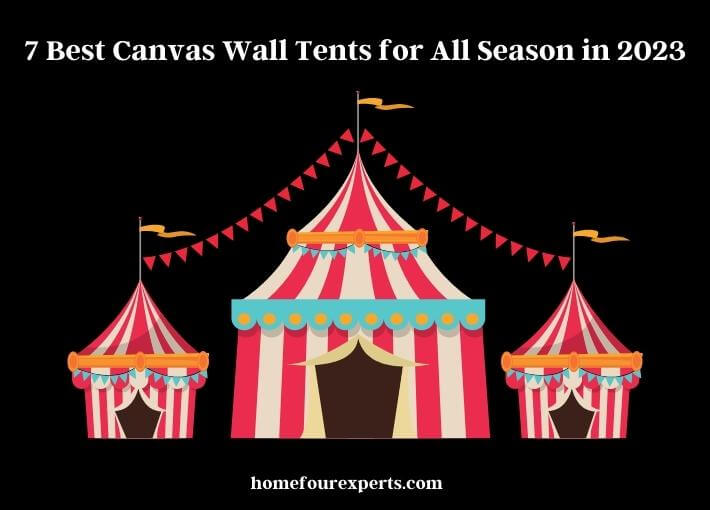 Please note that canvas tents are really heavy; hence, they are less suitable to carry on a backpack for a long. For the same reason, canvas tents are not the best option for solo campers, hikers, and trekkers.
If you go camping in a group, or drive there in a car, then it is okay to go for canvas tents. This way, you can be generous about purchasing a large tent for extra space.
How to Choose a Canvas Tent
Size and Shape
Don't get deceived by the advertisement that says the tent is suitable for 'X' people. Inspect the size yourself and calculate how many queen-size mattresses you can use inside of it. It is always better to purchase a canvas tent that is bigger than you actually need. You may need to carry the additional weight, but you are carrying it in your car, not on your back, so, be generous while purchasing one. 
The shape is also an important factor. It determines the peak height. Generally, bell-shaped tents have a high peak height, but it reduces near the edges. So, you will get less room for moving inside of it. On the other hand, tents with a square base may have a small base, but these are good to move around freely. Both have advantages and disadvantages; consider both before selecting one.
Read more: Looking for the Best Tent for Full-Time Living
If you live in a country where snowfall is inevitable during winter, you MUST go for four-season tents. These are used all around the year, but are less bearable during summer. Generally, the summer season in snowy countries is not so hot, so a four-season canvas tent should be okay. 
Usability
If you live in a country with a humid climate, then go for breathable tents, that have ample openings for air and ventilation. It does not necessarily need to be a four-season tent.
Weather Resistant
The tent MUST have to be highly waterproof and windproof. If it is a four-season tent, it must have a very sturdy frame to hold onto heavy snowfall. You don't have to worry about going through the specifications of all the tents available in the market. In my list of the best canvas tents, we have incorporated all the tents proven to be weatherproof. Check out the list, and thank me later. 
Breathability
Unlike plastic tents, canvas tents are more breathable due to their natural fabric. Still, you should check the ventilation system and openings. Even for four-season tents, ventilation is needed to make the tent usable in summer. 
On the other hand, if you are prone to go camping in humid weather, choose a tent with large and ample windows and doors. Even if the tent is tiny, the openings will provide light, air, and oxygen.
Additional Features
You will be amazed at how different one tent is from another one. Some tents come with ropes that reflect in the dark so that you don't tip over them. Some tents have built-in organizers, hooks, and pockets to keep the valuables organized off the ground.
Some tents have a stove jack, and some have fire-retardant material. All are good in different ways. Take time to go through all the features before deciding to spend your hard-earned money on any of those.
How to Reach the Exact Cabin Tents with Screened Porch or Room
Maintenance Tips
Always pack the bags for camping after spraying a scotch guard on your tent. No matter how good the tent has been in all these years, or the last time you went on a trip, a coat of water-repellant spray should be the first step to start camping. 
Apply silicone spray on the zippers of your tent. This also goes for all kinds of tents you have, whether high-quality or budget buy. Silicon spray keeps the zippers gliding on their track. We don't want a lousy zipper in the middle of a downpour or snowfall. 
Never forget to use a ground tarp before setting up the camp. Yes, there is a huge collection of excellent canvas tents with a high-quality floors with those, but you want the tent to last long. Ground terp prevents the canvas floor from getting moldy, dirty, or decaying over time. 
Use rugs outside the door and a carpet inside the tent. It helps to keep the tent cleaner.
View the Top 7 Canvas Wall Tents, Below
1. Winterial 4-Season Canvas Tent
4-season tent with pipe vent hole stove jack;
Pack Weight 15 Pounds (lbs);
Waterproof, Lightweight;
Suitable choice for family camping, backpacking & adventure around;
For 6-7 person sizes available.
I don't think I need to introduce you to the Winterial Store tentmakers. They are one of the best in the market for making a high-quality tent. This canvas tent is just like any other highly durable tent for this maker. It is a four-season tent and has a stove jack to keep you warm and comfortable during winter. Even in heavy snowfall, the tent won't be affected at all, by its sloped roof. To me, this kind of roof feels more home-like than any other roof type.
Don't be intimidated by the size of this model. It is made for a group of 3. All the tents are very roomy and well-ventilated. The canvas tents usually are more breathable than the plastic ones, but the triangular windows are great for this one's air circulation.
The price may seem out of budget for most people, but a quality product should be cost-like. The installation of this tent is super easy for the color-coded metal bars. 6 to 7 people can set it up in no time, but it is a bit heavier for its durable features.
Pros
Heavy-duty tent;
Highly weatherproof;
Well ventilated;
Includes steak, poles, rain-cap, stabilizer;
Easy to install.
Cons
---
2. Preself 4-Season Cotton Canvas Bell Tent  
Weight is only 3.4lb;
Floor Width 10.5 Feet;
 Easy & quick setup;
Available for 3-person sizes.
Seeing an overly expensive canvas tent might have scared you, so here is a tent for you in a more affordable price range. It is bell-shaped, meaning a conical roof with a circular floor. The design is festive, but not very spacious like a square fool tent. But hey, you are not spending your entire trip in the tent, right?
The setup is quite simple, and yes, it really comes with a hole to use stoves safely inside the tent. But I find this one more suitable to use in humid places, where snow does not fall. Because the interior is somewhat congested for adults. Besides, the roll-up style walls are great to enjoy the summer breeze and a great buy for spending summer and falls in nature, which will also be usable during the winter season.
Pros
Affordable;
Stove hole included;
Rolled-up walls for better space and ventilation;
Better suitable for humid weather.
Cons
Bell-shaped reduces room.
---
3. Psyclone- Canvas Yurt Large Bell Tent with Removable Floor
9.8 ft peak height;
Bell-shaped tent for 8 to 10 people.
Do you like to take the kids with you camping? But safety concerns stop you from doing so? Then I have good news for you. The material used in this PSYCLONE tent is specially treated.
So, the tent is not only waterproof but also fire-retardant!  Now, the little devils may be able to burn your house down, but they will not be able to burn the tent down. In fact, they will love the bell shape, which gives this tent a festive vibe. 
Along with its roll-up walls, you will also get mesh-covered doors and windows. You can set the tent literally anywhere and everywhere without any issues with bug attacks. No, it does not have any stove jack or stove hole on its wall, but you can get it done with little customization at home or a canvas repair service.
Pros
Festive design;
Fire retardant;
Bug-screened door and windows.
Cons
---
4. Guide Gear- Canvas Wall Tent with 10×12′ Size (without the frame)
Only canvas tents, ground stakes, and tie-down ropes are included.
Well, I know that I am going to get a lot of frowns from the readers, but I have reasons to put this item on this list. Basically, the sturdiness of a tent depends on its frame, and weather resistance depends on the floor and roof material. If you look at the tents with the best fabric and frame, they are often overpriced. You can customize your tent by purchasing all the elements separately, depending on your requirements. I hope now you get my point. 
Here, you will get a high-quality canvas material sewn as a tent. The base is 10×12 and has a peak height of 8 ft and a door height of 7 ft. Very spacious, don't you think? It also got a conveniently located stove jack and a rear window. All you have to do is, buy a frame separately or make it on your own with thick aluminum tubes and angle brackets. Don't forget about ground tarps too. It is a smart and budget-friendly choice for people who love to customize their belongings.
Pros
Good for customization;
Budget-friendly;
Fire-retardant material.
Cons
The floor and frame need to be purchased separately.
---
5. Kodiak Canvas Flex Bow Quick Tent With Tarp 
Handy storage pockets included;
Six windows, front and rear doors.
No one likes to fish out their belongings whenever they need to call home or need a power bank to charge the phone or just looking for a torch or lighter. Unlike the tents we reviewed earlier, this Kodiak tent has many pockets and gear lofts on the inner part to store and organize daily necessities neatly. 
Moreover, it has windows all around and double doors for easy access. This is a tiny canvas tent, suitable for two to three persons but the opening all around makes it spacious and well-ventilated. This model arrives with a ground terp with it, which saves you bucks on purchasing one separately. There is also another model that does not have a ground terp available at a lower price. All in all, I can say it is a quality tent and reasonably priced.
Pros
Includes ground tarp;
High-quality tent;
Lots of storage facilities inside.
Cons
Read more: 10 Best Sun Shelters for Windy Beach
---
6. WHITEDUCK Regatta Canvas Bell Outdoor Camping Tent
Standard Mesh on Door and three Windows;
4 Strategic Vents for extra ventilation;
Made from breathable 100% cotton canvas;
Made from fire retardant material with a 43×43 cm flap.
WHITEDUCK Regata canvas bell tent – waterproof, 4-Season luxurious outdoor camping with stove jack. The roof is designed to withstand heavy snowfall and downpours. On the other hand, the screened door and windows are great for ventilation in the summertime. Now you get how this becomes a four-season tent with minimalistic features. 
It is a 3-person tent, but I recommend it for 4, for a room for circulation. However, the tent material is very high-quality to last almost a lifetime. So, I recommend this one for full-time living on any continent. 
It is on the heavier side but can be installed by one person easily. The price was low about a year ago but raised almost twice for its sturdiness and popularity. Once you buy it, you will not have to think twice before camping on alien grounds.
Pros
Long-lasting tent floor;
Screened door and windows;
Four-season tent.
Cons
---
7. Happybuy 4-Season Canvas Tent Yurt Tents for Family Outdoor Camping
Can house 5 people;
Size 9.84ft / 3m;
Built with 300gsm cotton canvas;
It tent is 118.1 inches wide, 98.4 inches tall, and weighs 44 lbs;
Four-season tent.
For a large-capacity canvas tent at an affordable price, this one is a smart choice. The semi-bell shape makes it feel spacious. The base is 3m in diameter, but unlike other bell-shaped tents, the peak has a height of more than 9.84 ft. so, it is roomy to store beds and baggage and roam around. 
It is cheap, but that does not mean it is cheaply made. This four-season tent has a stove hole at the base and four exhaust holes at the tip. To make the tent rainproof, small cones with silicone washers have been incorporated. In summer, feel the breeze and enjoy the view by rolling up the walls or opening up the mesh-covered doors and windows. Either way, this tent is impressive. For festive concerts, events, camping, or full-time living, this tent is the best of all for people on a budget.
Pros
Designed with a mesh door;
4 mesh zipper windows;
Roof vents for excellent airflow, and light, & keep the bugs out of the tent;
Semi-bell shape for added space.
Budget-friendly price;
Large capacity.
Cons
---
FAQs
Do Canvas Tents Need Waterproofing?
People who camp during a canvas are getting to waterproof their gear. It doesn't matter how durable your tent is. It'll eventually leak during a rainstorm. Over time the fabric goes into effect, and you will need to apply a waterproofing product.
Read more: Find the Best Tent Heaters for Camping
Do Canvas Tents Hold Heat?
Canvas Tents Retain Heat
The heat from the inside is insulated from escaping outside the tent, making canvas tents a cozier option than synthetic tents during chilly conditions.
Are Canvas Tents Well Worth the Money?
As long as you're not required to hold the tent a long way by hand, a canvas will likely be an excellent option, and well worth the money! However, if you are doing tons of backpacking, you propose using a tent for that. You see, Canvas tents are much bulkier and heavier than most other nylon tents.
How Long Do Canvas Tents Last?
A decent quality material, the tent typically lasts 20 to 30 years. Leaving it in the sun for a significant period of time (months) without any flight and keeping the tent wet are the two main reasons that affect the future of the material tent.
Conclusion
Tents can be a common thing to understand some information. Divider tents are a great choice for large gatherings of campers. They will want to give a more consensual encounter in contrast to the actual tents
After checking out all these high-quality canvas tents, do you still have any confusion about choosing one? I don't think so. Make your camping more enjoyable by selecting a canvas tent for your next camping or hunting. You don't always have to worry about the tent's durability so you can have a relaxed time outdoors.
To finish, try tracking a tent made of top-notch material that is additionally versatile. We believe this survey has helped you! Happy to have a great time traveling and setting up camp!
You Might Also Like: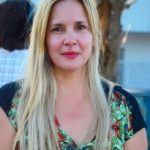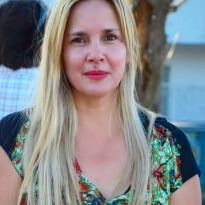 Guys, I am Camila Avery and I love to help my mom to do indoor & outdoor activities. As a lady, I have passed my time on gardening, home improvement, and personal or self-care. I have acquired some degrees in outdoor recreation, beauty, and hair care. It is not easy to work with top-level professional beauty experts. But, I got that opportunity and experimented with different hair extensions, hair colors, and cuts.