Published on: April 23, 2022
Written by David Rowan / Fact-checked by Eric Devin
Out of the hundred types of table saws available in the market; Dewalt snatched the critic's attention from the standpoint of users' benefits, overall quality output, comfortable roller stand, excellent portability, and high performance. 
Of course, we highlight the current release of the Dewalt DWE7491RS job site table saw which is an outstanding tool for the price.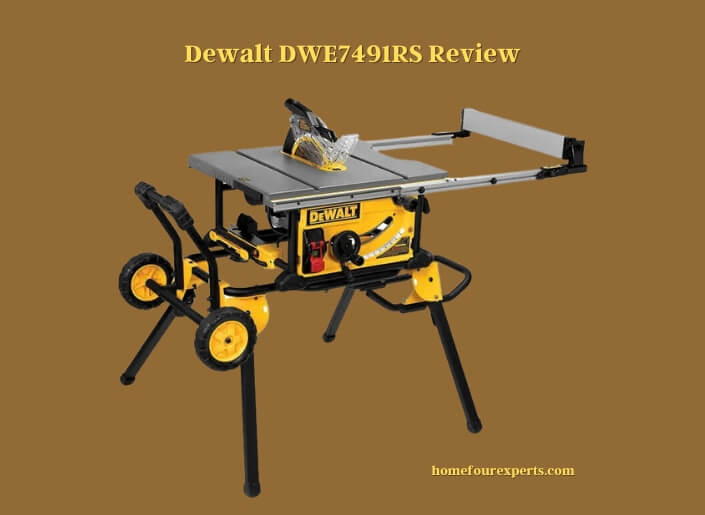 Whether you are an amateur, flooring specialist, or savvy carpenter, this popular table saw is suitable for all users who carry out small to medium projects. 
Learning more?
This review can be the right choice for you. Here is all of the trusted information about the newest version of Dewalt DWE7491RS. 
Specification
| | |
| --- | --- |
| Brand  | DEWALT |
| Model  | DWE7491RS |
| Power source | 120V |
| Weight | 90 lbs |
| Motor size | 15 Amp |
| Blade length  | 22 inches  |
| Rip capacity  | 32 1/2 inches |
Dewalt DWE7491RS Table Saw Basics
This table saw is more famous because of containing some excess features than the other Dewalt models. Without knowing conventional info about DWE7491RS, you don't make a perfect verdict. 
So, let's start.
Rip Capacity 
DEWALT is one of the leading brands for cutting capacity. This table saw contains a remarkable 32 ½ inches rip capacity that is wide enough. It allows you to cut up to 2 ¼ inches at 45-degree and 3 ⅛-inch at 90-degree. This table saw is made of cast aluminum. 
The Blade & The Blade System 
The blade is important to cut accurately. This job site table saw offers a 10-inch diameter blade and 24 tooth carbide blade. This type of blade is enough to cut. But, if you are not satisfied with this power, you will purchase an extra powerful blade for cutting sharply. 
Alternatively, it is extremely simple to install the blade guard and remove it. On the table's left side, a tab button stands. Just you need to pull out the discharge of the blade. 
Roller Stand
It includes a mobile roller stand so it is easy to transfer the saw as well as use it. No one likes to use heavy tools, especially when working in small places. DWE7491RS is an exceptional table saw due to its mobility along with ease of setting up features. Believe it or not, only one person is adequate to set up this saw. Even 90 lbs weight is no problem for a single hand. 
Super easy to set up this stand within a short moment. Plus, you get an adjustable height handle & impressive support. This supports standing as well as rolling the saw properly.
Dust Collection
This new job site saw comes to provide an easy dust collection system including two dust ports. One dust port is 2-½ inches standing below the table. This rear dust port is more powerful and capable of collecting at least 80 percent of the dust. 
Another dust port is small just 1-¼ inch and stands above the blade guard to collect top of the dust and debris. Although this seems to be useful, a small port is not enough for any job site project and is quite uncomfortable.
Facts and Features
The 21-7/8″ X 26 – 3/8″ table gives you a lot of benefits that you expect from the table saw. The main characteristics are an excellent motor, compact size, great warranty, easy of storage, and more.
Powerful Motor 
DWE7491RS comes with a powerful 15 amp motor perfect for cutting hardwoods (oak, cherry, or mahogany), plywood, framing material, and maple. This new 10″ job site table saw contains a 4,800 rpm speed which is higher than the previous models. So, using its plenty of power, you can work comfortably. 
Compact 
This new DEWALT is portable and easy to move from one job site to another just because of standard wheels. The 90 lbs weight doesn't matter if you need to move around. But, having difficulty if you want to pick up the table saw high-place. Also, it has a wide footprint rolling stand.
Effortless Storage
This is another excellent feature of this job site table saw. You can prepare for storage by folding up your legs with ease. Within a minute, it is possible to turn the saw on thit e end and fold it down.
Higher Warranty
As a new tool user, be sure you expect to get a good warranty from the manufacturer. Don't panic, DWE7491RS provides a three-year warranty. This offer is higher than the other brands such as Bosch or Makita. 
Great On & Off Switch 
It features a fine and safe on & off switch that has a safety cover for protection against an unexpected accident. This lever them from before the turning point of the table saw. 
Flip Over Fence
This table saw comes with a pinion fence system that is extremely accurate to maintain a parallel align flip-over, its flip fence has two position rails helpful to increase the rip capacity. 
It helps to make narrow rip cuts except deterring the blade guard. That means the guard is in place. On the other hand, this fence turns into the lock position if you are ripping any wide board.
Pros
More effective and portable job site table saw;
Straightforward to use and handle;
Good price at a quality;
This saw is perfect for long-term use;
Provides on-board storage for all of the accessories;
Also, 92% higher customer ratings along with 4 and start.
Cons
It does not include a dado throat plate;
Flimsy and poor quality shorter gauge;
The short distance between the blade edge and to table edge;
Miss onboard storage for keeping extra blades.
Frequently Asked Questions (FAQs)
1. Can You Buy Dwe7491rs Without a Stand?
Without a stand, you can not purchase a DWE7491RS model job site table saw. The stand is high-quality and easy to handle. It helps to work comfortably. If you expect, you can buy other models of the DeWalt brand without any stand.
2. What Materials is the Dewalt DWE7491RS Suitable for Cutting?
The Dewalt DWE7491RS is suitable for cutting a variety of materials, including wood, plastic, metal, and composites. It is also capable of making precise bevel cuts and rabbeting cuts.
3. What is the Maximum Cutting Depth of the Dewalt DWE7491RS?
The maximum cutting depth of the Dewalt DWE7491RS is 2-1/4 inches.
4. Is the Dewalt Table Saw Worth It?
Yes, the DeWalt table saw is worth the price, especially the DeWalt DWE7491RS which comes with some outstanding features with a tight budget. This 10″ Job site table saw is portable, and super easy to maintain and set up. Also, it is more convenient and a great option for small and medium projects.
5. What is the Difference Between DWE7491, DWE7491RS, and DWE7491X? 
These three models are relatively similar and come from the well-known brand DeWalt. They are user-friendly, budget-friendly, high-performance, and easy to use. The main difference is their stands. DWE7491 is a very simple table saw and doesn't include any stand.
Alternatively, DWE7491RS includes a standard Rolling Stand. This stand allows folding away for storage with ease. While the DWE7491X comes with a normal folding stand.
6. Does the Dewalt Table Saw Take a Dado Blade?
All Dewalt table saws don't allow for using dado blades except the DEWALT DWE7491RS job site table saw. Yes, this model accepts dado sets and dado blades. So, this dado-compatible saw acts of several cuts quickly by using a powerful 4,800 RPM motor. 
Some Final Words
At the end of the day, there is no doubt that the Dewalt DWE7491RS job site table saw is a high-performance & top-quality saw in the market today. Some simple negatives are also presented, which we discussed in this writing. If you analyze other table saws, you also find some shortcomings.
The most advantages of this Dewalt product are 32 ½ inch rip capacity, 15 amp motor, and a rolling stand. So, don't be late to collect the newest premium table saw.
Read more: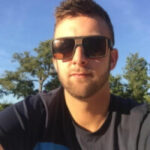 Hello, I am David Rowan. I am a professional contractor with 10 years of experience in home building, different tools used, construction, home remodeling, and other home improvement work. I have already built many custom homes and continued to do several woodworking projects along with how to deal with all categories of tools.