No workshop is complete without a workstation. The workbench is your partner when it comes to repairing, assembling parts, cutting panels or shelving. A workbench is a durable flat, smooth, molded surface that comes in various sizes and is specifically suited for multiple purposes.
There are no fixed workbench dimensions because they can be used for any task. A suitable workbench size should accommodate your body type, the type of work you'll be doing on it, the tool you're using and the size and thickness of the work item. So don't emphasize trying to find a formula for 'what size should a workbench be.'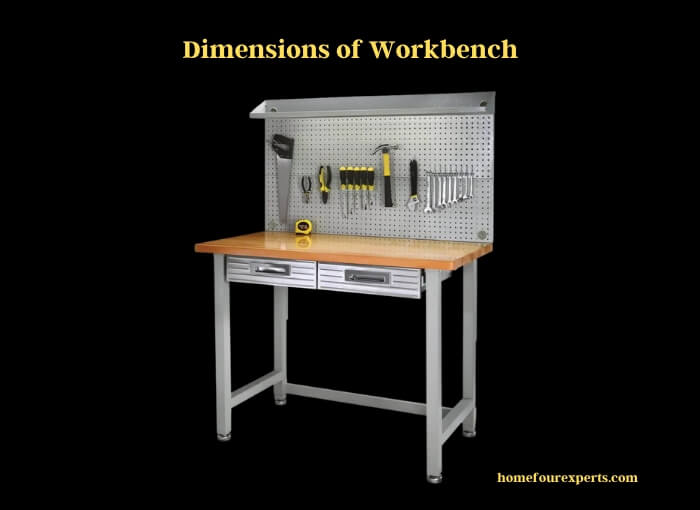 If your workbench plans are absolutely wrong, it will give you severe discomfort and difficulty while you work. Besides, an inch here or there will also make your work much of a difference.
If you're building your own workbench or finding a new one, we've compiled a list of resources to help you put together your ideal bench plans. Take a look at the information below to understand how to determine the ideal workbench measurements for you or how to build a solid workbench.
Standard Dimensions That Should Follow While Buying or Creating a Workbench
Whatever your experience level, a decent workbench can provide a secure, robust, and efficient workstation for various jobs. This article will cover the most crucial dimensions to think about when looking for a new tool bench. Always keep the following three measurements in mind:
The Ideal Height
When it comes to planning your workbench, height is possibly the most significant of all the measurements you'll take. Slight soreness in your back or neck pain will intensify more than before if you fail to consider the right height.
Now you may have the question in your mind that what is the correct height for a workbench? Don't worry; below, we divided the height into three segments based on different work types. 
Low-lying for Heavy Work
A reasonable, low workbench height for woodworking is 28-inches to 31-inches (72cm – 76cm). Because you can get your body weight over the bench, a low workbench is ideal for handwork, especially hand thickness. To adjust the hand and get closer to your job, you require power from your hips and legs, which is easier with a low height workbench.
Average Height for Easy Work
The most typical workbench height for woodworking is 34-inches to 36-inches(86cm – 91cm). The height is the most popular, mainly if you undertake a variety of tasks at your workbench. It is wise to keep the height at the 36-inches threshold to avoid aches and pains. This measurement appears to be a one-size-fits-all measurement. 
Tall Height-for Fine Work
A practical, tall workbench height is 38-inches to 39-inches(97cm–99cm). A tall workbench is ideal for fine precision work, joinery cutting, and power tool use. So, this workbench height is suitable for 5'10 feet taller people. This is the optimal height for a hybrid woodworker who uses both power and manual tools.
Nowadays, adjustable-height workbenches are popular among the workers due to their flexible option. It can be adjusted to fit persons of various ages, sizes and physical abilities, making it easy for multiple people to work efficiently at the same time.
The Ideal Depth
Workbench depth is a crucial part to count when taking workbench dimensions mm. Most of the common questions we got are, how deep should my workbench be? A perfect workbench's depth should ideally be no more than your arm's reach across it.
In the majority of situations, this figure is around 24-inches.  If you're a woodworker who frequently deals with particularly massive or broad objects, you might wish to add a few inches. However, for the majority of tasks and components, two feet should suffice.
The Ideal Length
This is the most straightforward of the three. The length of your workbench is a personal decision rather than a function of your body's reach, so you can make it as long as it fits in your workstation comfortably. However, keep in mind that the thicker the wood is, the stronger and more stable the workstation will be. If your workshop is in the garage, the best size garage workbench should be between 48 and 96 inches in length.
What Is the Best Workbench Material to Use?
When looking for a tool bench, the two most important factors to consider are a long-lasting work surface and a solid foundation. We suggest looking for a workbench with four sturdy, stiff legs or a strong base for even weight distribution.
The first step in selecting what kind of material to utilize at your new workbench is to figure out what kind of jobs you'll be doing. Here are three of the most common workbench materials: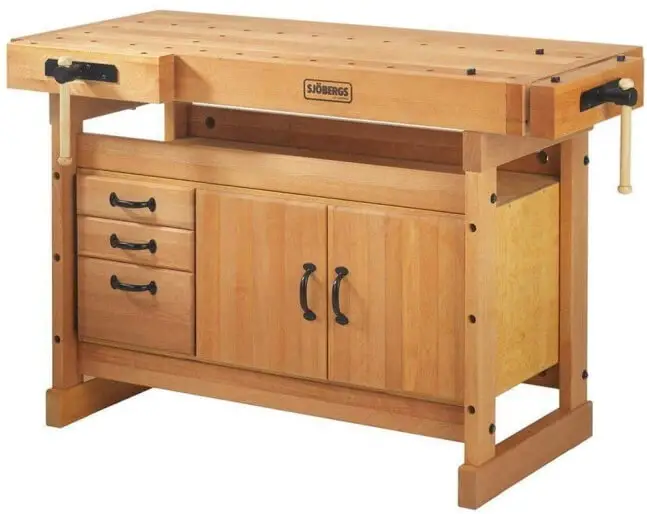 Wooden Made Workbench
Wood workbenches are among the strongest available and are designed to face significant pressure, heat exposure, and forces. Wood-surface workbenches are typically made of thick, solid maple and are excellent for general-purpose tasks such as repair, maintenance and assembly.
Plastic Made Workbench
Plastic workbenches are ideal for repairing electrical appliances because they are lightweight, inexpensive, and non-conductive. The majority of these solid plastic tops have long-lasting laminate coatings that protect them from smudges and scratches. A plastic laminate work surface will suffice if you intend to work on projects such as light assembly, packaging, or office use.
Steel Made Workbench
Steel workbenches are the most durable, with solid welds and underside reinforcements that provide increased weight capacities. If you intend to work with oil or solvents, heavy-duty steel is likely the best option because steel is defiant to solvent spillage.
Also, you can use it in a wide range of applications due to its resistance to corrosion and rust. If you have heavy-duty workbench plans, then we suggest using a steel-made workbench for your workshop.
Workbench Types According to Task
There are different types of workbenches, and which one is best for you will depend on your work requirements. Consider how you intend to utilize your tool bench first.
Will you use it for metalworking, woodworking, gardening, or another purpose? Do you need a sturdy workbench? Do you want to build a workbench against a wall? Continue reading to get more about the different varieties of tool benches that are available to match your requirements.
Woodworking Workbenches
Workbenches for woodworking are intended for shaping and building wood projects. They are available in various sizes, with larger versions for more complex projects involving significant components, such as constructing staircases or framing.
Metalworking Workbenches
Metalworking workbenches are incredibly sturdy, strong, long-lasting, and stable. They shape metal through welding, grinding, and light castings. Besides, vices and clamps are included in their design to hold metal parts. Because of its simple design and sturdy construction, this traditional workbench is the most popular and versatile type of workbench.
Compact Workbenches
Portable or compact workbenches are small and light, making them easy to transport. They are intended to be used in workstations where a permanent work surface is not required. It can be moved to where it is most needed. Portable benches are classified into two types: folding workbenches and rolling workbenches.
Folding workbenches will be small, light and collapsible, but they will be adequate for most everyday tasks. Rolling workbenches, also known as mobile workbenches, have the sturdy structure of a standard workbench and casters attached to the legs or base. These wheeled devices allow you to quickly roll the tool bench around, also locking securely in place when necessary.
Wall Mounted Workbenches
Wall-mounted workbenches are ideal for small spaces with limited floor space. A significant advantage of wall-mounted tool benches is that they can be hung at whatever height you prefer, making for a much more comfortable working environment.
Someone asked, how far should a workbench top overhang? It allows 3 or 4 inches of overhang if the top is thick and strong enough. Nonetheless, wall-mounted workbenches will not withstand the same amount of weight or wear and tear as standard workbenches supported by heavy-duty legs.
Electrical Workbenches
Electronics workbenches are used to fix electronic ingredients and devices such as computers. So it requires a power source to operate. They are ergonomically designed for workers to sit while working and have excellent lighting. Electronic workbenches are restricted with ESD solutions due to the sensitivity of electronic appliances.
Cleanroom Workbenches
The majority of cleanrooms are used to manufacture products such as medical equipment, electronics and pharmaceuticals. It is a controlled atmosphere where pollutants such as airborne microbes, dust, and aerosol particles are strained out.
To meet the high standards of cleanrooms, cleanroom workbenches must be uniquely superintended. Surfaces are nonporous materials such as stainless steel, aluminum, or plastic. They must be rust, chemical, petroleum and solvent product resistant and easily cleanable.
Flip Tops Workbenches 
A tilt-top workbench is commonly used for drafting and design work. You can quickly alter the height and tilt with manual or mechanical adjustments. The benefits of carving on a tilted workbench include less strain on your back and lighting angles similar to wall-mounted carvings. Those who want a space saver garage workbench plan can go for a flip-flop one to accommodate the workbench in a small space.
Custom Workbenches
Self design custom workbenches allow you to sit or stand while working and easily change the height according to the tasks. When you have an ergonomic workspace, your productivity rises, and your workplace injuries fall.
It is advantageous to have a custom workbench built. The size ranges from simply designing a small custom shelf, including scales into work surface patterns, or designing an entire custom workstation that can mix with conveyors and other industrial services.
Vibration Isolation Workbench
Isolation workbenches are designed for use with sensitive equipment that must be vibration-free. This workbench's primary concern is vibration control. They are employed in the operation of precision scales, microscopes, spectrometers, testers, and laboratory instruments. Isolation tables necessitate a perfectly flat surface with leveling feet.
The vibration-isolated surface and the workspace are divided to provide an ergonomic workspace where users can place devices or conduct daily tasks. Vibration isolation and damping efficiency differ depending on the type of atmospheric isolator and accessories used.
Retractable Workbenches
Retractable ball transfer workbenches are combined into material handling systems. Here a Pop-Up ball bearing raised a fraction of an inch from the tabletop aid in moving heavier materials while putting less strain on the worker.
It usually is used to mix and perform packaging, production, and shipping efforts. Ergonomic pop-up ball transfers are used to move objects onto and off work surfaces with ease. This allows for faster handling. The stations are fixed in place.
Industrial Workbenches
Industrial workbenches are required pieces of material for warehouses and producing works alike. They are typically used for packaging and assembly tasks, as well as storage for supplies and tools. These benches are essential for establishing prolific, safe workplaces.
Typically it's built with heavy-duty materials that are designed for harsh environments and constant usage. They are made of high-quality steel and are designed to resist the force of machinery and equipment without bending or falling. Industrial workbenches can support several tons.
Multi-Purpose Packaging Workbench
Packaging workbenches are typically custom-designed to meet all types of packaging needs. It offers a convenient work surface for assembly lines, packaging areas, warehouses, and other applications.
Moreover, it has space for bubble wrap, wrapping paper, envelopes of various sizes, tape, labels, and other packing materials. The workbench has an elevated tower and lower shelf to store the material and ease of work. It's usually built of metal and has sturdily constructed metal legs.
Cabinet Type Workbenches
Cabinet workbenches are intended for applications that require a variety of components and tools. They have a pegboard backing to hold tools, shelves and drawers, making it easier to access and more convenient to work.
Surface materials include aluminum, welded steel, stainless steel and highly finished or polished wood. Cabinet workbenches are more expensive than other workbench styles, but the investment can be well worth it because you may be able to avoid purchasing other storage options.
Factors to Consider When Changing the Dimensions and Design of a Workbench
A workbench's design and dimensions consider several factors like, its ability to handle heavy loads, space to fit, durability, vibration protection, and compatibility with building tools and machinery. Workbenches are highly fruitful pieces of equipment, so their design and dimensions must be carefully planned for maximum benefit and efficiency. Following factors should keep in mind while choosing or installing a workbench:
Easy Access
Regardless of the purpose of the workbench, a workbench should be located for easy access. One of the goals of a workbench is to improve an operation's efficiency and productivity. A complicated or complex method of accessing the workbench can slow down production and construction.
Sufficient Tool Space
Tools, especially for large applications, can take up a lot of room. Sometimes we have trouble storing equipment and machinery. So when building or changing the workstation design, always keep a specific place to store the tools which can be easily accessed. If the workstation is in a small area, try building the wall shelf or maintaining some drawers in the lower bench for the most efficient operation.
Freestanding or Wall-mounted
Workbenches come in various designs, from portable to wall-mounted, allowing them to be placed in any location. When deciding how to use a workbench, consider whether it needs to be mobile, secured to a wall, or have enough space around it for many people to work simultaneously.
Adequate Lighting
Lighting is an essential part of a workbench area. Proper lighting facilitates all work tasks. Appropriate lighting around the workbench, free of glare and shadows, can reduce eye fatigue and headaches. It can also help prevent workplace accidents by increasing the visibility of moving machinery and other safety hazards.
The LED lights are bright enough to allow easy viewing of the workpiece. It is also essential that lights are placed correctly so that the working person does not have to adopt poor active postures to see the task at hand.
Smooth Work Surface
A workbench's work surface must be smooth and firm, as well as defiant to chemicals, solvents, petroleum products and alcohol. Small pieces and testing workbenches typically have a pitch, or plastic laminate finished top.
Heavy-duty industrial workbenches are made of stainless steel or aluminum surfaces to hold any weight or material. Based on the sort of work, the following are a few distinct types of workbench surfaces:
Stainless Steel 
Stainless steel is one step ahead to protect the workbench from rust and corrosion. Stainless steel has a wide range of applications. It is used in heavy-duty applications that require a high weight limit.
Laminate or Plastic
Plastic and laminate workbench tops are inexpensive, lightweight, and non-conductive, making them ideal for working with electrical equipment, chemicals, or in a laboratory setting because the plastic material is easy to clean.
Epoxy Resin
Workbench epoxy resin has a transparent and 100 percent waterproof finish that protects and preserves the workbench from scratching, staining, and fading. Usually, it is used in laboratories with rigorous and demanding circumstances.
ESD (Electrostatic Discharge)
ESD surfaces eliminate the electric static to prevent the human from shocks and avoid accidents from machinery or charged gadgets.ESD workbenches perform best in assembly-based, industrial situations and harsh environments. 
Wood Surface
Wood workbench surfaces are among the toughest on the market, designed to endure abrasion, heat, and forces. Workbenches with a wood surface are made of thick, solid maple or oak and are great for various tasks such as assembly, repair, and maintenance.
Phenolic Resin
Phenolic resin work benchtops provide a chemical-resistant work surface for laboratories, medical facilities, schools, and others. Generally, these benchtops are manufactured of 1-inch thick black phenolic resin that is chemically resistant, non-flammable, and non-absorbent, making them ideal for heavy laboratory use.
Availability of Electricity
The workstation that is utilized to carry out activities of repairing electronic components and equipment must be equipped with power sources. Because of the sensitivity of electronic equipment, these workbenches are specifically grounded with ESD.
The handling of tools, monitoring equipment, testers and other elements needs consistent access to electricity. You can add electric wire by yourself to the side of the workbench, or you can buy a built-in power strip, which most workbenches come with.
Weight Capacity
The weight capacity of a workbench is crucial, depending on the work type. Standard designs have a weight capacity of over 1000 pounds, allowing for heavy machinery, tools, and equipment. Standard Heavy-duty workbenches have a weight capacity of roughly 5,000 lbs., whereas extra heavy-duty workbenches have a capability of 10,000 to 20,000 lbs. 
Accessories and Add-ons
Choosing the correct workstation equipment is almost as interesting as selecting the proper base. Your workbench is the foundation, but the accessories are what keep it functional. Drawers, shelves, cabinets, footrests, pegboard, bins and cubbies, casters, electrostatic grounding etc., are a few types of add-ons that match the long list of applications to ease your work.
Frequently Asking Question
What Should a Workbench's Ideal Height Be?
The size of the workbench is determined by the work of the woodworker in a standing position. To identify the best height level for the workbench, the point where the person's elbow is above the floor is the most crucial characteristic in this scenario.
How Thick Should the Top of My Workstation Be?
The top of your workbench should be at least a couple of inches thick. Most working experts recommend tops with a thickness of three inches but no more than 4.25 inches. This allows you to easily use braces, clamps, and other tools. This thickness is also rigid and long-lasting.
What Is the Typical Workbench Size?
The typical workbench size is usually determined by the amount of space available. Most workbenches are 28 to 36 inches deep, 48 to 96 inches wide, and 28 to 38 inches tall. 
Conclusion
Workbenches are highly versatile tools with a wide range of applications. They are utilized in a variety of ways, depending on their intended usage. Workbenches with sturdy supports can handle jobs that need the use of heavy tools and machines. But it is wise to choose an adjustable but rigid one.
We hope this article serves as a starting point for your search for the ideal workbench dimensions. Your bench will be sole to you in the end, but keep size, type and material in mind during the buying process to help you make the best option possible.
Relevant Resources: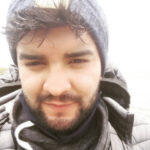 Hi, I am Eric Devin and I am a professional interior architect. Since childhood, I've always enjoyed DIY projects! And, I have loved to solve simple household problems using essential tools and equipment. I have also acquired a lot of information about basic household tools settings by working with contractors.