Workmanship always encompasses some basic skills and appropriate tools in order to operate the project work in a workshop efficiently. It might be some renovating tasks, building works or maintenance etc. There is some basic set of tools which is basically required in a workshop to get the project works done effortlessly and efficiently.  
It's obvious for a beginner to get upset to choose the right set of tools while getting to market to buy as the market is flooded with a bunch of tools. This list of professional grade essential tools for a workshop compiled to help beginners start their project.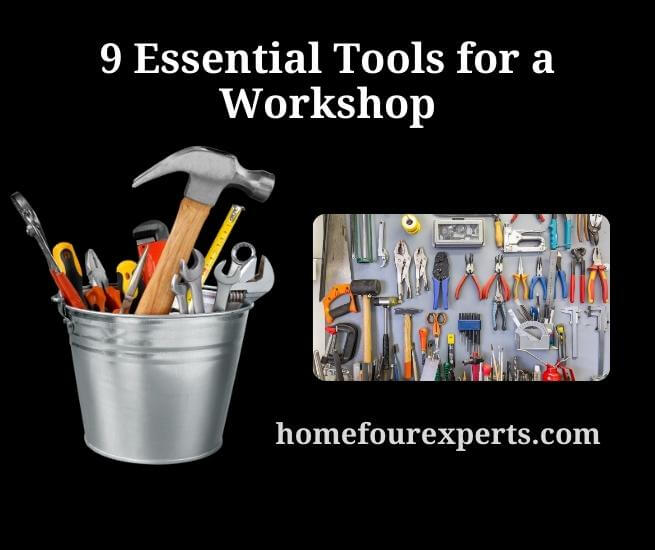 Set of Essential Tools  
1. Hand tools
Hand tools refer to any type of tool that can be used by hand and does not require any motor or electrical power. Hand tool combines some vibrant tools which need to be in a workshop beforehand to perform daily maintenance jobs. 
Hammers: The tool is made of a long wooden stick, attached to a block of metal. It can be used for driving nails, breaking objects and forging metal.
Wrench: This tool is used to clutch and turn objects. They help in assembling furniture or any other repairs for releasing or tightening nuts and bolts. Wrenches are also used for plumbing jobs where they are used to turn pipes.
Plier: Pliers are common hand tools found in almost every workshop. It is used to hold objects firmly, turn materials, and eliminate unnecessary elements. Pliers with needle-nose ends and wire-cutting abilities are the best kinds to have.
Clamp: A clamp is a fastening tool applied to hold or secure objects tightly together to prevent displacement or separation via internal application. Clamps can be temporary, as used to position components while fixing them together, or they can be permanent.
Cutters: Cutter is used to remove some material from the work piece by means of shear deformation. Cutting may be accomplished by single-point or multipoint tools.
Saws: In woodworking and carpentry, hand saws, also known as "panel saws", are used to cut pieces of wood into different shapes. This is usually done in order to join the pieces together and carve a wooden object.
Knives: It is an industrial grade knife. These are built with hard material and can be used for opening boxes, letters, or cutting not so tough materials.
Files: This tool is used to remove fine amounts of material from a work piece. There are four different grades like Coarse Cut, Bastard Cut, Second Cut, and Smooth Cut. They range in that order from fewest to most teeth per inch.
Vises: Vise device composed of two parallel jaws is for holding a workpiece; one of the jaws is fixed and the other movable by a screw, a lever, or a cam.
Screwdrivers: It is one of the must-have tools in a household utility kit. It is available in various shapes and sizes by hand tools. They can be applied to screw or unscrew nails on any surface, to tighten the hinges, and install light switches.
2. Cutting Tools
Cutting tool is a set of tools which is very common in a workshop. They are used to cut a variety of hard materials including metal sheets. Cutting tool falls under the category of industrial tool. It includes: 
Scissors; 
Utility knife;
Flat-cutting aviation snips;
Straight-cutting aviation snips;        
Right-cutting aviation snips;
Left-cutting aviation snips;
Tin snips.
3. Power Drill
Electric powered drill, corded and cordless, is used regularly in a workshop for various kinds of jobs including drilling holes and all sorts of attachments. It can also be fitted with a screwdriver attachment to drive screws into surfaces.
4. Nail Guns
Nail gun, much faster than a hammer, can be entrenched through wood and any other materials with high efficiency. It may be impelled by an electromagnetic field, pneumatic technology or small explosive charges.
5. Circular Saw
All circular saws are electric with various power ratings. It is a round shaped blade, full of sharp teeth which splits through wood. Cordless power-activated saw is now available in the market alongside corded saw. It is used to cut various types of materials ranging from soft wood, plywood and hardwood.
There are three types of Circular saw which cut straight.
Ripping Blades: Cut material lengthwise along or with the grain.
Crosscut Blades: For sawing across the grain.
Combination Blades: Designed for both ripping and crosscutting.
6. Bench Vise
Bench vise is an automated counter with two corresponding jaws. One is fixed and the other is portable. These are laced in and out by a screw and a switch. It is used to protect an object to work on.
7. Impact Socket
Impact socket is a secure socket set designed to resist high spin loads and vibrations triggered by hammer impacts. It's shielded with a black oxide coating and different in color than other sockets. Some higher impact sockets are manufactured as two distinct components which offer  more cost-effective replacements.
8. Welding Machine
Welding machine is an electric powered device that provides an electric current to combine materials, usually metals or thermoplastics. It is an automatic or semi-automatic industrial tool.  
9. Measuring Tools
Measurement tapes of a wide range of length is an essential tool which is frequently used in the workshop for accurate measurement. These are as follows: 
The tape's length covers (12, 18, 25 and 33 feet). Fabric tape steel in lengths over 100 feet which are commonly used. Folding rule is rigid measuring sticks for high accuracy;
A speed square is assembled with a lipped straight edge enabling it to mark 45-degree and 90-degree angles;
Levels are tools that determine whether a surface is level or not. A basic model uses water bubbles while a high-tech version uses laser beams;
It is strongly recommended to go through the above article to have a clear understanding about the professional grade basic tools to get your workshop adequately equipped before starting your project. If you need further expert advice, we are there to help you at a soonest possible time. 
Always maintain safety procedures while working in the workshop. Don't forget to get all industrial safety equipment like safety goggles, ear protectors, footwear, gloves, helmet as well as protective clothing in order to prevent industrial hazards and injuries.
Relevant Resources: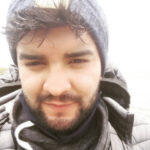 Hi, I am Eric Devin and I am a professional interior architect. Since childhood, I've always enjoyed DIY projects! And, I have loved to solve simple household problems using essential tools and equipment. I have also acquired a lot of information about basic household tools settings by working with contractors.