Published on: May 9, 2022
Written by David Rowan / Fact-checked by David Rowan
Different drills are used according to the work.  If you are planning to drill a concrete wall or strong surface area then a hammer drill is the best option for you. You can indeed use the regular drill for this work but a hammer drill makes your drilling work easier, faster, and smoother. This drill work process is faster than the other drill. 
Sometimes new users are confused to choose the right drill for their work project or house. This article describes different information about the hammer drill. You will know how a hammer drill works. When a user has an idea about his or her necessary tools they can fix or solve any problems easier. Even if a mature user has enough ideas he or she is capable of creating amazing work. 
Hammer Drill
Different types of tools are used in the workshop to create different types of products. A hammer drill is a power tool. It is also known as a percussion drill. Drill machines are used to drill hard materials or objects. Hammer drills are different from regular drills. Hammer drills create more pressure and power than regular use drills. 
Most of the time this drill is used to drill concrete and very hard material. If you are a creative person and love to create your necessary item by yourself then you must need a hammer drill so that you can work on yourself. 
Uses of Hammer Drill
Hemmer drill is a very popular tool. It is an electric machine that is used for different purposes. These tools are made to create holes on the hard surfaces of concrete and mineral metal. Workers use hammer drills to drill concrete and stone.  This drill also works for pathing to pin to the concrete wall and floor.
Hummer drills are used when a wall or metal has a few energy levels and it is not easy to drill holes using a simple drill. Hummer drills easily break the hard lining and make holes suitable for work. Hammer drill is different from the normal drill. Hammer drills are more heavy and expensive than the regular use drill. The feature of the drill hammer is more exclusively useful than the other drill. The main point is this drill is capable of working with heavy and strong surface work.
How Does a Hammer Drill Work
We all love to know the work process of the machine. Different machines work in different ways. Their work way is different for their work process. Do you know how a hammer drill works? Ok in this article I give you some idea of how a drill works. May you enjoy these ideas. 
Do you know that hammer drills have a cam-acting mechanism? This mechanism is also known as the percussion hammering mechanism. According to Wikipedia information, two sets of toothed gear are fixed on the drill. When the drill bit rolls, two set teeth come to watch others. With the help of the cam-action mechanism, drill bits are moving when you enter the bit into the chuck part of the drill. 
These types of drill machines don't just lift the drill bit to give a leak. Hammer drill not only the spin but also strongly punch through the drill bit.  The bit travels very frequently with full force like a hammer. It creates a thousand blows per minute ( BPM) or Impacts per minute (IPM). BPM makes it possible to break any concrete or hard rock very quickly with a hammer drill. 
Due to its rapid rotation and ups and downs, it penetrates any type of concrete very quickly and leaks easily. This feature makes the hammer drill different and powerful than the regular drill machine. If you are an expert you can use a hammer drill as a regular drill machine. 
The Perfect Hammer Drill
Day by day hammer drills become more popular and useful at the worksite. The user chooses their hammer drill to make their work faster and easier. Through this drill, you can hole the wall or metal easier than the regular drill. If you want to buy a new hammer drill then concern about the feature of the drill. Here are some ideas so that you can choose the best hammer drill for your project or home.
Motor Power
The motor is the main part of a hammer drill because the motor produces energy to the drill. When you choose a hammer drill try to choose a strong power motor. If the motor is not strong enough then it will not work properly. Buying a five to eight amps motor hammer drill is a good choice.
Source of Power
The power source gives energy to the motor. The power source is an important factor when you choose a hammer drill. You can buy an elective hammer drill if you have work on the workshop or construction building. If you have enough energy, then you can choose an eclectic hammer.
 Sometimes when you go to work you find that there is no way to provide an electrical connection. The easiest way to do this is to choose a battery drill or cordless hammer drill. When you buy a cordless drill machine with a battery, make sure that its battery is good and try to buy a high-powered battery hammer drill. 
Chuck Size Of the Hammer Drill
The size of the chuck hammer drill. Chuck is the place where you attract the drill bit. Concern about the chuck sizes of the drill can be 5/8, ¼, or ½ inches. To set the chuck you need a key but nowadays you will get some hammer drills that need not use a key to set the chuck size to attach the bit. 
Conclusions 
Hammer drills are very essential tools for drilling. If you know how to handle a hammer drill then you can also use this drill for regular use. Many users only use hammer drills for their regular use. You call them pro users of the hammer drill.
Through this article, I am trying to explain to you how a hammer drill works. To give you a clear visual I try my best to collect all information in one article. Be aware when you choose a hammer drill for your project. If you already have a hammer drill then know how to use them regularly.
Read more: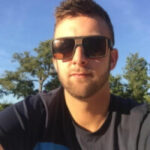 Hello, I am David Rowan. I am a professional contractor with 10 years of experience in home building, different tools used, construction, home remodeling, and other home improvement work. I have already built many custom homes and continued to do several woodworking projects along with how to deal with all categories of tools.