Published on: May 9, 2022
Written by Eric Devin / Fact-checked by David Rowan
A chainsaw is a powerful tool that is used for cutting. If you are a new chainsaw user sometimes you will fill some issues to cut short logs with a chainsaw. To solve this we try to take steps. We share some ideas that can help you to cut short logs. This idea will make you a pro user.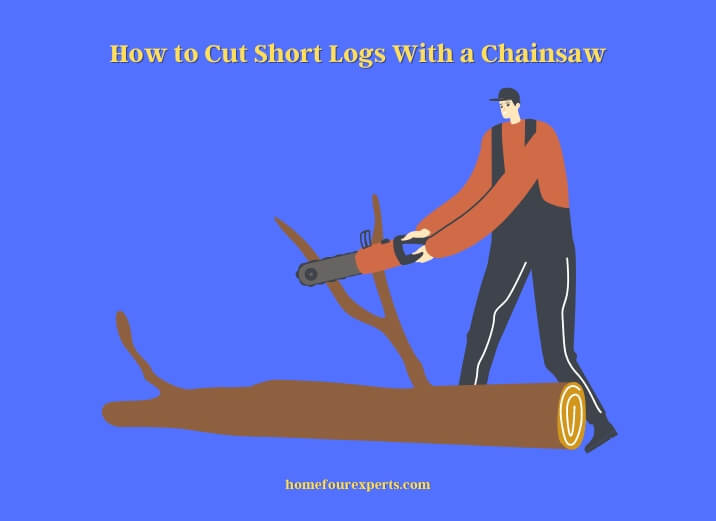 In this article, we describe all the steps to cut short logs with chainsaws. Hope this will help you a lot. We try our best to give all necessary steps.
How to Cut Short Logs With a Chainsaw
All steps have been described below. We explain a total of 7 steps according to the practical knowledge that will make your work easier. Follow them and make the perfect cut. 
Wear Right Safety Equipment
You should wear safety equipment when you use chainsaws. It's an essential part because safety equipment ensures your safety. A Chainsaw is a powerful tool if you are not aware of safety equipment any unwanted accident can destroy your work.
So it's necessary to wear safety equipment that protects you from minor and major injuries. When it comes to operating chainsaws, you really can't afford to skip the safety gear. These are essential items that can mean the difference between a minor scratch, and a major injury. There is some basic necessary safety equipment your news to use they are:
A protective helmet;
Rubber boots and leg protection trousers;
Earplugs and protective glass;
Leggings-apron for chainsaw;
Clear the Area Around 
It's time to clear your work area. Before starting chunking the tree up into logs, clean and clear the area around the tree. Sometimes dirty areas create changes in chainsaw kickback. For this reason, cleaning is a necessary step before starting. When you clean an area you can easily move and work. 
Avoid The Kickback Zone
If you are a professional chainsaw user you must know about kickback. It's an unwanted movement of a chainsaw at the working time. Kickback is one of the most well-known and problematic situations at the cutting time. It can injure you and your surrounding people.
Did you know almost all chainsaws have a "kickback zone" on the upper end of the tip of the bar?  Look carefully and find out the kickback zone of your chainsaw. 
To prevent the kickback issue find out the kickback zone and avoid them when you work. 
Cut-off Branches 
Now is the time to cut off the branches of the tree. This process is also known as limbing You may have noticed that some trees have many branches and some have very few. Before starting short logs it's better to cut the branches because it makes your work easier. This process is also safe because this way reduces the risk of kickback and tripping and also produces the best firewood.
You can cut the branches through the chainsaw and it will save time. Or you can use a small ax for this job. It's a time-consuming process but good for small branches. 
Measure the Length of Your Cuts
No doubt it is an important step. If you want to follow the easy and best way to cut the short off you should measure cuts properly. It will be much better if you decide what you will use them for and then start cutting them according to your preferred size. 
If you want to use them for firewood, it is better to make small pieces. 16 inch is a perfect size for firewood it can adjust with all firehouses. Just in case you are not sure how to use them then 16 inches is also a standard length.
Use Chainsaw Perfectly 
Most of the time new chainsaw users move too much their chainsaw. It is a wrong process and it can be dangerous. When you work with a chainsaw, fix the place and let it work freely and check constantly. 
When the chainsaw user starts to traverse a log, they ought to lodge the spikes into the wood, then let the chain pull its way through the wood.
And when spikes are set and the chainsaw is within the wood, make sure your hands are totally on the chainsaw for stability. Try not to push/pull the chainsaw again until you want to change the position of the spike, or you finished cutting.
Avoid Pinching the Chainsaw
Chainsaw pinching the log is a challenging situation.  Naturally, you will face this when you face an inward angle towards your cut, this happens by the place where your cutting tree is lying. This situation can damage your valuable chainsaw.  Here are two tips to solve these issues. 
Elevate The Log
Use a woodchuck to In the photo above, I've used a tool called a Woodchuck to raise one side of the tree. Use woodchuck according to the tree size. This will make your work easier and prevent pinching for the height.  
Use Wedges to Prevent Pinching
You can smartly use wedges because they help you to prevent pinching. It's good for large logs.This approach would be used mostly for large logs. All steps are done now your wood is ready to use. 
FAQs
Why Does the Chainsaw Blade Get Dull So Fast?
A dull blade is a chainsaw massive problem. If you hit the ground and can not clean your chainsaw properly the blade can be dull fastly. If you work with dirt wood after work, clean your saw. 
How To Split Logs into Firewood
If you want to split the log into firewood, its final steps will be done by these steps. All is done, your log is ready now you are just one step away to split firewood. If you're cutting firewood, then as soon as you've finished cutting your logs, it's helpful to also split it into pieces. Here is some easy optional process to split firewood: 
Splitting mauls
Splitting axes
Log splitters
How Do You Cut Ground Logs With a Chainsaw?
Set your chainsaw on the top of the log and start cutting. Do not pressure too much. Be careful so that your chain saw doesn't touch the ground and objects. You can use a wood bar to raise wood.  
Conclusions
Cutting short logs is not a hard job but sometimes new users face problems. Just in case you are new we hope this information plays an important role in your projects. 
Now you know all the necessary steps to cut short logs with a chainsaw. We try our best to describe everything.  Follow safety factors and describe steps for the best results. If you still face issues you can share your ideas and experience with us.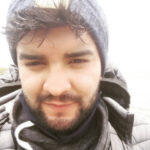 Hi, I am Eric Devin and I am a professional interior architect. Since childhood, I've always enjoyed DIY projects! And, I have loved to solve simple household problems using essential tools and equipment. I have also acquired a lot of information about basic household tools settings by working with contractors.