Drawer pulls are the little touch-ups of a home decor that is cheap but makes a big impression on you. A simple change of those worn or out-of-fashion hardware will reflect your taste and care for the house and will establish harmony with the rest of the decor items. 
Drawer pulls are easy to find everywhere, but it requires accurate measurement to buy new ones and replace them with old ones.
How to measure a drawer pull for comfortable pulling, tips to buy a smart-looking pull, and finally how to attach pulls on any surface-all are discussed. No stones are unturned here so that you get a complete guideline to replace your drawer pulls easily. 
Measuring a Pulls 
Just like any other object, there is a three-dimensional measurement of drawer pulls. Instead of length, width and height, we have to measure the length, projection, and center-to-center height. 
Length
The length of the entire pull or knob is measured here. Take a measuring tape, measure the drawer or cabinet pull from one end to another, and note the measurement in inches and millimeters. 
Projection
Projection is the gap between the pull and the drawer where we pull out our hands to grab and pull it. This measurement is important as the conformity of the hold and space the drawer will take after opening depends on it. Besides, the projection varies in different drawer pulls and designs. So, this measurement is crucial for DIYers who install their door pulls all by themselves. 
Center to Center Length
The distance between the eyelets for the screw is measured now. The center means you have to start measuring from the center of the eyelet and stop at the center of another eyelet. 
As the eyelet of the drawer pulls are tiny. So, measuring the distance is just fine. Later, we have shared tips on how it can be installed with a DIY template. Door knobs have only one eyelet, so, in this case, there is no need to take this measurement. 
How to Choose Pulls for Drawers
Color, Material, and Style
There are countless drawer, door, and cabinet pull and knobs are available in various designs, sizes, colors, and materials. There are actually specific rules about the one you should choose: their hardware for doors and cabinets to match or stand out with the interior. I don't believe in decorating following strict rules. For me, it is just all about your test and preferences. 
Here are some tips for easily picking up functional, and aesthetic drawer hardware.
Brass, copper, and gold-colored modern drawer pulls match home with a warm vibe. 
Black, white, stainless steel or wood-textured pulls go well with any decor style. So, these are almost no-fail choices. 
Crystal drawer knobs are also popular for their femininity. These look great in a couple or woman's bedroom or dressing room drawers. 
Modern, vintage, or victorian? Drawer pull design should be chosen according to the furniture of your home. 
For Drawers
Some prefer knobs, some prefer pulls for their comfort to hold on to. Here are some rules to follow. Different drawer sizes need different numbers of pulls. 
Drawers smaller than 12 inches or less should have a small pull or better yet, knob. The 'length' of the pull should not be more than half of the entire drawer face length. 
Drawers more than 18 inches should have two knobs, two pulls, or one large pull. The reason here is to make it functional. Large drawers like dressers, kitchen storage usually are heavier due to their vast content. Using one pull will strain the attached screw and make it weaker. So, two pulls on both sides or a long pull to cover both sides will make it more stable. 
Bonus: Choosing Pulls for Cabinets
Choosing pulls and knobs are almost the same as choosing drawer pulls. But here, the length of the pulls has to be less than one-third of the cabinet length. Another thing to take into consideration is, the pull's projection should be chosen carefully. Especially when the cabinet opens up and there is another cabinet or furniture close by. Then there will be a risk of damage if the projection is too high of the pull. 
Frequently Asked Questions
How Do You Install Drawer Pulls?
Drawer pulls are not just made for drawers. These are used in drawers, cabinets, doors, and even windows. Here, we are explaining the easiest way to install pulls and hardware on any opening which will be fail-proof. 
Requirements
Drill, screwdriver, measuring tape, tape, level, pencil, cardboard, pull, and screws. 
Installing Pulls
If your drawer has holes from previous pulls, then it's better to use a new one that has the same center-to-center height. It will fit into the same screw holes. But it's okay if you want to try a new one with a different measurement. Then before installing the new pulls, apply some wood putty on the old screw holes on your drawer, sand it, paint it then follow the rest of the procedure. 
Make a template. It's easy, just cut a cardboard rectangle according to the drawer face. Measure the length of the drawer horizontally, and find the center. Now draw a horizontal line. 
Following the same step, mark the line that vertically divides the drawer face. Now you have a '+' sign on the drawer template. 
To install a knob all you have to do is place the template on the drawer face using tapes. Make a home on the overlapping point of the '+' and attach the knob with a screwdriver. 
To install a pull, measure the center-to-center distance of the eyelets. Find the center of that measurement and mark it with a pencil on the hardware or use tape. 
Now, align the door pull's center marked point of the temple's '+' sign. When both centers are well aligned, press down the pull on the cardboard. You will have two points of the eyelet's position on the template. Use a pencil and make holes on those. 
Now use a level to keep the template straight and attach it to the drawer face with tapes. Use tapes to place the pull on the templet. Now check from a distance if it is okay to install it this way. 
If everything is okay with you then use the drill to make holes on the eyelet markings. Use a slightly bigger drill bit than the given screw to make the holes. Now remove the template, place the pull and use a screwdriver to tighten the screw from inside of the drawer. 
The template will work for repeated installation as long as the drawer size and pull size are the same. Besides, installing pulls on any surface like doors or cabinets also need the same steps. There is no chance to make mistakes if you follow it step-by-step. 
What Size Drawer Needs Two Pulls?
Large drawers need two pulls or one large pull. If the drawer length is more than 18 or 20 inches, then one pull is not a functional idea. In this case, divide your drawer template into lines which is ⅙  of the total length. There will be five lines. To install two pulls, leave two sections of ⅙ lines from either side of the template, use the middle area and place the pull accordingly. 
Should Drawer Pulls be Centered?
Drawer pulls 'MUST' be centered horizontally. But it is not necessary to center it vertically If you want to place a knob. Usually, knobs are placed close to the drawer rail and pulls are centered vertically as well.
No matter whether you center the knob or pull on both dimensions, it is necessary to follow the same rule on every pull you install on every surface of your home. For example, it will be odd to look at a dresser or kitchen cabinets where all the pulls are horizontally centered, but none of those placed on the same spot vertically. 
Final Verdict
Placing pulls on any surface can be super easy, just as we mentioned, or can be nerve-wracking. You don't want to mess with your furniture and go for a trial and error procedure to install hardware. So, please make time to follow the instructions carefully to measure, buy and install pulls on drawers. 
If the installation of the first pull is successful, then the same template will guide you to do the rest of the pulls of your home within minutes. Meaning, you have to measure the drawer and pull only once, and repeated installation won't need repeated measurements if the pulls and drawer lengths are the same.
Read more: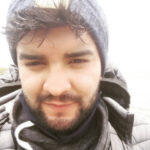 Hi, I am Eric Devin and I am a professional interior architect. Since childhood, I've always enjoyed DIY projects! And, I have loved to solve simple household problems using essential tools and equipment. I have also acquired a lot of information about basic household tools settings by working with contractors.