Nowadays, scooting is not only fun or commuting vehicle for kids, but it has also become the most adventurous and enjoyable sport as well.
Even adults also like to ride or perform stunts with scooters.
But while buying a trick scooter you need to be careful about some important things as it is going to be used to do stunts.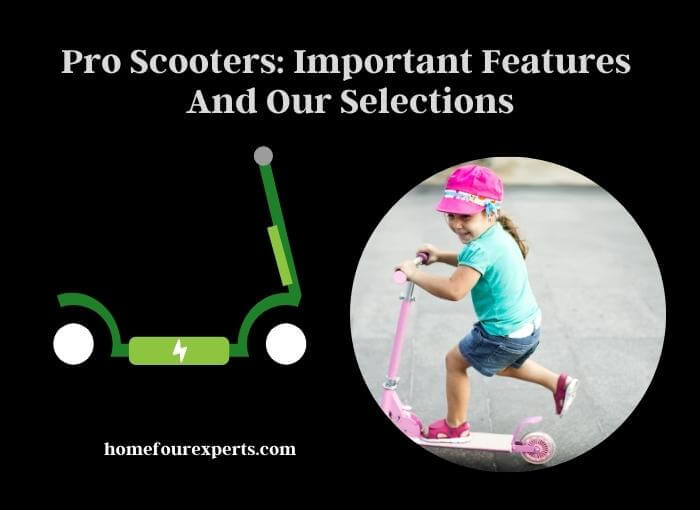 You must choose a strong and safe scooter that can absorb the jump and roughness of stunts. It should be easy to operate and customizable according to your use.
In short, you need to select the best stunt scooter for you or your kid.
If you're buying this for the first time, you may get confused about choosing the right one as it is related to the safety issue.
But don't worry!
In this buying guide, I've included all the information you should know about it. So you'll be able to buy the perfect scooter for beginners or pro stunt riders.
Consider Some Important Features Before Choosing Pro Scooters-
If you're going to buy a trick scooter for your kid, you need to consider some important features before choosing. Because pro stunt scooters are a little bit different from regular scooters. So checking some specific features will help you to get a perfect stunt scooter for your child.
Deck
Choose the deck of the scooter according to the age of the rider, comfort level, and duration of use. Compact decks will give the rider control during performing stunts. But wide decks can give you comfort while using it for a long time.
Handlebar
Check the height of the handlebar, the standard size of the handlebar is equal to the rider's waistline. This helps your kid to have better control & comfort while riding or performing some trick.
Wheels
The wheels of a trick scooter are the part that goes under most torments. So before buying a trick scooter, you should choose the most durable, sturdy, and tough wheels. The toughness of scooter wheels is measured by a durometer. A durometer range from 80A- 88A is appropriate.
Grip Tape
Before buying a stunt scooter you must check that the deck has grip tape to increase the traction on the scooter's deck. Because sometimes the deck may become slippery which increases the risk of an accident. But if your scooter deck comes with grip tape, you can perform easily.
Brakes
Usually, scooters are available with two types of brakes- flex fender and spring brake. If you're buying a scooter for children or a beginner rider, spring break will be the most suitable one. But for a serious trick or stunt performer, you should pick the one with a flex fender. These types of scooters are perfect for tricks and will last for a long time.
Weight
When you're buying a trick scooter, the weight is the crucial feature you must look for. A stunt scooter needs to be heavier than a regular scooter. Because a pro stunt scooter goes through rough use. So it would be better if you get a sturdy, heavy trick scooter for performing tricks safely.
Customization
The scooter you're buying for performing a stunt must be customizable. Because as you come to learn new tricks, you need to replace or customize different parts of the scooter, like brakes, wheels, grip tape, clamps, bearings, etc.
Compression System
Check the compression system of the scooter before purchasing and get one that can be adjusted according to the rider's need and comfort.
Bearings
Though bearings are the common parts of any type of scooter, neither manufacturer nor you pay much attention to the bearing of a normal or regular scooter. When you're planning for a pro stunt scooter, you must check the bearings.
Because bearings help to reduce the rotational friction and ensure a pleasant rotation of wheels. So check the rating of the bearings of the scooter and choose the one with the highest ratings.
Read More: Research the Best Kick Scooter for Commuting – Top 10 Reviews
Maintenance of Your Stunt Scooter
Regular and proper maintenance of the stunt scooter can ensure its lifetime and performance of it. So check and take proper care of the scooter on a regular basis. For maintenance, you can follow the mentioned steps-
After every use, make sure to check the ball and bearings and grease them if needed. Also, check the wheels, handlebar, footplate, brakes, clamps, and fast-release system.
Repair or replace the wheel, handlebar, and bearings whenever needed.
Wash the scooter regularly to avoid any gunk.
Tricks for Beginners
Now I'll tell you about some tricks that you can perform with your stunt scooter. If you are a beginner and looking for some tricks to do so, this can help. But remember, you can't know everything by reading about these tricks, to be perfect at tricks you need to watch videos and practice more with your group.
Ollie
To do this trick first put your feet firmly on the scooter's deck then drag the handlebar up followed by your feet, finally get your feet up to the chest and land them easily.
Bunny Hop
To do this, slowly roll in on the scooter, then bend your knees, and now jump and pull the scooter deck up with you. While landing, bend your knees and roll again.
Manual
For the manual, you need to stand and put your weight at the back of the deck. Then raise the front wheel of the scooter up by pulling up the handlebar.
180
For performing this trick you need to be a master of the ollie. And when you are a master at Ollie do a high ollie then swing both your body and scooter to 180 degrees.
360
This trick is just like 180 but you need to rotate fully for this. This needs a lot more practice than Ollie and 180 and it's a little bit dangerous. So you need to be very careful and practice well before doing this.
Nollie
It is also like Ollie but it needs some extra effort or skill. You need to push the handles down when you jump so that the back wheels of the scooter get higher than the front.
Tail Whip
Tailwhip depends on your arm movement and fancy footwork. Kick the deck when you're in the middle of the jump to move it around then land on the deck.
No Footer
Jump off the deck and take both your feet off the deck, then stretch out your legs.
Read More: The Best Treadmills for Senior Walking – Top 10 Reviewed
Regular Scooters vs. Trick Scooters
There are a few differences between regular scooters and trick scooters, such as-
Kick scooters are for fun riding and a great commuting vehicle. Generally, these scooters are made with aluminum, they are lightweight and come with a bigger deck. Regular kick scooters have adjustable handlebars and their wheels are also big.
But a trick scooter is made for performing tricks with it. They are made tough to tolerate the roughness of tricks and stunts. They are made of steel and come with smaller decks. The handlebars of trick scooters are fixed and so are the wheels.
Safety Precautions When Riding a Pro Scooter
When riding a pro scooter, it is important to take the following safety precautions:
Wear appropriate safety gear, including a helmet, elbow pads, knee pads, and wrist guards. This will protect you from injuries if you fall or collide with another object.
Learn and follow the basic rules of the road. Stay on designated paths and obey traffic signals and signs. Look both ways before crossing streets and intersections.
Be aware of your surroundings at all times. Pay attention to other scooter riders, pedestrians, and vehicles on the road.
Ride at a safe speed. Going too fast can make it difficult to control your scooter and increases the risk of injury in case of a fall.
Keep your scooter in good condition. Check the brakes, wheels, and handlebars before each ride to ensure they are in proper working order.
Avoid riding in poor weather conditions such as rain, snow, or ice. Wet and slippery surfaces can make it difficult to control your scooter and increases the risk of injury.
Avoid performing tricks or stunts while riding. These activities can be dangerous and increase the risk of injury.
Do not ride under the influence of drugs or alcohol. It impairs your judgment and reaction time and increases the risk of accidents.
If you are new to riding a pro scooter, it's best to start with a smaller, less powerful model. You can gradually work your way up to a more advanced model as you become more comfortable and confident on your scooter.
Always be aware of your own limitations, and don't take unnecessary risks. A pro-scooter is a fun and efficient mode of transportation, but it can also be dangerous if safety precautions are not taken.
How Much Do Pro Scooters Typically Cost
Pro scooters can vary in price depending on the brand and model. On average, they can range from $100 to $400. However, some high-end pro scooters can cost over $500. It's recommended to research and compare different brands and models to find the best scooter that fits your budget and needs.
Editor's Speech
A good quality stunt scooter can be a great gift for any adventurous person, especially for teens.
But when choosing a stunt scooter your first consideration should be safety. So if you select this for yourself or the younger member of your family check the safety features of it. And always wear safety gear while riding on it.
And most importantly, take proper maintenance of your scooter after every ride to keep it in good health. This also lessens the risk of accidents and injuries while riding.
Hope now you're well aware of all the important information about trick or pro stunt scooters. So choose the one that suits you best and enjoy.
View Our Selected Some of the Best Trick & Pro Stunt Scooters-
1. Phoenix Pilot Pro Scooter
Maximum weight capacity: 200 pounds;
Color: blue, green, red, and black;
Bars length: 22 inches;
Deck dimension: 4.5″ W x 19.5″;
Wheel size: 110 mm;
Scooter weight: 8.82 pounds.
Let your child live the dream with phoenix pro scooters. For children who love sports and dream to be an athlete in the future, this scooter can help them to master their skills and nurture their passions.
Its 22 inches hi-tensile T bars are long enough for kids and teens up to 5.5 ft tall. So that the kids can grow their skills on it, as they grow up. The deck is also longer than other scooters so that they can easily master tail whip and other tricks in the skatepark. This scooter takes wheels of 110 mm size, but the included wheels are so durable, you may never need a replacement resulting from abuse.
The 'Pilot' series from Phoenix is for beginners and intermediate-level scooting. As your child learns the tricks perfectly, you can switch to the 'session' and 'sequel' series. These are the scooters that are used by professionals.
For the quality, the price is reasonable. Order it, receive it, tighten some bolts and ride it…it is that simple. You don't have to face any hassle regarding assembly. The scooter is durable yet surprisingly lightweight, with just the right characteristics your kids need for a trick scooter
Things We Liked
Lightweight;
Highly durable;
Withstands a lot of abuse.
Easy assembly.
Things We Didn't Like
---
2. Lucky Crew Complete Pro Scooter
Height requirement: For riders 4 ft to 4 ft 5 in;
The deck measures 19 x 4.5 in;
Aluminum Kink Bar measures 23 x 22 in;
Wheel size: Torsion 110mm 86a;
Headtube: 82.5 degrees;
Scooter weight: 7lbs.
Legendary stunt Tanner Fox has brought this scooter in collaboration with Lucky. His years of experience and understanding of tricks and stunts are reflected in this scooter. If a 'trick scooter' is exactly what you are looking for, then this one may be the right thing for you.
This scooter is one of the lightest on our list. With its three-and-a-half kg weight, the rider will literally be flying in the skate park. If your child is above 4 ft tall, then you can invest in this ride, it can be used even if the kid grows one and a half ft taller.
There is no other color option available for this range. The green and black contrast are somewhat monotonous. But if you consider the scratches the scooter is going to face, then bringing home a dull-looking scooter is a smarter act. Tears appear more prominently in vibrant colors. The price of this scooter is slightly higher than the Phoenix one, but the warranty offered is truly worth it.
Things We Liked
High-quality materials result in strong;
Light scooters that are amazing to ride;
Functionally superior and works of art;
Long-lasting. 
Things We Didn't Like
Replacing the rear wheel is bothersome.
---
3. Dominator Trooper Pro Scooter (Black)
21.5″ high x 20″ wide;
Designed for strength and durability;
The T-bar style makes completing tricks even easier;
Scooter weight: 6.61 pounds. 
Where other competitors put their effort on wheels and brakes only while designing pro scooters, DOMINATOR  was thoughtful about every tiny detail of their scooters. This scooter is made 7-Spoke aluminum to make it feather-light. Besides, the T bar is given a hexagonal profile for added durability.
It takes 110mm wheels and eagle wheels are incorporated into this scooter. It comes almost assembled, just needs to tighten some screws and it's ready for a ride. For the beginner or intermediate-level riders, this scooter from District is absolutely perfect to purchase.
It is pricey, just as much as a high-end scooter should be. Considering the quality and detailing, it is totally worth it.
Things We Liked
Smooth and rattle-free;
Durable parts;
Very light.
Things We Didn't Like
---
4. Razor Motorized Ride On Kids Scooter (Model No E300)
Maximum weight capacity: 220 pounds;
Color: blue;
Mileage: 15 mph;
Type: Motorized;
Power: battery;
Wheel size: 10 inches wide;
Includes scooter, battery, and charger.  
For people who are not afraid of doing stunts on a motorized scooter, this one is just for them. It's the only electric scooter on our list and it is not perfectly suitable for stunts and tricks, but it is great for commuting. It is the most expensive one on our list as well because the price includes the cost of the battery and charger.
With this scooter, you don't have to push and kick it around and stress about that. Just charge the battery overnight and the scooter is all packed up for a long ride in the morning. Its wheels are very wide so that you don't have to deal with cracks and pebbles on the sidewalk. It ensures an easy and smooth ride as you go.
You can control its speed by twisting the grip and brake with another hand-operated rear- brake. The only bothering matter is, the battery has a very long charging time. A lithium battery would be much more time-saving.
Things We Liked
Doesn't require kicking;
Stress-free riding;
Variable speed control and brake. 
Things We Didn't Like
Heavy;
Long charging time. 
---
5. Madd Gear Mini Pro (Model Number VX7)
Maximum weight capacity: 220 pounds;
Color: green/black, black, red/black;
Bars length: 18 inches;
Wheel size: 100 mm;
Deck dimension: 4″ W x 17″ L;
Scooter weight: 7.8 pounds.
In the expensive stunt scooters, aircraft-grade aluminum is used for making the major features. In this scooter from Madd Gear, chrome alloy has been used instead of aluminum to make the scooters as durable as the high-end ones but more affordable. Now you can chase your dreams even if you are on a budget.
This mini-pro model is just a miniature VX7 pro scooter from the same manufacturer. It is meant for kids and teens only. Hence the bar and deck may seem rather smaller to some, but that's totally okay if you are purchasing one for kids exclusively.
Considering its size and material, it is a little heavier, because of chrome alloy, but easy to manage. Besides, its higher weight capacity is proof of its sturdiness. So, stop looking far if you are on a budget, it has all the things to satisfy you and your kids.
Things We Liked
Affordable;
High weight capacity;
Sturdy construction.
Things We Didn't Like
Suitable for smaller kids and teens.
---
6. Fuzion Z250 Pro Scooter Complete Trick Scooter – for Boys and Girls
6061 Aircraft-Grade Aluminum 4.5″ x 19.5″ Deck;
High-Tensile Steel 23" x 21″ Bar;
IHC Threadless Compression;
3D-Stamped Steel Fork;
Solid Double-Bolt Clamp;
110mm Cast 85 PU w/5-Spoke Aluminum Core Wheels;
Nylon/Steel Custom Brake;
ABEC-9 Bearings.
Looking for a stunt scooter for your daughter who has a color preference? You can peek at the color range of Fuzion Z250 scooters because only this brand on our list has a pro scooter with color!! With this, you can satisfy her need for a stunt scooter just like she wants. The other colors are striking as well.
In terms of quality, the scooters are well-made. These are meant for kids aged 7 and above, and considering the age limit, the deck size and bar length will be suitable for their teens also. The scooters come with a sleek and elegant design. By the look of the scooters, no one can guess that these are almost half the price of expensive scooters.
It weighs a half-pound heavier than expensive ones, but with Fuzion, your purchase will be totally risk-free. All the scooters come with a long warranty and a money-back guarantee. So, in case of any defect or dissatisfaction, you can always contact the seller
Things We Liked
Backed by a warranty;
Sleek and elegant style;
Easy assembly;
Suitable for beginners. 
Things We Didn't Like
---
7. Royal Guard II Freestyle Stunt Scooter (Low Budget Scooter)
Height requirement: 4.5 ft and up;
Color: gray/black, blue/black, red/black;
Bars length: 29 inches;
Wheel size: 100 mm;
Scooter weight: 7.9 pounds (3.76 kg).
If the above scooters are out of your budget, then have a look at this affordable scooter for Royal Scooters. It's okay if you don't want to break the bank for a scooter for a beginner kid. Learning tricks and stunts doesn't need to be expensive. A durable scooter is enough to master the tricks for a beginner, save your money for the expensive ones when the kid becomes a master.
The best thing about this scooter is, it is also lightweight and durable just like the top two scooters. You just have to deal with the small and noisy wheels. You can always replace the wheels with better ones to get rid of them. Its longer T bars mean it is suitable for even taller people. I recommend this one for adults as well considering the extra length of the T bars.
The color range is vibrant enough to take the rider's breath away if it is their very first scooter. The price is really cheap, but this scooter is not cheaply made. It is not sleek like the high-end ones.
Things We Liked
Lightweight;
Budget-friendly;
Longer T bars. 
Things We Didn't Like
---
8. Vokul Pro Stunt Scooter (Model No S1)
Maximum weight capacity: 200 pounds;
Color: green, black, red;
Bars length: 23.2 inches;
Wheel size: 100 mm;
Deck dimension: 4.1″ W x 20″ L;
Scooter weight: 8 pounds. 
It's hard to find anyone who has an interest in scooting but doesn't know the brand Vokul. This leading brand has gained popularity due to its quality scooters available at an amazingly affordable price.
The larger deck of this scooter may be responsible for slightly heavier weight, but it makes scooting comfortable in the street as well as in the skate park. The best thing about this scooter is its packaging. If you are purchasing one for Christmas or the birthday of your loved ones, then the gift packaging will save you from wrapping this scooter. The scooter itself is strong, smooth, and fast.
The warranty and replacement offer you get with your purchase are beyond compare. Besides, the customer service is also mind-blowing if you want to consult about anything. The price is like a peanut considering the service and the quality of the product you are receiving from Vokul.
Things We Liked
Cheap price;
Large deck;
Comes with a warranty;
Excellent customer service;
Easy assembly. 
Things We Didn't Like
Read More: Knee Scooter
---
9. Hiboy ST-1 Pro Aluminum Performance Freestyle Stunt Scooter
Capacity: 176lbs;
Bar: 18.9″W X 21.3″H Chromoly;
Deck: W3.9″ X L19.7″ T-6061 Aluminum;
Fork: Steel Fork;
Compression: HIC;
Headset: Integrated Threadless;
Wheels: 110mm, PU Wheel;
Bearing: ABEC-7.
Most of the scooters we have reviewed in this list are suitable for kids and early teens only. For adults and older teens, Hiboy has launched this scooter with a much higher weight capacity. Besides, the deck is made longer to provide enough room to forbid foot people. Bars are also impressively wider for a comfortable grip.
This scooter runs smooth; noise and rattle-free even in the skate park. For assembly, you just need to tighten four bolts to the deck and that's all. It is slightly heavier than other scooters we have reviewed, but as it is meant for older and bigger people, the weight is negligible.
It's astonishing how this manufacturer is able to provide such a pro-quality and durable scooter at a cheap price. The price is not the lowest, but it is still affordable if you truly need a professional scooter.
Things We Liked
Suitable for bigger people;
Sturdy;
Easy assembly;
Affordable. 
Things We Didn't Like
---
10. Tricks Pro Stunt Scooter (Model No S2)
Age limit: 7-14 years;
Maximum weight capacity: 140 pounds;
Color: black, black/white, black/white/orange;
Bars width: 23.8 inches;
Wheel size: 110 mm;
Deck dimension: 3.9″ W x 18.7″ L;
Scooter weight: N/A. 
Your kids will not have any issue doing tail tap, tail whip, or bar spin when they are riding this stunt scooter from Vokul. Even children under 6 years old can ride on this effortlessly. This leading brand has incorporated iconic details from professional trick scooters in this scooter so that even kids can experience the same feel as adults do on high-end scooters. 
To make the tricks much easier, the bar has been made with extra care. Instead of aluminum, high-carbon steel has been used and smoothed out perfectly to minimize the risk of possible injury. The handlebar, grip, and brake are made reliable as well.
The price is really cheap for this scooter. The only thing I want to mention is, its weight limit and narrow deck may make this scooter suitable for younger kids with thin body shapes.
Things We Liked
Amazing customer service;
Comes with replacement offer of different parts;
Economical price. 
Things We Didn't Like
---
Read more: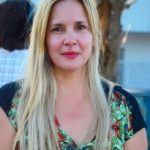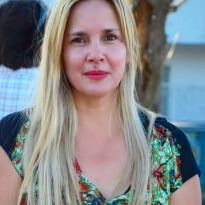 Guys, I am Camila Avery and I love to help my mom to do indoor & outdoor activities. As a lady, I have passed my time on gardening, home improvement, and personal or self-care. I have acquired some degrees in outdoor recreation, beauty, and hair care. It is not easy to work with top-level professional beauty experts. But, I got that opportunity and experimented with different hair extensions, hair colors, and cuts.