The hammock is simply a kind of swaying or rocking bed usually made of different kinds of fabrics or netting. Both ends of this bed are attached to a vertical object like a tree or a kind of pole to keep it stable for swinging, sleeping, or resting.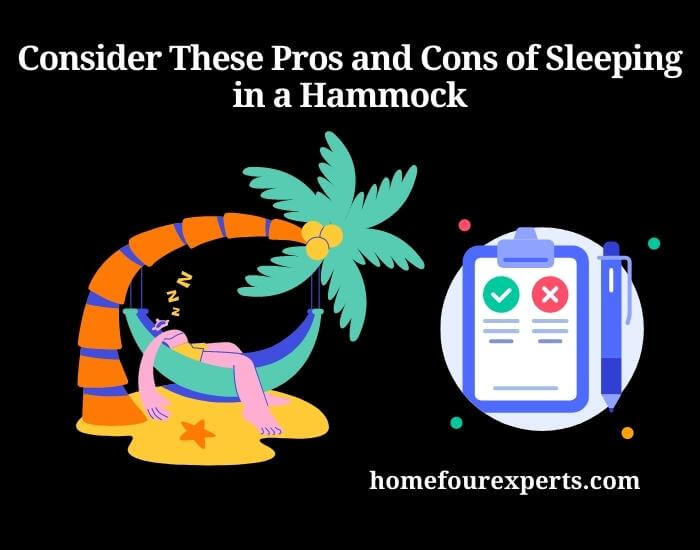 As per Wikipedia "A hammock is a sling made of fabric, rope, or netting, suspended between two or more points, used for swinging, sleeping or resting." One or more panels, or thin rope or woven string stretched with ropes between two firm anchor points is assigned to set up a hammock. The hammock was first designed by native occupants who were from Central America, the Caribbean, and South America to sleep on. 
According to anthropologists, the hammock was first invented in Central America over 1000 years ago when the Maya and other ethnic people first designed them with tree bark or plant yarns used to protect them from crawlers, bugs, insects, snakes, etc. In the mid-century, English and Spanish sailors used hammocks for on-deck sleeping. 
However, today I will discuss the pros and cons of sleeping on a hammock to guide you to choose one for you that best suits your purpose.
Hammock Sleeping
Various types of hammocks are available in the market with different features and purposes. For example, a rope hammock is best suits for warmer times while fabric serves well during winter seasons. However, currently, hammocks made of rope, camping, fabric, chairs, and swings are widely used by campers, backpackers, long-distance travelers, and indoor users as appropriate and convenient.  
Nicaraguan, Mayan, Brazilian, or camping hammocks are quite comfortable for sleeping as they don't have spreader bars and that's how they are able to wrap around the person's body with adequate flexibility and non-flipping motion when someone lies flat on the hammock. 
However, to get rid of rope marks on your body, you better avoid Mayan or Nicaraguan models as they are assembled with thin string or cotton cords.  
Brazilian and camping designs come with great features including space-saving and spread bar free. These models are quite suitable for small rooms, verandas, or decks.
You can also choose a stand model which is quite handy and less costly. They can be quickly disassembled for storage and travel packs. 
Camping hammock also comes with versatile features including lightweight, handy and simple setting, and compact for comfortable sleeping.  
Therefore, when you are going to choose for yourself, you must consider the features of the hammock so that it gives you the most pleasant feeling while resting and sleeping on the hammock.  
List of Pros of Sleeping on a Hammock
Portability:
The hammock is widely popular for its portability. Anyone can set it up as an outdoor or indoor space as convenient to sleep and rest. It can be disassembled as quickly as last time and packed for outdoor travel for camping at the beach, park, forest, or isolated venue, etc.  
Space-saving:
Hammock needs a small space to set up. You may just need two ends to hang with the tree or pole to make your hammock bed sleep comfortably. You also can use it on the deck or porch anywhere outdoors or indoors. 
Protective From Night Crawlers:
The hammock also ensures protective sleeping as it's hung higher off the ground and protects you from nocturnal creatures including bugs, ants, snakes, mice or ants, etc. It also protects you from the reach of wild animals like foxes, bears, wolves, etc. though it's not recommended practice.   
Connecting With Nature and Tranquility:
Hammock sleep gives you the most pleasant feelings while having an outdoor camping or indoor as it connects you with nature and tranquility. You can't experience this pleasant stay in the house set up. It not only connects with nature and pure divine feeling but also helps you have a quick, deeper, and uninterrupted longer sleep. 
Divine Feelings on Hammock Sleeping:
It's very natural that we get bored with having the same type of setup for resting or sleeping. Hammock sleeping offers the changes that stabilize our body and mind while being with vast nature under the sky. It gives us a kind of divine feeling that rejuvenates and refreshes our body and mind to be more energetic and productive. 
The flexibility of Location Choice:
Hammock sleeping apparatus offers any location you are comfortable with to set up your hammock as it needs no formal structure or something very tough mechanism. So you can choose any location you like most during camping or an indoor space to spend time with diverse nature and tranquil feelings. 
Access to Nearby Water Sources:
You have the option to set up your hammock nearby a water source as most rivers and rivulets have natural rocky shores or coastlines. You can have easy access to water near your hammock set up and don't need to take the hassle of fetching water from distant places.
Multiple Health Benefits include Insomnia Cure with Hammock Sleeping.
Sleeping on a hammock has multiple health benefits as studies revealed and personal experiences of hammock users. In today's world, we are too busy to have free time for ourselves. And we are too prone to depend on technology-based lifestyles. Therefore, a hammock comes with a solution for relaxation, tranquility, meditation, etc., and a couple of health benefits outside or indoor setup and offers numerous comparative advantages compared to tents.
Relieve Back Pain:
Nowadays, people tend to work on the computer for a longer time or travel by a vehicle very often which over time causes chronic back pain. The hammock comes with a solution to stretch your body that helps get rid of the stiffness and pains. Hammock may not work for everyone suffering from back pain but in many cases, it helped as the study revealed. 
Optimal Sleeping Position:
Studies showed that sleeping position has a great impact on one's deeper and uninterrupted longer sleep as needed. Dr. Steven Park, a member of the American academy of sleep medicine stressed the sleeping position. He advised that one's body should be supported by his/ her back with a 10-30% elevated head while sleeping on the bed. It's been proven that a hammock has the ability to maintain an optimal sleeping position when someone gets to sleep on a hammock instead of a stationary bed.   
Quicker, Deeper, and Longer Sleep:
Hammock sleeping ensures quicker, deeper and longer sleep as someone requires which has enormous health benefits including relaxation, sustaining marital mood, retaining memory, reducing depression, and other mental disorders. A study carried out among 12 healthy men aged between 22 and 38 years concluded that a swaying bed offered a faster transition of sleeping than a stationary bed.  Hammock's swaying motion more effectively regulates brain waves while someone sleeps on it. 
Insomnia Treatment:
It's evident that a hammock could be an effective aid for insomnia treatment. Deeper stages of sleep persuaded by hammock also can lead to a longer time of sleep which ultimately stimulates the regular sleeping habits of insomnia patients. 
List of Cons of Sleeping on Hammock
There are a few demerits of sleeping in a hammock as they are not suitable for all kinds of people including people with particular physical disabilities, adverse weather, frequent needs of replacement, etc. However, let's list those below to have them in knowledge too while planning for hammock sleeping.  
Lack of Space to Share by a Pair or a Couple:
The hammock is for a single person to sleep and move around conveniently as it's not as flat and straight as a mattress. So maybe sometimes a hammock is not a perfect bed for you to sleep in if you need a flat and solid space like a mattress.  
Hammock May Not Suitable for Adverse Weather:
During winter or too cold weather hammock sleeping could cause you to catch a cold and cough and even pneumonia if you are allergic to colds. Even in summer, excessive hot spells or sun heat may cause you to have a rash on your body and sunburn. The hammock cannot combat such a situation unless you avoid the location of adverse weather to enjoy your hammock sleeping.  
Getting Out of Hammock for Urinates or Others' Needs:
If you need to get out of the hammock, especially at night, you may need to be a little used to it as it stands higher off the ground. Plus as the hammock creates the swing motion, it may be sometimes a bit inconvenient to quickly get out of the hammock when you have a hurry. 
Hammock Says Sorry to Stomach Sleepers:
The hammock is perfect for a side sleeper which is the correct position of hammock sleeping. If you tend to sleep on your stomach, then a hammock is not a perfect aid for you to sleep comfortably.
Replacement Required:
From time to time you have to change or replace your hammock as after extensive use, it gets spoiled or is not in a good condition to reuse it. You may need to often replace it. In fact, the hammock is not very costly and it does not scarce in the market.
Benefits of Sleeping in a Hammock
1. Improved posture: Hammocks are designed to support the body evenly, encouraging proper posture and spine alignment while you sleep. This can help reduce neck and back pain.
2. More comfortable sleep: Hammocks provide a more comfortable sleeping experience by reducing pressure points, making them a great choice for people who have difficulty sleeping on traditional mattresses.
3. Increased relaxation: The gentle rocking motion of a hammock can help reduce stress and promote relaxation.
4. Improved air circulation: Hammocks provide better air circulation than traditional mattresses, which can help reduce sweating and keep you cooler at night.
5. Versatility: Hammocks are portable and can be set up almost anywhere, making them great for camping and other outdoor activities.
Conclusion
I do hope this article has given you a clear insight into the pros and cons of sleeping in a hammock. You must have realized how unique and comfortable a hammock is, sleeping either outside or indoors to have a deeper and longer sleep around the natural environment. Hammock serves best when you need relaxation and a happy mood. The cons are so negligible compared to its pros including freedom of choice of sleeping location, multiple health benefits, and others that have been listed above in my article. 
I would always expect you to come up with your feedback and comments so that our professionals can provide you with all kinds of support at your earliest convenience.   
I would feel honored if you could share this article and our sites with people you know so that we can have a broader client network over time and offer our clients pro-optimized services in the coming days.
Relevant Resources: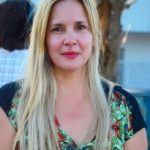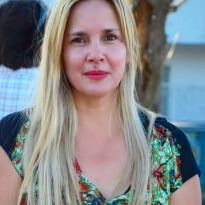 Guys, I am Camila Avery and I love to help my mom to do indoor & outdoor activities. As a lady, I have passed my time on gardening, home improvement, and personal or self-care. I have acquired some degrees in outdoor recreation, beauty, and hair care. It is not easy to work with top-level professional beauty experts. But, I got that opportunity and experimented with different hair extensions, hair colors, and cuts.