This article includes affiliate links, which means we may earn a commission if you make a purchase following our link. Please refer to our review guidelines.
Most women have a phase in their life when they love to color their hair with bright eye-catchy bold shades. For some, it is their early teens or late teens, and for a few, it is their middle age. So, there is no age to color your hair with bold shades when it comes to feeling bold, beautiful, and confident about yourself. Because true beauty comes within, not applied from the outer world.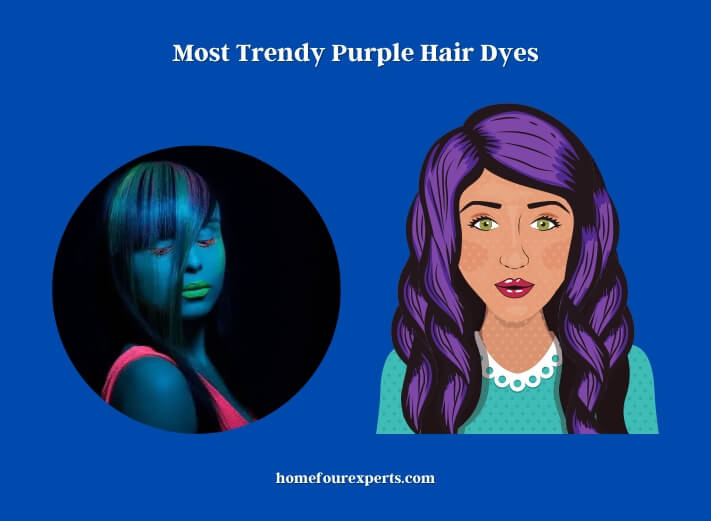 Purple is one of my most favorite shades when choosing a bold hair color. There are numerous shades of purple you can choose from-light, deep, pastel, or a mixed shade of either blue, red, or pink. Besides, after applying purple to hair color, it turns out differently on different hair types, textures, and colors. So, purple is never boring, it never stops surprising you.
How to Choose Purple Hair Dye
Semi-permanent Vs Permanent
Before dying your hair with a purple shade permanently, it is better to use a semi-permanent shade. It helps to determine how you will look after applying the dye. Permanent hair dye lasts for months. Once you apply it if it is not to your liking the only way to get rid of it is to dye it with another shade. 
Semi-permanent hair dye lasts up to two months. It is actually a hair tint and more vibrant than permanent hair dye. As it lasts a short time, you have to reapply the dye after a month for touch-ups. It also leaves marks everywhere when your hair is wet. Keep this in mind if you try it out.  
Light/Medium/Deep
Purple color creates different looks on the same person based on intensity. The general rule is, the lighter your skin tone, the lighter color will suit you. To control the intensity, you don't have to buy different shades of purple. You can mix it with the conditioner to get a lighter tone. To make it more vibrant, you have to lighten your hair color with bleach. You can create highlights this way. Pastel shade creates a supermodel look for anyone. You just need to mix the pastel sizer with your dye to achieve it. 
Mixing Different Shades
If you think you can't find what you want then you can try out maxing different shades to create customized hair color. By mixing blue with purple, you will get a cool undertone in your hair color. To get a warm undertone, you can mix red or burgundy with your purple dye. Before applying it to your hair, make sure the color on the mixing bowl is your desired color. 
Mixing purple dye with your regular hair color is also a smart practice. You will get a hint of purple yet look gorgeous. 
After Care of Dyed Hair
Hair dye can last longer if you follow a proper hair care routine. It will save you from drying your hair frequently. 
First of all, you have to use sulfate-free hair products. Shampoo and conditioner must be color protection range.
You should wash your hair less frequently. The more you wash your hair, the faster the color will fade. 
Use a swimming cap in the swimming pool. Chlorine from the swimming pool rips off hair color.
While styling, use the heating tools in the low to medium setting. High heat will strip color from hair faster.
Advantages of Using Purple Hair Dye
Purple hair dye offers several benefits including:
Versatility: Purple is a versatile color that can range from soft lavender to bold electric violet. It allows for a wide range of shades to choose from to suit different skin tones and personal styles.
Conceals gray hair: For those with gray hair, purple hair dye can effectively cover up the grays while adding a pop of color to the hair.
Adds dimension: Purple hair dye can add dimension to hair by creating a multi-tonal effect when blended with other colors.
Low maintenance: Unlike other hair colors, purple hair dye does not require frequent touch-ups and can last for several weeks.
Temporary option: For those who are not ready for a permanent change, purple hair dye also comes in semi-permanent and temporary options, allowing for a fun change without commitment.
Boosts confidence: A change in hair color can be a confidence booster and purple hair dye can help create a bold, unique look that stands out.
Easy to maintain: Purple hair dye can be easily maintained with the use of color-depositing shampoos and conditioners, ensuring the color stays vibrant for longer.
Best Techniques for Applying Purple Hair Dye
Pre-lighten hair to the desired level.
Use a color-safe shampoo and conditioner before application.
Mix the dye according to the instructions.
Apply the dye evenly, section by section.
Use a hair dye brush to ensure even coverage.
Leave the dye on for the recommended time.
Rinse thoroughly until the water runs clear.
Use a hair mask or deep conditioner to maintain color vibrancy.
Avoid washing hair too often and use cool water.
Touch up roots as needed.
View Top 9 Purple Hair Dyes Reviews, Below-
1. Manic Panic Vegan Purple Haze Hair Dye
Click on the Image to >> See on Amazon
Semi-Permanent Vegan Hair Color;
Warm and dark purple dye.
There is a warm reddish hue on Manic Panic's 'Purple Haze' dye. Some clients at my salon love it the way it is, some consider a blue undertone and a few go for a pastel tone. These phrases may confuse you, but these are absolutely easy to achieve with some additional products from Manic Panic. This Purple Haze and all other products from this manufacturer are truly vegan and cruelty-free. 
When it comes to hair dye, vegan options are the safest but don't last long. This semi-permanent color lasts up to two months but it depends on how often you wash your hair. This color tints the best lighter hair. So, dark hair should use bleach to lighten the hair to get the desired shade. 
To get a blue undertone to your purple dye, simply mix a blue toner. By mixing Pastel-sizer, you will get a totally mind-blowing transformation of your hair, but the color will lose its vibrancy. On the other hand, you can use purple haze with your regular dye (for example red, magenta, or burgundy) to get a purplish hue. If a safe and semi-permanent color is all you are looking for, then this is it for you. 
---
2. Adore – Semi-Permanent Hair Color in Purple Rage
Click on the Image to >> See on Amazon
Hair color # 116, Royal Blue with purple hue;
The shade offered is a royal blue with a purple undertone. Here, you will get a tube of 4-ounce hair color only, no developer or conditioner. The trick is to use it directly to wash and dry hair to achieve this exact color. Mixing this color to conditioner before use is also a great trick to lighten up the color to a more pastel shade. 
Adore has many popular shades in its collection. Purple lovers also recommend using 'Violet Gem' from Adore; it is not totally purple but more of a mix of violet and burgundy. However, this is a semi-permanent hair dye we are talking about. You must use a color protect shampoo unless you want to wash off your hair color entirely.
---
3. Arctic Fox Semi-Permanent Hair Color Dye (8 Fl Oz, Purple Rain)
Click on the Image to >> See on Amazon
8 Fl Oz of true purple color; 
Vegan and Cruelty-Free.
It is the truest purple hair dye, there is no 'if' and 'but' in it. Well, this is what the Arctic Fox serves, but what will appear on your hair is a different story. This shade will look most vibrant on platinum-blonde hair. As the hair color darkens from blonde to brown to black, the shade will intensify but becomes less vibrant. So, if you want radiance, then make it closer to the blonde shade first. If you want intense purple then dye your hair with brown dye first. 
Semi-permanent hair dye fades over washing. So, a smart practice is to purchase a bigger container of color and mix it with your conditioner a small amount. After a month of hair coloring when you notice the color is faded, simply apply the conditioner and dye mix to your washed hair. This way you can regain your hair color multiple times till the container runs out.
---
4. Garnier Olia Bold Permanent Hair Color in  Medium Royal Amethyst
Click on the Image to >> See on Amazon
Medium Royal Amethyst;
60% oil blend.
I call this color "sober Purple'. Everyone is not a big fan of funky crazy vibrant shades of purple on their head. For students and corporate ladies, this Medium Royal Amethyst shade from Garnier is the best option. It not only makes them feel glamorous without breaking office rules, but it also saves time to reapplying color. This is permanent hair color, so, with proper care, it does not need any touch-up in between hair coloring. 
The best thing about permanent color is, it turns out exactly it is shown on the box. No matter what your base hair color is, the color they claim is guaranteed with Garnier. Do you have gray roots? No problem, this permanent hair color will save your back. When you have a regrowth at the roots, simply add a small touch-up to cover up gray areas then gradually cover all the roots. 
Any hair color from the 'Olia Bold series will not dry out your hair. Instead, the natural oil in it will make the hair softer, shinier, and thick looking.
---
5. Punky Purple Semi-Permanent Conditioning Hair Color
Click on the Image to >> See on Amazon
Lasts up to 25 washes;
Amount: 3.5oz.
Don't get deceived by the photos, this jar of purple dye is not truly purple, it has a pinking hue in it. You will get a vibrant shade of dark purple mixed with magenta. If you really want a purple head, then this one is not the best option. It is more suitable to mix with your regular neutral-colored hair dye to give it a vibrant hue. 
\All the other things are true about this color. It is vegan, paraben-free, and non-damaging to hair. It lasts up to 25 washes if you use the right hair care products. This is a small jar, so for applying full head, I recommend buying two of these. As the color is not permanent, there is no harm in trying out this affordable pinkish-purple dye.
---
6. Color X-Change Semi-Permanent Hair Purple Color
Click on the Image to >> See on Amazon
Color: Amethyst Purple;
Ready to use;
No mixing is required;
Amount: 4 ounces.
Color bleeding is a common problem for semi-permanent hair colors. Color X-Change has brought a line of semi-permanent color that does not bleed like other cheaper hair dyes. Maybe that is because it is not 'vegan'. However, the choice is totally up to you whether you prioritize longevity over safety or not. 
It is a true amethyst purple shade. In the sun it gets a little warm shade, and in artificial lighting, it shows bluish-purple just like an amethyst.
We recommend using a cuticle sealer to make this color last long. While coloring your hair with this shade, don't forget to lighten the color of your hair if you have dark brown to black hair. The tube contains a small amount of product, but you only need a small squeeze to mix it with your conditioner. So, a small tube goes a long way.
Read more: A Guide to Choosing the Best Halo Hair Extensions According to You! 
---
7. MANIC PANIC Pink Warrior Hair Dye Amplified Color
Click on the Image to >> See on Amazon
6 to 8 weeks in pre-light hair
In 25+ shades available.
The bottle claims it is 'semi-permanent' but my experience says this hair color range is as good as permanent hair colors. The color they show in the photo is true and super vibrant. If the true purple color is what you are looking for, then this one is it. There is a wide range of color selections on the special effects site. You can mix and match several colors to get the desired result. For example, to get a bluish-purple, mix a tiny bit of blue in it. For magenta-purple, mix a small amount of pink. 
The color doesn't bleed like a mess, but it fades over time to a nice and sober shade. Make sure you leave the color on your hair for 3 to 4 hours while dying. The bottle contains a lot of products, so the price is quite reasonable.
---
8. Splat Rebellious Fantasy Complete Hair Color Kit in Lusty Lavender
Click on the Image to >> See on Amazon
Hair Color Kit in Lusty Lavender.
As I recommend bleaching the dark hair to a lighter tone to make the novelty hair dye look its best, I decided to add a hair color kit to my list that consists of bleach. By using this bleach, you can lighten up your hair color so that the purple color of lusty lavender really looks like lavender. 
The only problem is, if you have long hair, then you will need an extra sachet of bleach for your hair. So it is good to purchase two of the same kit so that you can use bleach to lighten your hair and use the extra leftover dye to touch up in between hair color sessions when the color is faded. 
It truly stains your hair with a lavender color. But it stains your towel, pillow, and toilet for a really long time. Using an old dark-colored towel, pillowcase, and clothes while the hair is wet will cause less damage.
---
9. L'Oreal Paris Feria in Deepest Violet 1 kit Hair Dye
Click on the Image to >> See on Amazon
Shade: V28 Midnight Violet ;
Shimmering permanent hair color kit.
The Loreal Feria series is one of the cheapest permanent hair colors you can ever find. It will save you from lightening your hair with bleach to catching the color. You will always get the color shown on the package no matter what your hair color is. 
Though the caption says it is midnight violet, the color you are getting out of it is more of a darkest purple. It suits the African-American skin tone. Ladies who love a bold hint of glamorous hair dye without being way too noticeable also prefer it. There is a shimmering substance in this dye that makes your hair glittery under sunlight and artificial lights.
---
Conclusion
There is no rule of beauty standards in this age. You can style your makeup, outfits, and hair as you wish and it becomes a fashion statement. The same goes for hair coloring. If the color reflects your personality and you can carry it well, then go for it!
Before choosing any hair color, read the instructions first. It applies if you are applying the hair color on your own. Don't forget to follow a hair care routine specialized for colored hair. This is important to preserve the hair color and the health of your hair.
Related Posts: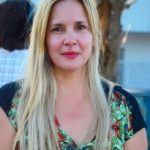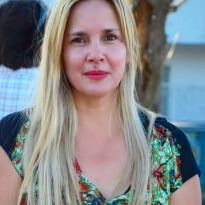 Guys, I am Camila Avery and I love to help my mom to do indoor & outdoor activities. As a lady, I have passed my time on gardening, home improvement, and personal or self-care. I have acquired some degrees in outdoor recreation, beauty, and hair care. It is not easy to work with top-level professional beauty experts. But, I got that opportunity and experimented with different hair extensions, hair colors, and cuts.