Snap gauges are going/no go gauges, used for measuring outside diameters, groove diameters, and width. They are interchangeable with micrometers. 
If you are wondering what the snap gauges, types of snap gauges, use, and more, you can see our article. Confused to select the best snap gauge?
We also cover the 3 best snap gauges in this writing. So, please read the top to bottom for understanding everything about snap gauge as well as find the perfect one. 
Let's get started.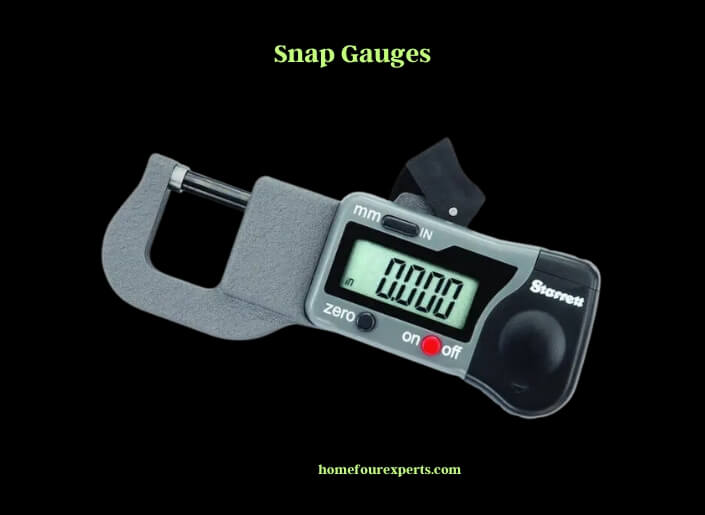 Snap Gauges Basics 
Snap gauges, one of the versatile tools, are worked for checking the thickness of any part. These metrology tools are also known as gap gauges. The defined edges of the surface gaps are the anvils. That's made from hard material tungsten carbide. 
Designed to check shafts, cylinders, grooves, and other similar parts using a GO and NOGO decision. These gauges are used to assess the outside diameter of the machining parts like other measurement devices.
GO and NOGO provides measures that may be passed through the two gaps in the sequence. Two apertures are one of the maximum size limit apertures and another is the minimum size limit aperture. Snap gauges have a"C" shaped frame with an aperture. These allow checking both dimensions such as cylindrical and non-cylindrical parts. 
Plus, the quality is higher than the other gauges. Provide a measurement of the real value of the dimension. On the other hand, a snap gauge offers many facilities to measure accurately. It has enough speed to check more parts by using gaging as well as it is less valuable than other measuring instruments. Even users don't need to acquire more experience to handle the snap gauges.  
What Are The Types Of Snap Gauge
Snap gauges are different types according to their characteristics. There are also many shapes and sizes of snap gauges available to collect.  They are  "C" type, "A" type, "U" type, and include a digital or dial indicator.
Two basic categories of snap gauges are Plate snap gauges and Rib type snap gauges. Both are double-ended types and single-ended types. 
Rib Type Snap Gauges
The double-ended type of snap gauges is acceptable to check sizes from 3mm to 100mm. On the other hand, single-ended & advanced type snap gauges are used for testing the sizes of 100 to 250 mm. 
Plate Snap Gauges
The double-ended type plate snap gauges allow using the 2 to 100 mm range of sizes where single-ended are used for sizes in the range of 100 to 250 mm.
Other types of snap gauges are also important to do this job properly. Some of them are below:
Combined Limit Gauges
Combined limit snap gauges are Go and NOGO dimensional marks. When using the GO gauge, it marks the outer edge of the same side of the tool. With the NOGO gauge on the interior side indicates. 
Double Ended Snap Gauge
A double-ended snap gauge is familiar with solid snap gauges. This type of snap gauge contains two ends or double C frame anvils that are Go gauge and NOGO gauge. Go gauge indicates the downward limit of the side and the no-go gauge indicates the upper limit of the shaft. 
Progressive Snap Gauge
This is another type of snap gauge known as caliper gauge. When users need to check up to 100mm or large diameters, it is suitable for use. In this case, GO and NOGO anvils have the same end.
Adjustable Snap Gauge
An adjustable snap gauge allows checking the dimensions of the shafts by using its fixed anvil or small adjustable anvils. And, two anvils have adjustable set screws. When the need to change metrology, it permits to be adjusted dimension parameter. Other types of gauges are also available. For example, position gauges, contour gauges, fixed gauges, receiver gauges, profile gauges, etc.
Where Are Snap Gauges Used? 
Snap gauges are also known as gap gauges, come in the form of go and no-go gauges. These are metrology tools or limit gauges to fixed measurement temporarily or permanently. Snap gauges are mainly used in checking outside dimensions of the part within a short moment along with if it matches or falls the preset dimension. 
Plug gauge vs. Snap gauge
Plug gauge and snap gauge are essential measurement tools. There are some differences between the two gauges. See the comparison table below to get a realistic concept.
| | |
| --- | --- |
|                 Plug Gauge  |                             Snap Gauge  |
| 1. Plug gauges are used to check the holes | 1. Snap gauges are used to check gauge shaft |
| 2. Assess whether hole dimension within the specified tolerance  | 2. Access to the both cylindrical and non cylindrical parts |
| 3. GO gauges determine the lower limit of hole | 3. GO gauges are the size corresponds to a higher limit of shaft |
| 4. NO-GO gauges determine the upper limit of the hole | 4. NO-GO gauges are the size corresponds to lower of the staff  |
Review of the 3 Top-selection Snap Gauges
At this point, we discuss here three high-quality snap gauges that are well known & budget-friendly, and comfortable for all users.
1. Starrett 765A Electronic Snap Gauge
Key Features
Comes with LCD for easy reading;
Features 0.0005″/0.01mm Resolution;
It has +/-0.001″/0.02mm Accuracy;
Lightweight and compact;
Long-life battery;
Zero at any position.
People who have the necessary materials to measure within a short time can select this Starrett 765A Electronic Snap Gauge. It is an economical and high-quality gauge perfect for up to ½" thick materials. The simple, as well as the compact design, makes it more balanced and user-friendly.
Another thing is its battery-powered and logical control buttons. However, the manufacturer made this device use a lightweight aluminum frame. So, you can carry it anywhere with any need. Thanks for its other highlighted features such as one pounds weight, easy to handle, manual on/off, including fitted plastic case, auto-off the system, etc.
2. Starrett 1150Z-8 Inch Reading Dial Indicator 81-111-1150 Snap Gauge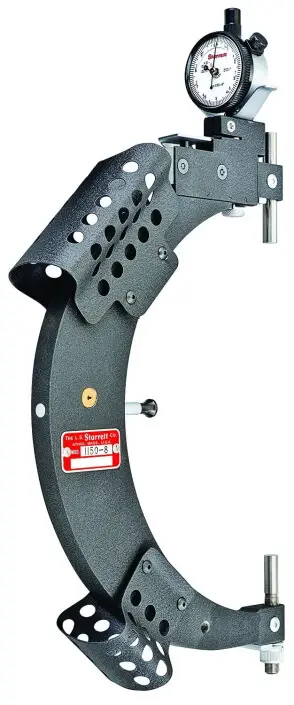 Key Features
Provides a total measurement range of 0.040;
Has dial reading of + or – 10;
Allows measuring outer diameter workpieces 6" – 8" in diameter;
Indicator face rotates 360 degrees;
Easy-to-read.
Since 1880,  the L.S. Starrett Company has manufactured preciseness measuring tools, saw blade products, metrology, and testing equipment. Starrett 1150Z-8 Inch Reading Dial Indicator 81-111-1150 Snap Gauge is one of the most outstanding measuring devices. It has high customer ratings and many essential features although not included in any stand. 
Some main characteristics of this snap gauge are 0.0001″ Dial Indicator Graduation, 6-8″ Measures outer diameter (OD), adjustable components, and more. No worries about its reading capacity. Because it offers a double row of graduations. Where plus graduations are printed in black and minus graduations are printed in red for readability. Designed to ⅚" hardened steel contacts, lapped flat and precision ground.
3. YPG C3 Adjustable Limit Snap Gage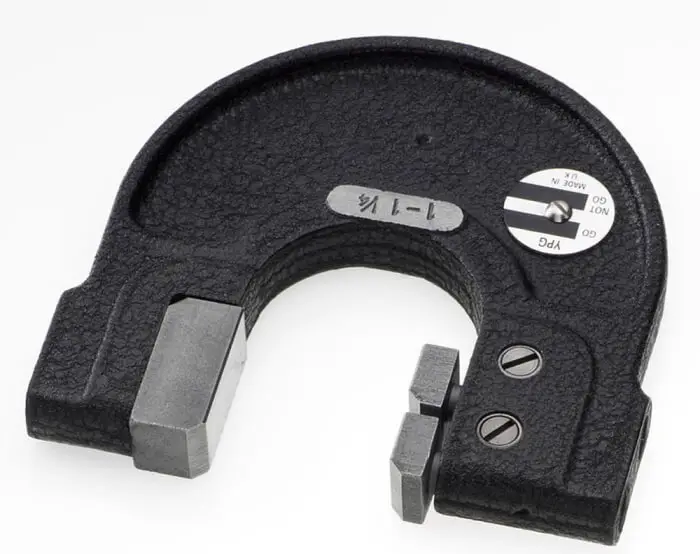 Key Features
Comes with two adjustable square anvil;
This is a 'C' type adjustable limit snap gauge;
 Features 3/4″ – 1″ inch range and 19 – 26mm metric range;
Design fully cast iron frame forms.
Due to formulation from high-quality materials as well as guarantee, YPG C3 Adjustable Limit Snap Gage can be right for measuring with ease. It comes with a 'C' type adjustable limit gauge base including cast iron frame forms. Designed to use Hardened Steel anvils. They are rectangular, square, etc.
The large anvil ensures a high level of measuring ability along with a long life. 
Go/No Go are its two adjustable anvils. It is easy and quick to set these procedures. On the other hand, this device includes a 3/4″ – 1″ inch range and a 19 – 26mm metric range to work properly. So, using this YPG C3 snap gauge, you can get accurate measurements without any hassle.
FAQs
1. How accurate are snap gauges?
Snap gauges are certified in providing accurate measurement. The adjustable snap gauge typically has a 0.02-inch measuring range and 0.0001-inch resolution. 
2. What is the least count of snap gauges?
The least count of the snap gauge is 0.0001 mm and accuracy 0.9 um. It is used in the calibration of plain gauges, micrometer setting standards, and cylindrical setting masters.
Some Final words
We illustrated the 3 best snap gauges as well as tons of information about snap gauges that help you to excavate all essentials. Nonetheless, snap gauges are important tools to ensure correct measurement.
Read more: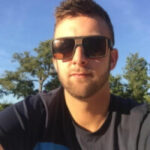 Hello, I am David Rowan. I am a professional contractor with 10 years of experience in home building, different tools used, construction, home remodeling, and other home improvement work. I have already built many custom homes and continued to do several woodworking projects along with how to deal with all categories of tools.