There are thousands of brands of table saws available in the market. This tool is widely used by woodworkers. A number of studies revealed that a significant number of accidents represent the people who are involved in the power tool occupation, particularly operators.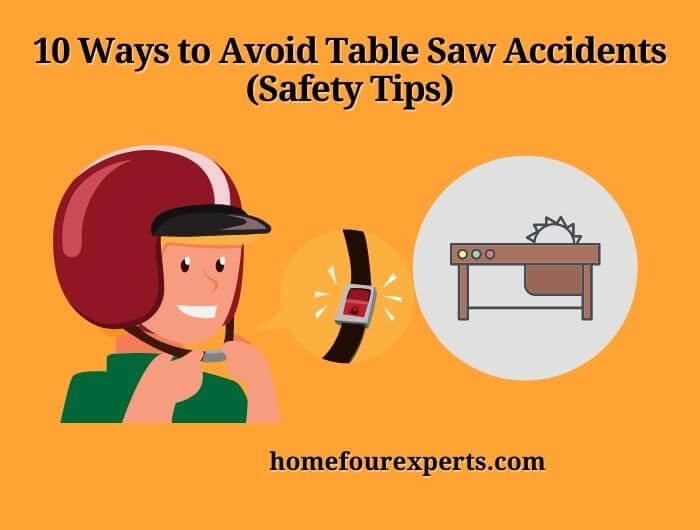 Power tools mainly deal with sharp objects like saw blades, nail guns, utility knives, drills, etc. Major types of injuries are laceration, amputation, permanent damage to human organs, and paralysis. Sometimes the victims end up with deaths.
There are some basic safety aspects you should be aware of and comply with strictly to avoid such unwanted accidents in the workplace or home. 
There have been a number of studies carried out on this issue, especially injuries from saws revealing alarming scenarios validated by statistics. 
However, let's discuss 10 ways to avoid table saw accidents so that you become aware of the issues if you are involved in such an occupation or planning to implement a woodworking project with a table saw. 
Overview
A table saw also called a saw bench or bench saw is a power-driven woodworking tool, consisting of a circular saw blade, mounted on an arbor, and used to cut the wood and other materials from the top of the table as defined by Wikipedia. The depth of the cut is varied by the vertical and horizontal movement of the blade. The higher the blade overhangs above the table, the deeper the cut is made through the material. 
There are different types of table saws including benchtop, job site, compact, contractor, cabinet, hybrid, mini and micro, and slides available in the market. 
It's known from Wikipedia that the 1885 catalog of W.F & John Barnes Co., Rockford, II showed a classic table labeled as a Hand Powered Circular Rip Saw. The table saw was designed in the 18th century following the circular saw that was invented in the 16th or 17th century. 
Different studies recorded that a significant number of injuries occur every year from table saw. A study conducted by Kevin C. Chung, and Melissa J. Shauver was published in November 2013. They reviewed a literature named "PubMed and the Cumulative Index to Nursing and Allied Health Literature" to compile epidemiology data relevant to table saw injuries. They also reviewed the United States Consumer Product Safety Commission's briefing package on the table and saw blade contact injuries. 
However, it's been estimated that as many as 9.5 million table saws are in use in the United States alone reported by The Power Tool Institute, a consumer product trade group as the study revealed. This study also reported that over 30,000 injuries occur every year from table saw. Over 85% of injuries account for saw blades while the most common category of injuries is cut of fingers and hands and lacerations.
The injured people mostly represent the younger age group. minors, who participated in school shop classes also got injured, though the number was negligible.  An estimated medical cost to be more than $ 2 billion annually was concluded by the study. The table below shows injury by category and age in percentage.
Table Saw-attributable Injuries Sustained
By Adult and Minor Patients
Total
Minors
Adults
 
n
%
n
%
N
%
 
Finger/Thumb Injuries
10,338
100%
322
3.1%
10,016
96.9%
 Laceration
6,593
63.8%
198
65.1%
6,395
63.9%
 Fracture/Dislocation
1,304
12.6%
47
14.6%
1,257
12.6%
 Amputation
1,442
13.9%
40
12.4%
1,402
14.2%
 Other*
999
9.7%
37
11.5%
962
9.6%
*Other injuries include abrasion, contusion, foreign body, burn, and electrical shock.
Note: Final edited version of this article is available Plast Reconstr Surg
Ways to Avoid Table Saw Accidents
From the overview, you have realized how table saws could be dangerous and can expose you to severe injuries. The final consequences might end up with a permanent disability and even death unless you strictly adhere to all recommended safety aspects. Let's take a look at the leading causes of accidents and mitigations to prevent such unwanted incidents before and during the operation of a table saw.
1. Training of Operators
Organize training for the operators on the table saw and its operations. Allow them to practice adequately. Confirm that they are properly educated and quite capable and confident about the operation of the table saw. Certification is important so that the trained operators are now quite fit to operate the tool. 
2. Study Manufacturer's Instruction Manual
Before the operation, operators should closely study the manufacturer's instruction manual so that they are aware of safety issues and operational aspects of the saw. 
3. Wear Safety Gear
Wearing safe gear has no alternative to being protected from accidents. The following safety gear you must wear: 
Wear tight-fitting outfits and they should not be full sleeves. Loose-fitting clothing may expose you to accidents and saw-roll may grab your full sleeves. 
Wear standard non-slip shoes as appropriate while working with a saw
Wear ear protection devices to avoid massive noise generated from the table saw.  
Avoid hand gloves as you may fail to have a proper grip on your working materials. 
Wear a standard eye shield to be protected from an eye injury that may occur from chips and dust.
Never wear jewelry or wrist watch while operating tools to prevent those stuff from coming into contact with the tool 
4. Inspect Your Workplace Compliance and Machine Set-up
Inspect your workshop whether they have met all safety compliance including power connection, dry floor, presence of fire extinguisher, protected surroundings, proper ventilation, non-existence of any inflammable items like chemical substance, cleanliness, etc. 
Make sure there is no loose connection between the parts of your saw. Make sure the saw is properly clamped with the table before operation. And the blade is tightly fitted. 
Check out the main power source and power connection to avoid short-circuit, fire, and electrocution.
Make sure there is no wire or other messy stuff on the floor from which your feet may get tangled and you may be exposed to fall injury.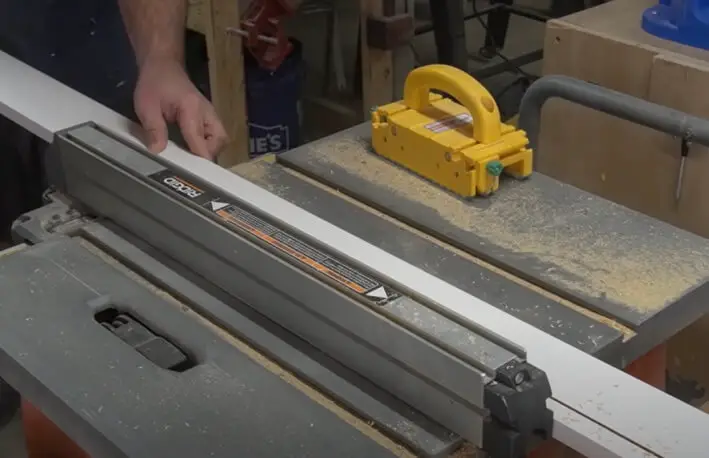 5. Position Yourself Correctly to the Saw and Use Push Stick to Keep your Hands Away From the Spinning Blade
During the operation of a table saw, you may have to deal with the most common types of cuts like crosscut, rip cut, and dado cuts. Make sure that you are away behind the blade and keep a safe distance from the moving blade which might accidentally catch your hands. It's safer to step to the side a little to divert the board bounce back to you if even kickback occurs. 
Use a push stick to move the workpiece instead of directly using your hand to take it out. Make sure the operator maintains proper posture to avoid hand injury from a running blade. 
Avoid keeping your hand on each side or near the blade while pushing the miter sled forward. Apply forward pressure to only one side to be safe from the cut hands. 
Never use both hands to hold the miter gauge and the fence at a time during dude cuts. Make sure that the dado stack is supported by the saw. Also, take care of the correct throat plate width and clearance on the arbor to avoid accidents. 
6. Never Seize the Blade Guard
The table saw is assembled with a built-in blade guard with a splitter. The function of the guard is to prevent accidental touch while the splitter keeps the workpiece away from getting tensed on the blade. Thus the blade guard prevents the incidence of kickback. So, never seize the blade guard. Kickback often causes broken bones, tendons or dithering ligaments, etc.   
Always prefer the SawStop brand while purchasing. This model only has the ability to stop the blade while coming in contact with skin. Use a push stick while ripping with the blade less than four inches in width. After the operation, let the blade stop spinning completely.  
7. Safer Ways to Kick Out Kickback
Anti-kickback pawls could be a great protection to avoid kickbacks. Anti-kickback pawl's teeth set the reverse side to the direction your workpiece moves. These teeth bite into the wood while kickback happens and thus it diverts kickback from coming back towards you to hurt. 
Always allow the rubbish to wind up on the reverse side of the blade instead of the fence. This safety technique prevents kickbacks. 
Prefer Cross-cutting sled or miter gauge to use to have protective crosscut. 
Avoid curved, bent, or wet boards to rip.  
Stand to either side of the saw slots instead of directly standing behind the blade. Don't allow passersby to pass behind you while operating. 
8. Use of a Riving Knife
A Riding knife is like a surfboard made of this piece of metal. Some situations arise during the operation of a table saw when a riving knife tackles the problem efficiently. For example, sometimes the fences might get out of alignment leading the waste piece approach towards the backside of the blade.
Or normal stresses in the wood grain may cause the material to spring back. In such situations, a riving knife prevents the wood from getting stuck from the back side of the saw while drifting away from the fence and reduces the incidence of kickback. 
9. Regular Maintenance, Repair, and Replacement of Table Saw
This area is extremely important to regularly check out all parts and accessories to make sure your tool is in order. Go for repair if any problem is detected and replace your tool if necessary. Never work with obsolete or defective tools to be protected from accidents and workplace hazards. Consult with your manufacturer to comply with all warranty agreements and legal coverage. 
10. Prefer Trusted Brand While Buying Your Saw
As you know there are over thousands of brands in the power tool industry and the markets are over-flooded with low-quality products. So, it's important for you to research first about the brands, their product description, reviews, and ratings, and consult experts to be sure that you are going to pick the right one. Otherwise, it would hurt you back, and lots of frustration like a kickback.  And your investment has all gone in vain. Never make yourself vulnerable to such incidents just to save some money. 
How Can One Ensure Proper Blade Alignment to Avoid Kickback
To ensure proper blade alignment to avoid kickback, follow these steps:
Use a sharp, correctly sized-blade.
Check the angle of the blade and adjust it as needed.
Tighten the blade securely in place.
Use a rip fence or straight-edge guide to keep the material straight.
Hold the workpiece firmly against the fence or guide.
Keep your hands clear of the blade, and use push sticks for narrow pieces.
Keep the saw guard in place and functioning.
Start the saw and let it come up to full speed before cutting.
What Are the Recommended Safety Guidelines for Using a Table Saw
Wear eye and hearing protection.
Use a push stick to avoid hands near the blade.
Keep hands, hair, loose clothing, and jewelry away from moving parts.
Turn off and unplug the saw before adjusting or changing the blades.
Keep the blade guard in place and functioning.
Use a fence to guide the workpiece and prevent binding.
Stand to one side of the blade, never directly in front or behind it.
Do not use the saw if it is damaged or not functioning properly.
Never reach over the blade to retrieve material or adjust the fence.
Store tools and materials securely to prevent tripping hazards.
Additional Tips 
You can also visit OSHA regulations of the US Department of Labor, titled "Woodworking machinery requirement" to be aware of the woodworking tools' safety. 
Concluding Remarks
I hope you have realized the severity of the accidents that occur from table saws. If you are DIYer or involved somehow in this occupation, you should give serious thought to this issue. You may go through some study reports to perceive the magnitude of the problems. 
At the same time, numbers of articles are available on the safety aspects with regard to operating power tools, especially saws along with manufacturers' instruction manuals. Read those documents and train yourself so that you never have to count yourself on the victim's list. 
The hope is that if you properly operate the tool, the tool will give you the best to sell your skills worldwide. 
If you have any comments or suggestions, please use the comment section to leave them and contact us if necessary. 
I would love it if you share this article and our site with people you know so that they can also join us to explore more about the power tool industry.
Relevant Resources: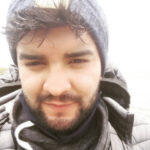 Hi, I am Eric Devin and I am a professional interior architect. Since childhood, I've always enjoyed DIY projects! And, I have loved to solve simple household problems using essential tools and equipment. I have also acquired a lot of information about basic household tools settings by working with contractors.