Suppose you are in a profession that requires continuous drilling, or if you are a home engineer or mechanic, you do need an efficient drill or hammer for your work. 
You may wonder what hammer will suit your requirements for the  best drilling job, this discussion below will help you know more about the efficiency and functionality of a rotary hammer, one of the best drillers/hammers in the market. After being through this article, you will be able to answer queries like 'What is a Rotary Hammer' or 'Difference between SDS and Rotary Hammer Drill?' for yourself and others. 
A rotary hammer is basically a tool used for drilling and shaping or chiseling hard materials like concrete or metal. A rotary drill is a version of a hammer drill improvised with advanced technology to support both complicated construction tasks as well as housework. Whereas, hammer drill is a heavy tool with the regular clutch system used for drilling concrete or metal mostly in construction sites.
What Is a Rotary Hammer?
Also known as pneumatic hammers, rotary hammers are modeled to deliver a high-impact hammering action. Unlike other hammering or drilling tools, a rotary hammer rotates at a lower speed with enough spin to let the tool drill the material.
An ideal rotary hammer requires exerting less force but has more work done. A rotary hammer uses a piston that is powered by a motor or compressed air, allowing the tool to release a huge amount of force for pulverizing the material. 
Many rotary hammers operate in three different modes; hammer mode, drill mode, and a mode combined with both hammer and drill. Besides drilling, these features enable rotary hammers to do shaping/curving, breaking, demolition even digging with the right mode. 
What Is an SDS Rotary Hammer?
We already know what a rotary hammer is. Now, let's get to know about a popular version of the rotary hammer called the SDS rotary hammer. SDS stands for Slotted Drive Shaft or System, SDS drill bits fit between two ball bearings along their shaft inside the rotary hammer making it more suitable for heavy-duty drilling.
With its pointy tip, the SDS feature supports a rotary hammer with a standardized drilling mechanism making the hammer more efficient and powerful for the hard stuff. This system allows the drilling to have perfect holes in the wall. 
Differences Between a Rotary Hammer and a Hammer Drill?
Sometimes, workers who have less knowledge about different appliances assume that since it is used for drilling, all the drill tools will have similar functionality which is, however, not the case. Different drill tools are used for different applications. A rotary hammer and a hammer drill are two of the most used options for drills yet used for different tasks. In brief,
Rotary hammer performs with heavy forces on hard materials like concrete, wood, metal, and masonry. This tool has a piston mechanism, unlike the regular clutch system. It is embedded with advanced technology and is small in size which allows it to be useful in congested areas. 
The hammer drill tool has a dual-mode option, ergonomic handle, variable speed reversing switch and roll ball, etc. It can also be cordless in type. It does contain a high-impact demolition steel chisel. Unlike a rotary hammer, a hammer drill can be best used for light masonry work. 
Advantages of Using a Rotary Hammer Drill Over Other Types of Drills?
1. Increased power and torque
Rotary hammer drills are designed to deliver greater power and torque than other types of drills, allowing them to penetrate harder materials with ease.
2. Increased speed
Rotary hammer drills provide higher RPMs than other types of drills, making them ideal for applications that require speed and precision.
3. Versatility
Rotary hammer drills are designed to switch between hammer and rotary modes, making them suitable for drilling into a variety of materials and surfaces.
4. Reduced fatigue
Rotary hammer drills feature a vibration-dampening system that reduces user fatigue when drilling for long periods of time.
5. Easy to use
Rotary hammer drills are easy to use and feature a variety of different settings that allow users to customize the drill to their needs.
Rotary Drill vs Hammer Drill
Despite the fact that both tools are used for drilling, they do have some principle differences. Like as,
Hammer drill and Rotary drill have a basic functional difference in that while a hammer drill blows in the direction of the drilled hole, rotary hammer points to the direction of the rotation pattern. 
A rotary hammer is the best fit for drilling a hole larger than one inch in diameter, yet a hammer drill has a shorter period than a rotary hammer in drilling, saving time and hardship. 
A Hammer drill comparatively is the best fit for regular carpentry and minor repairing jobs at home mostly while a rotary hammer is suitable for a construction site.
What Is the Purpose of a Rotary Hammer Drill?
The use of a rotary hammer drill is aimed at drilling uniform-sized holes in stones and concrete. This kind of hammer is also used for chiseling work such as removing tiles, and walls. A rotary hammer also helps the user to prep the surface by removing tile, grout, or extra concrete bits. Common uses of a rotary hammer are given below:
Mostly suitable for drilling through concrete and brick with heavy impact force. A regular drill can have the job done yet swelling heavier objects deeper into the wall, a rotary hammer works best.
A rotary hammer can save the time of mountain and rock climbers by speeding up the process of installing bolts and harnesses. Usually, climbers do not have much time to prepare for the climbing route but carrying a cordless rotary hammer will help the drill into solid rock and install the bolt easily without kicking back. 
A demolition job that is held on concrete, tile/masonry, or ground cannot be thought of without having a 
Repairing jobs become easier with a rotary hammer. For instance, if you need to repair a broken water pipe covered in a concrete floor, you can use a rotary hammer to take a position on a precise spot and take off the marked concrete slab for being able to repair the exact point without damaging the nearby area. 
A rotary hammer can also be used for removing bricks from a brick wall safely with no damage to the surroundings. The tool has chisels made specifically for precise digging and you can set your machine to 'hammer only' mode to cut around the particular bricks you want to be removed only. Similarly, a rotary hammer can support removing tiles from the surface as well.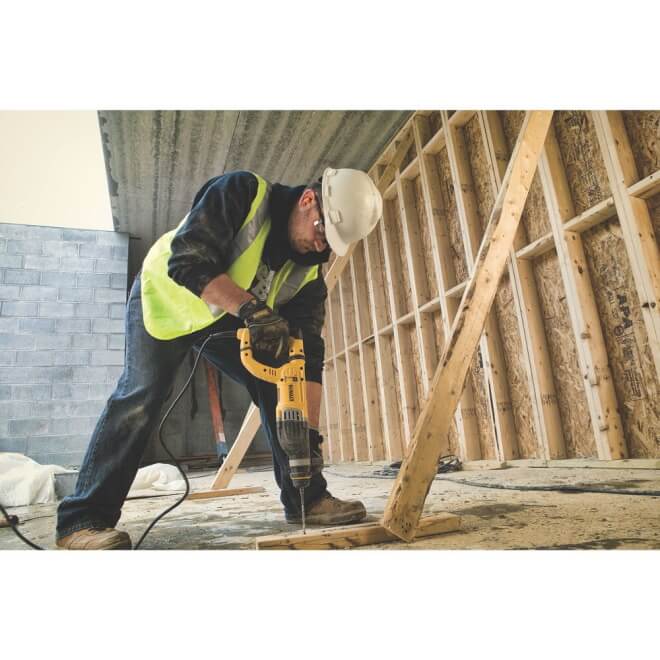 How Do You Use a Rotary Hammer?
A rotary hammer is known for its capacity to drill through concrete even if it is old and rusted. A rotary hammer does its pounding action with a piston driven by a crankshaft. The piston is run by a cylinder and creates all the pressure when driven forward. This tool requires low effort and is very focused on positioning the hammer at the right angle on the wall.
The air pressure is the main component here that operates the hammer mechanism. Its' design enables the hammer to deliver large amounts of force at a high rate that creates highly forced impact energy. You can use a rotary hammer for countless drillings and drillings at places like concrete where light hammers/drills do not do a better job. 
Can a Rotary Hammer Break Concrete?
If you have read the detailed information given on a rotary hammer above with ample attention, you already know the answer to this question. Even so, I am repeating the principle action of a hammer for your remembrance that it is seamlessly able to break the concrete with its' air-compressed piston. 
FAQs
Can A Rotary Hammer Work As A Replacement For A Demolition Hammer?
A rotary hammer usually does support demolition work with its high-energy drilling, however, a demolition hammer is specifically designed to break up concrete into smaller pieces and work more efficiently for concrete demolition than a rotary hammer. 
How Durable Is A Rotary Hammer?
The rotary hammer is designed to be quite durable with many hours of use and the tear-wear issue is quite low. If you add the SDS feature to it, it will be even more advanced with low technical issues.
Is Buying a Rotary Hammer Worth It?
A rotary hammer provides more impact energy than a regular hammer drill. It also comes with three modes: drill mode, hammer drill, or only hammer, which makes this tool work as a little jackhammer and be more useful in both professional and home tasks. A rotary hammer also helps the climbers for installing bolts on their climbing route as well as efficiently does little demolition work. Thus, a versatile tool like this one is worth buying for multi-use purposes. 
Does It Ensure User-Safety?
Ans: You may feel a little scared imagining the repercussion it can create during its hefty hammering action. It does produce countering vibration while in action; nonetheless, a rotary hammer is designed in a way that retains user protection. Many of the rotary hammer models use air pressure in the piston as a buffer to ensure that the retorting impact is not felt by the tool holder. This air pressure cushions much of the noise and decreases the handle vibration to help the user avoid discomfort in use. 
Finishing Thoughts
To summarize the discussion, a rotary hammer does have its own pros and cons. However, this is the user or worker's task to study the features of this tool and identify whether its functionality aligns with the project the user/worker needs this tool. If this tool is used for such a drill job it rightly fits this hammer; it can help the user/worker achieve the optimum result.
Several types of rotary hammers are available in the market, of which, Bosch, Makita, and DeWalt are highly recommended brands for their rotary hammers for being powerful, having multiple settings, and comfortable to use. Do your research and get yourself the best-fit rotary hammer to support you in achieving the best result for the longest time possible.
Featured image credit: Amazon.com
Read more: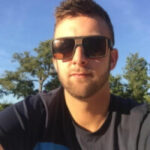 Hello, I am David Rowan. I am a professional contractor with 10 years of experience in home building, different tools used, construction, home remodeling, and other home improvement work. I have already built many custom homes and continued to do several woodworking projects along with how to deal with all categories of tools.