Published on: June 13, 2023
Written by Liam Jaxon / Fact-checked by David Rowan
If you've ever owned a watch, laser pointer, or any small electronic gadget, there's a good chance you've come across the battery numbers 394 and 395. They are small, button-like batteries that power our little gadgets. Yet, when it comes to replacing them, a question often pops up: Are 394 and 395 batteries the same? In this article, we'll delve into these battery types, their specifications, and all the nitty-gritty details.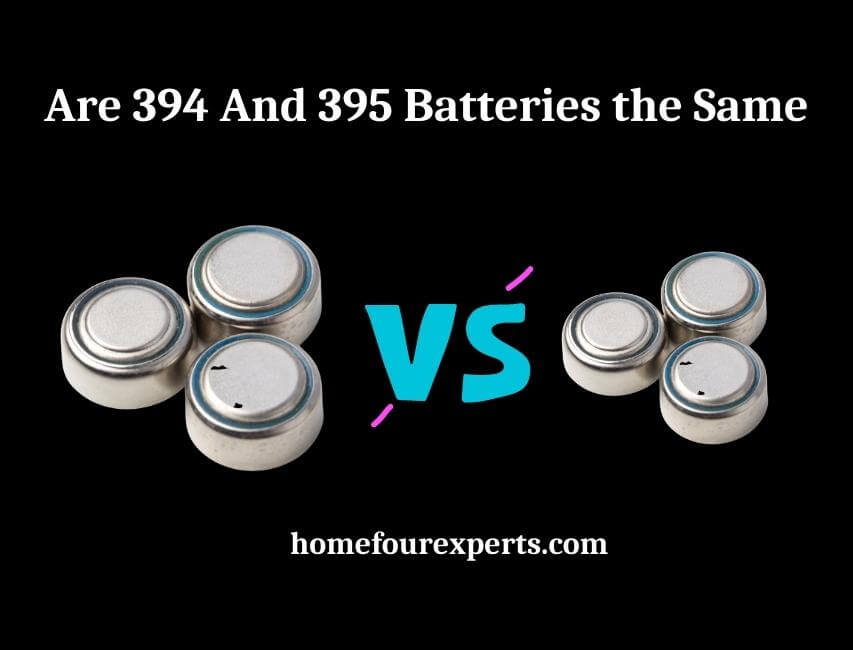 Understanding Batteries: The Basics
Before we answer the main question, let's cover some ground about batteries. Understanding the basics will make it easier to appreciate the specifics when we explore the 394 and 395 batteries.
What's in a Battery Number?
You might be wondering, what's the fuss about these numbers anyway? Well, these numbers denote specific models of batteries, signifying their chemistry, size, voltage, and other parameters. It's like a unique identifier, making it easier to find an exact replacement when needed.
Battery Chemistries
Batteries come in different chemistries. For instance, there are Alkaline, Lithium, Silver Oxide, and Zinc Air batteries, among others. These chemistries significantly influence the battery's performance, longevity, and environmental impact.
Voltage and Capacity
Two crucial parameters to consider when comparing batteries are voltage and capacity. The voltage represents the 'push' that drives electric charge, while the capacity (measured in milliamp-hours or mAh) tells us how long the battery can deliver its specified power.
394 Battery: A Closer Look
Now that we've covered the basics, let's dive into our specific subject matter. First, we'll explore the 394 battery, one of the watch batteries that you might encounter in the market.
Features of a 394 Battery
A 394 battery is a small, button cell battery typically used in watches. It is a Silver Oxide battery, which means it offers steady voltage and excellent longevity. The battery operates at a voltage of 1.55V and has a capacity of around 84 mAh.
Applications of 394 Battery
The 394 battery is primarily used in wristwatches because of its stable voltage, high energy density, and long life. However, it can also power other small electronic devices such as calculators, laser pointers, and medical instruments.
395 Battery: What's Unique About It?
Following the 394 battery, let's delve into the specifics of the 395 battery. The 395 battery also belongs to the silver oxide family and serves similar purposes.
Key Features of 395 Battery
Like its counterpart, the 395 battery operates at a voltage of 1.55V. However, it slightly differs in capacity, offering around 55 mAh. This capacity difference stems from the physical size variation between the two battery models.
Uses of 395 Battery
The 395 battery powers similar devices as the 394 battery. Its predominant application is in wristwatches, but you can also find it in calculators, electronic toys, and medical devices. The 395's compact size and stable voltage make it ideal for these applications.
Are 394 and 395 Batteries the Same?
The moment of truth is here. Are 394 and 395 batteries the same? The simple answer is no. Despite sharing many characteristics, they are different batteries.
Similarities Between 394 and 395 Batteries
First, let's highlight the common ground. Both 394 and 395 batteries operate at the same voltage (1.55V) and share the same chemistry (Silver Oxide). This similarity results in a stable discharge curve, making them excellent choices for timekeeping devices like watches.
Differences Between 394 and 395 Batteries
However, the devil is in the details. The most significant difference between the 394 and 395 batteries lies in their size and, consequently, their capacity. The 394 battery has a higher capacity (around 84 mAh) compared to the 395 battery (about 55 mAh). The increased capacity of the 394 battery means it can power devices for a longer time before needing a replacement.
Interchangeability: Can You Use One in Place of the Other?
Now, just because the 394 and 395 batteries aren't the same, does it mean they're entirely incompatible? Not necessarily.
When to Use 394 Battery Instead of 395
Due to the similarities in voltage and chemistry, it's possible to use a 394 battery in place of a 395, if the device's battery compartment can accommodate the slightly larger 394 battery. The benefit is that the 394 battery, with its higher capacity, will last longer.
When to Use 395 Battery Instead of 394
On the other hand, if size is a constraint (as is the case with some wristwatches), then a 395 battery might be the better choice. While it won't last as long as the 394, it will fit more snugly into compact devices.
Caring for Your Batteries
Whether you choose a 394 or a 395 battery, taking care of them will ensure they serve you longer and better.
Proper Storage of Batteries
Store batteries in a cool, dry place away from metal objects. Metals can cause a short circuit, leading to leaks or even explosions. Moreover, extreme temperatures can degrade the battery chemistry and reduce its life.
Safe Disposal of Batteries
When it's time to replace your battery, remember to dispose of the old one responsibly. Many cities have battery recycling programs, which ensure that batteries are safely dismantled and their materials recovered.
FAQs
Are 394 and 395 batteries the same?
No, they are not. While they share similarities like voltage and chemistry, they differ in size and capacity.
Can I use a 394 battery instead of a 395 battery?
Yes, if the device's battery compartment can accommodate the slightly larger size of a 394 battery.
How long does a 394 battery last?
The lifespan of a 394 battery depends on the device it powers. Generally, it lasts longer than a 395 battery due to its higher capacity.
Are these batteries rechargeable?
No, both the 394 and 395 batteries are not rechargeable. They are single-use batteries.
What devices use these batteries?
These batteries are predominantly used in wristwatches, but can also be found in calculators, electronic toys, and some medical devices.
How can I extend the life of my battery?
Store batteries in a cool, dry place, use the device regularly, and turn it off when not in use to extend the battery life.
Conclusion
So there we have it. While the 394 and 395 batteries might seem identical at a glance, they are indeed distinct entities. Their voltage and chemistry might be the same, but the real difference lies in their physical size and capacity.
In the end, whether you choose a 394 or a 395 battery will depend on your specific device and its requirements. Remember, it's not about finding the 'best' battery – it's about finding the right battery.
Read more: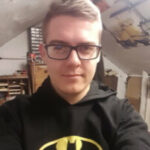 Hi, I am responsible for the 'Homeowners Power Solutions' category. My name is Liam Jaxon and a licensed technician with 7 years of experience in vehicle batteries, electrical gadgets, and home appliances. My working experience in different residential & light commercial electrical sectors and the automobile industry helped to acquire vast knowledge in this industry.