This article may contain affiliate links, which means if you make a purchase following our links won't cost you extra, but we may earn a commission. Learn more
While doing this research and reviewing the best sun shelter options for windy beaches, I was amazed by the types, functionality, usability, and advantages. Sun shelters are supposed to provide some shade on the beach, but over time, a revolution has taken place and now there are sun shelters available in the market in a variety that is large enough to confuse you.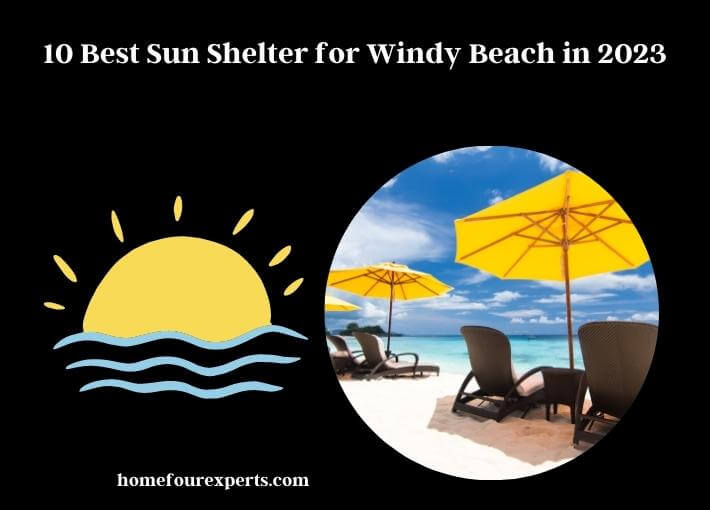 So, to save you time and to make sure you spend your money on the items that are really worth it, we have developed a list of the best quality sun shelters that are appropriate for windy beaches. We have taken into account different requirements of the users, their budget constraints, the durability of the products, functionality, and many other indicators. Have a look at that list, I can bet you will not be disappointed. Who knows, you may settle on a beach shelter from this very list!
Things to Take into Account While Choosing Sun Shelters
Beach Tent vs Sun Shelter
In this article, we have covered two types of sun shelters, one is tent type, another one is stretchy fabric type. Both have different advantages. The tent-style sun shelters are good for family holidays. These provide privacy and safety as you can enclose the tent fully from the inside with zippers. Please note, these tents are very small, providing room for only 2 to 3  adults only. Generally, an extended porch is provided with these so that the kids can play under the shade. 
On the other hand, open-concept sun shelters are more suitable when you are spending time with a large group. Space is not enclosed under the open shelter, so you can enjoy the view and breeze from all around. 
Looking for the Best Cabin Tents with Screened Porch or Room? Just Follow this Guide
Breathability
If you choose tents over open sun shelters, then you must take into account the breathability of the beach tent. The more openings it has, the better breathability will be. Mostly these tents are made with polyester so it can get uncomfortable if the tent does not have enough ventilation. 
Spaciousness
For open sun shelter, the larger the fabric is, the more area will be covered by it under the sun. the price spikes up with the size in this case. Besides, an extra-large open sun shelter will need a bigger space than setting up a small open sun shelter. If the beach you are planning on going on with the sun shelter is suitable to set up a large shelter, then you can absolutely go for it. 
For beach tents, most of the tents are of similar sizes and these are really small. The large or extra-large size is more comfortable. If you don't have any budget constraints, then you better take the larger one. 
Stability Against Wind
Before purchasing, check the number of stakes and sandbags the tent or open sun shelter will provide. The more the better. Some tents and shelters are designed to use extra sand pockets and stakes to use if the wind is blowing stronger than usual. 
Generally, open sun shelters have better stability against wind due to their extra-large sandbags and stretchy features. So, there is nothing to consider to judge its stability. Just keep in mind to set it perfectly stretched out so that the fabric does not flow with the wind. 
Protection Against Sun
All the materials used in beach tents and open-concept sun shelters are highly UV resistant. The tent is enclosed on three sides, so it provides better protection. Look for the tents that have a silver layer interior as this layer reflects rays better. 
Weather Resistance
Now you have the idea that sun shelters used on the beach are well made to resist wind and sun. but what about rain/ does it rain in your area often? Normally, it does not rain during the summer in my country. If it does, then don't forget to buy waterproof beach tents. Otherwise, a beach tent does not need to be waterproof. 
Ease of Set-Up
The beach is always windy. So, it will be good to choose sun shelters that can be set instantly by one person. Beach tents are better to set by solo travelers. These are pop-up designs like umbrellas and play tents. 
But this is not the case for open sun shelters. It takes time and helps from other people to set this thing up on windy beaches, no matter how good they are at resisting wind.
Top 10 Sun Shelter for Windy Beach Analysis
1. Oileus Instant Beach Tent Sun Shade for 4 Person
Suitable for 2 adults and 2 children;
Anti UV.
You are getting a spacious 92″ x 45″ x 45″ interior in this beach tent. If the front part is unzipped, the space will be even larger. Yes, you can zip the front part up all the way for privacy while you change or take a nap without losing your belongings. This tent is roomy enough to set two foldable chairs inside of it. 
I liked the bright orange shade of this tent. It will be easy to spot from far in an overcrowded beach. There are two mesh-covered windows for ventilation, so there is no way you will feel uncomfortable with its PU-coated polyester material. The best thing is, you will need seconds to set it and break it. 
This tent with its all ropes and stakes merely weighs 4 to 5 pounds. You will not really feel the weight. It comes with durable sandbags all around to get hold of, on windy days. So, from all perspectives, this one is one of the most favorite beach tent/sun shelters. 
Pros
Ultra-lightweight;
Easy to set up and break down;
Resists mild wind, rain, and UV rays.
Cons
May not be stable in heavy wind.
---
2. Tronssien Beach Tent Sun Shade Shelter
Shade sail fabric;
(7X7) feet have two support poles.
It is a sun shelter; don't mix it up with a beach tent. This shelter is good to set up on beaches where closed shelters or tent-like sun shelters are not allowed. Here, you will literally get a stretchy fabric with poles and sandbags, and that's pretty much it. The fabric is supposed to be set up on the poles and provides some shed underneath. 
The size of the fabric does not define how much shade you will get because the shade will totally depend on the position of the sun itself. Besides, it will keep you safe from the sun and wind, but not water. This fabric is not water-resistant and is not designed to use during rain. 
Here, we are talking about sun shelters for windy beaches, so I am not marking it as a negative for not being waterproof. But, is this shelter suitable for windy beaches? Hell, yes! Thanks to its extra-large sandbag, plastic poles, and stakes for making it is sturdy against high wind. The stakes are to use on soil though, not on sand. 
Pros
UV-certified fabric;
Lightweight and easy setup;
Use on grass or beach;
Long warranty;
Highly wind resistant;
Machine washable.
Cons
---
3. Lightspeed Outdoors- Quick Cabana Tent Sun Shelter with High Wind Resistant
Tent size: 8′ W x 4.5′ D x 4′ H  and 4' porch area;
Three windows with mesh and flap, three pockets.
No matter how big the sun shelter is, it is never enough when your kids are accompanying you on the beach. From that concept, Lightspeed Outdoors has brought this design of a beach tent as a sun shelter that has a front porch. You can let the kids build their sandcastles close by while you are stretching, or reading a book inside the tent. Just remember to put a towel on the porch first, because it gets hot if left in direct sunlight. 
The tent has three mesh-covered windows with flaps on each so that you can place them down to get little privacy. The same goes for the front porch material. The construction of this tent is inspired by the structure of an umbrella. Just a little amount of push on the correct location and the sun shelter will pop out. 
You will get eight plastic stakes with this shelter. For me, it was enough to withstand the heavy wind near Yellowstone lake. You can use up to 10 stakes with this tent and choose to use more durable ones, for added strength. 
Pros
Spacious;
Cheap price;
Great wind resistance.
Cons
Flap material gets hot easily.
---
4. PATIOMNI Beach Umbrella Portable Outdoor Umbrellas with Carrying Bag
Air-vent design;
UPF 50+ UV protection;
5 lbs are easy to carry and transport;
47inch storage length;
Size 7.5ft.
The rust-covered iron pole and 8 fiberglass shades make the umbrella of the ribs stiffer and stronger. The above air vent is intended to work with airflow for more wind resistance. Made with great water-safe polyester texture, PA covering UPF 50+ guarantees sun and hammock UV square, lowering the temperature below the sanctuary by 10 ° Fahrenheit.
 An aluminum stick in the shaft and coordinated sand anchor can without much of a stretch bend the parasol into the sand in any event, for a youngster, open the shelter, and collect 2 poles to the stature you are required.
So this is not just supposed to give you shelter against the wind, it will keep you comfortable against heat as well. 
Pros
Lightest sun shelter;
Added sand pockets for extra stability;
Spacious floor design.
Cons
---
5. Easthills Instant Sun Shade for Windy Beach
82″ W x 47″ D x 50″ H and a 43″ front porch;
Three windows and four pockets.
If you ask me apart from all these 10 sun shelters, which one provides the maximum stability against the wind, then I will suggest you take this tent from Easthills. It comes with extra pegs and guylines that you can use when the wind at the beach feels way too outrageous! Besides, the all-over velcro sandbags are my favorite because the design makes sure that the pocket is fully open to drop all the sand. Unlike other tents, emptying out the sandbags is a really annoying issue and people practically end up carrying the sand grains home. 
However, this tent is not too large, not too small, the average size to hold two chairs in it. The front porch can be zipped up from both sides. Three large windows are excellent to provide you with a 360-degree view even when you are resting inside the tent. You will get 4 mesh pockets so that all your necessities stay close by. For me, this one is the best sun shelter option with convenient features that a family should be looking for. 
Pros
Lightweight; 
Easy to clean velcro sand pockets;
Guylines and pegs for extra stability.
Cons
---
6. Neso Extra Large Grande Beach Sun Shelter to Set up Against Strong Wind
9 ft x 9 ft fabric with 7 ft poles;
Heavy duty.
Going to the beach with a large group? Then a beach tent may not be a practical option for you as those are designed to give shelter for two adults at a time. So, an extra-large sunshade like this one from Neso won't interrupt the movement and comfort of your friends and family at the beach. 
The size of the fabric is large enough to keep 6 to 8 people under the shade. The material is a blend of nylon and lycra which makes it water-repellent. Now, you are perfectly safe under the sun, rain, and wind. Talking about the wind, there are large sandbags with this sun shelter that withstand high wind at the beach. Other's tents and umbrellas may flip and fly, this Neso tent is meant to hold its ground in all conditions. 
For some, this sun shelter may seem out of budget. But I find it reasonable for weatherproof qualities. In this list, you will find this type of sun shelter at less price. Check those out for a budget buy. 
Pros
Large size;
Shelter from sun and rain;
High resistance against the wind.
Cons
Read more: 10 Best Tents for Full Time Living, According to You
---
7. Easthills Deluxe XL 4-Person Beach Tent Sun Shelter
99″ W x 53″ D x 57″ H tent size with a 53″ front porch;
We reviewed another beach tent from Easthills on this list earlier. This one has all the bells and whistles of that tent, with a much bigger size. Some people don't appreciate the confined and congested space of a beach tent when they are out at the beach. For them, this extra-large tent will be more appropriate. Your head won't touch the tent roof while sitting on a folding chair. 
There are three windows, four mesh pockets, and an extended porch that can be zipped from either side. The price is also reasonable for this tent. So, if you are one of those who don't like to spend their summer in a confined beach tent, this one is a better option. 
Don't worry about its resistance against wind. The ground stakes, guylines, and sandbags are really good at these. For the larger size, this tent weighs a couple of pounds heavier than the competitors. I don't see it as a negative side, but you must consider it before purchasing it. 
Pros
Extra large size;
Spacious;
High resistance against the wind;
Reasonable price.
Cons
Heavier than other tents.
---
8. Otentik Beach Sunshade in Small Size- with Sandbag Anchors for High Stability in Windy Beach
5.3 x 6.5 ft eco-friendly fabric with 5 ft poles;
Available in turquoise, black, grey, charcoal, dark grey, brick red, eggplant, green and pink shades.
This one is a heavy-duty sunshade available at a reasonable price. A reasonable price does not mean it is cheap, it means, this item is worth the price. This is a small sun shelter, so the price is kept low due to its small size, nothing else. Usually, this type of sun shelter takes up a lot of space to set up. It may not be practical for crowded beaches. This small size will be easier to put in that case. 
The material used in this sun shelter is biodegradable, unlike other stretchy materials with plastic coating. So, if you are a concerned citizen you should invest more in products like this. I liked the fact that you can adjust the poles to stretch the fabric more to match the sun position and get maximum shade. This material is super stretchy, so it stays put in high wind effortlessly. The wide variety of color ranges is something I really appreciate. It helps to choose a color that will stand out in the crowd. 
Pros
Lightweight;
Easy to set on the crowded beach;
High-quality sun shelter;
Adjustable poles.
Cons
This site is only a small group. 
---
9. Rio Total Sun Block Beach Shelter in Silver
9ft W x 5ft H x 4ft D while open;
Includes 4 stakes, two windows, and two pockets.
Are you concerned about the UV more than the wind at the beach? Then you should invest in some sun shelter that provides maximum protection against strong UV rays. Do not need to apply sunblock over and over again and do not need to be afraid of a horrible tan. Stay in this tent from RIO BEACH, you can enjoy the ocean breeze without compromising your skin. 
This tent is way too larger for most other beach tents we have listed here. To be honest, this tent is more suitable where the wind is not very strong, most of the time. Because the 4 stakes may not be suitable to keep this overly big beach tent stable under strong wind. The price is quite low though. With some improvement, you can enhance its resistance against the wind too. 
Pros
Excellent protection against UV;
Inexpensive; 
Machine washable.
Cons
Less resistance against high wind.
---
10. Mobihome Beach Tent Sun Shelter Pop Up
Dimension: 5.3 x 5.3 x 36.8 inches;
Pop-up design.
No pulling, no pushing, just through the bag in the air; the tent will unfold and drop on the ground all set. It is designed just like a play tent where we let the children play at home. The difference is, it has a silver inner layer to reflect the sun's rays. It is complete with stakes and sandbags, large enough to hold the ground in the breeze at the beach. 
Folding the tent back was tedious for me at first, but over time, it will also take half a minute to break the tent into a backpack. I liked that this tent can be termed as a 'breed' of beach tent and open sun shelter. The extra-large doors on two opposite sides and another two windows will give you an open feeling while resting in this. Moreover, you can choose to zip up the doors from inside while sleeping or from outside while out to take a dip in the sea. 
The price of this tent is so affordable that I had to check twice if I was seeing right. The quality is not compromised at all, nor is the size. You can easily set up two chairs inside the tent. So, why not mark it as an excellent sun shelter option to use on the beach?
Pros
Opens instantly;
Budget-friendly price;
It can be zipped from the inside and outside.
Cons
It takes time to fold in.
---
Conclusion
Make the time you spend at the beach full of sweet memories, not full of hassle. If you put your effort into choosing a sun shelter wisely, it surely will enhance your enjoyment at the beach, not interrupt it. I suggest choosing your beach sun shelters with your family members, it will make your purchase even more successful.
Relevant Resources: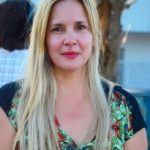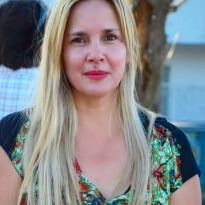 Guys, I am Camila Avery and I love to help my mom to do indoor & outdoor activities. As a lady, I have passed my time on gardening, home improvement, and personal or self-care. I have acquired some degrees in outdoor recreation, beauty, and hair care. It is not easy to work with top-level professional beauty experts. But, I got that opportunity and experimented with different hair extensions, hair colors, and cuts.