Published on: March 24, 2022
Written by Camila Avery / Fact-checked by David Rowan
This article may contain affiliate links, which means if you make a purchase following our links won't cost you extra, but we may earn a commission. Learn more
How many hours of your life have you spent drying, detangling, brushing, blow-drying, and straightening your hair? How many tools does it take to do all these? How much did you spend on all those tools? The sum is pretty large I am sure. With modern technologies, our life gets easier so that we can be more productive. If only styling and getting ready steals hours of your precious life then it is a waste.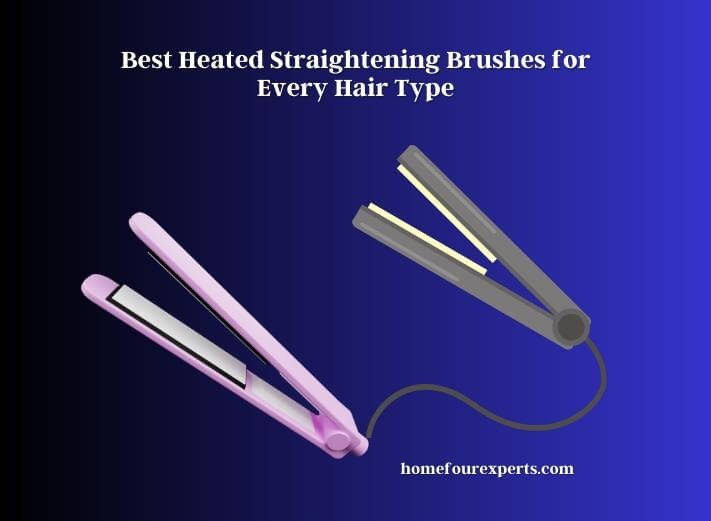 Speaking of technologies, there are modern styling tools available now that outsmart several styling tools and work faster as well. The heated hairbrush is one of those tools that will make you ditch your regular brush and flat irons permanently. It looks like a regular brush and is used as a brush but the heat illuminates it giving you a flat-iron-like effect. this is the basis of a heated brush, but over time it is improved in many ways and now there are many features added to this. 
In this article, you will get to know the best quality heated hair straightening brushes that suit all hair types. Choose one for yourself or as a gift for your loved ones, it will just match every hair type. Along with the review, we also covered the proper way to use it and many other useful tips. Stick to it to the conclusion if you don't want to miss a bit.
How to Use a Heated Brush for Hair Straightening
First of all, how not to use a heated brush? You can never use this brush on wet hair. Use a hairdryer to dry your hair if you are in a hurry, or simply air dry it. 
When your hair is fully dry, use a heat protection spray. 
It is better that you detangle your hair first before using a heated brush. 
Take a small section of hair and place the heated brush under the section so that the bristles face upward. Now place the hair on the bristles all the way down to the base and slowly move the brush downward. This method will add volume to the roots. 
Repeat this process to all of your hair as many times as you need. When done, simply brush your hair using the heated brush again, the bristles facing toward your scalp this time. Now you have your hair totally transformed and neat.
How to Get Waves and Curls Using a Heated Brush
Though it is a straightening brush, you can make loose waves and curls using it. The procedure is quite simple. Just use it like you use a hair straightener to curl out your hair. If you haven't used a straightener before to curl hair, then here are the details:
Detangle your hair first. Place a small section of hair on the heated brush. Twist the brush a little while gliding it downwards pressing the hair on the base. While twisting, your hair gets a wave where it contacts the edge of the brush. Please note, every heated brush will not show the same results. Only the ones with rounded edges will create beautiful curls. 
How to Get the Best Results from a Heated Hair Brush
Read the manual first. This is where the instructions are given to use the brush properly. Besides, the correct temperature for your hair is also stated there. Follow the instructions to get the best result. 
Use a heat protection serum before using it. You can skip it if you are using the tool in the lowest setting, but the serum makes a difference in looking your hair healthy. Use a leave-in conditioner regularly to make your hair soft and glossy. 
Trim your hair every three months. Your hair tips wear out in three months so it is important to get a trim so that it grows healthy. A straightening hair brush or flat iron can make hair straight, but it can't hide your unhealthy hair tips. 
See our Top 11 Heated Straightening Brushes – Short Analysis
1. Enhanced Hair Straightener Brush for Different Hair Types by MiroPure
Hair Type: Wavy, Curly, Thin, Straight;
Double ionic generator.
The easiest way to get salon-ready hair is to get the tools used at the salons. The tools we hairstylists use at the hair salon are available everywhere. It is you who decides whether to invest in these or pay a visit to the salon. To be honest, you don't need to spend much to look put together every morning. A smart tool can make all the changes in a blink. 
This hair straightening brush is a smart tool that will blow out your dry hair without a hairdryer and straighten your hair without the flat iron. Its densely packed bristles along with heating plates illuminate heat and radiate negative ions. Within seconds you will get shiny and frizz-free straight hair. 
You must be thinking if this brush will suit your specific hair type. The manufacturers focus on every potential customer out there to market their products. So, they made this to suit all hair types without an issue.
2. Ionic Heated Comb by CNXUS
Contoured shape;
Digital display;
Convenient power buttons.
To use a heated brush as a substitute for your daily use comb, this one is a perfect choice. The general rule is to use a heated brush to place the paddle toward the scalp and the bristles away from the scalp while brushing your hair. It adds volume. But most ladies don't follow this rule on their busy days and use a heated brush just like a regular brush to detangle their hair. If you are one of those super busy ladies, then the slightly contoured shape of this brush will come in handy. It will match your head shape and grab your hair from the roots while brushing. 
There is no risk of accidentally shutting off the brush. All the buttons are placed on the handle, but it takes a long press to turn it off. The five heat settings are well indicated to select for different hair types. It is also backed by a long warranty. There is no reason not to love this brush. 
3. Hair Straightener Brush for Frizz-Free Silky Hair by TYMO
 MCH 30s faster; 
16 Heating Modes;
Temperature: 170℉-450℉.
Sometimes, small little things of comfort make life easier. The accessories you get from this heating brush are just like those additions that make the hair straightening experience a breeze.
Ladies who love to style their hair every day know the struggle of burning their skin or scalp, burning other materials for the ill practice of storing hot tools, and forgetting to turn the heating tools off after use and the list is endless. So, TYMO just wanted to minimize your hair styling struggles. In this package of ionic brushes, you will get a silicon mat/pouch for safe storage.

You can store your hot brush right away without damaging other materials. In case you forget to turn off the brush after use, it turns itself off after 30 minutes. Moreover, the bristles are cool to the touch. If you have had a bitter experience from using a flat iron before, you will love these features of the TYMO brush.
4. TYMO RING Anti-Scald Hair Straightener Brush for All Hair Types
Adds flat iron-like shine;
Even heating;
266°F to 410˚F.
To be honest, the straightening you get from a heated brush is not as glamorous as that done at the salon by professional stylists. A flat iron gives shine and straightness, but it makes the hair motionless and steals the volume. So, here we have brought a brush that can be used as a heated brush but the mechanism is more like a flat iron. 
Instead of using bristles, there are large plates used in this tool. It is a hybrid of a flat iron and a heated brush. You will get the salon-like straightening effect at home, without clamping your hair in between two plates. Isn't it amazing? 
The countless plates in this brush ensure even heating from the top to the bottom of the plate. So, all your hair gets the same result and it also eliminates the chance of breakage from uneven heating. You can set the heat from 266°F up to 410˚F. Pretty much all hair types suit this heat setting. If you are still confused about which heat to use, simply follow the guideline. 
---
5. INFINITI PRO Diamond-Infused Smoothing Brush BY CONAIR
Removes frizz;
Nylon, silicone, and ceramic bristles;
Lightweight.
When it comes to choosing a brush, it is important to pay close attention to the material it is made of. For example, hair brushes made of wood, plastic, nylon, and silicon have different effects on your hair. Conair has brought this Infiniti Pro brush considering the health of your hair. Its bristles are made of nylon, silicone, and ceramic. The outer layer of bristles is made of nylon. The inner bristles are ceramic-coated and diamond-infused. Together, these bristles do an amazing job to transform your hair. 
You have to use this brush as a substitute for your hair straightener. If you have thick hair, then take a small strand and brush through. It will take time but it does the job better than a flat iron. You will feel your hair get smoother and shinier than ever before. 
6. InStyler STRAIGHT UP Ceramic Straightening Brush
7 heat settings 330°F up to 450˚F;
65 ceramic plates;
Curved edge for curling.
The straight Up series from InStyler is the next-level heated straightening brush. With this, you can straighten, curl, create a flip, or add waves and body to your hair. The edges of this brush are round so that with a twisting motion, you can achieve the desired style you want. 
There are 65 tiny ceramic plates to give an ionized polished look to your hair. The hair will be so sleek and straight that we get from using a flat iron by a professional. The difference is, flat iron not only makes the hair pin-straight, but it makes it flat and motionless too. These problems won't happen with a heated ceramic brush. This brush will add volume, shine, health, and bounce to your hair. 
Does it suit all hair types? Yes, it does. The process is quite easy, just set the temperature according to your hair type. Select the lower temperature if your hair is dull, damaged, thin, or weak. Choose the higher heat if your hair is thick and coarse. There are 7 heats ranging from  330°F up to 450˚F to choose from. 
7. TYMO RING PLUS Ionic Hair Straightener Comb Professional Hair Tools for Styling
Cheap price;
Temperature: 250℉~410℉;
25s fast heat up;
30 min auto-off.
We all want to look our best on holiday trips. No matter where you are going or if it is a corporate trip, family get-together or annual family tour, this portable straightening brush can solve all your family member's hairstyling problems in one swipe. Yes, you heard it right. The bristles are made in the perfect length so that your partner and kids can straighten their hair and beard with it safely and effectively. 
The size is perfect to fit even in a handbag. And the price is cheap too. Maybe you already have a huge collection of hair styling tools in your dresser, but you don't want to drag all of those on a short trip. So, this one heated brush is enough to straighten all your travel partner's hair as it suits every type of hair. 5 adjustable heat settings, fast heat up, and auto shut down features make it safe to use for people who don't use such tools on a regular basis.
8. Ionic Hair Straightener Brush for All Hair Types by GLAMFIELDS
Fast heat up;
Temperature lock;
High-Density bristles for curly hair.
Some people complain about taking time to heat up their straightening brush and use it to tame stubborn hair. For them, this ionic brush from Glamfield is a better solution. It takes mere seconds to heat up to the fullest and takes one pass to straighten coarse and curly hair. The key is, if you want to use only one pass with this, then be sure to go slow, so that the hair gets in contact with the brush for a longer period. 
There is a wide heat adjustment option from 250°F-450°F so that men and women of every hair type can use this brush. To make the most of the wide heat band, you will get 12 heat settings to choose from. The buttons are placed on the handle, but for your peace of mind, you can lock the desired temperature. Now you won't turn the brush off accidentally while gripping it. To make hair straightening hassle-free, this one is a must-try. 
Read more: What are the best Halo Hair Extensions? See our list.
9. Cayzor Professional Ceramic Hair Straightening Brush
16 temp settings;
60 auto temp lock
Taylor has done a great job by making a guideline on the preferred heat for every hair type. If you have colored/ damaged/ thin/ thick or wavy hair, there is a solution for you in their ionic hair straightener brush. It is light, looks works like a brush, and is easy to use. The size and shape are not too big or too small to use as a substitute for a regular brush. It is travel-friendly too!
The heat setting starts at 170°F and stops all the way at 450°F with 15 adjustable settings in between. Moreover, heat adjustment is made easy by including a digital temperature display on the brush. Now you don't have to do guesswork while fiddling through the wide heat adjustment range of this brush. 
The ionic bristles straighten your hair but stay cool to the touch. While flat iron makes our hair look flat and plastered, the added shine and body from this heated brush help to bounce your straight hair.
---
10. Ionic Straightening Brush Kit by GLAMFIELDS
330 to 450 degrees Fahrenheit adjustable heat;
Long-lasting effect;
Super shiny finish.
You don't want to add shine to their hair for free? Yes, this heater straightening brush boosts the natural shine of your hair while heat straightening it. The bristles in the inner area are flat and wide. This is where it produces ions to boost the health of your hair and keep it straight for longer. 
There are four heat settings ranging from 330 to 450 degrees. Pretty much all hair types fit into this category for hair styling. The actual procedure to use this brush is to press your hair down to the base of the bristles so that the heated base can come in contact with the hair. Now, as you glide the brush downward, it straightens your hair. 
In the package, you will get a travel-size hairbrush, heat-resistant safety gloves, two hair clips, and a cloth cover along with the straightening brush. Happy straightening without damaging with Glamfields straightening brush.
11. Revlon XL Hair Heated Brush for Natural-Looking Straightening
Detangling Bristles;
10 adjustable heat;
Larger surface area.
This amazing large paddle brush is a lifesaver when you are rushing to get ready for a surprise event. It just takes a few passes all over your hair and you are all set to hit the door. It will make your hair look naturally beautiful and organized, not like a pin-straight polished stick. For naturally wavy and curly hair, using this brush will save the hair from heat-induced damage that may occur if used as a hair straightener. 
The Revlon XL brush is larger and has special kind of bristles. The larger size is an advantage as it grabs a larger section at a time and you will need only a few passes to straighten all hair. The bristles will detangle the hair in the process. You can skip the detangling process before using it. But don't forget to use a heat protection serum before using the brush. 
Never ever use this brush on wet hair. It will tangle the hair and may cause hair breakage and fall out. There is a convenient heat setting that can be adjusted between 10 temperatures. No matter how thin or thick and coarse your hair is, your preferred heat can be set all right. Moreover, you can 'save' the heat setting so that you don't have to set it every time you turn this brush on. 
Conclusion 
A heated straightening brush can make one's life easier in minutes, but it takes a little bit of maintenance. As people get used to it, they start using this instead of their regular brush. Due to overuse, it gets dirty sooner by oil, dirt, and product build-up.
The instruction to clean this brush is generally elaborated in the manual. Some even have cleaning brushes in the package. If your brush has none of those, then you can simply use a cotton swab soaked in alcohol to clean your hot brush bristles. Make sure to clean the brush when it is off and cold. Wait a while to dry out the alcohol before using the brush again. 
The cleaning routine for the heated brush depends on how often it is getting dirty. In our list, we have included all the brushes that suit all hair types. Only your preference and budget will determine which one is going to be yours.
Read more: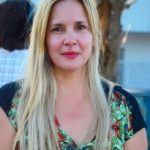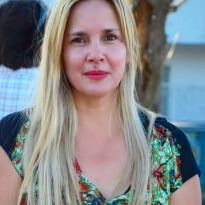 Guys, I am Camila Avery and I love to help my mom to do indoor & outdoor activities. As a lady, I have passed my time on gardening, home improvement, and personal or self-care. I have acquired some degrees in outdoor recreation, beauty, and hair care. It is not easy to work with top-level professional beauty experts. But, I got that opportunity and experimented with different hair extensions, hair colors, and cuts.