Published on: March 3, 2022
Written by David Rowan / Fact-checked by David Rowan
This article may contain affiliate links, which means if you make a purchase following our links won't cost you extra, but we may earn a commission. Learn more
Almost all of us face this situation when we connect a hose to a barb or nipple, then it begins leaking. No matter how hard we try, without a clamp, it's impossible to stop the leaking. On the other hand, tactless and unstable clump makes the situation even worse.
A hose clamp is an attaching tool used to connect and seal a hose onto a barb or nipple. It designs simply so that all you need to do is press the hose onto the barb with this. This simple tool can bring so many benefits to securing hoses, pipes, cables, tubes, fuel lines, etc., and save many hassles and time.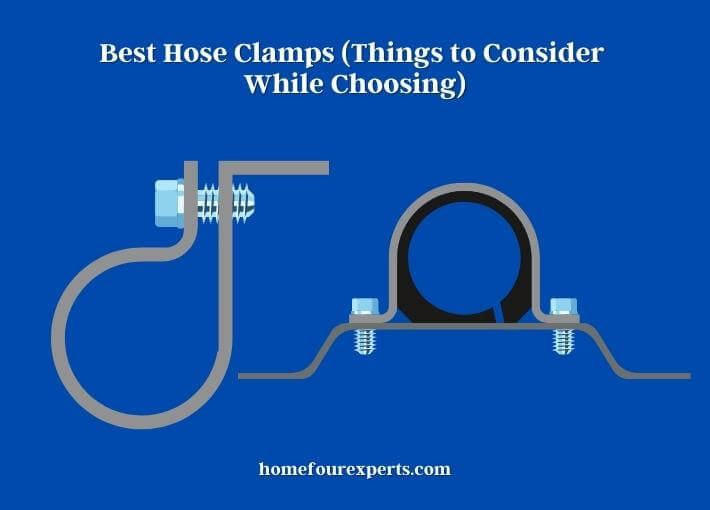 There are many hose clamps in the market, but not all of them will perfectly serve your purposes, and that's why we have selected a few ideal clamps for you. Besides, this review guide will assist you with tips for choosing a suitable hose clamp. Once you are done reading it, you are more likely ready to buy.
Things to Consider While Choosing a Hose Clamp
It would be best if you bought hose clamps depending on the work type and preferences. However, there are some essential features following that you should always remember to check on those hose clamps before getting it. 
Clamps Type
All types of clamps are not fit for all types of hoses or pipes. Usually, you can find six types of clamps that are mostly used. They are a screw clamp, clip clamp, wire clamp, adjustable hose clamp, embossed hose clamp, and worm gear clamp.
Among these six types, screw clamps are the most and easy to use. However, less than ½ inches diameter is not adequate to use a clamp. In that case, you can use clip clamps. But always remember that each type of clamp comes with its own benefits and limitations. So, pick the one that most fits your requirements and hose size.
Material
Durability and material depend on each other. If a clamp is built of fragile material, it can't hold the hose tightly and can't serve its purpose. The clamps are regularly exposed to water, radiant, salt, oil, heat, and other chemicals. As a result, it gets damaged by corrosion.
If the material of the clamps is not right, then it will not last long. So building material should be sturdy and robust enough to resist the force and prevent leakage. In our view, stainless steel is the best option rather than aluminum. Additionally, the carbon-coated body added extra durability.
Diameter
Depending on the hose diameter, you should buy the clamp. Nowadays, several numbers of diameters are available. Hose clamps are usually sold in kits, and these kits include clips of different sizes. So if you buy the wrong size, then not a single clamp will be fitted. So based on that, you should choose the clamps having the required hose diameter.
Tightness
The hose clamp is designed to hold the hose nipple tightly. A hose clamp's primary goals are to ensure a tight seal between the hose and the barb, preventing the working fluid from escaping. So it should be tight enough to provide even pressure on all sides, with no gaps.
Read more: Exhaust Clamps
Easy to Use
Some types are hose clamps that need other tools to attach and are challenging to connect. So choose a hose clamp that is easy to connect and use.
If you get adequate information about a hose clamp's essential features, then match the elements to the following clamps' features mentioned in the rest of the article.
View Our Recommended 10 Hose Clamps, Below
1. Lokman 60 Pieces Stainless Steel Hose Clamp
Pieces: 60;
Size: 6 mm to 38 mm;
Material: Stainless steel.
Versatility and durability are other names of Lokman Worm Gear Hose Clamp. Its position on the top of our list because of its multiple renowned features. This fantastic clamp ensures quality and heavy-duty stainless steel material. For this reason, it is anti-corrosion, watertight, salt resistant, and oil-proof. 
It arrives with a pack of 60pcs clamps combination kit with 5 different sizes in a durable handy case. This is why this assortment kit is adjustable and flexible to enhance users' flexibility, having a size range of 6mm to 38mm. That means you can use it with a different diameter hose.
The hoses not only focus on quality but also their environment-friendly material makes them reusable as well. And it is possible because of its strong, sturdy, and reliable body. This multipurpose hose clamp can be used in your home water system, automotive application, car's fuel line, and others. You can presume longevity, durability, sturdiness, and strength from this one.
Pros
Excellent fitting;
Versatile and easy to use;
Top-quality stainless steel clamp;
Reusable and recyclable;
Adjustable in 5 different sizes;
Arrives in a sturdy case.
Cons
The worm screw is too small;
Hard to catch the strap cogs.
---
2. Koehler Enterprises KE28BX Clamp Box
Pieces: 10;
Size: 28 mm;
Clamping range: 1.1/4 to 2.1/4 inches;
Material: Stainless steel.
Koehler manufactures this ideal clamp set for automotive, plumbing, home maintenance, marine, and industrial applications. The "F" type worm-drive clamps are accurately engineered to provide reliable and long-lasting performance. The kit includes 10 pieces of 28-size clamp covering the 1.1/4 to 2.1/4 inches clamping range. 
These 1/2-inch bands are practically perfect for any clamping application.
Besides, these all-purpose clamps are constructed of 300 series stainless steel to resist maximum corrosion by salt and chemicals. The housing and 5/16 inches hex head screws are built with plated carbon steel to deliver high-strength execution under pressure. It meets the SAE standard. Thus, you can add these clamps to your list for household, automotive and industrial applications.  
Pros
Easy to use and maintain;
Versatile and multipurpose usage;
Corrosion resistance and waterproof;
Immense durability under pressure;
Hex head screw plated with carbon steel;
Suitable for any clamping application.
Cons
The head screw is tough to turn;
Not environmentally friendly.
---
3. Co-Rode Adjustable 60PCS Worm Gear Kit
Pieces: 60;
Size: 8 mm to 32 mm;
Material: Stainless steel.
The main benefit of screw hose clamps is that they're easy to use by turning the screw to open the band. Similarly, Co-rode adjustable hose clamps are easy to adjust the tension. It arrives with 60 pieces of heavy-duty stainless steel clamps mixed with different diameters ranging from 8mm to 32mm.
Another crucial feature it holds is durability. Obviously, durability makes these hose clamps so appropriate for housing to industrial usage. Hence, the clamps are not only oil and waterproof but also defiant to corrosion. Also, it is perfect for automotive fixtures. You can use the smaller clamps for light-duty purposes, and the larger ones for coolant and fuel hoses. 
Pros
Made of high-quality materials;
Ensures durability;
Confer resistance against corrosion;
Great for leak prevention;
Different adjustable range.
Cons
Different size clamps installation need the other screwdriver;
The screw is only zinc coated.
---
4. Glarks 100pcs Adjustable Stainless Hose Clamp Kit
Pieces: 100;
Fuel line clamp for water pipe;
Plumbing, automotive, and mechanical applications;
Size: 8 mm to 44 mm;
Material: Stainless steel.
Glarks adjustable worm gear clamps set can serve for the multipurpose task with a direct attachment. You can easily attach it or remove it by twisting the screw on top of it. Hard-to-reach or limited areas have also been covered to prevent leakage because of its sleek design. 
Further, the stainless steel body serves long-term usage. Even it can be reusable too. Besides durability, as well as it ensures sturdiness and resistance to corrosion. This versatile clamp comes with 100 pieces in different sizes. All the sizes are standard sizes that perfectly suit hoses, tubes, pipes, and even boats.
One of the best features is the corrosion-resistant body because it offers its effectiveness in salty water. That's why it is suitable for the boat as well. It is considered one of the best marine hose clamps on the market. And lastly, it arrives with a small clear box to carry and organize the clamps. Its adjustable, flexible, and durable features will give you the best you need.
Pros
It can use for both indoor and outdoor purposes;
Long-lasting service;
Useful for marine use;
Corrosion resistance;
Easy screw system to install;
Adaptable and flexible.
Cons
It's not suitable for heavy-duty use;
The worm gear sometimes slides over the slots.
---
5. Glarks 84Pcs Hose Clamp Assortment Kit
Pieces: 84;
Size: 7 mm to 18 mm;
Material: Zinc-plated steel.
The Glarks mini fuel injection style is the most suitable hose clamp for fuel. It is designed in a slightly different way than other clamps to provide higher accuracy. That means any kind of pressure it can take to maintain the attachment with the hose. It arrives with 84 pieces of 10 sizes that benefit most of the hoses.
Besides, it comes with hexagonal screws that need to be twisted by a screwdriver to adjust the size, or you can use your hand to tighten the screw as well. The clamps are made of zinc-plated steel to provide the stability and sturdiness you need.
Sometimes the grooves of the clamps damage the hose. But these Glark clamps come with a polished and smooth edge that will not damage the hose at all. So overall, it is an excellent option for your sealed fuel hose to stop a leak.
Pros
Zinc-plated steel body;
Super easy to install;
Available in different sizes;
Ensures high accuracy;
Made of top-quality materials;
Smooth and polished edge.
Cons
Not super high-quality material;
Tightening the screw might tear the rubber of the hose.
---
6. Koehler Enterprises KE36BX Hose Clamp Set (Size SAE 36)
Pieces: 10;
Size: 4, 6 to 6, 98 cm;
Versatile and easy to use and maintain.
Koehler hose clamp is known for its satisfying flexibility and comprehensiveness among users. This Koehler clamp set comes in different sizes of high-quality clamps. However, high-quality 300 series stainless steel is made of the best output of durability and longevity and is rustproof to use for outdoor purposes.
These clamps are tightly fit with the hose to prevent the fluid. Besides, it provides a defense against salt and other chemicals. To add further, the clamps kit offers various sizes ranging from SAE size 36, clamping range from 1 -3/4 inches to 2 – 3/4 inches (4, 6 to 6, 98 cm). As a result, it will adjust most of the hose diameter.
It comes with a heavy-duty rack that is wall-mounted and freestanding. And lastly, this clamp set is rated as one of the top radiator hose clamps for the radiator. Also, it is proper for fuel lines, heaters, or tubing. So with quality, this set can be an affordable preference all in one package.
Pros
Flexible, versatile, and expansive;
Built of high-quality 300 series stainless steel;
Ideal for automotive, home maintenance, plumbing, industrial and marine applications;
Sturdy and durable.
Cons
---
7. Selizo 40Pcs Hose Clips
Pieces: 40;
Size: 6 mm to 38 mm;
Material: 304 stainless steel.
This clamp has a record of dealing with heavy-duty applications. This pipe clamp is tough and reliable enough to manage powerful applications easily. It is dedicated to industrial, automotive, and electronic applications. Adding this, the durable 304 stainless steel material structure is more anti-corrosion, salt resistant, anti-rust, waterproof, and oil-proof than other clamps.
To adjust the clamp's diameter, the worm gear mechanism helps accurate and precise outcomes. It also lets you increase the exact sealing pressure. A wide adjustable seven assorted size range from 6 to 38mm/0.24-1.5 inches adapt to different hoses. 
In addition, the clamp's installation and removal process is more straightforward than other models and is reusable too. The worm gear mechanism adjusts the clamp's diameter to precisely apply sealing pressure and prevent flow leakage. Overall it is not only useful but also able to deliver excellent outcomes.
Pros
Vital for rigid performances;
Prevent leakage in the hose pipe nipple;
Tolerably flexible to the different wear and tear;
Corrosion resistance;
Adjustable and pliable for smooth handling.
Cons
Installation needs more muscle power.
---
8. Bopomofo Hose Clamps Kit
The range of clamp we provide is 6-29mm, that is 20pcs 6-12mm, 15pcs 10-16mm, 15pcs 13-19mm, 10pcs 16-25mm, 10pcs 19-29mm, 10pcs 13.2-13.8mm, total 80pcs packed in a plastic box;
Size: 6;
Material: 304 stainless steel.
Plastic non-trace snap grip hose clamps are all made of nylon engineering plastic. Salt-resistant, waterproof, oil-proof, and anti-corrosion.
 This clamp's key feature is its asymmetrical construction, which provides increased clamping force and higher revolving strength. It remains stable in high load and offers good service.
Moreover, the clamp aligns smoothly to distribute clamping pressure throughout the hose. As a result, it seals smoothly, correctly, and optimally with your joint. So, you get leak-free sealing with these hose clamps. So overall, it is a simple but most practical clamp you can have.
Pros
Clamps are sturdy, strong & reliable;
Locking ratchet that holds the clamp open for easy installation and removal;
Level perfectly to the hose;
Can manage high pressure;
Asymmetrical construction for better force.
Cons
---
9. PrePrecision 33110 Worm Gear Hose Clamp
Pieces: 10;
Max diameter: 1.1/16;
Material: 304 stainless steel.
The precision brand manufactures over 70 years of different key stock, hose clamps, punch, wire, and other materials. They built different sizes and materials clamps too. Among them, this model is the most popular one because of its sturdy micro seal stainless steel body. Thus, it follows the Society of Automotive Engineers (SAE) 300 series standard and corrosion protection. 
This small worm gear clamp has a stainless steel band, house, and screw and is a miniature size for fitting small hoses in limited spaces. The clamp's diameter adjusts with the nipple of the hose perfectly and precisely to apply sealing pressure.
Furthermore, the slotted hex-head screw allows fitting using a blade screwdriver, socket wrench, or nut driver. It distributes equal pressure over the border of hoses to bind them to connections and prevent flow leakage. So, this clamp would be your next perfect buy within a range. 
Pros
Stainless steel body and screw;
Corrosion protection in marine environments;
Diminutive size for small hoses;
It can install in limited spaces;
The bandwidth of 5/16inches fits small hoses.
Cons
The screw is not enough longer to twist with the hand;
the screw does not catch enough threads.
---
10. Professional Hose Clamp Pliers Repair Tool
Weight: 9.6 ounces;
Max opening: 1.3/4 inches;
Material: Carbon steel and rubber.
Pilar plays an essential role in installing and removing a clamp. The plumber and automotive workers widely use this professional plier.
This is a heavy-duty plier for the easy removal of flat-type or ring-type hose clamps. It is built of high carbon steel with firm grip handles double dipped in rubber to offer maximum performance.
Moreover, its jaw can open max up to 1.3/4 inches for easy installation or removal of ring-type or flat band hose clamps. It is laboratory tested and approved for strength, fit, and durability. It can hold clamps from different angles to enhance its usability. Even it can handle the fuel or coolant pipe spring clips carefully. We certainly hope you will not regret purchasing this super-efficient piler.
Pros
Durable high carbon steel structure;
Comfortable rubber handle;
Quality better serves professionals;
Heavy-duty use for easy removal;
Get approval for durability.
Cons
Its handles are not spring-loaded;
A one-hand operation might be difficult.
---
FAQs
Are Hose Clamps Reliable?
Great quality hose clamps are set apart with the material they're made from. This one is 316-treated steel and is satisfactory for use onboard. Any hose brace utilized on a boat ought to be produced using high-grade treated steel to oppose consumption, zinc-plated clips or those produced using plain steel will rust and fizzle.
Where Should Hose Clamps be Placed?
It should be turned so that the hose is noticeable between the 1/4 inch band and the edge of the hose and about 1/4 inch between any 2 clamp groups. Before introducing the clamp, it is important to ensure the length of the line-to-hose connector under the hose.
To Conclude
Hose clamps are commonly used in industrial, electronic, and automotive applications. So this widely used tool needs to work correctly. Because with a wrong clamp, the fittings will not be secured enough, and an accident can happen. 
So, after the following discussion, we hope you could better know hose clamps and have a clearer vision of the best and most fitted one for you. Moreover, we suggest getting two kits – one composed of screw clips and one formed of spring clips to handle different hose diameters.
You Might Also Like: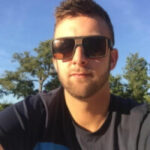 Hello, I am David Rowan. I am a professional contractor with 10 years of experience in home building, different tools used, construction, home remodeling, and other home improvement work. I have already built many custom homes and continued to do several woodworking projects along with how to deal with all categories of tools.